Original URL: https://www.theregister.co.uk/2011/04/02/review/
Samsung BD-D6900 3D Blu-ray player and DVR combo
Does it all and then some
Posted in Personal Tech, 2nd April 2011 08:00 GMT
Review Samsung's BD-D6900 3D Blu-ray player is a curious hybrid. Not only does it play Blu-rays, DVDs and CDs but it also has a Freeview HD DVB-T2 tuner and connects to the company's new Smart TV apps portal. It will even double up as a PVR if you tether it to an external hard drive. It's not so much a disc spinner as an entertainment centre for mid-morning (rather than early) adopters.

Play it again...Samsung – the BD-D6900 ticks an awful lot of boxes
The BD-D6900 is slim. Just 33mm tall on tippy toes, the thing has barely enough fat to accommodate back-panel connections. Bear in mind that 'slimness' is not synonymous with 'designer,' even if that's what Samsung would like you to think.
Indeed, the build quality of the BD-D6900 is best described as slight. The top of the unit is finished with what appears to be a recycled biscuit tin. Needless to say, it's not comparable with some of Samsung's higher-end products.
Connectivity includes an HDMI 1.4 output, RF loopthrough, component and phono AV out, optical digital audio and Ethernet LAN. If you don't wish to use a wired network connection, there's also integrated Wi-Fi. Front and centre is a drop-down touch sensitive display, and to the right, behind a pull-down flap lurk USB and CI CAM slots.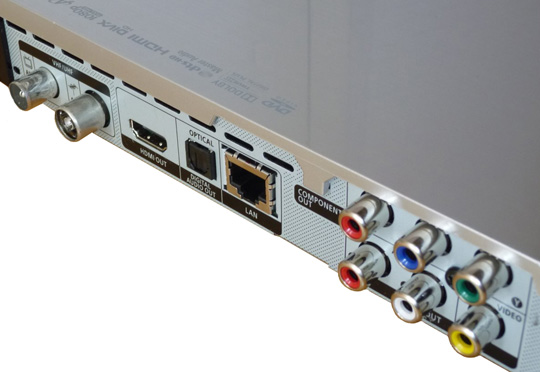 A decent array of connectivity – Wi-Fi is built-in
All the BD-D6900's functionality is accessed from a graphically rich menu. You can dial up the Smart Hub interface (from the Internet icon), stream sound and vision files from across your network or USB device (using My Devices), and fine tune the configuration from the Settings menu. The TV guide EPG is large and clear, with a live TV window top left.
Flash plug-in support?
The system functions as a DVR when partnered with a USB hard drive. Initially I attempted to make recordings onto USB flash drives, however these failed the deck's format and testing routine. I eventually settled on a 250GB Seagate Freeagent Go external drive, which worked fine.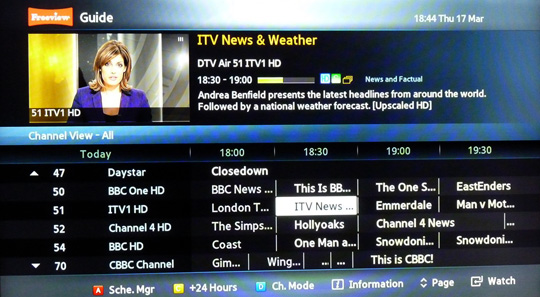 TV Guide
You can access the drive from the My Recordings tab and here you'll find neat animated thumbnails of your programmes. Recordings replay without snitches or glitches – but you cannot Chase Playback. Once you've initiated a recording, you have to kick your heels until it's done before you can watch. All dubs are protected by steel-plated DRM.
Similarly, you can't record from the BD-D6900's Freeview HD tuner and browse the on-line Smart Hub portal at the same time, although you can record and play a Blu-ray/DVD/CD. And with only one tuner, you cannot record one channel and watch another, you'd need to utilise the telly's tuner to do that.

Network media streaming is more like a dribble.
Despite sniffing other DLNA devices out across my LAN and identifying other DLNA devices, file compatibility proved a little patchy. There was no video support for MKV or MOVs and AVIs played albeit without SRT subtitles. MP3 rips from my Imerge Musicm8 server came sans artist data or album art. You may well have more luck though.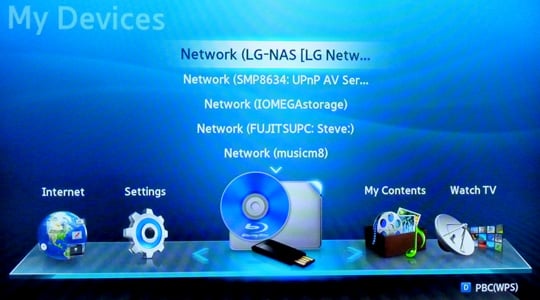 Network devices
Samsung products are a little bit picky when it comes to befriending DLNA servers over a LAN. They tend to be more co-operative when pulling content from a PC. When fed directly from a USB drive, things improve. My MKV wrappers unspooled and AVIs played back with subtitles intact.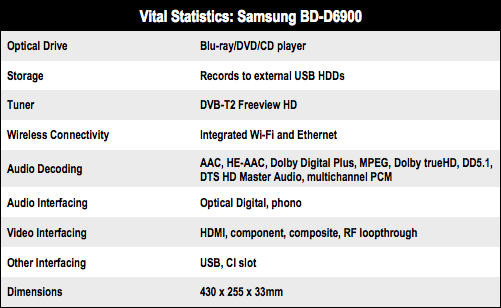 Slot machine
For optical media, the BD-D6900 uses a slot mechanism, rather than a tray – but disc loading speeds are good. HD image quality is perfectly acceptable, both from the Freeview HD tuner and discs. Blu-rays are extremely sharp with precious little noise and 3D is great fun. However, as an upscaling DVD player, I'd rate the BD-D6900 as merely average.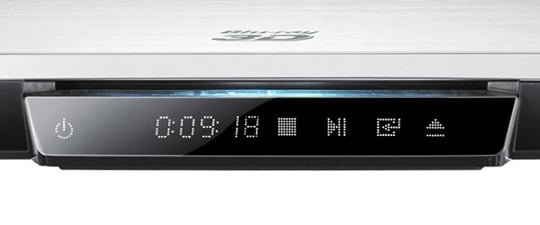 Slimline slot loader
It's worth noting that the implementation of the Smart Hub portal itself is slightly different from what we've seen on the brand's 55UED8000 TV. There's no web browser or live TV window. At the time of writing the key apps available included YouTube, DailyMotion, Acetrax, Facebook, Google Maps and Twitter.
As with Samsung's TVs, there's 2D-to-3D picture processing onboard, which will turn any TV channel or video footage into faux 3D. More interesting was the 3D conversion of 2D still images, which can work rather well.
Verdict

Overall, I really rather like the BD-D6900. Its functionality fits with what a modern entertainment device should offer, with only a couple of caveats: I would like to see wider, more bullet proof file streaming, and the USB recording provision needs a rethink. If you happen to have a spare external drive, enlisting it for PVR work makes a lot of sense. However given that Samsung has only seen fit to place a USB on the front-panel, parking an external HDD in plain sight is going to prove unsightly. Still, when all is said and done, the BD-D6900 is quite an innovative and unique proposition. ®
More AV Reviews…

Six... budget
Blu-ray disc players
Humax
HDR-Fox T2
TVonics
DTR-HD500
Icecrypt
T2400
Group Test
AV Receivers