Original URL: https://www.theregister.co.uk/2011/04/01/games_reviews_total_war_shogun_2/
Total War: Shogun 2
The seven thousand samurai
Posted in Personal Tech, 1st April 2011 12:32 GMT
Review Apart from porn and the Total War series, why would anyone own a PC? Shogun 2 coming out, best get down to Akihabara's Yodobashi Camera and spend some hard earned cash on a graphics card update – couldn't resist the ATI PowerColor 6950 2GB – time to watch my frame rate soar.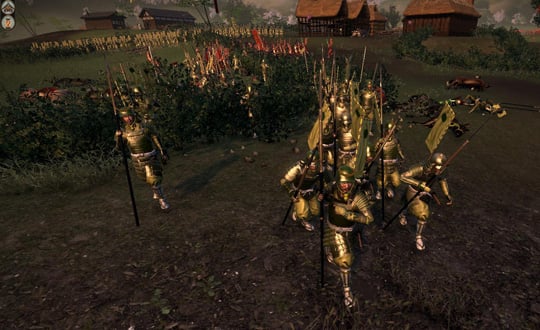 Marshing on
Real time strategy now seems to be the only bastion of PC gaming that hasn't been slowly undermined by the brash maladroite console wars. The Total War franchise, which started in 2000 with the release of the original Shogun, has made the bold move of going back to basics of mêlée combat in a feudal insular Japan.
The last two instalments of Total War – the hugely buggy Empire and Napoleon, which removed fire by line – lost me to the competition and I found myself quickly distracted by Men of War. With this release, developers Creative Assembly have caught my attention like a Pikachu yakitori. Armed with my special edition that includes a pretty hat, my very own ninja clan and a bank of 150xp for the avatar campaign, I am ready to put in some serious hours.
You can't embark on Shogun 2 without a feeling of reverence for the sumptuous graphics that are the essence of this game. As a Japanophile, it can't get much better than woodcut style print quality images of stalks and chrysanthemums adorning the UI. Want to feel like you're in the Japanese collection at the V&A? Well, you do now.
I am playing on ultra settings with my PowerColour card but, alas, without any anti-aliasing until the next big patch. Hopefully, things will go smoother than with the first patch that solved some MP crash issues but locked the player base out of the game overnight.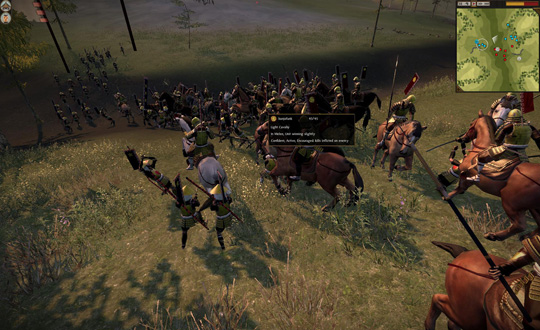 Ming of the hill
The cinematic intro to the game looks very Akira Kurosawa mixed with Kuniyoshi and made me all nostalgic for the battle scenes of Ran. Thrown into a siege about to happen we get a look at the facial expressions and attention to detail that make this game outstanding. A painting of the Buddha on a breastplate and the falling cherry blossom transport us to 1600s feudal Japan. Arrow in the back? This must be total war. Banzai!
Defend your positions
The single player game is based around leading your clan to victory by conquering your neighbours. This is a very complex game and those who haven't played before should start with the robust tutorial that brings you up to speed.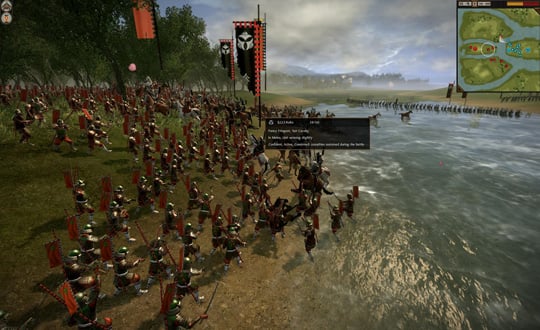 Quite a rave
You'll need dominance in warfare, economy, technology and politics to be victorious. You start by choosing your clan out of the nine available. I chose the Shimazu clan because of the easily defendable position of their island, and clan traits of recruiting cheap and hardcore Katana samurai. Starting the game you are greeted by a helpful but badgering advisor, "You need more bloody roads!". But don't get complacent if you've played the game before the campaign map has changed adding new challenges to even experienced players.
The game is divided into two parts; a turn based campaign mode and a battle mode where you take control of thousands of troops. You start in the turn-based mode and you are given a mission to take over certain territories. In a short campaign you would have to take control of around 15 territories.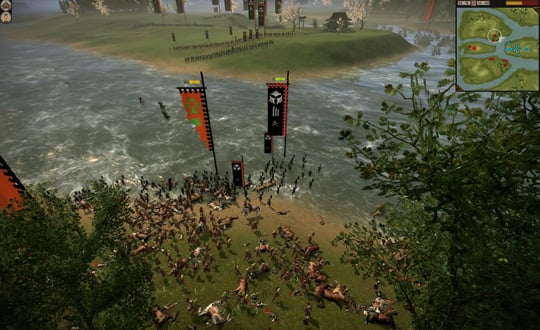 Don't get cross
The first thing to do is to start your economy running by developing trade routes. Admittedly, I didn't prioritise this and that's what lost me my first game. Next thing you need to spend some serious time procuring massive armies, but take care not to piss off the neighbours, as they will come in handy. Indeed, a spare daughter to marry for an alliance will stop you being attacked by other clans in the early stages of the game. As you conquer you collect clan influence, which brings your clan to the shogun's attention. But beware if your influence gets too high the shogun and his loyal clans will attack you and that means total war.
Forward charge
The Creative Assembly has done a great job galvanising the campaign mode with major changes to special agents, such as ninja and geisha. You have to now pay for the use of these characters and they no longer appear randomly. The Ashigaru foot soldiers are your staple troops until you research various samurai through the Arts tech tree. The back to basics units include, Cavalry, Swords, Spears and Archers with a few gunpowder siege weapons and the odd ninja.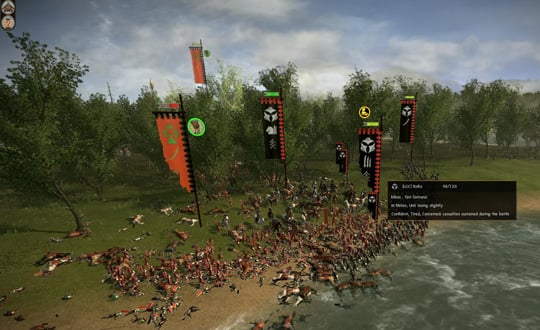 The beach boys
Bear in mind this isn't all about the battlefield though, building a Buddhist temple in one of your cities will allow you to recruit a Buddhist monk to keep the clan faith dominant and allows you to create very powerful monk warriors. My personal favourite addition to the game has to be the ability to upgrade and develop every experienced unit in the game for maximum strategic game play.
So Sentou Kaishi! Brave Ashigaru and decimate any who stand in my way to conclusive shouri!
There are two ways you can resolve your battles. You can press auto resolve and the computer works it for or you can fight the battle yourself either versus the AI or if you are feeling confident, fight an on-line opponent. It took me around 35 hours to complete the short campaign, but putting that time in gave me enough confidence to jump into the multi-player game.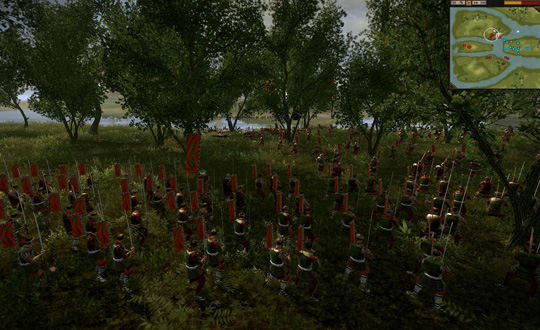 Stay hidden in here forages
Avatar mode is something new to Total War. If you are up for the challenge of MP ranked ladder matches at the press of a button, then you'll love this part of the game. You start with a small 5000-point army, which is easy to control. As well as levelling up and customising your avatar and veteran units, you can collect parts of armour sets in random post battle drops.
Feudal maps
You don't have to join a clan but to get the full experience of the MP game and clan tokens I think doing so is essential. I joined a Sword clan by choosing one of my steam groups quite randomly and began by customising my avatar in a four foot hat. The retainers I chose to use gave minus one morale to Ashigaru troops and plus two accuracy for my bowman.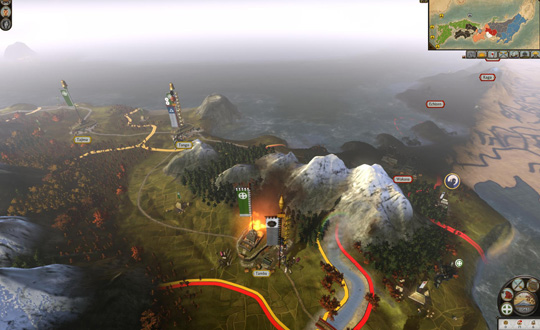 Great wall of Japan
The point of the MP game is to gain access to new troops, parts of armour sets, retainers and to help your clan gain control of provinces to do this you must fight and win battles across Japan.
Pitching yourself against another player couldn't be easier. After I selected a region of attack, two clicks of a button and auto match up found me an opponent of comparable level. I was able to play a balanced game against an experienced high level avatar with a host of veteran units or a noob without many units unlocked. This works out because the name of the game is more about tactics, movement and gaining the best position rather than fielding more expensive troops. The maps are absorbing, stimulating and some even have buildings to capture, that bolster troops and help persuade would-be campers forward, creating some heroic on-line games.
As with newly released games there is scope to improve the security and sportsmanship of the multi player game. An appropriate battle time limit would also stop time-wasting exploiters trying to bore me to death.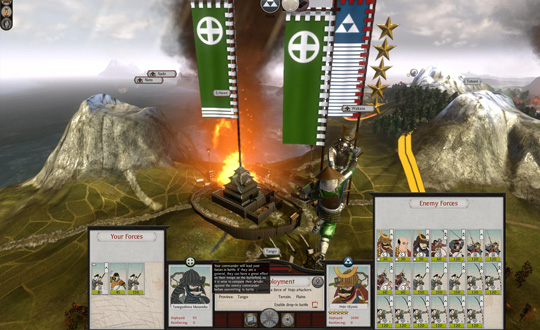 Get along like a house on fire
Verdict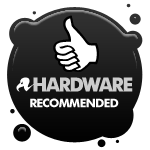 Overall, Shogun 2 is an outstanding return to old fashioned digital killing on a monumental scale. I am Lucy Orr and I am a general of a mighty army and I control that army on a vast battlefield. No other game allows me to do this so smoothly with such a suspension of disbelief. Naming and customising my veteran troops and the inclusion of the Avatar are brilliant additions that take this game from Godzuki to Godzilla. ®
More Games Reviews

Crysis 2
Homefront
Killzone 3
Mindjack
Bulletstorm