Original URL: https://www.theregister.co.uk/2011/03/31/radioplayer_launched/
BBC-led RadioPlayer arrives at last
Industry gets its act together
Posted in Policy, 31st March 2011 14:49 GMT
The RadioPlayer console went live this morning, uniting British radio stations under a simple, open easy-to-use web interface. It's quite a political achievement, given the nature of the squabbling radio business – and all the more so since the entire project required just one full-time employee – and had a budget lower than the annual salary of a top media executive.
RadioPlayer is a pop web console, along with an agreed set of open standards. It will allow radio to be embedded in future devices, such as portable players and set-top boxes. For now, it will become the default UI for listening to both BBC radio and commercial radio on the web – reaching about 4.5 million listeners.
By agreeing to unite under a common platform and API, the commercial sector relinquished its fragmented walled-garden approach – and lost its fear of web users hopping over to another station. That's very easy to do with RadioPlayer. Meanwhile the BBC has effectively given the commercial sector a leg up, and allowed its iPlayer to become subsumed under another brand.
The two groups had common ground, though. As well as wanting to promote web radio in a fragmented landscape, the BBC, as well as the businesses involved, have reason to want to make it easy for others to embed the content in future devices. The BBC and commercial players Global, Absolute and GMG are 50:50 sponsors of the project. More are expected to join.
RadioPlayer v1.0 already encapsulates on-demand features such as podcasts and "listen again", all of which will be searchable. Users can save their favourite channels onto presets. It's a doddle to skip from one station to another. Social media can also be integrated – this is the web, of course. A search engine provided by Autonomy allows users to search by station, location, genre, presenter or name of the programme.
Eventually much more sophisticated web services may be available, and the door will eventually be opened to internet radio stations. Currently you need an Ofcom licence and a £200 one-off access fee. So you don't have to be a giant to take part: this morning's demonstration included content from Brighton's Juice, for example.
Currently radio broadcasters each have their own console – the most famous of which is the Beeb's iPlayer. RadioPlayer allows each broadcaster to retain their own branding. The singular political achievement of the project is persuading the supply side to find common ground.
The project was sparked around 18 months ago, following calls for the iPlayer to become more open. The structure is 50 per cent BBC, 50 per cent commercial players, with equal dilutions as new members join.
Mike Hill, a BBC veteran who was briefly Channel 4's head of digital radio, was the only full-time employee on the project. Channel 4 was granted a national multiplex to launch a range of stations to rival the BBC, but pulled out in late 2008. Hill told us the BBC "primed the pump" for RadioPlayer and looked at several options – a portal-type website – before going for the minimal approach. Hop along to radioplayer.co.uk and you'll find a search engine that brings up the console. But since the console is available on broadcaster's home pages, that's how most listeners expect to find it.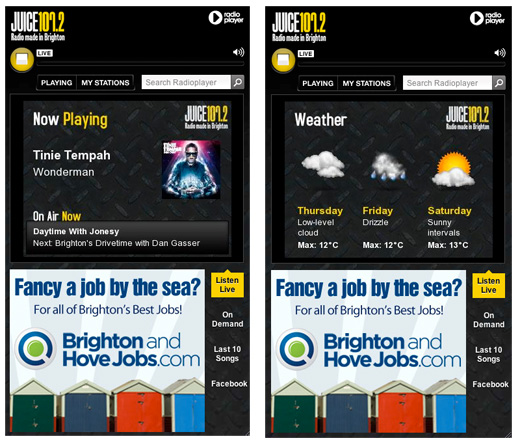 And here's what a commercial station looks like. The space can be used for on-demand, podcasts or other related material.
Hill talked today about the console united DAB FM and internet radio and envisaged hundreds of thousands of stations coming to the console.
For the BBC, head of audio Tim Davie said the radio business hadn't been as innovative as it could have been, but RadioPlayer made it "match fit" for embedding in future devices. Totally Radio chairman Daniel Nathan had called for the iPlayer to be opened up – and while the BBC declined Nathan said he was "pushing at an open door". He found Davie was receptive to the idea of a common venture with the commercial sector.
"It's not replacing aggregators – but the radio industry needed to get its act together and produce better metadata," he told us.
All in all, it's quite an achievement. It's open rather than a walled-garden, it's useful and user friendly – touting features that are valued by listeners, rather than suppliers – and free from the problems that characterised (say) the original iPlayer project. The history of industry-wide technology joint ventures is not a happy one: delays, feature creep, cost overruns, bloat and (eventually) fragmentation are more common than not.
And the cost?
"In the low six figures," executives said today. Or about the same as Tim Davie's salary, somebody pointed out, cheekily.
Davie looked less than pleased by the comparison. His pay for 2009/10, for the record, was £452,000.®