Original URL: https://www.theregister.co.uk/2011/03/30/review_bowers_and_wilkins_zeppelin_air/
Bowers and Wilkins Zeppelin Air speakers
iPod dock with AirPlay for high flyers
Posted in Personal Tech, 30th March 2011 06:00 GMT
Review From a company whose flagship speakers will set you back £18k, but at least you get two of them, B&W's first iPod dock was met with high expectations when it was released back in 2008. Indeed, the Zeppelin quickly established itself as the model to beat in terms of distinctive styling and sound quality. The latest model is called the Zeppelin Air, as it includes Apple's AirPlay streaming technology, but it's also had a ground-up refit, with new electronics and speakers throughout.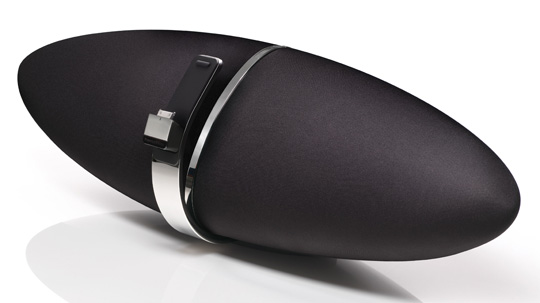 Ballooning sales? Bowers and Wilkins' Zeppelin Air
At first glance the Zeppelin Air looks much the same as its predecessor – a squashed rugby ball with a metal iPod dock cradle protruding from the front. It's exactly the same size – 198 x 640 x 208mm, but a little lighter at 6.2kg, the original was 7.5kg. The difference in weight is largely due to the slightly smaller midrange drivers which are now 75mm instead of 90mm, and apparently deliver better dispersion.
Around the back however, it's lost that silvery metal rear plate, replaced with an altogether more discreet black plastic panel. There's a pair of speaker ports and connections for Ethernet, USB (for upgrades, replacing the S-video output), 3.5mm aux for non-Apple players and composite out for video playback on a TV.
B&W claims this is no simple redesign, but a complete overhaul, with improved amplification and digital signal processing. The five-speaker layout is the same, but as well as the 125mm, 50W subwoofer, the new 75mm, 25W midrange drivers are also joined by a brace of brand new 25mm, 25W Nautilus tube aluminium tweeters – the same as those on Bowers & Wilkins' (as they prefer to be known these days) more recent MM-1 computer speakers.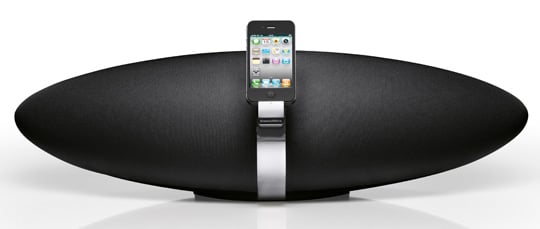 Works wirelessly with Airplay or as a conventional dock
Each of the drivers now has its own dedicated class D amplifier – the old version had three amps to drive all five speakers – and the internal DACs have been upgraded to 24bit-96kHz capability.
Join the docks
Setting up the AirPlay function is a one-off affair. You connect the Zeppelin Air to your computer using the supplied Ethernet cable (you don't need to be connected to the Internet for this), call up a page in your browser and tap in the details that allow iTunes to find it via your Wi-Fi network, and you're ready to go.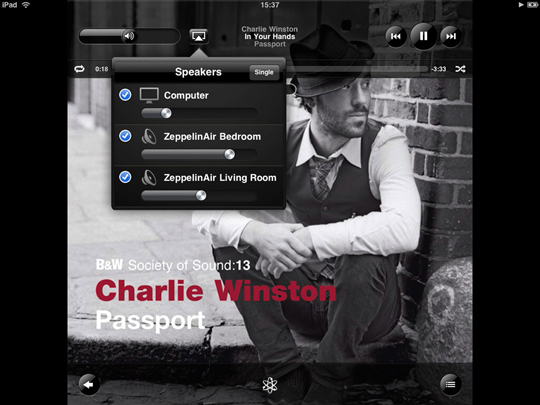 The iPad won't fit in the dock, but you can use AirPlay to stream to the speakers instead
Your iPod or iPhone slots neatly into the dock at the front which actually feels more secure than it looks and it will charge while it plays. If you choose to go the Wi-Fi route (and let's face it, if you've just shelled out £500 on one of these, you will), you simply select the Zeppelin Air using the AirPlay button on your computer's iTunes (10.1 or later) interface. You can also download the AirPlay app to your iOS device (4.2 or later) which allows you to control playback with a bit more freedom than the basic controls on the Zeppelin's own egg-shaped remote.
While I didn't have an original Zeppelin for direct comparison testing, the fact is that the Zeppelin Air sounds terrific, with a muscular, cohesive sound that works hard to make the most of compressed music tracks.
Something you expect from B&W is control, and that's certainly the case here. Even cranked up all the way (and it certainly gets up to house party levels), there was no sign of crack-up in the bass, and the treble never started to sound ungraciously shrill. It handled the glorious polyrhythmic racket that is the new Ojos de Brujo album with aplomb, pulling out the kind of detail you wouldn't normally expect from an iPod dock, even with the volume turned down fairly low.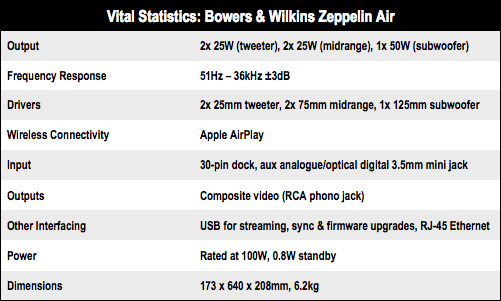 Sound investment?
AirPlay generally worked fine, but there were occasional glitches where the music would occasionally stutter, though it never stopped altogether. It's the sort of thing that tends to happen with wireless devices, especially if you have other gear running on your network or site the Zeppelin Air at the opposite end of the house from your router – it's not a major issue, but shows that using AirPlay is only as robust as your Wi-Fi network.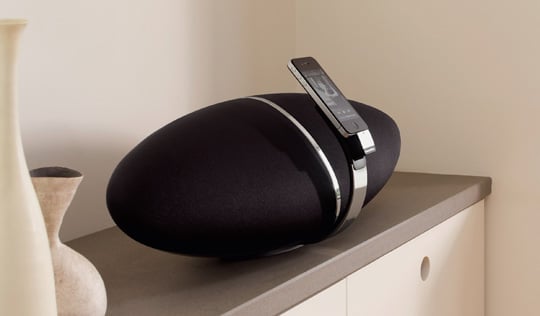 Ethernet is also a built-in for option for streaming, but there's no Internet radio
Verdict
No doubt about it, the Zeppelin Air ain't cheap, costing a full £100 more than the original did when it was released three years ago. Yet its stylishness endures, it still sounds great, and now comes with added AirPlay, though there's still no option for radio or Internet radio, despite the Wi-Fi connection. The enhancements in audio quality probably won't be enough to justify trading in your old Zeppelin for the new one, but the addition of AirPlay gives you a much more flexible multi-room option, especially if you have more music on your computer than you can fit on your iPod. ®
More Audio Gear Reviews…

Altec Lansing
inMotion Air
Denon Ceol
with Apple AirPlay
Jawbone
Jambox
Onkyo
CS-545
Roberts
Stream 63i