Original URL: http://www.theregister.co.uk/2011/03/30/games_reviews_crysis_2/
Crysis 2
Shoots onto consoles
Posted in Games, 30th March 2011 12:39 GMT
Review Where Crysis shifted the paradigm of photorealism for a lucky monster-rig owning few – while power slamming the nail into the coffin of my creaking 9800 Pro – Crysis 2 is a far more forgiving beast.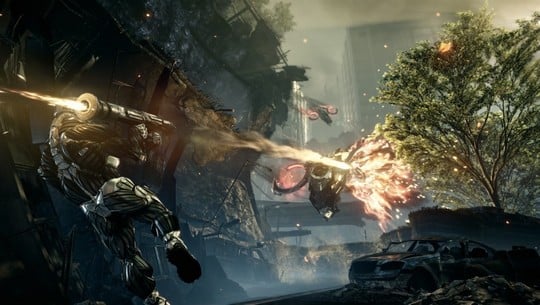 Rocket salad
The near-identical performance of the PC and console versions might not please PC gamers, but the shift to multiplatform befits a series deserving of a larger audience. And even though Crysis 2 consequently falls short of the original's technological leap, it still ranks as one of this generation's most beautiful games.
Facial animations and character models don't quite match the fidelity of Black Ops and Killzone 3, but Crysis 2's locales are in a league of their own. The understated palette lends an authenticity to New York that, even in the aftermath of a devastating alien bombardment, feels instantly familiar. Seen in the half-light through dust kicked up from collapsing buildings, and smouldering and desolate, it's a New York eerily reminiscent of 9-11.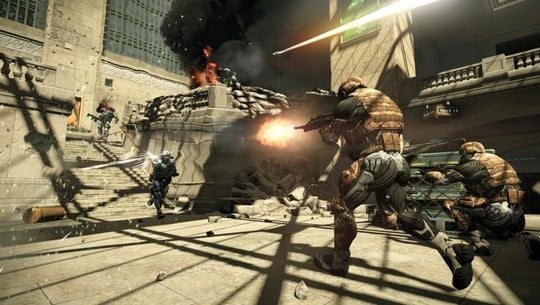 Open fire place
With collapsing freeways, alien craft smashing into skyscrapers and even a tsunami, it's also Roland Emmerich's New York. But despite a near-constant bombardment of grandstanding pyrotechnics, it's the intimacy of disaster that resonates most. Thrust into the Nanosuit 2 by chance, your character, US Marine Alcatraz, is unwittingly caught up in the chaos, battling an alien invasion on one side, and on the other, a private military company hell-bent on exploiting the alien technology for its own gain.
Suit yourself
Providing a superhuman edge in combat, the nanosuit returns as the star of the show. Nominally changed from Crysis and Warhead, the neo-military fetishwear offers the familiar and entertaining sandbox toolset of speed, strength, armour and cloaking to complement the game's near-future weaponry. It's a toolset that offers a wealth of opportunity to individualise play, but it also means you have to challenge yourself to get the most out of the game.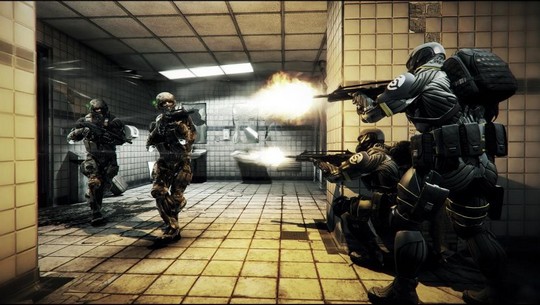 Out on the tiles
On all but Supersoldier difficulty, the nanosuit proves too omnipotent. With a significantly shorter cooldown period than Crysis, cloaking is too readily overused. Stripped of the dense jungle camouflage, enemies are at a distinct disadvantage amid New York's open spaces. And augmented powers – harvested from dead aliens – are utterly superfluous before the final third of the game, when alien numbers and types finally present a challenge worthy of the nanosuit – none more so than Pingers, intimidating tripods that make Half Life 2's Striders seem like fluffy, three-legged bunny rabbits.
Even on Supersoldier, Crysis 2's campaign is far easier than Halo and Call of Duty's toughest difficulty settings. But it still manages to provide sufficient challenge to stretch out play to a satisfying 14 hours.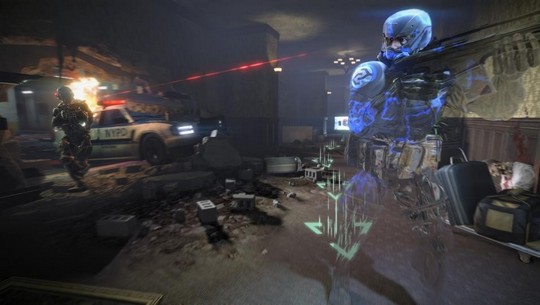 Fading fast
Despite a rather pedestrian opening few hours, the excellent popcorn narrative and open-world punctuated by intense action bubbles, carries you through the game as it proceeds towards a thrilling crescendo.
Human resources
Crysis 2 's multiplayer, meanwhile, offers a far more exacting challenge. Supporting 12-players on the consoles – 16-players on PC – it's a big step down from the 32-player combat of the original, but small – all lifted wholesale from the main game – and the nanosuit abilities help keep the fighting intimate and pacey. Weapon and attachment upgrades are, perhaps owing to those innate abilities, limited compared with other shooters, and the progression curve to unlock them is far tougher. But a New Recruits matchmaking option restricts players up to level 10 to ease the difficulty when starting out.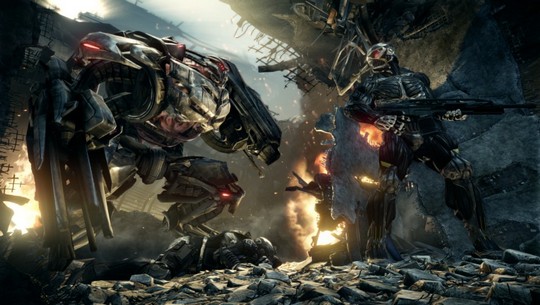 Watch your back
Deathmatch and Team Deathmatch are available from the outset, with variants such as King of the Hill, CTF and Assault modes unlocked as you progress through the ranks. Having to slog your way to additional modes isn't everyone's idea of fun, but the new modes are worth the effort, especially Crash Site, the King of the Hill mode, which elicits the greatest amount of tactical variation through its dynamic spawn points.
Despite the distinct nanosuit abilities, however, Crysis 2's multiplayer ultimately struggles to distinguish itself from the crowd. Its relentless twitch combat might suit some, but the modes and killstreaks soon feel overly familiar, especially to Call of Duty players, and combat fatigue quickly sets in.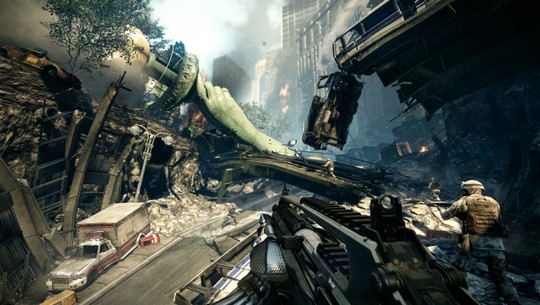 New York state of mind
Verdict
With just a squeeze more intellect, Crysis 2 would have ranked alongside the greats. As they say, with great power comes great responsibility. So even though its open world and sandbox toolset feel liberating after the confining corridors of so many shooters, in order to eke out a challenge amid its beautiful scenery, you're going to have to go easy on those powers. ®
More Games Reviews

Killzone 3
Mindjack
Bulletstorm
Dead Space 2
Homefront