Original URL: https://www.theregister.co.uk/2011/03/30/amazzzzzzon_cloud_drive/
Cloud music lockers: who fricking cares?
Amazon launches solution looking for a problem
Posted in Policy, 30th March 2011 15:22 GMT
I have seen amazing music services that never launched because of music company collywobbles. No one would call Amazon's Cloud Drive locker, launched yesterday, an amazing music service. Or even a quite good one. To be honest, it barely deserves to be called a "service" – it's really more of an afterthought.
The music locker – or as we once called them, ftp sites – is an ancient idea. Anyone who wants to has been able to use a music locker has been able to do so for several years, but hardly anyone has. Even Amazon seems bored with it: there are no whizzy features (only a playback button) and the company didn't bother to update the © Amazon 2010 at the bottom of the page, but this could be deceptive. It looks like a buzzword in search of a market.
So what's the fuss about?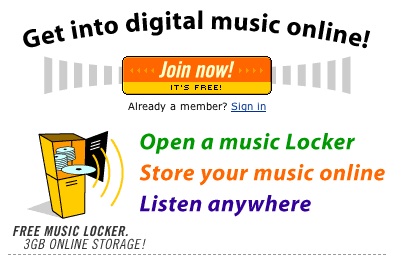 Deja vu: MyPlay.com in the year 2000
Like almost everything with the word "cloud" in it, it's based on hype, on expectation of future value. Or on more future hype: Apple and Google are developing their own. There's a huge amount of wishful thinking to cloud services – much of it based on agenda-driven DIY sociology of almost comical awfulness. Here's an example, containing meaningful PowerPoint™ headings such as "The Sharing Evolution" and "Collaborative Lifestyles".
(People actually pay to hear stuff that bad. It's amazing).
The wishful thinking is based on the fact that we'll upload everything digital we currently value, and store locally, to a service provider, and pay them to lose it for uskeep it there. This used to be free: ftp space, traditionally, was bundled in with your ISP subscription. The past decade has shown that there's only a tiny market of consumers (as opposed to enterprise IT departments) prepared to pay for such online backup-and-access. In addition, this small group includes many people who have acquired at least some of their media illegally, and they're reluctant to upload it for the inspection of ... who knows? So online-backup-and-access for media is small to non-existent. This really isn't very surprising.
Unless there's a music locker that's offering us some value, somewhere, it's simply yet another backup service – with not many knobs on. And the disadvantages are numerous. If the portable music player had never been invented, we would go to the cloud by default to hear our own music, and we'd have to put up with the caprices of an unreliable network. But even the cheapest Nokia phone is a music playback device – so what's the point again?
Compare that to a Spotify, which has its own set of inconveniences, but also offers a few quite clear and compelling features: instant access to a large catalog; terrific performance from a native client application, rather than a web browser; playlist-sharing; and a reasonable list of features.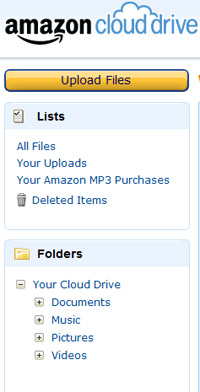 How it looks now: Amazon's Cloud Drive
Yet despite the obvious-when-you-think-about-them drawbacks to lockers, the music industry is paralysed by its response to this. Large record companies once had a fear that with lockers, they would only ever sell one copy of a recording, and the rest of the world would stream it. The industry sort of got over that fear, and now it does much more licensing that it used to.

It's an FTP site... with a play button!
But instead of the major innovations and experiments, and wholesale reforms it should have made, the music industry has instead only made sideways crab movements, and really has no more idea of how it can capture the value from music than it did years ago. The current objection to "lockers that stream" is that services don't pay very much for their music – this we know – and they reduce income from services that do pay. The answer to that is to license more and better services, and focus on licensees who have a bit of cash, rather than the archetypal Nathan Barley on his Gap Yar (just off Shoreditch) "tech startup" so beloved by David Cameron.
Amazon will get better, to be sure. But I'm still stumped at why I (or any other music fan) would want to pay for this. Perhaps you can enlighten me.
In the meantime, a much better locker is from Michael Robertson's MP3Tunes.com, currently the subject of a lawsuit from EMI. It offers up to 200GB for $12.95 a month, and playback clients for dozens of devices.
And it still isn't very exciting. ®
Bootnote
In the space of a few days during the dot.com crash, in May 2001, Bertlsmann bought up David Pakman's Myplay locker and Universal bought Michael Robertson's MP3.com – which made a backup of your CDs for playback from the cloud. Bertelsmann thought it could complement Napster. It still can, but the Napster part of the proposition (licensed file-sharing) is still MIA.