Original URL: https://www.theregister.co.uk/2011/03/28/tpm_gets_an_ipad_2/
Steve Jobs screws my wife (out of $944)
What do you do with an iPad 2?
Posted in Personal Tech, 28th March 2011 00:00 GMT
Comment I couldn't tell who was more excited about our new electronic toy: me or my wife.
She snuck out of bed at 3 am local time on March 11 to order me an iPad 2, and considering how much my wife likes sleep, that probably means she still likes me, even after sixteen years of dating and marriage. At least enough to shell out $729 for a white, Verizon-enabled 32 GB iPad 2 from Apple, plus the red leather iPad 2 cover (another $69) and the wireless keyboard (yet another $69). Including $77 in taxes, that was a total of $944 for a birthday present.
But beware the ides of March.
I normally don't want something for my birthday other than a home-made Boston cream pie and a decent beer, but for some reason, the idea of owning an iPad got hold of me. A bit like someone whispering in your ear in a sultry voice that you deserve it. And when my wife said she would pay for it with her own cash, I mean, how the hell was I supposed to resist?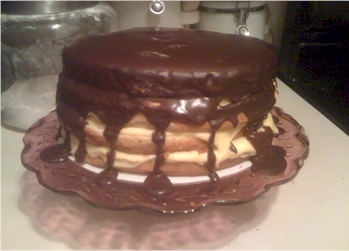 Boston cream pie - not a euphemism
I like electronic gadgets as much as the next tech journalist, but I am not usually interested in spending money for toys. I buy machines to do work. I figure that Steve Jobs is rich enough and doesn't need any of my hard-earned cash, so I was just as content to stick with my "road warrior" Hewlett-Packard Mini netbook, which I picked up on the same day I got my Motorola Droid phone on opening day back in November 2009. (I was heading out to the SC09 supercomputing trade show in Portland and my six-year-old LG flip phone had a cracked screen and was an embarrassment).
That Droid was the first product I rushed out to get since I bought a Motorola StarTAC phone back in 1996, when I was starting my first business. Ah, my StarTAC. The StarTAC was the closest thing to a Star Trek communicator that was a real working, er, communicator. I used that phone until it was dead, including repairing the end of the antenna with electrical tape so it wouldn't puncture me if I wore it on my belt in the front instead of near my right kidney, like Captain Kirk (and I) normally did.
I got the Droid because I liked Motorola phones, but also because it was the Anti-Apple product. I didn't want to join the Cult of Steve. But eventually, I gave in. And, well, I have to admit, there are some Apples in my past.
I cut my computing teeth on an old Ohio Scientific Z80 machine with dual eight-inch floppy drives back in the early 1980s. I had a Commodore 64 too, way back then. But it was the Apple II that my best friend's uncle bought on a whim that really taught us what computers could do. I'm talking about playing games, of course.
My friend's uncle was a marine biologist who also happened to work at a manufacturing plant that got one of IBM's very first System/38 relational database midrange computers, and he programmed an entire ERP system all by his lonesome to run that business. He really didn't have anything to spend money on, so every Saturday he took two teenagers to the mall to buy music and get Chinese food and then over to the computer store to buy Apple games, then a quick dash home to play them.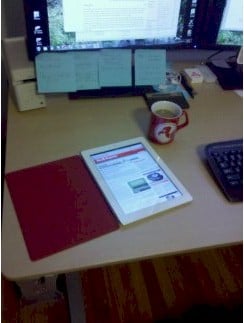 Work, and play, and more work.
Yes, that's an original HP 12C.
We loved Castle Wolfenstein, of course, as well as Flight Simulator and Horse Racing Classic (yes, we gambled). Choplifter, where you are a combat helicopter pilot trying to rescue troops from a battlefield, was another one I played constantly. I have never gotten over Cytron Masters, a chess game that had battle bots instead of chivalric elites and peasants fighting. You programmed your pieces to move and fight in precise ways and then set them all loose at the same time to see who would win. All kidding aside, Uncle Dickie spent tens of thousands of dollars on games for us over the years - and that was back when this was real money.
This must have been lurking in the back of my brain, when, one night, my wife and I went out on a date in the Soho district (no, we don't do that often) with some friends. We passed the Apple store and I told her to go in and get a phone. I knew I was leaving town, and she didn't have a cell phone for our children to call.
Yes, we were drunk. But she grew up with Macs and didn't need much encouragement to buy a shiny new toy with the bitten apple emblazoned on it. The user interface on the Jesus Phone is hypnotic, as you probably know, and it wasn't long before I was shelling out money for my two kids' birthdays that next summer to get them iPod Touches. We were all now addicted to the touch in the Prickett-Morgan household.
And so, my wife bought me an iPad 2.
What do you do with an iPad 2?
I went with the Red and White for my iPad look mainly because they did not have a navy blue leather cover, which would have let me display my colors for my alma mater, Penn State, where I studied engineering and American literature. (Or what passes for literature. Don't bother to hit the comment button. I already know). I figured Red and White would make it a VulturePad.
But to my horror, the back of the iPad 2 is gray brushed aluminum with a black apple and black sensors, and when you take it all in, that makes it an Ohio State BuckeyePad, Penn State's arch rival. I will get a blue leather cover as soon as Apple makes one.
I must say, despite the fact that I am nervous about magnets being near computing devices, the cover design is brilliant. It snaps on perfectly, almost by itself, and it turns the iPad into a book cross with your refrigerator: you open it, the device turns on instantly, you close it, it turns off. This suits my 21st century impatience perfectly. I want all computers to do this. (My Dell workstation, with its SSD drive, is pretty damned close, by the way.)
For the last week, my iPad 2 has been a great conversation piece, but it's only half a computer. It's mobile, but it's not as versatile as my two-screen workstation PC. And I don't quite know how much I can do with. That's my lightning review. You can read the complete El Reg review here. The story you're reading now is not a review per se. It's a confession of guilt.
Of course, the iPad is great for watching videos anywhere you want. My kids watched countless YouTube videos on it. Why this was more fun on the iPad 2 than on their PC, I do not know, but it clearly was. My wife downloaded a sketching app and drew for a while. Then we snuggled into bed to eat some ice cream and watch an episode of Eureka - which was perfectly watchable, by the way, over our Internet-linked Wii using a Netflix account - and with a flip of the cover when the episode was done, it was off. At least I hope it was.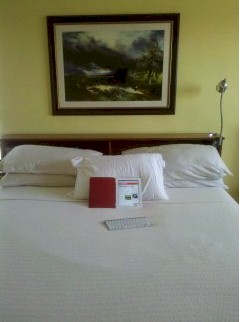 Three's company, or a ménage a trois.
Right now, the iPad 2 is going to be my Kindle and my portable Web browser. I know people love their Kindles, but I like color and I also like touchscreens. Sorry, but there is no going back once you have been there. I borrowed a friend's Kindle at the gym a few months ago, and I kept stabbing at the screen to make it do stuff, which it does not know how to do. You have to hit buttons on the side and bottom of the Kindle. Screw that. I want to read ebooks and Web pages and run apps on the same device.
I also plan to test out server management and virtual desktop infrastructure tools from the iPad 2, but have not as yet had time to do this. But I will be monkeying around with this and will let you know what I learn.
It would be good to be able to take this on the road and use it to do my journalism too. But I haven't yet found a word processor that can work offline that I like and that offers something akin to Word compatibility. (My daughter has a Macbook and says iWork has issues. If you have any advice, Reg readers, I am all ears. Send me a comment. I don't like the idea of using Google Docs because it is bad enough that Google is reading my office email, does it have to read what I am writing as I am writing it?
I was also hoping to use the iPad 2 as a camera, but the camera in the device is an embarrassment. Come on, Steve. Don't be such a cheapskate with the camera. I mean, even I don't look that bad.
I might load it up the iPad 2 with music, but I might not. My Droid is empty and has been for two years except for photos, with the Droid having replaced expensive still and video digital cameras of higher quality. Convenience does trump quality sometimes, but the iPad 2, at 300 kilopixels for the front facing camera and 700 kilopixels for the rear facing one, is bloody awful. And of course, this being Apple, I won't be able to upgrade the camera ever. Apple should have put the 5 megapixel camera in the iPad 2. I guess I will have to wait for the iPad 3.
But I have to say: my iPad is kinda like the StarTAC. It makes me think of Trek. I will probably, at least once, ask my wife to put on that little red dress she wore to the first wedding we ever attended as a couple, put on a blonde behive wig (or at least put her hair up in some fancy braid) and hand it to me as if I'm supposed to sign it, as an adoring yeoman would. If I am lucky, she might even call me Captain. ®