Original URL: http://www.theregister.co.uk/2011/03/28/review_gasget_zomm_/
Zomm wireless leash
For your dog and bone
Posted in Personal Tech, 28th March 2011 11:58 GMT
Review The Zomm is a pebble-shaped wireless 'leash' for mobile phones. It pairs to a phone using Bluetooth and if the two devices are separated by a few meters then the Zomm alerts you, first by vibrating, then flashing and a few seconds later by beeping.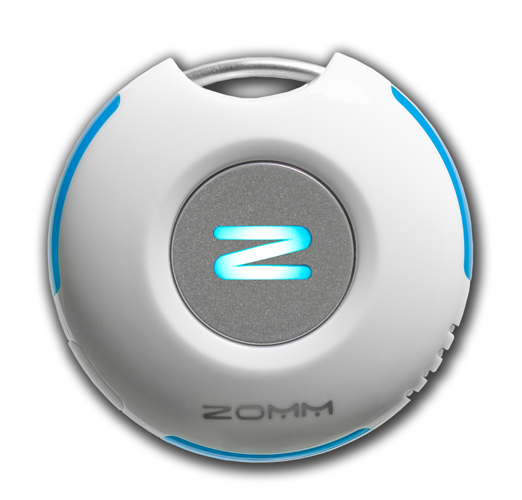 Protect and survive: Zomm's wireless leash is controlled by just one button
Designed to be used as a key-fob, it means that if you leave the house, office, pub, etc, without your precious handset you'll soon know about it rather than when it's too late. Similarly if the Zomm is in your pocket but someone makes off with your mobile, you'll be aware of it.
It has an additional personal safety feature that emits a panic alert after holding the Zomm's button for nine seconds, though it's quieter than conventional personal alarms. Hold it for a further five seconds and it automatically dials an emergency number. This can be set to whatever you like, such as 999 or your next of kin. Its default is the Europe-wide 112 and at the start it plays a standard message, in case you are unable to speak.
Pre-recorded message alert
You can use the Zomm's Bluetooth speakerphone feature during emergency calls, with the option of muting the speaker – though you wouldn't be able to hear what the other person is saying without transferring the call back to your handset – and I can imagine this being fiddly in an actual crisis. However, it does work, which I checked after customising the Zomm to dial my landline.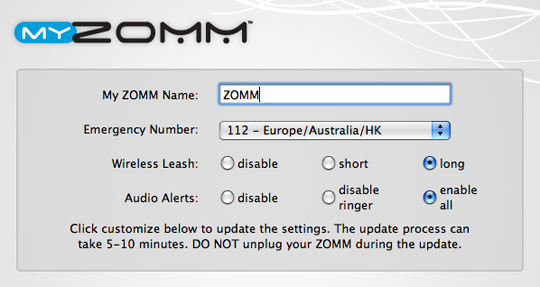 Customisable controls for alerts and 'leash' distance
In less urgent situations you can also use the speakerphone function just like any hands-free device, which makes it useful for conference calls or if driving, as long as the Zomm is safely accessible (e.g. attached to your car key). An in-car accessory kit is also available. If you already use a Bluetooth headset, only newer phones will allow two connected devices.
Raising the alarm
The Zomm first appeared in the US in early 2010 but is now being officially distributed in the UK, currently in a choice of white or pink. A few similar devices have also emerged, such as the Nio, while the upcoming PipSqueak adapts the concept by adding caller ID display and call-holding.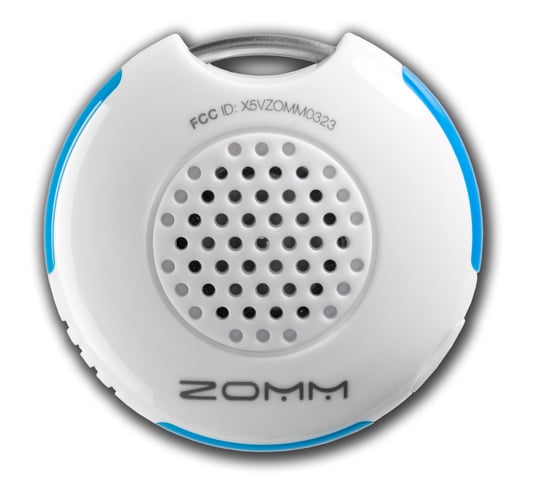 Doubles as a Bluetooth speakerphone or panic alarm
For now, the Zomm is a simple phone accessory. It takes about four hours to charge through its mains adapter or while connected to your computer via micro USB, where you also configure your preferences. Battery life lasts for about two to three days on average, depending on speakerphone usage or the number of times the alarm sounds.
The set-up is straightforward – you pair it to the phone like any Bluetooth product, and there's only one button on the Zomm itself. The button is slightly recessed to limit accidental presses in a pocket or bag, but it's relatively big so these could still happen. It serves as the on/off switch or, when on, to accept calls over speakerphone. Two quick presses diverts to voicemail.
When your mobile switches off – or if the battery dies – without first turning off the ZOMM then its alarm will sound. Therefore you have to adopt a new mindset to keep aware of this, especially if you've gone somewhere like the theatre. And although it works with most mobiles, there are quirks. With a Nokia I found the alert sounded when answering incoming calls on the handset rather than with the Zomm's speakerphone. However, with an LG phone it worked properly.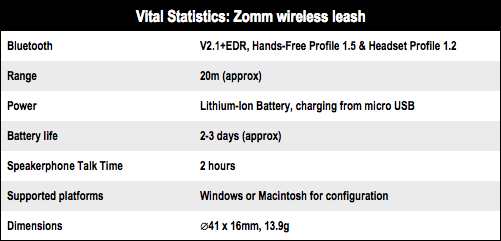 Mobile tethering
The exact distance that sets off the Zomm's alarm depends on any obstacles between it and the mobile, but it's enough to warn you as you get to the end of the driveway, for example. With its Windows or Mac application you can alter this setting to the short end of its typical 9-20m range. Here you can also disable audio alerts if you want.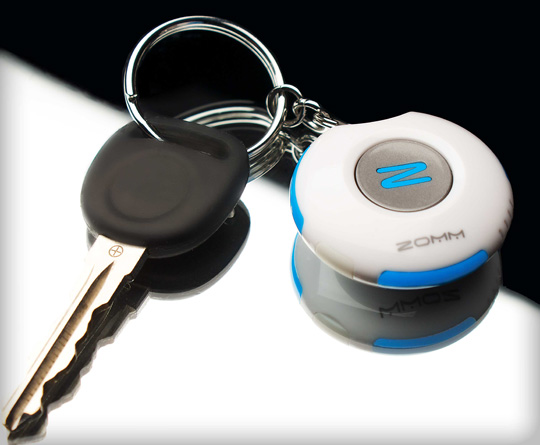 Keep it with your keys, or use its supplied belt clip
Being a speakerphone isn't its main purpose and the sound quality is a little basic compared to dedicated audio add-ons but it's generally usable and the volume can be adjusted using the phone to make it less scratchy. It also incorporates a small noise cancelling microphone.
Verdict
If you regularly misplace your phone to the extent that you want to spend £80 on a solution, then the Zomm suits this task, and there's the added option of hands-free calling. I can't see the SOS feature being a huge selling point, unless you're particularly frail, where it would have some advantages. ®
More Gadget Reviews

Gear4
UnityRemote
Phosphor
World Time Curved
E Ink watch
iDapt
i4 charger
Keene
USB FM Transmitter
Withings
Wi-Fi scales