Original URL: https://www.theregister.co.uk/2011/03/25/visualisation_add_ons/
A deluge of diagramming add-ons
The third men
Posted in Software, 25th March 2011 14:00 GMT
Workshop Installing the software is just the start: you can also buy all manner of diagramming add-ons and alternative stencils, templates, shapes and icons either from your vendor or from third parties. The beauty of the third-party market is that it is huge, flexible and offers plenty of cheap, or even, free software.
A quick word about nomenclature: according to John Marshal, a leading expert on Visio third-party suppliers, a stencil is a file that contains a collection of shapes, while the representation of shape in an open stencil is called an icon.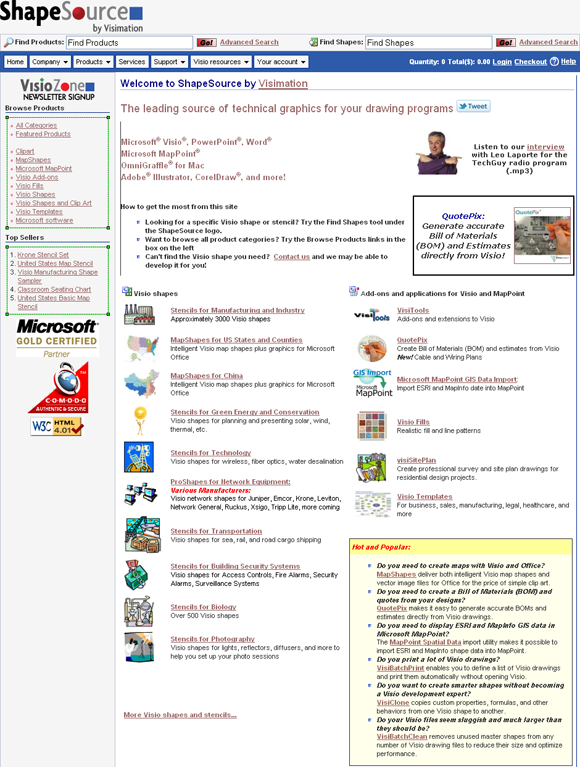 ShapeSource by Visimation aggregates add-ons
Shapes can range from simple flowchart boxes up to complex representations of servers, racks or any kind of replicable physical object.
Most third-party products relate to common activities such as planning network infrastructure, web design, mapping, engineering or general design. They are also the answer for those looking for all kinds of niche products, from pool design tools to dog trail stencils.
Aside from stencils, shapes and templates, specialised tools are also popular, notably those that automate the drawing process (such as D-tools). D-Tools SI5.5's data-driven processes enable you to generate detailed plan views, line diagrams, elevations and schematics in either AutoCAD, Visio, or both.
Many features and functions in Visio start life as an add-on and are incorporated into the product in later editions as demand grows. Not surprisingly, the more you spend the more of these add-ons you are rewarded with. There are only a few in Visio Standard, but Visio 2010 Premium ships with 95 add-ons, plus four more if you install the Visio 2010 development kit. The Pro version is only a few add-ons short of Premium.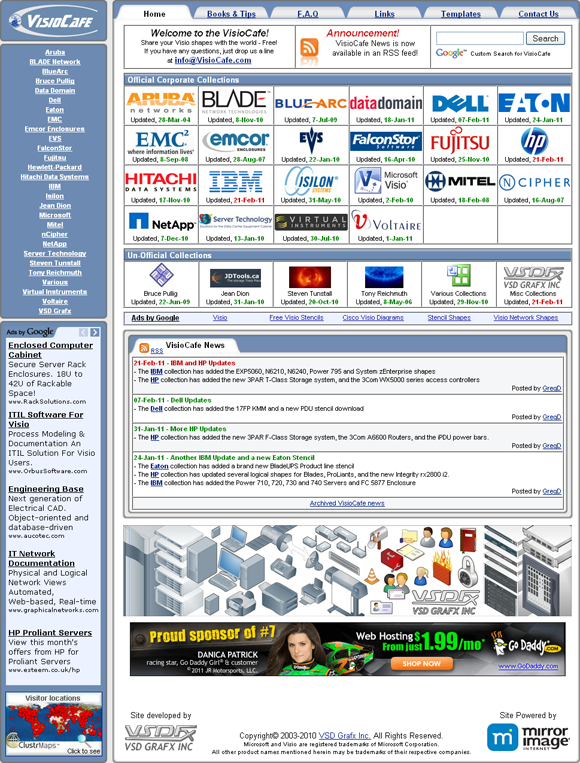 VisioCafe is a comprehensive resource for IT stencils
For Visio the biggest third-party resources are Visio Café, ShapeSource by Visimation, and, supplying perhaps the most comprehensive third-party listing known to man, John Marshall.
But be sure to check Microsoft's Visio resources first, as there are more of them than you may think:
Meanwhile Chris Roth, editor of the Visio Guy blog, has collated a superb collection of mainly free add-ins for creating diagrams of virtualised networks:
On the infrastructure front, Altima Technologies' Netzoom is perhaps the most extensive library of relevant downloads, offering shapes and stencil downloads for Visio, AutoCAD and Autodesk. The firm also supplies auto-generation tools, as do Apprentice Systems, Data-Assist and D-Tools. Codima Technologies provides automated tools covering infrastructure and VoIP networks, while Sandrila focuses on tools for electronics and electrical engineering. UK-based BVisual provides end-user and developer productivity and feature add-ins for Visio.
Vendors such as Dell, HP, IBM, Cisco, Citrix and others also offer scores of free stencils.
Not everyone, however, thinks the third-party approach is always the right one. Dale Vile, managing director of the IT analyst firm FreeForm Dynamics, says: "You should not forget the importance of building your own templates. It is good practice for an organisation to agree on how different aspects of the business and systems landscape will be represented, and having your own library of templates and icons is very useful.
"You can even brand them in corporate colours and include spaces for mandatory information, for example review and approval information, corporate classification or reference coding. You can build these from scratch or derive them by tweaking templates."
This view is echoed by David Parker, a Visio specialist and managing director of a UK reseller calledBVisual. "I would emphasise the validation capabilities in Visio 2010 because it provides the ability to check that a diagram is well constructed before feeding it to a data consumer," he says.
Microsoft Visio 2010 provides built-in rule sets for flowcharts, diagrams and SharePoint Designer workflows. However, it does not provide a developer interface for amending or creating rules. Parker has written a Rules Tools add-in which fills this gap by providing an extra group in the Process tab that allows users to analyse existing rules, display issues and to export and import rule sets.
Of course, Visio is not the only sandwich in the box. Here are some useful add-ins for CorelDraw, free templates for SmartDraw, templates and stencils for OmniGraffle and Omnigraffle for UX designers.
And finally, if you are planning a life of leisure, here are those templates for sketching out a design for the swimming pool at your country pile. ®