Original URL: https://www.theregister.co.uk/2011/03/25/games_reviews_yakuza_4/
Yakuza 4
Gangster wrap
Posted in Personal Tech, 25th March 2011 13:00 GMT
Review Yakuza 4 manages to pack so many disparate gaming elements into the one package that it's hard to know where to start. Part soap opera, part noire, undoubtedly a kung-fu fighter, but with fleeting resource management and a reasonable-sized city to explore, this is the JRPG, at its most offbeat.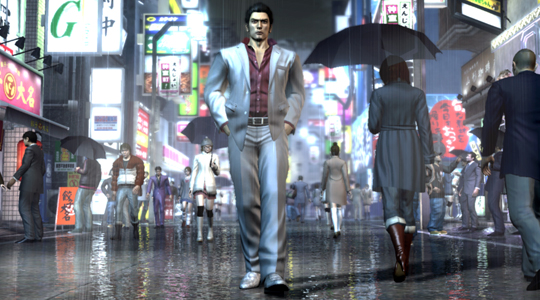 Too cool for an umbrella
Take the first playable character you're introduced to, Shun Akiyama (there are four main characters all told). He's a chain-smoking philanthropist of his own design, and also the owner of Sky Finance – a money lending outfit that will loan any amount of Yen, interest free and with zero collateral, so long as the recipient is able to pass one of his concocted 'tests'.
Fair enough you might think, a good policy for such a charitable institution to instigate. The thing is, when Lily – a beautiful, mysterious dame looking for a huge amount of money – walks into his office, the test he asks of her is to become a 'hostess' in one of his clubs – an odd way to run a charity.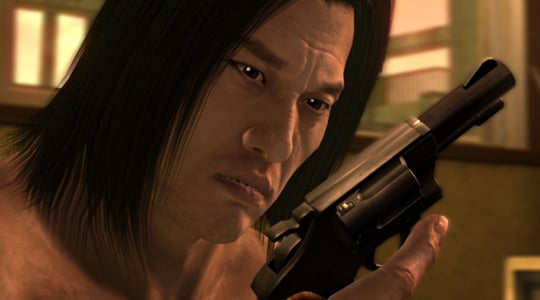 Oooh shiny
Yakuza 4's plot is full of such eccentricities, but then that's always been part and parcel of the franchise's charm. Newcomers might find they're initially bewildered but soon the strange ebb and flow of it all settles down, and you find yourself micro-managing your hostess' outfits (ensuring maximum turnover) without so much as a second thought; it turns out being a pimp is fun, who knew?
Character assassination
Akiyama's part in proceedings is, as I've already mentioned, only one section of Yakuza 4. Other characters to get their own chapter are: corrupt cop Masayoshi Tanimura; Taiga Saejima who has recently escaped from death row; and series stalwart Kazuma Kiryu, back to stand around looking moody once more. Each swap feels like a small loss, such is your eventual attachment to each character – it's a bit like in The Wire, when everything changes between series.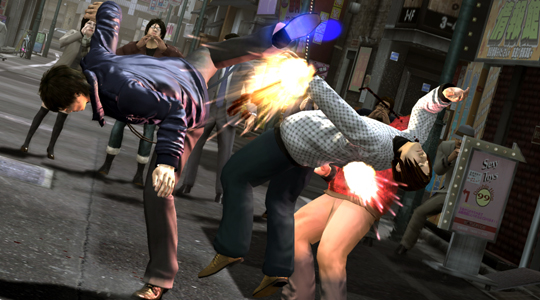 Fart lighting competition gets out of hand
The extra cast of characters is a vast improvement on Yakuza 3 though, enabling the writers to focus on more interesting and humorous story strands than those offered by the rather one-dimensional Kazuma Kiryu alone. A good thing too, given that cut scene lengths approach Metal Gear proportions at times (and all in subtitled Japanese). Each fighter also has his own fighting style, forcing the player to adapt to new techniques and freshening up proceedings.
With the game revolving around the fictional city of Kamurocho, you're free to roam the streets, roof tops and sewers, though navigation is irritatingly tough as the in-game map doesn't allow you to set nav points – why, Sega? The world also accommodates its fair share of gangsters, all after a piece of you. You can't walk ten yards down the street at times without being accosted by street thugs, hostile Yakuza and various disgruntled toughs. If this was the case in my home town, I'd think long and hard about moving.
Thankfully Kiryu, Akiyama, et al, are more than happy to go toe-to-toe with the city's resident heavies, with fights introduced much like rounds in Virtua Fighter and temporary arenas even formed courtesy of the crowds of disturbingly blood-thirsty bystanders. The key difference in the fighting here being that multiple combatants will attack you at once, armed with guns, swords, knives, you name it.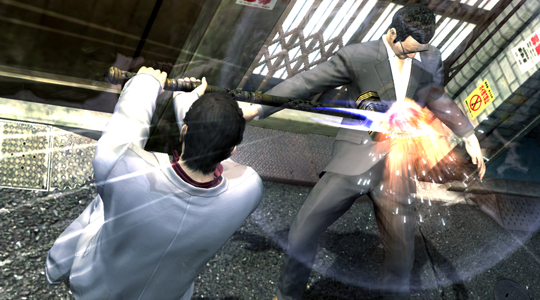 Fire in your belly
Crucially fights do entertain and you can pull off some gratifying combos which showcase Sega's mastery of the beat-'em-up. You'll get a lot of practice too, with an almost comical amount of damage needed to be dealt out before your foes succumb. Unavoidably then, fighting is of the 'ultra-violent' variety with many a pint of blood, and tooth, being lost as bikes are smashed over their heads, samurai swords unsheathed and more.
When in roam
Soul Points garnered, whenever you earn sufficient experience points to level-up, can be spent on a variety of attacks, throws, counters and heat generators (heat being the key to fights, raising your character's strength and abilites), and again remind us that this is an RPG after all. Later fights will see you utilising every technique acquired too, with foes dealing out punishment with speed and accuracy. Quick-stepping and blocking quickly becoming as important as attacking, if you are to emerge victorious.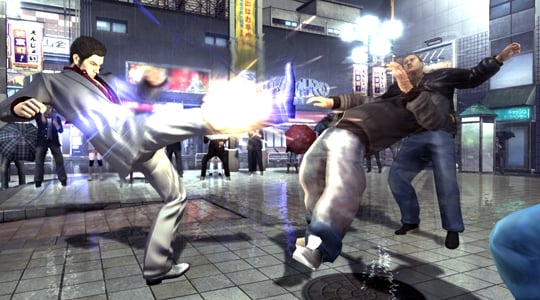 Flared trousers?
Visually, Yakuza 4 does a decent enough job of representing a living, breathing city. As with any game played-out on so large a stage, the amount of detail is occasionally lacking, with textures repeated, a lot of greys used, etc., but that's forgivable at this scale. Characters move with a fluidity, each having their own presence and style, while sparks fly impressively during battles.
Kamurocho itself isn't quite as exploitable as GTA IV's Liberty City say; you can't suddenly grab a motorbike and head out on an uzi-fuelled rampage for example. That's not to say this city isn't without its charms, there are enough mini-games here to keep you entertained for hours without even touching the game's main plot. Take Club Sega for example, arcades complete with playable games such as the excellent shoot-em-up, Boxcelios 2, and even a toy-grabbing claw cabinet.
The odd chase sequences, in which you play both pursuer and pursued hurdling obstacles as you go is fun, if tricky to control. While other sides include pool, darts, photography, mah-jongg, table-tennis, each well implemented and ready to seize yet another hour or two of your life. Then there's the combat training with the machine gun armed Saigo – no prizes for guessing who wins that run-in nine times out of ten…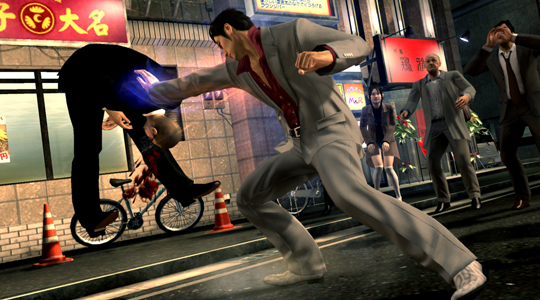 Slap on the back
Verdict
Yakuza has long been a divisive franchise due to its peculiarities and Yakuza 4 is no different. With its masses of dubiously motivated characters, strangely staged fights and hour upon hour of passive video, it won't be to everyone's taste. That said, if you're looking for an antidote to the endless stream of commercialised shooters, this might just be the tonic you're looking for. ®
More Games Reviews

Homefront
Killzone 3
Mindjack
Bulletstorm
Dead
Space 2