Original URL: http://www.theregister.co.uk/2011/03/25/acer_iconia_w500_a500_tablets/
Acer locates 'missing' tablet strategy
Date, price set for Android 3.0 fondleslabs
Posted in Personal Tech, 25th March 2011 08:00 GMT
Acer has announced the launch date and pricing of its Iconia 10.1in tablets. The company has a two-OS strategy supporting both Windows 7 and Android 3.0 Honeycomb in its W500 and A500 models, respectively.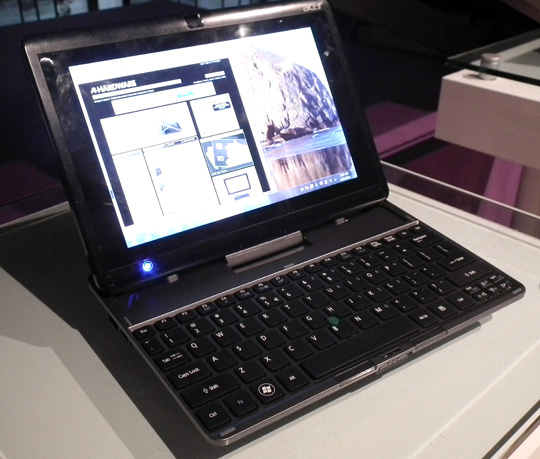 Acer's Iconia W500 in netbook mode
The W500 will be available in Wi-Fi and Wi-Fi + 3G versions, and will be sold either separately or with a docking keyboard. It's this keyboard that rather captures the imagination as the W500 looks every inch a netbook when attached to it. However, it doesn't close up in the way you would expect: the tablet needs to be removed, and the hinged docking latch and interface folded away. Then the keyboard can function as a protective lid, held in place with a combination of a latch and magnetism.
Clumsy and inelegant? Yes, and heavy too.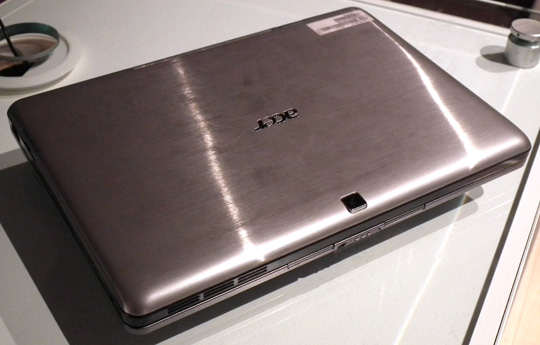 Slimline tablet transformed into chunky netbook
There's no trackpad either, but the touchscreen will take care of most things although there is a green, ThinkPad-style rubber pointing stick that Acer calls the FineTrack. The keyboard also features wired networking and an additional USB port.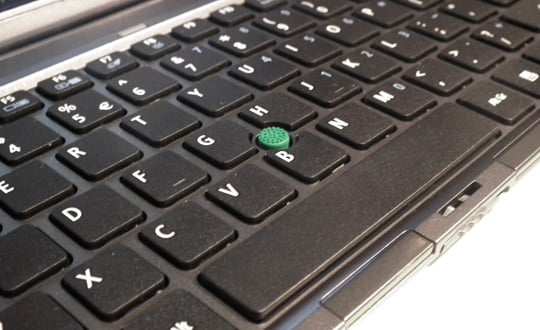 No track pad, just a point stick
Acer made great play of its tablet history, remarking that its TravelMate C100 was the first Windows XP tablet to appear, some ten years ago. But executives nevertheless confessed that its tablet strategy was "missing". Apparently, the touch and type combo of the W500 is aimed at those who want to "do stuff on the move".
Surprisingly, the A500 lacks this docking double act so presumably Android users are all slackers whose only interest in a tablet is as an entertainment device. When questioned why the A500 hadn't been designed along similar lines as the W500, the initial reply was it hadn't been developed. Pressed as to why not, the response was a shrug. Perhaps that tablet strategy is still missing guys?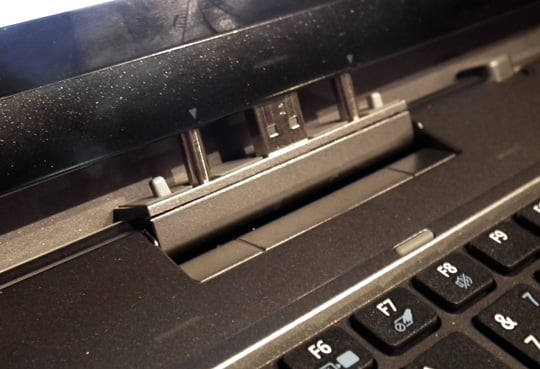 Docking
Now, Android users with work in mind can always resort to a Bluetooth keyboard, but the differences don't stop with the gadgetry. The W500 is powered by an AMD Fusion C-50 1GHz dual-core CPU. It's the 9W version with 1GB RAM and an AMD Radeon HD6250 GPU with 256MB RAM.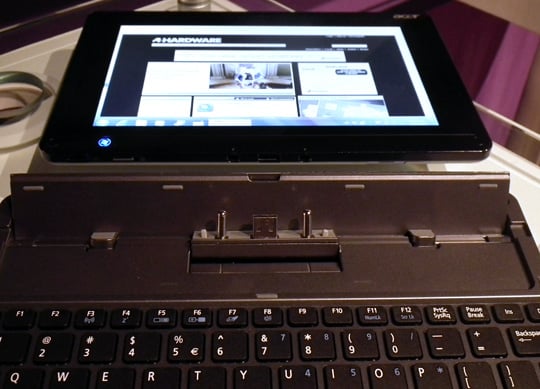 Detached
By contrast, the A500 features an Nvidia Tegra 2, another 1GHz dual-core chip, but this time the ARM Cortex A9 with an Nvidia ULP GeForce GPU. Both tablets are capable of delivering 1080p video, and while you're not going to see that in all its glory on the 10.1in, 1280 x 800 display, the HDMI interfacing will deliver it when hooked up to a telly.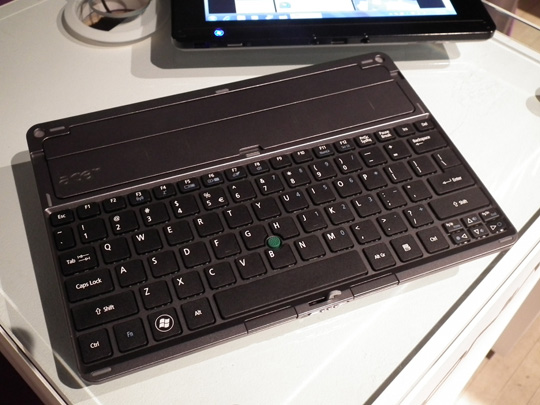 Docking assembly folded away
With Honeycomb still in the hive, Acer's focus was on the W500 specs claiming a battery life of four hours for video viewing and six hours web browsing. The W500 runs Windows 7 Home Premium 32-bit, and Acer includes a trial anti-virus package. Yet with a persistent AV package running, chatting away for revised virus definitions and periodically scanning the Iconia's 32GB SSD, it begs the question whether those battery life figures will be affected.
At the event, Acer couldn't confirm if testing had included running its bundled AV application, but we'll let you know soon enough when our review sample appears.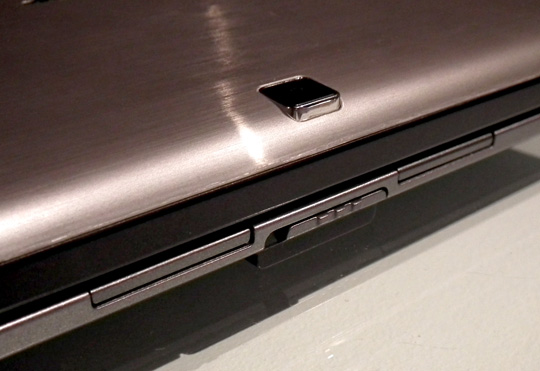 Typical laptop latch at the front
Equipped with similar innards, Acer's Iconia W100 and A100 7in models won't be appearing until May or beyond. However, both the W500 and A500 Wi-Fi tablets will be in the shops on 8th April priced at £449. The W500 keyboard can be bought separately for £90 or purchased with the tablet for £529 (Wi-Fi) or £579 (Wi-Fi + 3G).
Although there is no pricing as yet for the A500 Wi-Fi + 3G version, Acer is confident that its Android 3.0 model will be shipping alongside its Windows counterpart next month. Whether Google has other ideas for when we get to taste its Honeycomb, we shall see. ®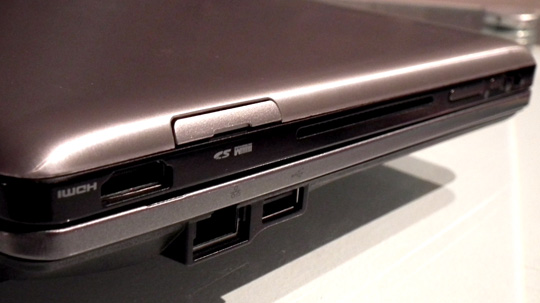 Ethernet and USB ports feature on the docking keyboard