Original URL: https://www.theregister.co.uk/2011/03/23/review_storage_synology_ds411slim_nas/
Synology DS411slim Nas box
The little big store
Posted in Personal Tech, 23rd March 2011 14:44 GMT
Review As technology progresses further into the twenty-first century, the most obvious trend is the miniaturisation of just about everything. While these changes have taken most aspects of new technology by storm, conventional storage however, has been left wanting.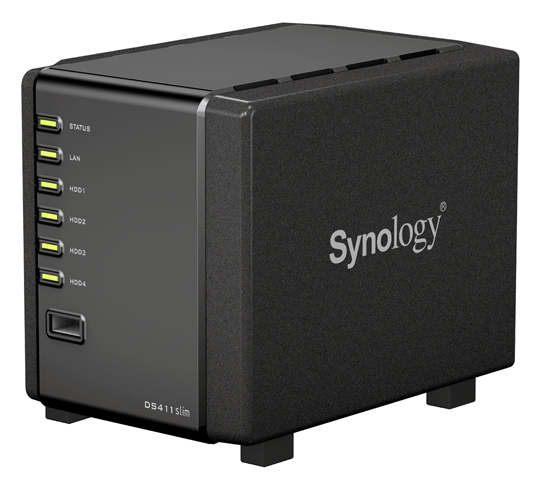 Synology's DS411slim four bay Nas relies on 2.5in drives
Sure, we've now got terabytes that fit in the palm of your hand, but with the exception of a few proprietary flash-based devices, most storage still complies with the same form-factor standards set down nearly twenty years ago.
Unfortunately, Synology's new DS411slim is not quite revolutionary enough to break the mould entirely, but it is a deviation from the norm. All squeezed into a space smaller than your typical radio alarm clock, you'll find a four-bay Nas box with a 1.6GHz CPU, 256MB of DDR3 and an array of useful external ports. These include both a front and rear USB 2.0 port, along with Gigabit Ethernet and that ever-handy eSata interface.
In order to accomplish this seemingly impossible feat within the confines of 120mm x 105mm x 142mm, Synology has downsized to 2.5in drives (not actually included though). Having been impressed by earlier products, I'll admit initially had mixed feelings about this one. Given Synology's respectable performance track record, would this baby Nas be able to keep up with the rest of their current line-up?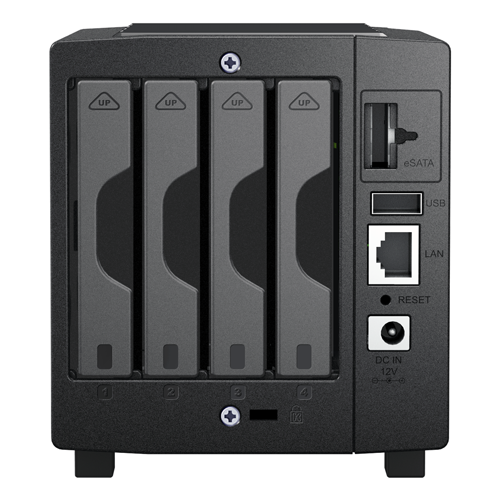 USB and eSata provide linking to external storage devices
In line with expectations, the build quality is excellent and the case itself is very well designed with straightforward usability in mind. Drive removal is as simple as sliding the trays out of the back and removing the traditional four mounting screws. Rinse, repeat and reverse to instal new drives.
Performance charts
Like all other Synology products, the DS411slim runs its DiskStation Manager firmware. The latest 3.1 iteration of DSM is arguably the most polished and refined Nas web interface currently on the market. With features ranging from the established norm of all-format-encompassing media streaming to HTTP/FTP servers, Bittorrent client, print server and even interoperability with several iOS apps – the DS411slim is loaded with everything one could hope to expect.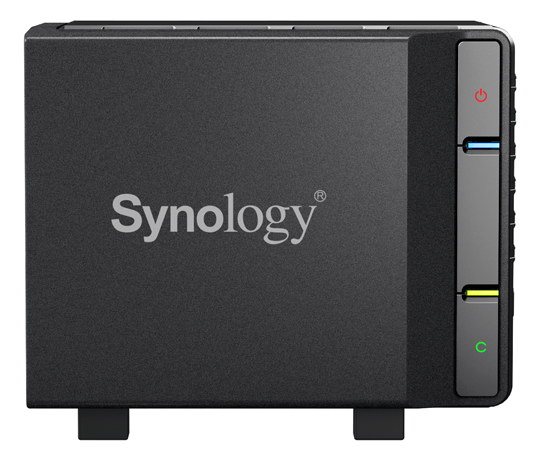 Small and very quiet too
Despite its small size, as this is still a four-bay Nas. Synology provides RAID support in the following volume types: RAID 0, RAID 1, RAID 5, RAID 5+Spare, RAID 6, RAID 10 and Synology Hybrid RAID (SHR). It is, of course, a possible option – if you have some kind of personal loathing for your data – to run your volumes as Basic or JBOD.
Benchmark Tests
CrystalDiskMark 3.0 Results
JBOD Drive Throughput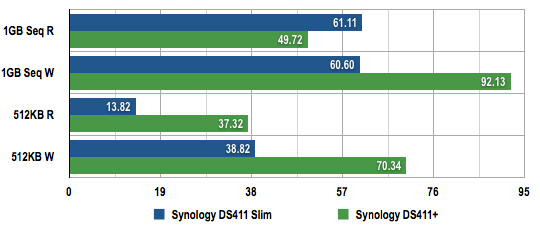 Throughput in Megabytes per Second (MB/s)
Longer bars are better
RAID 0 Drive Throughput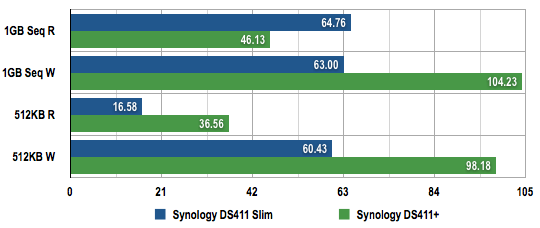 Throughput in Megabytes per Second (MB/s)
Longer bars are better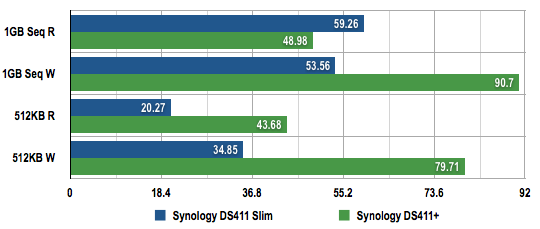 Throughput in Megabytes per Second (MB/s)
Longer bars are better
Synology Hybrid RAID Drive Throughput

Throughput in Megabytes per Second (MB/s)
Longer bars are better
Eager to find out just how well the DS411slim would fare against its bigger brothers, I tossed in a couple of 120GB Western Digital WD12000BEVT drives and fired up Crystal DiskMark 3.0. Curiosity didn't stop there though; this being a 2.5in bay system, I couldn't resist throwing in a 512GB Kingston SSDNow100 to push the baby NAS to its limits.
Using the SSD, Crystal DiskMark revealed that the saturation point is around 65MB/s. With a threshold like this, the old spinning platters were able to keep up throughout much of the testing. Splashing out for the SSD upgrade would be an extravagance though, as even with HDDs, this is no slouch.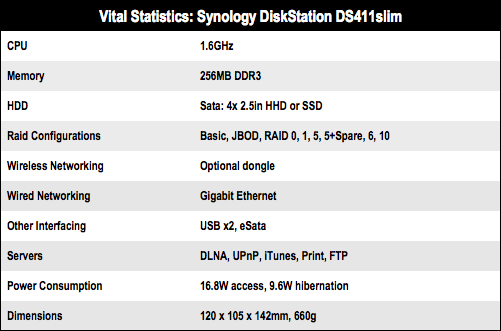 Drive genius?
Looking at comparison data against the likes of the DS411+, the DS411slim compares favourably. As 2.5in drives are currently limited to 1TB each for a maximum of 4TB in the DS411slim, in terms of storage capacity it compares to two-bay 3.5in systems such as the DS211 series.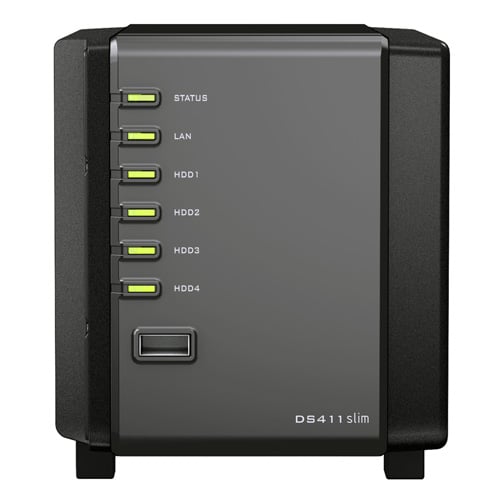 Compactness comes at a price
A quick spec comparison against the DS211 shows that the DS411slim consumes around 6W less power in active duty. Up against the pocket-friendly DS211j, the DS411 slim takes 8W less despite a faster CPU clock speed and double the RAM. And while these benefits are tempting, along with being considerably smaller, it's the cost of storage that is the main issue with the DS411slim.
Verdict
A 1TB 3.5in disk can be yours for around £35 these days. However, the cost of a 1TB 2.5in disk is almost double that. The DS411slim's price doesn't compensate either, at around £230 for this unpopulated Nas.
If cost and storage are your main considerations and you can live with a lower spec, the two-bay DS211j costs around £160, and loaded with two 2TB HDDs at around £65 each you can achieve in less than £300 what you would need over £500 to do with the DS411slim. Certainly compactness carries a premium, moreover, the DS411slim is a fantastically innovative piece of kit that performs pretty much as well as its bigger four-bay brethren. ®
More Network Storage Box Reviews

Synology
DS411+
Cloud Engines
Pogoplug
Dane-Elec
myDitto
Verbatim
MediaShare
HP MediaSmart
Server EX490