Original URL: https://www.theregister.co.uk/2011/03/22/games_review_motorstorm_apocalypse/
Motorstorm Apocalypse
Hit the quakes
Posted in Personal Tech, 22nd March 2011 13:00 GMT
Review Motorstorm Apocalypse's unabashed and riotous disregard for realism is the antithesis of most modern racing games – and it makes perfect sense. Who cares about traction control, sports intake manifolds and torque splits when you're taking a high-octane tour through the picture-postcard backdrops of the apocalypse?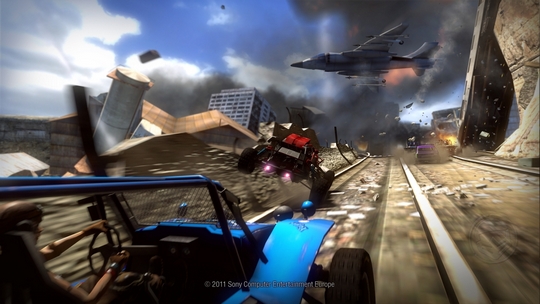 Low fly zone
Having exhausted the stock locales of deserts, tropical islands and Arctic tundras in previous entries, developer Evolution Studios stages its latest arcade racer amid the cataclysm of a megaquake ripping apart a fictional West Coast American cityscape.
Where most would flee the catastrophe full-throttle towards the mountains with loved ones, a fully automatic rifle and a boot-load of tinned baked beans, the Motorstorm racers – a motley crew of sociopathic adrenaline junkies – go all Bodhi, choosing instead to race through the once-in-a-lifetime disaster.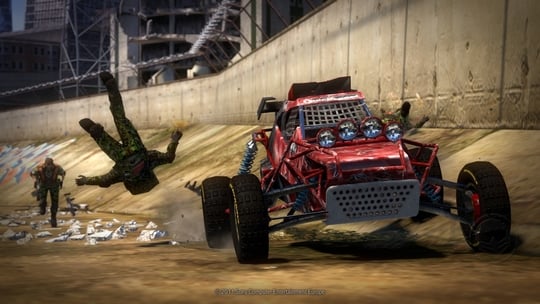 How many points for pedestrians..?
With alternate pathways, extreme verticality and a wide range of vehicles, from dune buggies and motorbikes to V8 muscle cars and monster trucks, Apocalypse will be instantly familiar to veteran Motorstorm players. Even Pacific Rift's boost and cool-down system returns unchanged, providing additional tactical depth by forcing players to ease off the throttle in mid-air and search out water while avoiding pockets of fire in order to cool down the vital turbo boost.
Shaking in your boots
Apocalypse's real novelty, then, is the earthquake and ensuing chaos. The city and environs are in a constant, violent state of flux – the driving line a perilously thin trail through a chewed-up and misshapen landscape. Landslides, tumbling skyscrapers, derailing trains, giant tornadoes and huge fissures in the tarmac are just a few of the jaw-dropping disasters looming on the tautly engineered road ahead. No wonder, then, that Apocalypse falls victim to verisimilitude. A spot of luck might be welcome in a real disaster, but it's less so in a videogame when sharing equal billing with skill.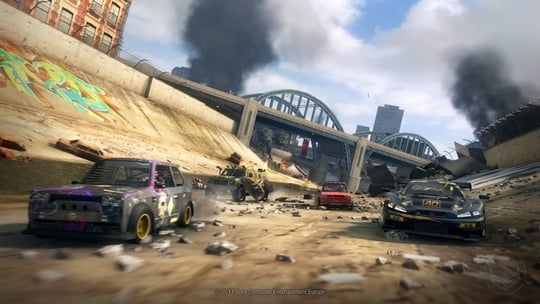 Go Grease Lightning!
An aggressive, closely-packed field, tracks bestrewn with debris and an over-zealous collision system that penalises brushing walls while overlooking physics-bending jumps and landings, means crashing becomes the norm rather than the exception. The series' infamously confused and often arbitrary respawn system remains unfixed, requiring you to press X after a full crash or Select when off-course or snagged in scenery. Worse still, Select rarely works when you're spun out and facing the wrong direction, forcing an agonisingly slow three-point-turn to right your vehicle.
The wide range of vehicles could be better balanced too. Although each provides distinct handling, Apocalypse's sweeping bends provide little opportunity to take advantage when cornering. The improvements made to motorbike handling in Pacific Rift are undone here, and, along with hatchbacks, motorbikes lack sufficient acceleration or top-end speed to compensate for their light weight, which leaves them at the mercy of heavier vehicles.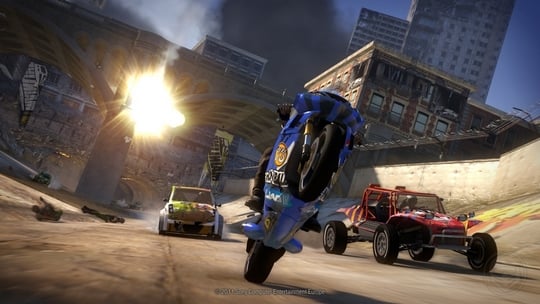 Wheelie good
Being forced to race these lighter vehicles in the default Festival mode introduces unwelcome spikes in difficulty, where you'll need a heavy dose of luck to progress. A standard mix of straight races and eliminator events, with the odd point-to-point time trial thrown in for variation, subsequent races are unlocked in strict sequential fashion by finishing in the top three. So, unlike the Grand Turismos and Forzas, there's no room to temporarily sidestep occasional impasses.
Hardcore gaming
It's an overly prescriptive progression system, one which feels forced to provide a chronology for Apocalypse's bizarre, crayon-sketched narrative. Played out in cardboard-cut-out-style comic-book cutscenes, which look like a post-apocalyptic Captain Pugwash, the story follows – rather handily – a novice, pro and veteran racer through the 39 race events over three days of the disaster.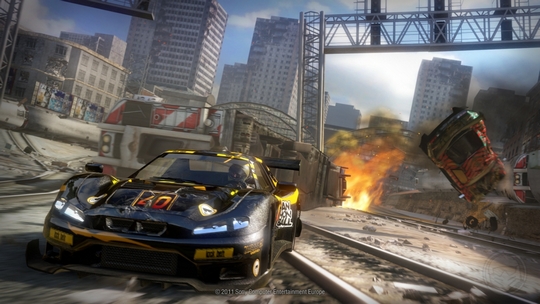 Off the rails
Despite being incoherent and utterly superfluous to the experience, however, these cutscenes do at least imbue Apocalypse with a distinct character that helps punctuate its linear progression. Once you've completed the six-or-so hours of Festival mode, Apocalypse offers up Hardcore mode, which allows individual Festival races to be re-raced against tougher, faster competition, and times to be uploaded to the PSN leaderboards.
If you're looking for tougher opposition still, a comprehensive multiplayer allows up to sixteen players to compete on customisable rides with FPS-style loadouts and perks. There's even an integrated progression and betting system, where chips can be spent on player tags and vehicle decals, or bet on future performances. These additions – and an increased significance to boost cool-down – elevate Apocalypse's standard gameplay through greater tactical depth, helping compensate for the disappointing vehicle balance.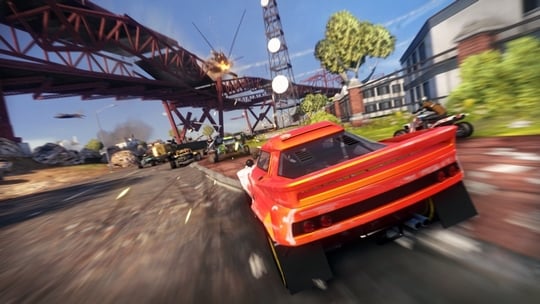 Blown cover
Verdict
Given the recent disaster in Japan and the game's graphic depiction of a cataclysm, it feels a touch insensitive to be hurtling around a virtual disaster zone enjoying oneself when so many have tragically lost so much. It's to Sony's great credit, then, that it has taken the 11th hour decision to delay the game in the UK. If you're in the hunt for an arcade racer when it's released in the coming weeks, however, and you're willing to overlook one or two shortcomings, there's a lot to enjoy in Motorstorm Apocalypse. ®
More Racing Games

Nail'd
Gran
Turismo 5
Need for Speed:
Hot Pursuit
F1
2010
Blur Vs
Split Second: Velocity