Original URL: http://www.theregister.co.uk/2011/03/21/review_desktop_sapphire_edge/
Sapphire Edge HD
The world's smallest mini PC? Maybe
Posted in Personal Tech, 21st March 2011 07:00 GMT
Review Looking more like a router than a PC, Sapphire's Edge-HD makes the recently-reviewed Zino HD 410 from Dell look positively huge. Sapphire rather hesitantly states that it "believes" the Edge-HD to be the smallest PC in the world. Whether or not it's a world-beater is therefore up for debate, but with dimensions of 193 x 148 x 22mm it most certainly is small.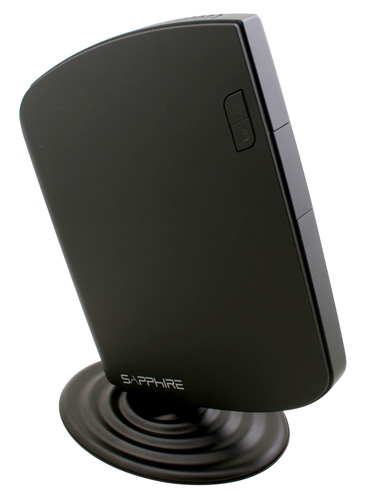 Sapphire's EDGE-HD: not an AMD component in sight
The Edge-HD has obvious appeal as a home theatre PC, but Sapphire appears also to be aiming it at the corporate market, citing its space-saving design and green credentials. When I hooked it up to a power meter, I recorded a nice low power draw of 21W – for reference, Dell's Zino HD 410 mini PC consumed around 40W.
With the aid of a detachable stand, the device sits upright, leaning back at a slight angle. The stand is also impressively sturdy, and you'll have to give the PC a fair old whack for it to topple over. A vent at the top belches out hot air, with the fan constantly whirring quietly away – you'll only hear it in a near-silent environment. As far as controls go, the EDGE-HD has just one: a power button. Next to this sits what looks like another button, but it is in fact just a HDD activity LED indicator.
The rear is home to analogue audio I/O and LAN ports, along with VGA and HDMI outputs – an HDMI cable along with an HDMI-to-DVI adapter are included in the package. Two USB ports are also found at the rear, but they're crammed in so close together that a bulky USB device (such as a TV tuner) may well block off the neighbouring port.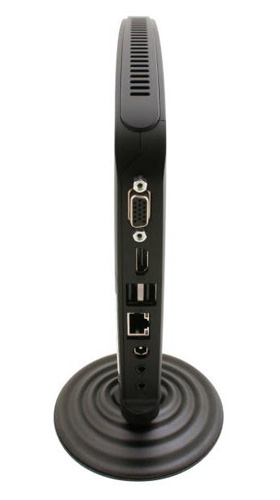 Aside from two USB ports at the front, all the action's at the back
A small flap at the front of the PC reveals another pair of USB ports. Personally, I'm not a fan of rubberised flaps such as this – they're fiddly to use and look wholly unattractive when opened up. Perhaps more concerning, however, is the lack of a card reader, meaning an external one will be required if you want the ability to quickly show off a card full of snaps.
Performance charts
In the past, Sapphire has been one of AMD's strongest and most loyal partners. It's therefore something of a surprise to find the Edge-HD is powered by a processor from Intel and graphics from Nvidia. Unlike the recently-reviewed Dell Zino HD 410 with its triple-core processor, this Sapphire alternative is more modestly powered. An Intel Atom D510 running at 1.66GHz is at its heart, with 2GB of DDR2 memory to support it.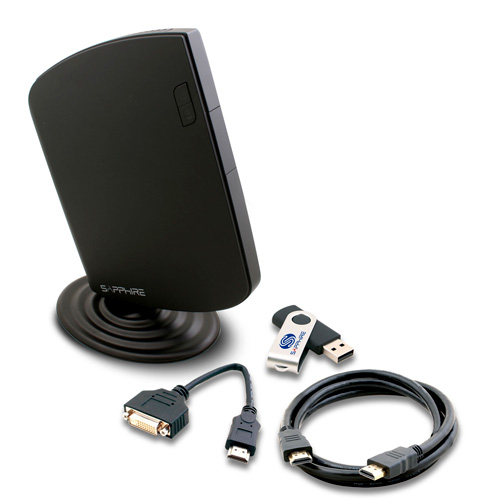 Bundled accessories include an HDMI-to-DVI adapter
Nvidia's ION 2 does the graphics work, but it's not up to gaming as the 5fps in Crysis at just 800 x 600 demonstrates. Still, 1080p video plays back smoothly, and movies looked great when hooked up to a 37in Sony TV. Frames are dropped on occasion, but you really have to be looking closely to notice this.
Benchmark Tests
PCMark Vantage Results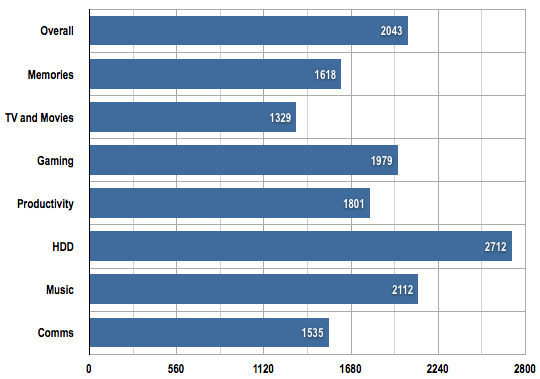 Longer bars are better
3D Mark Vantage Results

Longer bars are better
In an effort to keep the price in check, Sapphire has taken the decision not to preinstal Windows. FreeDOS is included, but I suspect most people will want to instal something a little more capable. With no built-in optical drive, I set about installing 64-bit Windows 7 Ultimate from USB.
There were no problems during the installation process and, once complete, I used the included USB stick from Sapphire to instal drivers for the graphics, LAN, audio and a few other devices. Having a clean installation of Windows without the usual bloatware found on new PCs was refreshing, and it booted in just over one minute. It also had no problem running multiple apps, including IE8 with a collection of tabs.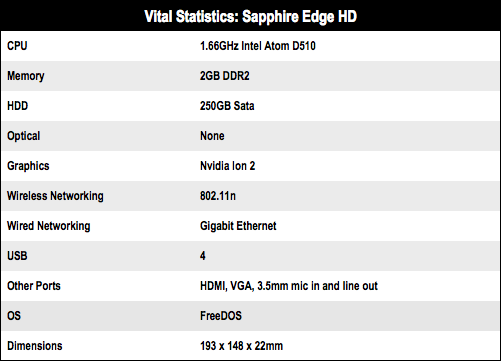 The sound of silence
Of course, with Linux distros freely available, many people will want to avoid handing over money to Microsoft. With this in mind, I gave Ubuntu 10.10 a go and, at first glance, everything appeared to be working normally.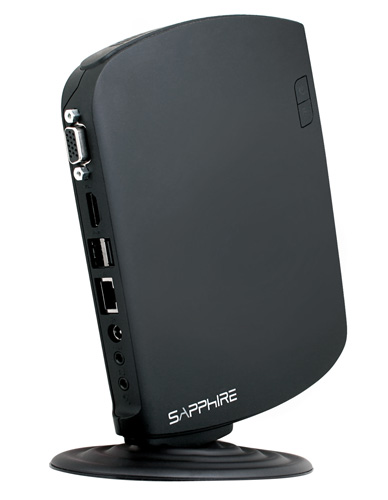 It doesn't look this neat when all the cables are plugged in
However, when I fired up Boxee to watch some HD movies, I discovered that the HDMI output was refusing the carry audio. I spent some time trying to fix this since it worked fine in Windows 7, but to no avail. The analogue audio jack functioned normally, but that's not much good for those looking for 5.1 surround sound.
This left me wishing Sapphire had taken the time to preinstal Ubuntu (or some other free OS) and configure so that everything is working as it should. If I buy a PC – Windows-based or otherwise – I want to be able to use it within minutes of unboxing. What I don't want is to spend hours trawling the Internet, going down dead-end after dead-end in an effort to get it fully working.
There are some other issues, as well. There's no remote control included, for example, and I found it a little too easy to accidentally bash the power button and hurl the PC into standby mode. With no visible screws, it also doesn't lend itself to DIY upgrades.
Verdict
Super small and quiet, there's plenty to like about Sapphire's miniature Edge-HD, but I think it's over priced. The entry-level Dell Zino HD 410, for example, is just £50 more expensive and comes with a faster AMD II X2 V160 processor, built-in optical drive and a copy of Windows 7 Home Premium. It's not nearly as compact as the Edge-HD, but it sure makes Sapphire's effort look a little expensive. The fact Sapphire hasn't bothered to preinstal a fully-functional OS also leaves a bad taste in the mouth. ®
More Desktop PC Reviews

Dell
Inspiron
Zino HD 410
Acer
Revo
RL 100
Apple
iMac
21.5in
Sony
Vaio
L13
Apple
Mac
Mini