Original URL: https://www.theregister.co.uk/2011/03/19/review_pure_contour_dab_radio/
Pure Contour DAB/FM and Internet radio
The do it all dock?
Posted in Personal Tech, 19th March 2011 08:00 GMT
Review The Contour is an elegantly designed music hub from radio specialist Pure. It features DAB+,FM and Internet radios, as well as an iPod dock in a slide-out drawer.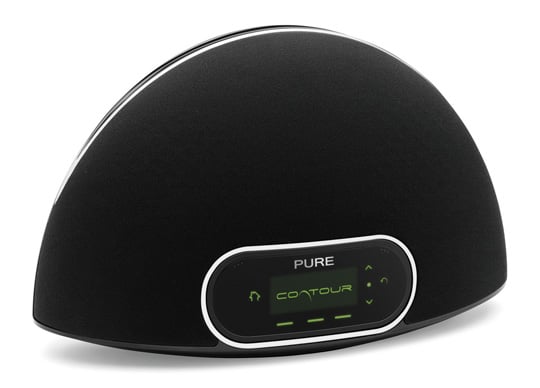 Dark side of the moon: Pure's Contour
You may be forgiven for thinking the Contour bears some similarity to the company's Twilight alarm clock radio, with its half-moon shape, but given its size, those with longer memories may liken it more to the £1000+ Meridian F80.
There's no sign of the Twilight's gently glowing dome this time round though, just a touch-sensitive strip of backlit icons running around the top that control power, volume up/down and mute. Usefully, you can switch on or off simply by tapping this icon bar. Not so usefully, my sample's self-styled energy saving feature meant it kept trying to turn itself off, even when I was just adjusting the volume. Pure insists it's not meant to do this.
The Contour measures a kitchen-friendly 37 x 22 x 18cm, comes in matt black and includes a pair of 3.5in full-range drivers. Around the back are 3.5mm headphone and aux jacks, as well as composite and component video outs and a mini USB connection for future software updates. The latter can also be performed using the Contour's Wi-Fi connectivity. The extendable aerial is used for FM reception.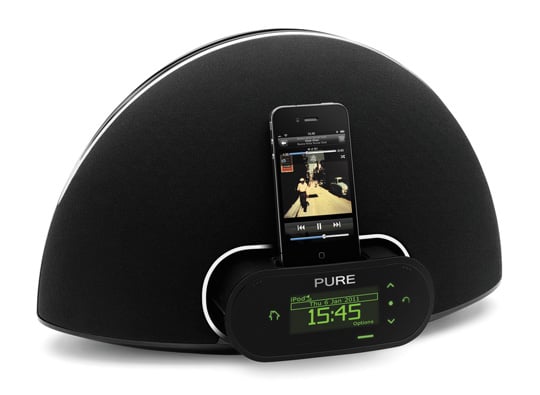 Press to play
The dock slides out smoothly when you push the sides of the front display to reveal a sturdy plastic base for your iPod, which when in place, rests against the speaker grille.
Fingering the menu
The four-line LCD display on the front uses that easy-on-the-eyes green seen on previous Pure devices. The responsiveness of the touch-sensitive buttons next to the display isn't great, and I found it all too easy to overshoot the mark when scrolling through menus for source, radio stations and music lists.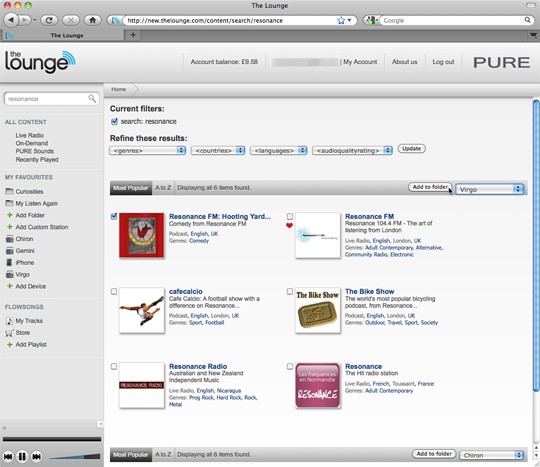 The Pure Lounge simplifies creating a Favourites list that can be applied to connected radios
Click for a larger image
If you come across a track you really like, there's also the option to buy it through your radio using Pure's Flow music identification function, which works in a similar fashion to Shazam, but connects to Pure's own music store.
Alas, the menu system isn't always as intuitive as it might be. Depending on which bit you're in, the back button doesn't always work, and you need to switch to the up and down arrows, which takes a bit of getting used to. In general, it proved more effective to use the controls on the ergonomically styled remote, which sports a well-laid out series of buttons with handy functions like shuffle and marking your favourites.
The sound from the twin 3.5in speakers with their downward-firing bass ports is rather impressive in its fullness, with well-controlled bass that never distorted even at the system's highest volume – they're capable of pumping out a respectable 36 watts between them.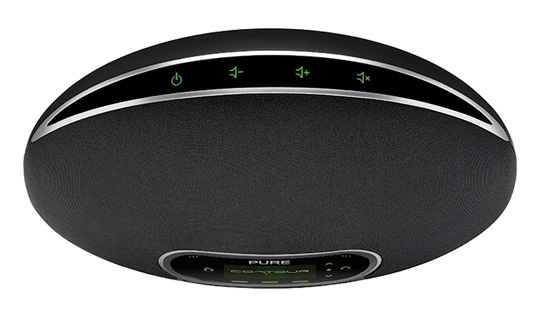 The touch-sensitive switching has a mind of its own at times
That said, don't expect exceptional audio fidelity, it's not the most detailed sounding system in the world, but it does pack a decent punch, and basically does what it's intended for – belting out compressed audio files whether they're coming from your iPod, computer, or on-line from around the world.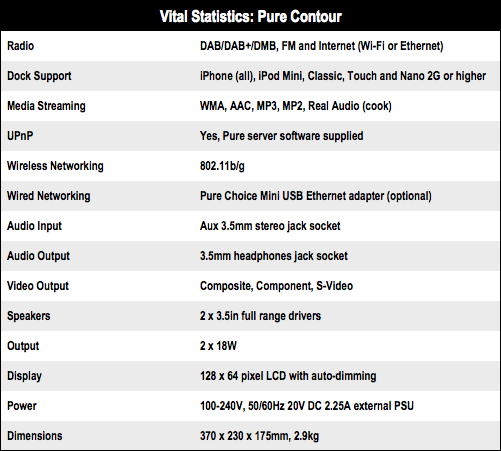 Radio network
Connecting to both network storage and PC proved easy enough, and Pure's claim that it can handle MP3, WMA and AAC files seemed to be justified, since I didn't have any trouble streaming all of these formats from my Buffalo Nas drive.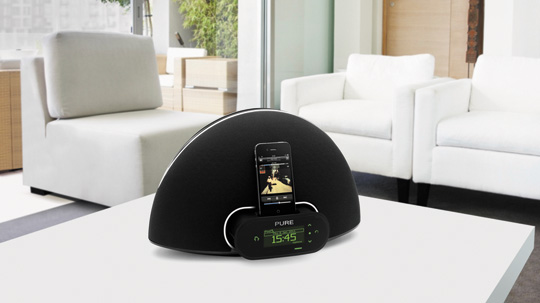 Sounds good, looks good but could be more finger friendly
Video playback to a TV is straightforward – connect it using the component or composite video interfaces, select a video from your iPod and it will start playing automatically, showing the pictures on your TV screen, with the sound played through the Contour. The same goes for YouTube clips – you'll need to find them on your iPod or iPhone's navigation, rather than the remote, but when playback starts the video appears on the screen automatically.
Blowing up video intended for small screen viewing doesn't always do it a service, and what looked pristine on your iPod can reveal itself to be grainy and fuzzy on your TV. Consequently, video output through the Contour does drop in few quality notches, but there didn't appear to be any judder or timing issues to complain about.
Verdict
The Contour is easy on the eye delivers a respectable sound, has good connectivity and a tidy iPod dock arrangement to boot. The on-screen navigation can be frustrating though, especially when you're trying to find your way around Internet radio or the tracks on your PC. When used from the front panel, the whole system could do with a few interface tweaks to make it a bit easier.
That said, Pure's recently revamped Lounge portal does help with the customisation of Favourites for content including podcasts, Listen Again and Internet radio. Really, the Lounge is a must if you plan on adding more than a handful of stations as Favourites. Configuration options aside, given both its visual and sonic appeal, the Pure Contour is certainly worth considering. ®
More Wireless Music Player Reviews

Q2
Internet Radio
Pure
Oasis Flow
Nokia
Home Music HD-1
Teac
R-4iDNT
Logitech
Squeezebox Touch