Original URL: https://www.theregister.co.uk/2011/03/18/review_nokia_software_updater_for_mac/
Nokia Software Updater for Mac Beta
Beta late than never?
Posted in Software, 18th March 2011 09:59 GMT
Review There was a time when having to use anything but a Nokia phone would evoke fears of disorientation and a general unease about straying from my comfort zone. Sony Ericsson? Where is everything? Motorola? Does it do iSync? Samsung? Er... Even though Nokia never actually overwhelmed Mac users with its support for the platform, if you picked the right phone, then Apple's iSync could be used on a number of handsets to synchronise address book and calendar data.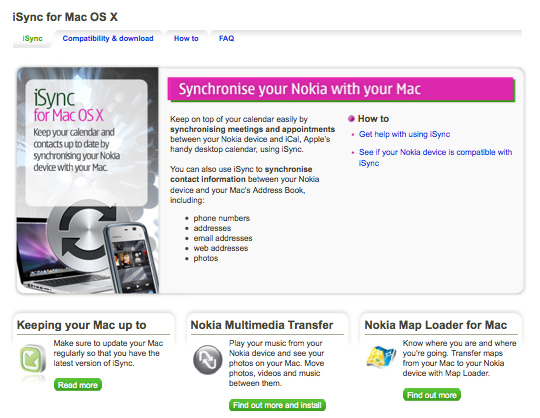 Nokia's Apple store
For me, this sustained my brand loyalty, along with some handy scripts that would occasionally save the day when it performed as a modem, and the reassuring familiarity of Nokia's user interface. And then the iPhone appeared. Initially, I resisted, but mainly for contractual reasons. Looking back, though, the inevitable might have been postponed for longer had Nokia shown more interest in the Mac.
Sure, the company knocked out Nokia Multimedia Transfer (NMT), but it was flaky and seemed to be in beta for eternity. However, the latest version not only works with iPhoto, iTunes (music and video) but will sync with Safari bookmarks too. Phones that support Nokia maps have a Mac downloader app too, but this is all rather piecemeal. There's no Ovi Suite for Mac to deal with all these options combined with contacts and calendar sync. A year ago, even RIM managed to get it all together and include phone updating too, with its BlackBerry Desktop software for Mac.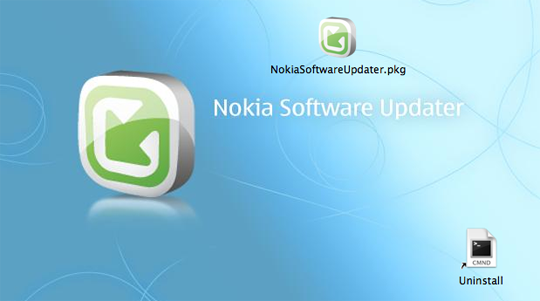 Currently in beta
And this week we see yet another fragment of Mac support from Finnish phone maker: the Nokia Software Updater. This is the app that deals with handset specific updates, which although still maintained on Windows PCs, is losing favour because the Ovi Suite can do this now. Still, Mac users can now download a beta version of Nokia Software Updater that, on this platform, supports 21 handsets. Sure it's handy, but talk about showing up late for the party…
Not so suite
I still use an N97 Mini because navigation with Nokia's off-line maps is just so darned handy when travelling abroad, as you don't have to worry about data charges. Having taken this Nokia on holiday recently, I'd actually fully updated the phone from within my Parallels Win XP virtual machine, but I was still curious to find out how the Nokia Software Updater would perform. First things first though, you need to be registered with Nokia to get the update. If you've an Ovi login, then this will suffice.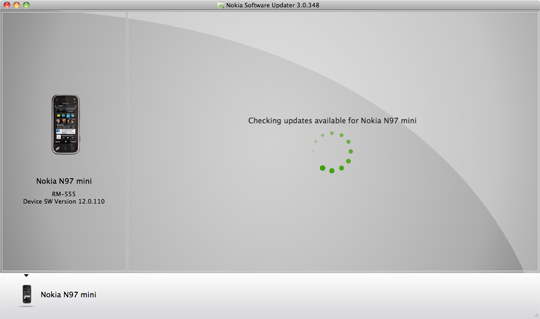 Detecting
The application download weighs in at 12.4MB, instals in seconds and takes up 34.7MB of disk space. Running it checks for a connected phone, which we're warned should have a direct USB connection – no hubs or tacking on the end of a keyboard. With the device detected – I didn't even need to select PC Suite on the phone for it to be recognised – the Nokia Software Updater then does what it says on the tin and sets about checking for updates.
As expected, the application reported my N97 Mini was up to date. The phone applications update section was greyed out, as this feature is unsupported by this beta. However, there is an option to reinstal the current system software. The 'What's New' section features a link that brings up documentation advising on resets and the like. Below is the Reinstal button with an update estimate suggesting it should take a mere 12 minutes.
Your mileage may vary, as the updater pulled in over 165MB of system update for the N97 mini before commencing the reinstallation. Offering the online equivalent of elevator music, the installer shows links to the Ovi site and Nokia Maps, which didn't load initially, but a browser refresh woke things up. Twenty minutes later, all was good and following this process there had been no change in the memory/storage usage either.
The late show
Having notched up a clear round, I brought my N81 out of retirement to see how an unsupported phone would fare. This time, PC Suite needed to be selected on the phone for it be recognised. And even though it did show up by model name and Nokia's RM device number, it didn't report the software version or show a specific handset photo. Moreover, a big red exclamation mark icon flagged up text warning that the device was not supported.

Menu shortcut
Nosing around Nokia Software Updater's other features, I noticed that it had established itself as an icon in the menu bar with drop down shortcuts. Following a restart later in the day, the menu icon had gone and various attempts to revive it by running the application and plumbing in a phone didn't bring it back. Other options from Nokia Software Updater's own menu are Automatic Updates scheduling (auto checking for new phone software not yet supported) and Network Settings.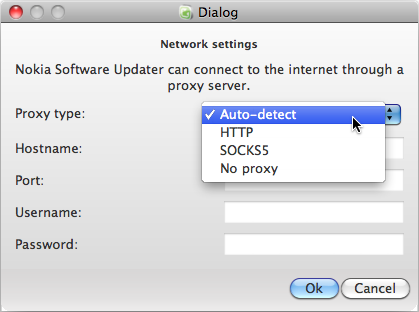 Network options
Initial feedback on the beta has fuelled speculation that Ovi for Mac is on its way, but the more sceptical wonder: why now, when the phones that Nokia Software Updater is supporting are running an operating system that has effectively been dropped? Symbian tweaks will no doubt appear for a time, but it's hard to imagine there will be many maintenance releases appearing beyond a year from now. Assuming this app is a dry run for Ovi integration – with Nokia finally delivering comprehensive support for the Mac – then the timing is stupendous given the company has just inked a deal with Microsoft. Need I say it? Ah, the irony. ®