Original URL: http://www.theregister.co.uk/2011/03/18/ibm_systems_investor_day/
IBM: Our appliance servers smoke Ellison's 'phony baloney'
Blue versus Red. Watson versus Exadata
Posted in The Channel, 18th March 2011 21:45 GMT
IBM is spoiling for a fight with Oracle, as was abundantly in evidence at Big Blue's recent Investor Day at the company's TJ Watson Research Center north of New York City.
Thank heavens – otherwise server junkies might die of boredom.
IBM doesn't talk as much smack as Oracle does – or Sun Microsystems did - but that doesn't mean the egos of Big Blue's top brass are any smaller than the ones that Scott McNealy or Larry Ellison have displayed over the past several decades.
IBMers might not be billionaires who have made (or in some cases, like Sun's McNealy, lost) impressive fortunes, but they are part of a century-old machine that was kicking data-processing ass - and had the antitrust lawsuits to prove it – before Ellison figured out that if he stuck with Bob Miner, Oracle's other (and deceased) cofounder, he would get fabulously rich. IBM was already riding its third IT phase in the mid-1980s when McNealy saw the genius of the workstation that Andy Bechtolsheim wrought at Stanford and made sure that Bill Joy created excellent software for it.
It never pays to count IBM out, even when the company was flat broke and damned near bankrupt back in the early 1990s, after so many missteps in the mainframe, midrange, and PC businesses. That near-death experience transformed Big Blue and the people now running it - including president, CEO, and chairman Sam Palmisano - who lived through that experience and who now aim to guide the company to its 2015 revenue and profit goals.
After Louis Gerstner was tapped to run IBM in 1993, the company changed from one that proactively decided what was best for customers and wasted a lot of resources creating competing and overlapping products, to one that sells people skills as much as a more-focused portfolio of hardware and software - a portfolio that earns a lot more cash than the IBM of old.
Today's IBM knows which markets it needs to walk away from, and which ones it needs to sprint toward. And while its execution is never perfect, the Gerstner-Palmisano IBM is yielding better results than the Opel-Akers one ever did.
It would be stupid, however, to count Larry Ellison out. Ellison has said that he wants to build integrated systems – and Oracle has the money, time, and software stack to take on IBM from the top down. IBM doesn't have applications, but it does have control over a lot of systems churning a lot of data in a lot of the largest companies in the world.
At the company's recent investors confab, the leaders of IBM's Software and Systems Group tried to explain how Big Blue's efforts on the systems front is different from its competitors, and took pot shots at Oracle because that company, more than HP, is more of a long-term threat to Big Blue's systems hegemony among the largest IT shops.
IBM Research has its sights on Oracle, as well – and if you think that the Watson question-answer machine was just about playing Jeopardy!, then you haven't been paying attention to what people are doing with unstructured data that resides outside of the relational databases that both IBM and Oracle know better than any two companies on the planet.
Rod Adkins, senior vice president in charge of Big Blue's hardware-building Systems and Technology Group (STG), didn't divulge too much about the company's hardware plans for 2011. He did, however, say: "We will be doing a lot more work around pre-tested and pre-integrated capabilities."
Yes, IBMers really do talk like that.
Adkins added that IBM would be shifting from "point-type products" to "integrated solutions," and thus the go-to-market sales teams and the supply chain that both supplies parts for and often assembles these STG products will also have to change.
IBM plans to ship the Power7-based IH nodes used in the "Blue Waters" supercomputer being installed at the University of Illinois in the first half of the year. Updates to the Smart Analytic System appliances, which are based on x64, Power, and mainframe machines (depending on your taste) are also due before the end of June, as are updates to the x64 and Power CloudBurst appliances.
In the second half of the year, IBM will put out a midrange (Business Class as opposed to Enterprise Class) variant of the System zEnterprise 196 – let's call it the System zEnterprise 98 just for fun. Adkins also said that in the second half of this year, Big Blue would roll out a new "flexible form factor for systems," which he unfortunately did not explain very well, I think intentionally. It's hard to guess what he meant, and without more data, we're stuck – it could be just about anything.
High hopes for hardware
Like other IBM groups, Adkins said that STG would be chasing the top 20 growth markets outside of Western Europe and North America to drive its growth in the next five years. He added that IBM's three other areas - analytics, cloud, and smarter planet - would combine with the growth markets to drive somewhere between 6 to 8 per cent growth in pretax margins from 2010 through 2015. STG had $1.3bn in pretax operating income in 2009, a little over $200m in 2010, and hopes to squeeze out another $600m or so between 2011 and 2015. It will deliver around $2bn in pretax operating margin that year if all goes according to plan.
Where is that profit growth coming from? Look at this: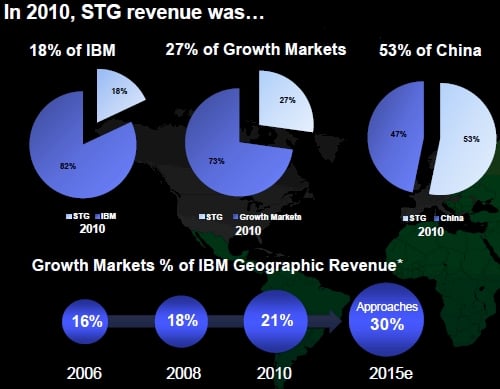 IBM's Systems and Technology Group is making hay in the Middle Kingdom
While STG maked up only 18 per cent of IBM's overall sales in 2010, it was 27 per cent of sales in those top 20 growth markets and a whopping 53 per cent in China. By 2015, Adkins said, IBM expects that 40 per cent of its total revenue for the STG unit will come from these growth markets – which is another way of saying that IBM does not expect much growth in the United States and Europe.
The other little tidbit that Adkins tossed out is that for every dollar in hardware IBM sells, there is an immediate incremental buck in sales of other stuff, such as software and services.
Steve Mills, general manager of the united Systems and Software Group, is easily the most well-spoken of IBM's top execs, and would probably run IBM if Palmisano wanted to – or had to – step down. At Investor Day, he talked a lot about "workload optimized" systems, trying to convey to Wall Street analysts that this was a serious advantage for Big Blue.
But before getting into that, Mills talked about systems software, which is the business he built up over the past decade. Systems and software together accounted for $7.2bn in pretax income for IBM in 2006, and this rose to $10.7bn in 2010. The Software Group, which is still reported as a separate unit, grew revenues from $12.6bn in 2000 to $18.2bn in 2006, then to $22.5bn in 2010. Pretax income for the Software Group rose from $2.8bn in 2000 to $5.5bn in 2006, then to $9.1bn in 2010. The IBM roadmap for 2015 calls for the Software Group to push income up to around $17bn, which will be about half of IBM's overall profits.
So, how is IBM growing the revenues and profits in this software biz?
"We stick to what we are good at," Mills explained. "We understand our competencies and our skills, we extend the portfolio that we have, and we do acquisitions that bear resemblance to what we already know and what we already do. We look for adjacency, connection, synergistic effects, and the lift that we can get in the companies that we acquire because they match up with the skills that we have. We get efficiency of development because of the close connection that we have, and we get efficiency in go to market. And it has driven a tremendous amount of margin expansion for the business."
Workload-optimized or integrated systems are on a lot of minds in the IT racket these days, and Mills, who is a mainframe guy, predictably referred to the System/360 mainframe as a "very workload-optimized system." He also boasted that IBM has had 45 years of experience dealing with "sophisticated commercial workloads."
That's a bit of a stretch, of course, especially considering that the whole point of the System/360 family was that they were general-purpose machines capable of running the same COBOL applications, VSAM and IMS databases, and CICS transaction monitors.
"We follow an iterative design," said Mills, explaining IBM's current system-design process. "As hard as we work on aspects of physics and material science, we know that's clearly not enough to deliver leading-edge systems for our customers. We need to think about what work they are trying to get done and how we can take best advantage of our knowledge and bring together a combination of hardware and software to deliver better systems."
And so, bragged Mills, the big iron in IBM's Power7 systems lineup, the Power 795, not only has more performance per core, four times the cores, and eight times the threads of its predecessor, but it also has thirteen times the memory bandwidth of a big Sparc Enterprise M box from Oracle/Fujitsu, and three times that of the biggest Xeon 7500-based systems on the market today, including those from IBM. Also, the Power 795 is designed to run at 90 per cent or higher of total CPU capacity – sustained, not a short-burst peak – with a system availability of 99.9997 per cent uptime.
"The only system that is more reliable than this system is the IBM System z mainframe," Mills said. "That's it. No one else builds a system design to this level of availability, and nobody builds a system that runs at 90 per cent and can sustain it. Unheard of in the RISC/Unix marketplace and not possible in the Intel space for commercial workloads."
Plenty of other server makers may contend that this is an exaggeration at best or a lie at worst, but it is certainly no different from the kinds of bold proclamations that Sun Microsystems used to throw around, and that Oracle now spouts in their announcements.
'It's the operating system, stupid'
Mills says that the real secret sauce in IBM's high-end system is in the operating systems. Its battleship AIX Unix variant, he said, has taken some of the job-control and workload-scheduling techniques used in the MVS-OS/490-z/OS operating system for mainframes and grafted them onto AIX so they can take work and spread it out across the many threads in a Power Systems machine – and that it can do so despite the fact that commercial workloads are difficult to parallelize because of the serial dependencies in commercial applications.
The AIX software is also making use of memory compression, plus dynamic thread and memory optimizations such as memory affinity that can tie cores and threads to specific memory chunks to speed up performance, to push more transactions through the box. Each of these techniques, which are at the nexus between the Power7 processor and the AIX kernel, can boost performance on certain workloads by 10 to 15 percent, depending on the situation.
"We benchmark all the time," Mills said, and he pulled out some real tests to support his point. "We have a favorite competitor who likes the color red. We like the color blue. This is real workload benchmarking, not some phony baloney made-up thing that goes in an ad. We deliver a system that is fast for what customers run."
IBM's Smart Analytics System 5600 spanking an Oracle Exadata
You'll notice that in the above comparison, IBM used its x64-based version, not a Power Systems variant.
Mills had nice things to say about IBM's $1.7bn Netezza acquisition as well, saying that it produces true appliances. "It literally installs in hours, requires very little tuning, and has tremendous scaling characteristics," he said.
The Netezza machines are based on the combination of IBM blade servers and special field programmable gate array (FPGA) coprocessors that prechew and presort data stored in a heavily modified PostgreSQL database created by the formerly independent company.
In the fourth quarter of the last fiscal year, IBM did 22 deals of more than $1m for Netezza products, and signed up 29 new customers. Revenues were up 70 per cent over the year-ago period. IBM now has over 500 Netezza customers, and the growth rate is accelerating. Mills said that Netezza had an 84 per cent win-rate once it could convince a customer to do a proof-of-concept installation.
"We solved the problem of doing more than just a bundle, more than just a bucket of bolts dropped on the floor at the customer shop, which is what we see happening at a lot of our competitors that are talking about packages," Mills said. "What they are really doing is shipping in a lot of stuff together, dropping it on the floor, and then have five engineers over a two-week period get it installed and up and running."
Taking another shot at Oracle's Exadata and Exalogic appliances – and perhaps at HP and Microsoft, which began delivering SQL Server appliances in January – Mills said other vendors exaggerate what they are really doing with workload optimized systems.
"At the end of the day," he said, "you get all of the vendor high-testosterone claims in the tech industry. The reality is: 'What do you bring to bear?' Don't write checks with your mouth that your technology can't cash. We've got the technology, we've got the capability. We will show up with our people, our code, and our capability, and prove it."
Some of those people who are going to show up in IBM versus Oracle engagements are the researchers who put together the Watson question-answer machine, the hundreds of mathematicians who Big Blue has on the payroll at IBM Research, and the thousands of experts the company has hired in its Global Services behemoth, who know the ins and outs of a particular industry.
How does Watson compare to Exadata? Let John Kelly, director of IBM Research, count the ways, as he did in this table:
IBM's comparison shows no love for Ellison's Exadata
Watson was created by IBM Research to play – and win – the Jeopardy! game show, and it has yet to be productized. But this statistically driven QA machine is every bit as shiny and glamorous to a CEO and CFO as an Apple iPad is to a teenager.
"Watson is aimed at an entirely different space," Kelly explained at the Investor Day briefings. "If you look at an Exadata system, it's mainly doing work in relational databases, consolidating workloads in a very tight form factor. That's about it. How many industry-standard parts can you pack into a sheet metal box? That's fundamentally what it does."
Watson is not interested in the packing density of commodity parts, explained Kelly, but is instead interested in answering questions using advanced analytics. "It's leaps ahead of what anyone else can do, and I don't think anyone else has even started work on this on such a scale." ®