Original URL: https://www.theregister.co.uk/2011/03/18/games_review_homefront/
Homefront
Dog eat dog
Posted in Personal Tech, 18th March 2011 13:46 GMT
Review THQ has made it abundantly clear that it intends to step it up as a publisher, marquee titles – the likes of De Blob 2, Red Faction: Armageddon and indeed Homefront are all part of that plan – as the publishing house looks to take on Activision and EA, specialists in the art of the cross-platform blockbuster.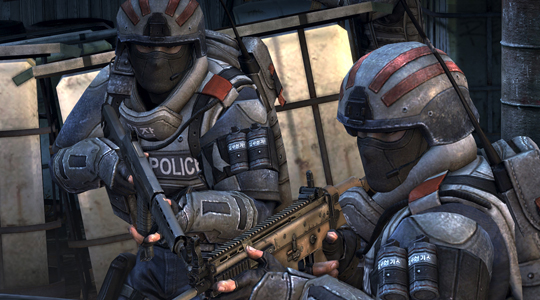 Cop a load of this
Opening with a scripted sequence which brings Half-Life's now legendary Black Mesa tram sequence immediately to mind, we find protagonist Robert Jacobs being forced onto a secured bus by armed forces. As the bus departs Jacobs is party to atrocity after atrocity, as innocent civilians are beaten, bloodied and even murdered on the roadside.
Of course, given the game's well-publicised twist, it's the Koreans toying with the Geneva Convention, while their hapless American captors cower before their feet. The thought occurs: what would Jack Bauer do? This riff on the alternative history (alternative future?) storyline is introduced by a brilliantly edited newsreel at the game's opening.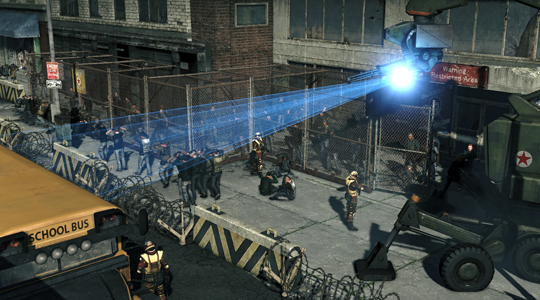 Blue some school kids
The synopsis tells that by 2012 Kim Jong-il will have long passed on, leaving the reins of North Korea to his son, Kim Jong-un. Reins he seizes with relish, soon uniting Korea by force. By 2014 social and economic factors have combined to leave the world (well, the US, there's not much mention of Europe) in deep recession, short of oil, power and, by 2017, in the mire of civil unrest.
Korea advancement
By 2025, a Korea now fortified by the absorption of Japan conducts a successful, coordinated strike on US soil and two short years later, has occupied the stricken nation. A little far fetched perhaps, but entertaining, oddly plausible and sure to be regarded as more than a little inflammatory by the odd paranoid spokesperson or news feed. Exactly what THQ would want, one might wryly suggest.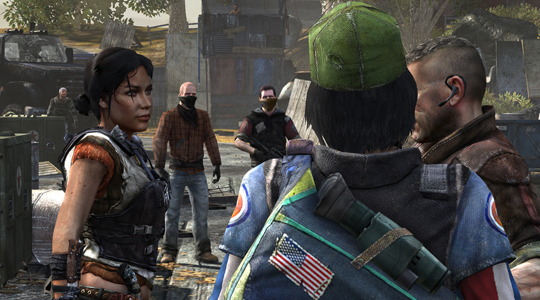 Frag the bag
Back on the bus, Jacobs has only just had time to absorb the scene when a car barrels into his bus, a gun is placed in his hands and he's on the lam with resistance members Connor and Rianna. Thus begins the shooting.
Instantly familiar, overly so to be honest, Homefront toes the party line in its choice of weaponry (all ballistic based with little to suggest we're some 16 years hence), health recuperation (the standard 'hide until your vision clears' damage system is firmly in place) and movement speed (run or sprint).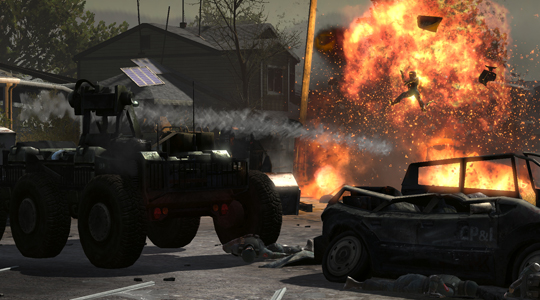 Korean barbecue?
Grenades at least offer something a bit different, having as they do a much wider circumference of impact than in most FPS, and indeed packing much more of a punch – often flinging your hapless foes metres into the air. While fun to dish out they're much less fun to be on the receiving end of; particularly when the on-screen grenade indicator misleads when it comes to pointing in which direction the grenade lies. Oh, how often have I cursed beneath my breath, having run directly into the explosion I was attempting to escape.
Jacobs' crackers
Damage models are on the realistic side too, particularly on harder difficulty levels, with a single well placed bullet enough to fell all but the most hardy of enemies and, in reply, a mere two, perhaps three, being more than capable of felling Jacobs. Once under fire, in fact it's often a good tactic to stand a safe distance back and use the precision offered by the various guns' scopes to pick off your numerous and exceedingly unvaried enemy, as they pop out of cover like targets at a funfair.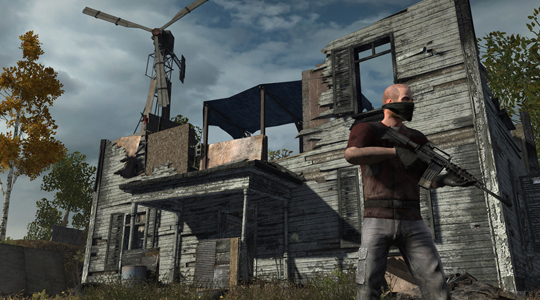 Masked intentions
While soon embarking on a number of missions under the stewardship of Resistance leader Boone, you will rarely, if ever, be asked to embark on a mission type you've not seen in other titles. Yes, you will get to control armoured vehicles remotely, likewise bombard enemy lines via satellite feed, sneak into an enemy installation (despite the fact that in any other in-game scenario hostile forces would pick you out at twenty paces), and even fly a helicopter in one of the game's stronger moments.
The single-player campaign is on the brief side too, offering somewhere in the order of 10 hours play; made to feel longer by the constant accompaniment of the unsubtle Connor. "I thought I smelled Korean barbecue," upon the uncompromising burning of a number of Korean soldiers, being just one of his more charming turns of phrase as the game progresses.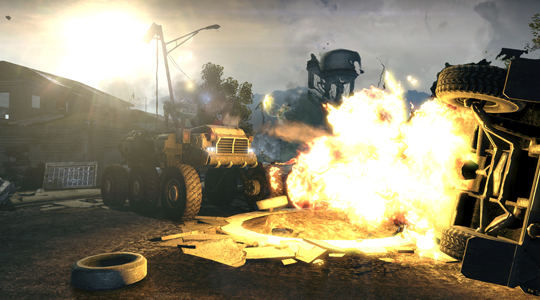 Burning rubber
Graphically, Homefront offers little either, as both character models and textures appear jagged and washed out. Yes, they're depicting a post-occupation US here but compare this to the likes of Bulletstorm and Call of Duty: Black Ops, and you have to ask: what went wrong? Just look at that blurred horizon, as if spied through the inside of a cataract.
Set menu
Kaos has, at least, interlaced proceedings with an admittedly decent array of first-person cinematics; burying yourself in a mass grave complete with a corpse's arm drooped across your field of vision being just one such moment. Similar are a number of set-pieces where, for instance, Jacobs will be hurled to the ground or surrounded by flames (again, all in first-person), but these side-shows fail to cover-up what is disappointing handling of the Unreal Engine.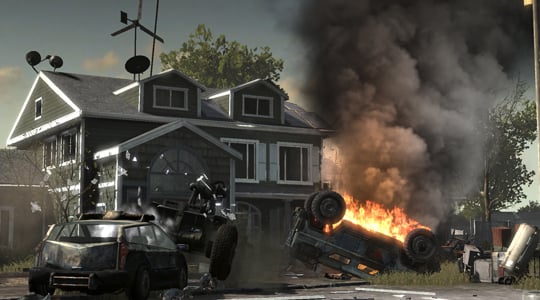 Firing on all cylinders
At least in multiplayer, a levelling-up, vehicle-heavy affair with echoes of Battlefield 2, Homefront offers enough to make itself a viable option. The clever generation of BP (battle points), the currency required to fund purchase of weapons, armour and transportation, earned by racking up kills and assisting in the overall war effort, means you'll see genuine gain for your efforts.
The inclusion of dedicated servers should ensure gameplay remains blessedly lag free too, but whether Homefront is able to capture a strong enough following for its multiplayer to thrive remains to be seen. The thought occurs that THQ might have been better pushing this side of proceedings, much as EA does with Battlefield: Bad Company, rather than hyping the inconsequential solo experience.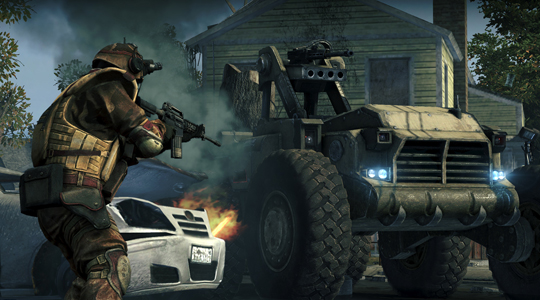 What the truck?
Verdict
Drawing heavy inspiration from the likes of Activision's Call of Duty series, and with rather hefty nods in Half-Life's svelte direction, Homefront is a game of lofty ambitions. However, while just about screaming loud enough to be heard – thanks to an interesting premise and decent multiplayer – it ultimately lacks the required gumption to really stand out in the crowded FPS genre.
More Games Reviews

Killzone 3
Mindjack
Bulletstorm
Dead
Space 2
Mass Effect 2
for PS3