Original URL: http://www.theregister.co.uk/2011/03/17/review_tablet_netbook_dell_duo/
Dell Inspiron Duo
Flip your lid
Posted in Personal Tech, 17th March 2011 13:00 GMT
Review Devices that try to reconcile the essentially irreconcilable often come a cropper. As the Good Book says, "Because thou art lukewarm, and neither cold nor hot, I will spue thee out of my mouth." Trying to combine the best of the netbook with the best of the tablet is what Dell's new Inspiron Duo is all about, but does it work as either, let alone both?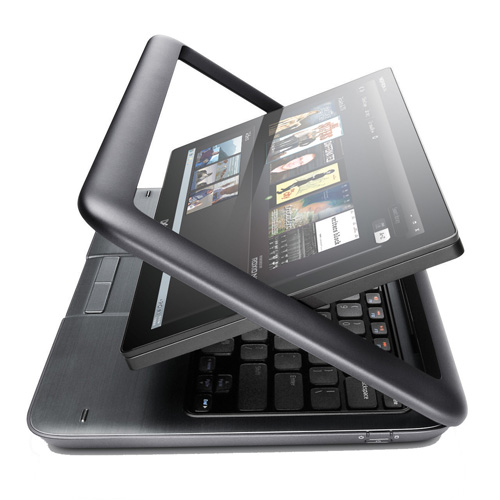 Back in the fold: Dell's Inspiron Duo
First off a word about the lid assembly and screen mount which is the Duo's party piece. The lid itself opens and shuts just like any other netbook but the screen can pivot through 180 degrees within the lid frame, so it can face inwards to work as a regular laptop or outwards to work as a tablet. Small magnets keep it in place in either position. The design looks fragile but it's not actually, so durability shouldn't be an issue.
And a nice screen it is too. It's only the netbook norm 10.1in corner-to-corner but the resolution is a healthy 1366 x 768. It's also glossy and capacitive to the benefit of how it looks and how it works when touched. However, it has a less than robust tolerance to viewing angles, especially about the horizontal plane.
Take a shufti around the exterior of the Dell Duo and you will find two USB ports and 3.5mm audio in/out jacks all hidden behind panels on the left... and, well, actually, that's it. No SD card reader, no more USB ports, no HDMI socket. Dell seems to have decided we don't actually need the usual netbook array of ports. I beg to differ, however.
If you do want two extra USB ports, an Ethernet socket and a card reader, then you will have to cough up £100 for the JBL-endorsed speaker dock, the Inspiron Duo Audio Station. I'm sure the dock is a great bit of kit and a worthwhile investment if you plan on watching a lot of video on our Duo. Even so, removing expected connections from a small laptop to help flog a desktop accessories is still daft.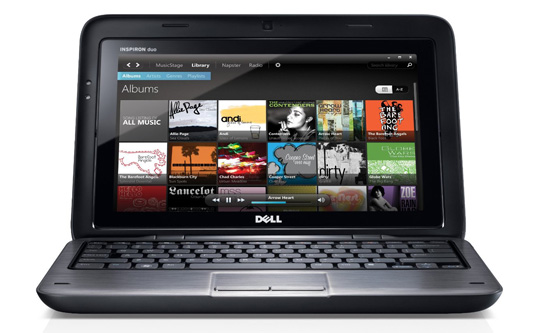 A turn up for the netbooks
The Duo's chiclet keyboard is solid affair with well spaced flat topped keys that have a clean and positive action. The layout looks a tad odd due to the rounded corners of each key but I've no complaints about how it works, and the same goes for the multi-touch trackpad and two-piece click bar.
Working in Stages
Driving the Duo is Intel's N550 dual-core Atom processor but Dell has fitted 2GB of RAM so even Windows 7 Home Premium runs at a reasonable clip. Sure, it won't win any medals for performance, but it keeps a respectable distance from pedestrian a single-core Atom netbooks running 7 Starter on 1GB of RAM.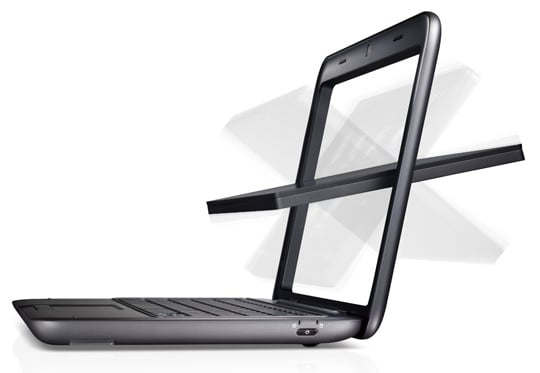 Do the twist
The PCMark05 benchmark tests threw up par for the dual-core-Atom-course numbers, but that's not the whole story. In day-to-day use, the Duo feels faster then a regular netbook and performance is more than adequate for the majority of domestic computing tasks.
Playing high definition video at full screen proved to be no trouble at all with MKV, QuickTime and MP4 videos all running smoothly at 1080p. The same was also true for 1080p YouTube videos.
Flip the screen around and Dell's Stage UI overlay fires up and presents large icon access to a selection Dell's own media applications and the web browser. Sadly, these programs take an age to fire up – I'm talking between 15 and 20 seconds – but at least you can disable the auto-launch.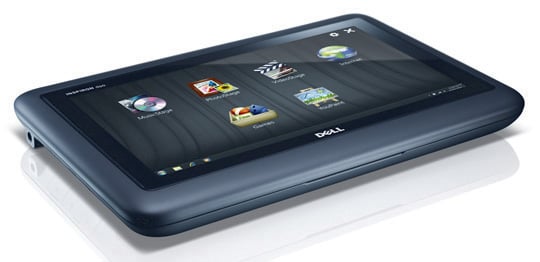 In tablet mode, the icon-based Stage UI kicks in
Close down Stage and things pick up speed, except now you will be tapping away at regular Windows 7, which is nothing like as finger-friendly as Android or iOS. On the upside, the basic Windows 7 UI is perfectly fluid and the screen supports basic pinch-to-zoom.
Benchmark Tests
PCMark05 Results
CPU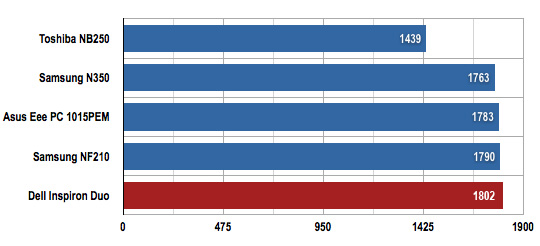 Longer bars are better
Memory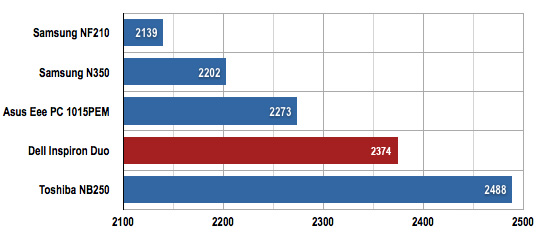 Longer bars are better
HDD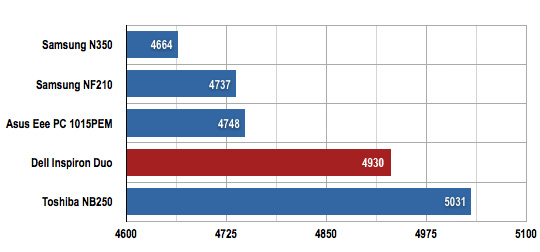 Longer bars are better
Battery Life

Battery life in minutes
Longer bars are better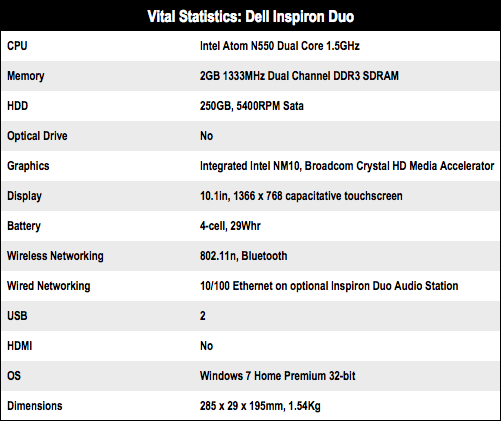 Rotary watch
Of course, that trick screen mounting has an impact on weight and size. At over 1.5Kg the Duo is three times as heavy as an Archos 101 and, at nearly 30mm, it's well over twice as thick. A single-handed hold the Duo is not, so don't expect to use it as an e-book reader. Still, it does have an accelerometer, so swapping from landscape to portrait is simply a case of turning it on end.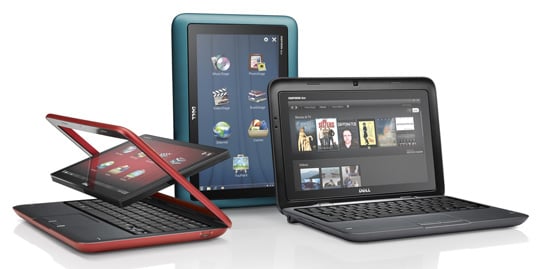 Designed for convenience with additional interfacing as extras
Another area where the Duo gives a lot away to the tablet brigade is battery life. Repeating a standard definition H.264 video at full screen using VLC, the Duo's built-in 4-cell power pack managed just 2hrs 45mins. That's poor even by netbook standards and atrocious by the standards of an Apple iPad or Samsung Galaxy Tab.
In more typical day-to-day use you can get around 3.5hrs from a charge. While not an issue if your Duo will spend most of it's time around the house or in it's dock, but certainly a potential problem if you want to take it out and about for extended periods.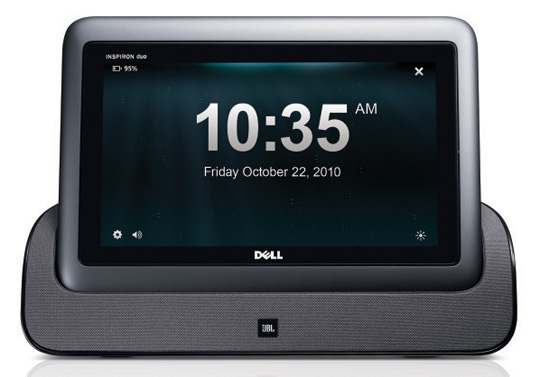 The optional Audio Station dock features additional connectivity, but for a price
Verdict

At £450, the Duo isn't cheap, but if you are already reconciled to spending £350 on something like a Samsung N350 then the extra hundred quid for the trick lid, touchscreen and the extra gig of RAM doesn't look like such a bad deal. The facility to swap between netbook and a tablet, from keyboard to touchscreen was something I started to appreciate when casually watching videos or surfing the web in my armchair, so Dell might just be on to something. Yet it's hard to overlook the missing ports, the poor battery life and the glacial performance of Stage. ®
More Netbook Reviews

Toshiba
NB500
Samsung
N350
Asus
Eee PC
1015PEM
Samsung
NF210
Asus
Eee PC
1215N