Original URL: http://www.theregister.co.uk/2011/03/17/review_altec_lansing_inmotion_air/
Altec Lansing inMotion Air wireless speaker
Dock-free zone
Posted in Personal Tech, 17th March 2011 11:00 GMT
Review Altec Lansing's inMotion range of portable speakers has been popular with iPod and iPhone owners for many years. However, the inMotion Air turns out to be a break with tradition – in fact, it's not specifically designed for the iPod at all.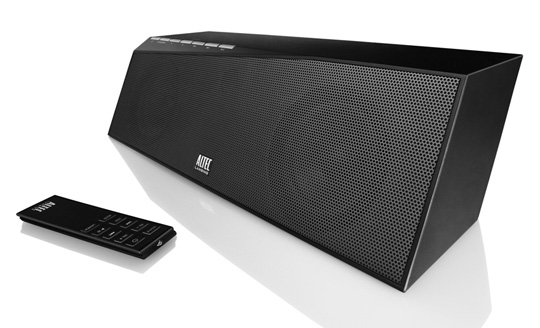 Altec Lansing's inMotion Air
I was, perhaps, taken in by the look of the unit, which has the same rather harsh, angular design as other recent models in the inMotion range. It's certainly not meant to be a travel speaker, though.
There's a carrying handle carved into the back of the unit, but its size and weight make it clear that it's mostly meant to be carried from room to room at home, rather than slipped into a backpack when you're travelling.
The most interesting aspect of the design, though, is the complete absence of the ubiquitous iPod dock. It turns out that the inMotion Air is primarily designed for wireless streaming, with only a humble Aux input around the back to allow wired connections. It doesn't support Apple's AirPlay technology as I'd hoped when I saw the word 'Air' in the product's name, but its wireless features are still pretty comprehensive.

An aux input at the rear accommodates non-wireless kit
Altec Lansing describes the inMotion Air as a 'universal wireless speaker', and its Bluetooth streaming ensures that it will work with any mobile device or computer equipped with Bluetooth. The audio quality when using Bluetooth is very good – clear and detailed, with a nice solid bass behind it.
Apt solution
The Altec Lansing inMotion Air also manages to avoid the slightly muffled sound that afflicts many other Bluetooth speakers. As well as standard Bluetooth, the inMotion Air supports the Apt-X codec for improved stereo streaming – although your music source will obviously need to support Apt-X as well in order to use this feature.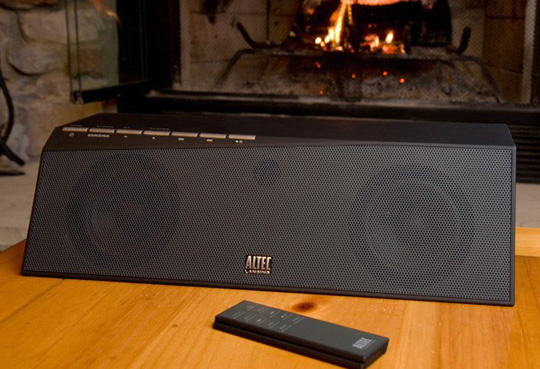 Supports Bluetooth and Apt-X streaming and there's a dongle too, for PC linking
The inMotion Air also includes a separate USB wireless transmitter that you can plug into a Mac or PC. The wireless transmitter has a range of 100m (300ft), compared to 10m (30ft) for ordinary Bluetooth, which will come in handy if you want to stick the speakers out in your garden for a BBQ and stream music from a computer indoors.
My only real complaint is that the fiddly little buttons on the remote control aren't as responsive as I'd have liked. However, the remote control can also be used to control iTunes on a Mac or the Windows Media Player on a PC so that you don't have to keep going back indoors to fast-forward to a different track.
Altec Lansing doesn't quote the output wattage, but the speaker is certainly loud enough for a bit of a barbecue boogie once you've had a few drinks. The built-in rechargeable battery lasts for about seven hours and, of course, it can run off the mains when you move back indoors.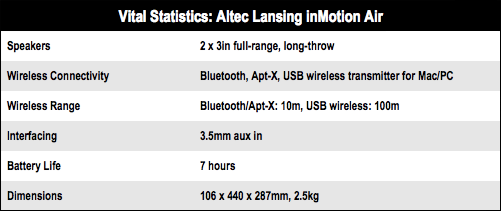 Air ways
Altec Lansing also tells me that the USB dongle can be linked to two inMotion Air units, giving you the possibility of a multi-room speaker system for far less than rivals such as the Sonos ZonePlayer. Alas, I wasn't sent a second unit so that I could try this out.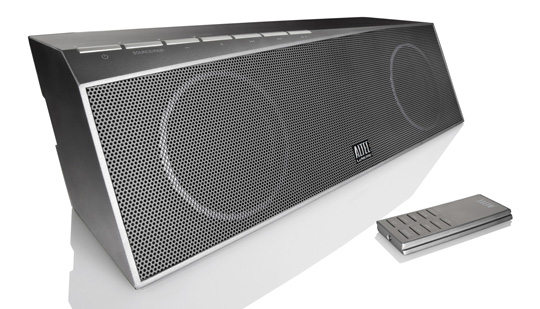 Pleasing on the eye and on the ear
Verdict
If you're specifically looking for an iPod dock then the inMotion Air is clearly the wrong choice. However, its semi-portable design and emphasis on wireless audio makes it a really versatile speaker system for use at home. Its audio quality using basic Bluetooth is very good, and also provides Apt-X future-proofing, while its additional USB wireless option means you can use it with a computer and even add in a second speaker unit in another room. I used it at a dinner party last weekend and it worked a treat. ®
More Audio Gear Reviews…

Denon Ceol
with Apple AirPlay
Arcam
Solo Neo
Onkyo
CS-545
Roberts
Stream 63i