Original URL: http://www.theregister.co.uk/2011/03/17/app_of_the_week_ios_imovie_1_2/
Apple iMovie 1.2
Shoot happens
Posted in Personal Tech, 17th March 2011 07:00 GMT
iOS App of the Week I've been having a lot of fun playing with Apple's new GarageBand app, but it's the updated iMovie that will really benefit from the new camera and improved graphics power of the iPad 2.
You can still run iMovie 1.2 on an iPhone or iPod Touch and gain minor improvements such as the new project themes and sound effects. It's also possible – unofficially, though – to install iMovie on the original iPad.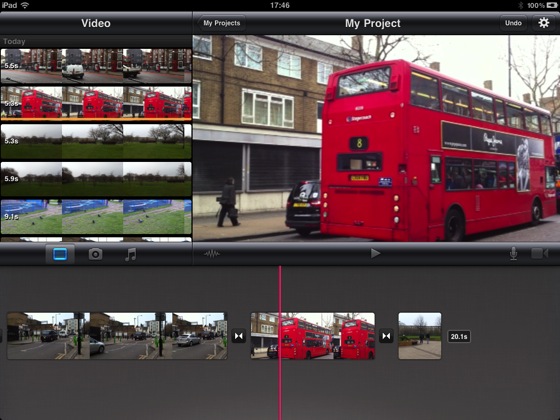 Apple's iMovie: video editing on the iPad
Apple has unsuprisingly tried to prevent this in order to encourage fondleslab fans to upgrade to the iPad 2. The easiest method for getting iMovie 1.2 to run on the 'old' tablet I've found is at AppAdvice.
The downside: you can't sync your iPad with iTunes until you ditch iMovie.
iPad 2 owners - when Apple ships the thing over here - will not be so encumbered, though they may not be impressed with the footage taken using the new tablet's weak cameras. Other footage can be imported through iTunes and - potentially - the iPad Camera Connection Kit's USB and SD adaptors. Apple hasn't yet said what addition formats beyond H.264 are supported.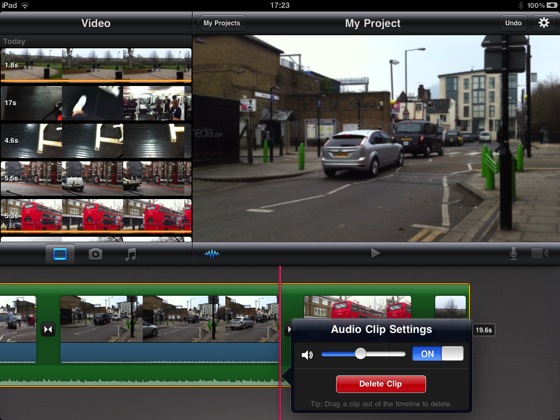 Tap to call up track options
It's much easier to edit video projects on the iPad than it is on the iPhone simply because you've got more room to view and trim clips. However, iMovie on the iPad also sprouts some major new features that aren't available when the app is running on the smaller screen of the iPhone.
Cut!
The screen layout on the iPad puts the media browser right alongside the main preview window, making it easier to quickly locate the photos, audio and video clips that you want to use. You can also view the audio waveforms of your video clips and quickly adjust volume with a simple slider control.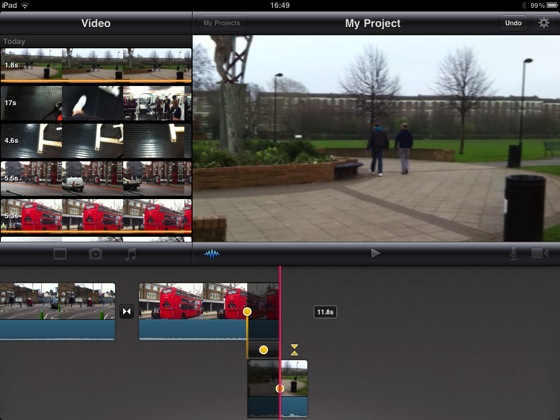 Precision Mode lets you fine-tune edits... with your finger
Even more useful is the Precision Editor option, which allows you to overlap clips and create cuts and cross-fades with greater precision.
iOS' gestures and touch UI is used well. You can pinch-to-zoom iMovie's timeline to zoom in and time edits more finely, for example. Tap-tapping on a clip pops up an options menu. It's all intuitively done.
To be honest, I've found iMovie very fiddly to use on the small screen of my iPhone, but the app bursts into life on the iPad. It's simple enough for hobbyists to have fun with, but I wouldn't be surprised if quite a few professional film-makers also start to use it as a convenient rush-cut tool when they're out on location. ®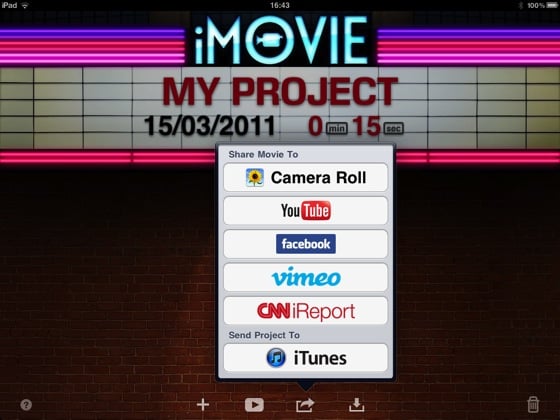 Plenty of output options
We'll be making our selection of the best iOS smartphone and tablet downloads every Thursday. It you think there's an app we should be considering, please let us know.
'Droid fans, Android App of the Week is published every Tuesday.