Original URL: https://www.theregister.co.uk/2011/03/15/wtf_is_cloud_gaming/
WTF is... cloud gaming?
Look, ma, no console!
Posted in Personal Tech, 15th March 2011 13:11 GMT
It's 3am, you can't sleep so you switch on the television. Amid the inevitable reruns and chatline ads, an advert comes on for the latest videogame. Inspired to try it out, you switch over, grab a control pad and immediately start to play. No download, no trips to Blockbuster, no waiting for the postman to arrive with a game from LoveFilm. You didn't even need to fire up your console.
Welcome to the world of cloud gaming.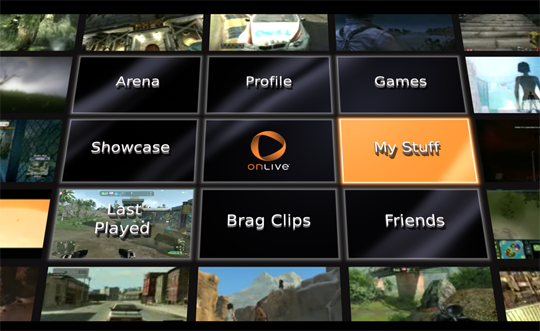 Make your choice
You may think this scenario whiffs of science-fiction, but the reality is not far off. Will hardcore gaming desert traditional consoles and souped-up PCs, and instead jump to cloud-hosted systems? WebTV founder Steve Perlman certainly thinks so.
His cloud-based gaming company, OnLive, has generated plenty of buzz since it was announced in 2009. The premise is simple: to offer hardcore gaming over the web, with no downloads other than its OnLive Game Service app, and no specialist hardware necessary. All content is stored, synced with control input, and rendered on remote servers, then delivered over the web to a user's computer, telly or even mobile phone.
The industry is keen - such services have the potential to eradicate piracy. With no downloads and no physical media, what are the file-sharers going to rip?
There are benefits for gamers too: no need for expensive hardware, or additional handsets and proprietary chargers. No scratchable discs, or boxes cluttering up shelf space. If you're an avid fan, they'll be no queues around the block at midnight waiting for a new release, either. The price of games will plummet, as publishers can reach consumers directly without the need for retailers - digital or physical.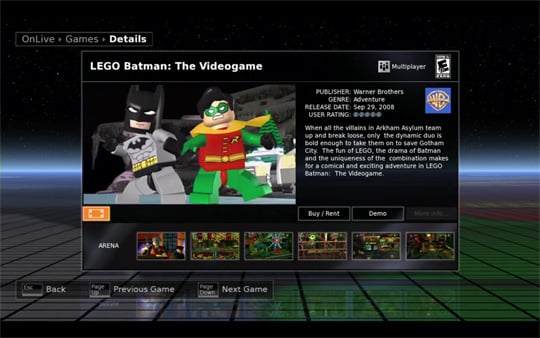 Holy clouds of smoke Batman
You can see this already on OnLive where games start at just $4 (£2.50) for a three-day pass and average $30 (£18.50) for a full PlayPass, which lets users game for as long as they like. A subscription, which allows unlimited gameplay over all available titles, costs $10 (£6) a month.
Play at home, play on the move
Gamers can also continue from where they left off - on different devices. Sony clearly shares the view that this is a benefit and recently launched a cloud-based save-game option for PS3 owners. It's easy to imagine this service extended to allow mobile play of the same title on Sony's upcoming NGP handheld - and maybe Android smartphones too.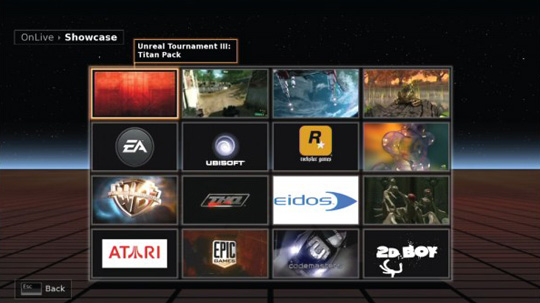 Some big names are signing up
OnLive has its eye on phones. Last month, it announced a deal with HTC that will see the phone maker embed OnLive software in its smartphones. There is already an app for iPad. This currently only offers a view mode, a window to watch other gamers at play, but it may not be long before users can fully access OnLive from their tablets.
OnLive was in development for eight years before it launched in the US in June 2010 and the company has spent a lot of that time working to cement relationships with game studios. More than 20 publishers have now contributed to the service, and over 40 titles are available. But not all developers think the service can survive.
Cevat Yeril, CEO of Crysis creator Crytek, reckons repackaging titles already available on other platforms is not the way to build a successful business model. While recognising the service as the "great first-mover" of cloud gaming, Yeril believes OnLive is unsustainable in the current market. It lacks, he says, a "killer app", an exclusive title which clearly demonstrates that the service's capabilities are superior to those of other platforms.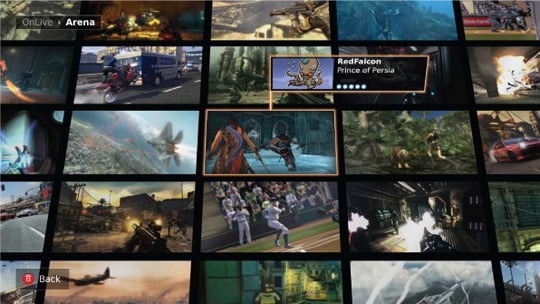 Watch other people play
However, the key issue that faces OnLive - and its rivals - centres on streaming such high volumes of data. To present a game in 1280 x 720 resolution (720p), OnLive says a consistent 5Mb/s stream is needed. An hour's play will consume just under 2.3GB an hour, at that rate. Here in the UK, data caps are commonplace, and many ISPs throttle traffic if they consider too much data is being transferred.
All Blighty then?
However, OnLive has been hard at work to bring its services to Blighty. In 2010, it announced a partnership with BT, with the telco taking a 2.6 per cent stake in the business. BT has the exclusive right to bundle OnLive with its broadband packages, and has already said the game service will be available to all its Total Broadband and Infinity customers. BT hasn't said how this will work, but a likely approach would see the telco send subscribers the compact OnLive MicroConsole adaptor and controller.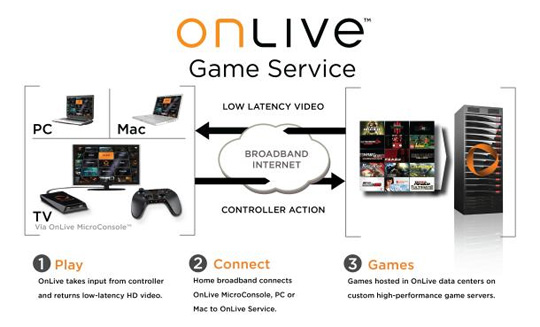 How it works
The adaptor, which costs US-based users $100 (£62), plugs into a TV's HDMI port and comes with a wireless control pad and access to one game. This lets OnLive be accessed using any TV that doesn't have the software already embedded. Console-less gaming on your telly is here, now.
OnLive isn't the only cloud gaming player - half a dozen others are offering services of a similar nature. One, Gaikai, has now opened a public beta in the UK. Unlike OnLive, Gaikai operates through a Flash-enabled web browser not a GoLive-style app. This makes it potentially even more readily available, on multiple platforms.
That may prove central to its success. Games giant EA, for instance, has taken its titles off OnLive and now offers them through Gaikai. EA's CFO, Eric Brown, recently complained about OnLive being too expensive and that the service has too much latency for good gaming.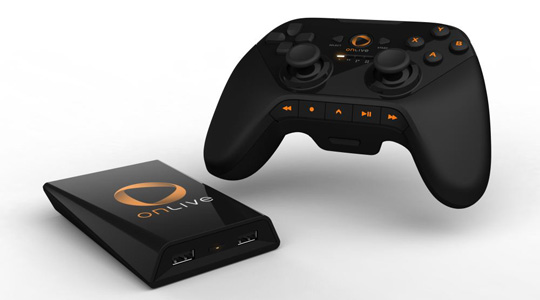 MicroConsole and control pad
EA's interest in Gaikai may be because the service is more focused on presenting demos rather than offering full games. Gaikai actively encourages customers to still buy a copy rather than solely use its service to run a title.
Company in the cloud
Is there too much latency, as Brown claims? OnLive's Steve Perlman has described end-to-end lag as under 80ms, usually in the region of 35-40ms. This should be perfectly acceptable and almost unnoticeable, yet users, even those with high-speed connections, still complain of lag issues and say they rarely measure latencies better than 150ms.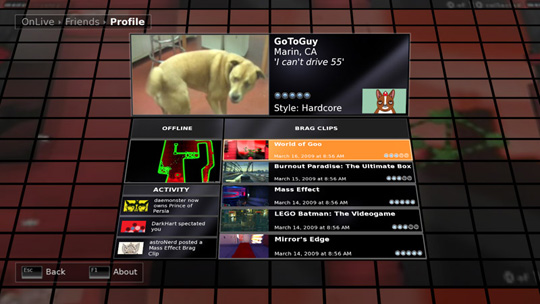 Users can now upload 'brag clips' direct to YouTube
Latency will be a concern for all cloud gaming services until very high speed broadband lines become commonplace, but it's less of an issue for the demo-centric Gaikai than it is for OnLive's full play offering. OnLive has its eye firmly fixed on the time when any player's broadband is up to snuff, not only to kill latency but to allow play in full HD and up. But Gaikai, by dealing with what the internet can deliver now, has an opportunity to get gamers used to the idea before evolving into a full cloud gaming system at a time when its customers aren't going to be disappointed.
Speed is crucial, and if latency concerns can be overcome, cloud-computing could have as big a part to play in the future of gaming, as e-books have for reading, and MP3 and H.264 for video. We've come a long way since WildTangent started charging for games played over the cloud. Its successors, like OnLive and Gaikai, may not kill off the console or the gaming PC, but as internet speeds inevitably increase, they could turn console gaming into a minority interest.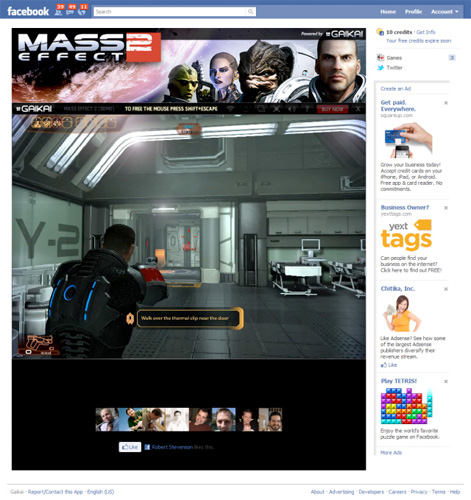 Gaikai can be played in a browser
One thing is for sure though: the ability to put your feet up at 3am and instantly play a game you've just seen advertised is right around the corner. Cloud gaming has arrived, and the games biz might never be the same again. ®