Original URL: http://www.theregister.co.uk/2011/03/15/preview_tablet_asus_eee_pad_slider/
Asus Eee Pad Slider
Tablet meets netbook - becomes smartbook
Posted in Personal Tech, 15th March 2011 12:24 GMT
Hands On The smartbook is the great 'might have been' of mobile computing. Something thin and light, with solid-state storage, a keyboard, a day-long battery life and the ARM CPU that makes such a quality possible, and a price in keeping with the Small, Cheap Computer ethic.
Killed by the iPad? Killed the absence of the right chips and operating systems? All the above?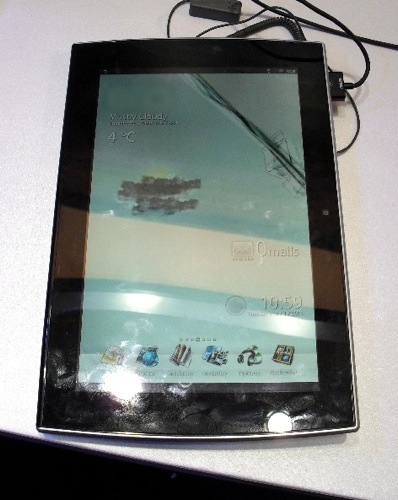 Asus' Eee Pad Slider: starts off as a tablet...
Maybe not, because Asus may have hit the sweet spot with its Eee Pad Slider, an interesting box of tricks I recently managed to spend a brief time with.
Folded flat, the slider looks like any other tablet - even if, at 17.7mm thick, it's a wee bit more portly than the 13.4mm iPad and almost double the iPad 2's 8.8mm front-to-back dimension.
But hold the front and lever the back up, and Slider expands to reveal a full Qwerty keyboard. That's a trick that makes the 17.7mm thickness more of an achievement.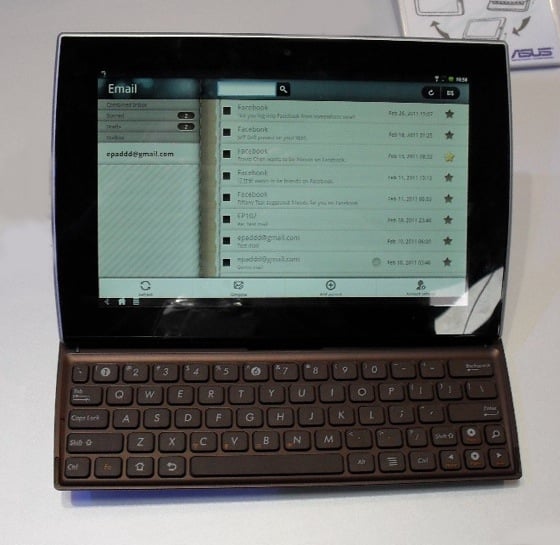 ...becomes a smartbook at the flip of a switch
At just under 900g, the Slider weighs a little more than an iPad too, but the extra 170-odd grams is hardly a killer. And, let's not forget, the slider has a larger screen, a 10.1in, 1280 x 800 IPS LCD capacitive panel, to be exact.
Best of both worlds
With so little physical depth the keys don't have much travel – think large calculator – but it's a much better option than a display-obscuring virtual keyboard, especially if you want to do some serious typing. The keys themselves have a soft, rubberised feel to them which isn't unpleasant to the touch.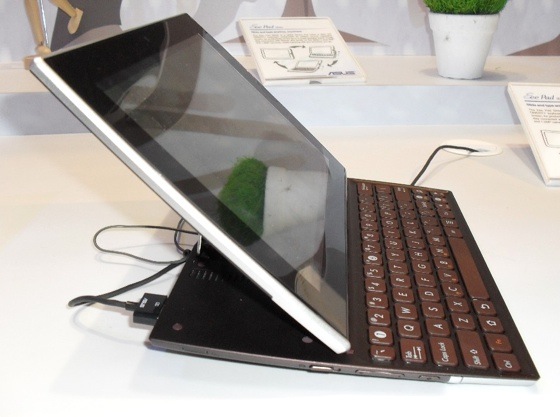 The slider mechanism seems well engineered...
There's no trackpad. If the keyboard was made deep enough the house one, the entire unfolding design would go out the window. Of course, with a touchscreen you don't really need a track pad, but it would save having to reach up to click on things.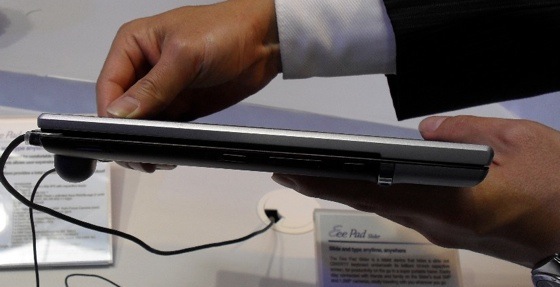 ...but it makes for a thick tablet
The assembly is impressively stable and solid, with no hint of flex or wobble. It's less likely to fall over backwards than your average laptop or netbook. The open/close mechanism is very well engineered too. Fold it shut to use as a tablet and it stays folded shut.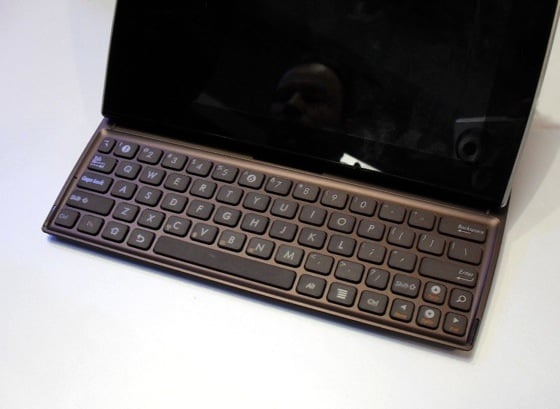 The rubberised keyboard is comfortable to use
Inside the Slider sits an Nvidia Tegra 2 chipset with 1GB of Ram and a choice of 16, 32 or 64GB of Flash storage. Wireless communication is taken care of by 2.4GHz 802.11n Wi-Fi and Bluetooth 2.1. A 3G wireless module will be an optional extra, Asus told me.
Other goodies include a USB port, mini HDMI, and 1.2Mp front-facing and 5MP rear-facing cameras.
Priced to sell?
When it hits the streets the Slider will run Android 3.0 Honeycomb but the pre-release model I got to play with only had Android 2.3 Gingerbread installed, plus Asus' own UI overlay. Android versions aside, the OS runs like the proverbial off a shovel and the touchscreen interface is very fluid.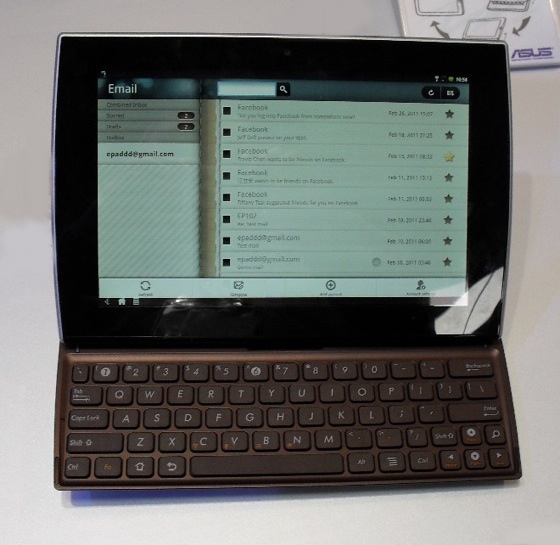 The smartbook revived?
But the best bit is the price. When I asked the Eee Pad Slider's minder what the selling price would start at he replied, "Four hundred dollars".
"You mean Euros?" I asked.
"No, US dollars."
Now, if that's right we are looking at less than £300 including VAT for the 16GB Wi-Fi only model.
At that that price I'm buying two and keeping one for the weekend. Even at €400 (£340), it's decent value so, fingers crossed, the guy had his currencies right and that Asus hits its "May/June" shipping target.
Verdict
Asus' Eee Pad Slider has the internals and look to match any of the latest Android tablets, but with a neat smartphone trick: a slide-out Qwerty keypad. Netbook fans who hate tablets because they lack keyboards will need to think again. ®
More Tablet Reviews

Dixons
Advent
Vega
Creative
Ziio
Viewsonic
ViewPad 7
Archos
101
Samsung
Galaxy
Tab