Original URL: https://www.theregister.co.uk/2011/03/12/review_camcorder_panasonic_hdc_sd900/
Panasonic HDC-SD900 camcorder
Full HD with 3D extras
Posted in Personal Tech, 12th March 2011 08:00 GMT
Review The HDC-SD900 was the first of Panasonic's expanded 3D camcorder range to arrive in the UK. It sits below the HDC-TM900 and HDC-HS900 (which offer 32GB memory and 220GB HDD respectively), but shares the same functionality, recording Full HD and 3D video to SD card.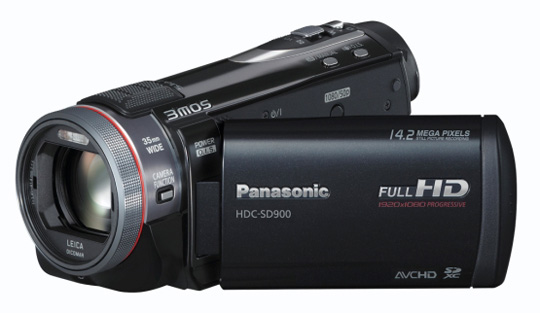 Card sharp: Panasonic's HDC-SD900
If you're keen to film in 3D you'll also need to invest in the VW-CLT1, an optional conversion lens. For a camcorder so feature laden, the HDC- SD900 is a snap to use. A generous 3.5in touchscreen allows easy flipping between a fully automatic IA mode and manual (shutter, iris, WB, focus) controls.
The SD900 offers a variety of 1080i AVCHD shooting options (you can choose from four quality grades distinguished by bit rate, of which the best overall option is probably HG), as well as 1080/50p for the highest possible picture (with a massive 28-Mbps bit rate), plus iFrame for Apple fans. I suspect the latter will be a huge draw for users of Mac editing packages, as it eliminates the need for time-consuming file conversions. Note iFrame records in a 960 x 540/30p format.
Naturally, the SD900 will also shoot digital stills and these clock up a respectable 13.3Mp in size. There's an integrated auto flash, featuring red eye correction, for when light levels dip. The film/camera mode selector sits near the viewfinder and is easily manipulated. Alternatively, you can grab snaps during live filming. 

Also on-board is Panasonic's Optical Image Stabilisation (OIS) handshake-compensation tech. It's a lifesaver on the brand's Lumix compacts and disguises a world of fumbles when you can't be bothered to use a tripod.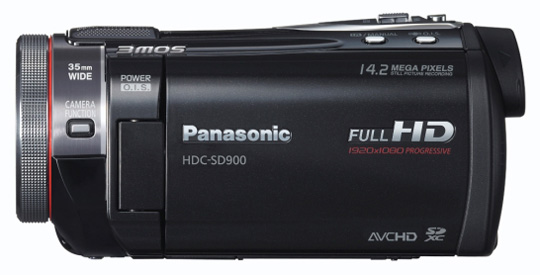 The 3MOS sensor delivers images with precision
2D Full HD picture quality is excellent. There's a stunning amount of detail in the SD900's hi-def images, and colour performance is outstanding. Much of this can be attributed to the 3MOS image sensor, which offers thrice the fidelity of cheaper, single chip 1 MOS shooters. Wildlife footage shot on a crisp, bright day zinged with colour; with big close-ups of hungry swans revealing scads of feathery fine detail.
Converting to 3D
Positioned above the lens barrel is nest of microphones able to record in a 5.1 sound format. The audio quality from this array is impressive. While the surround sound element is a little thin, the stereo staging is expansive. If you're lucky enough to shoot when wind noise is low, the results are surprisingly good.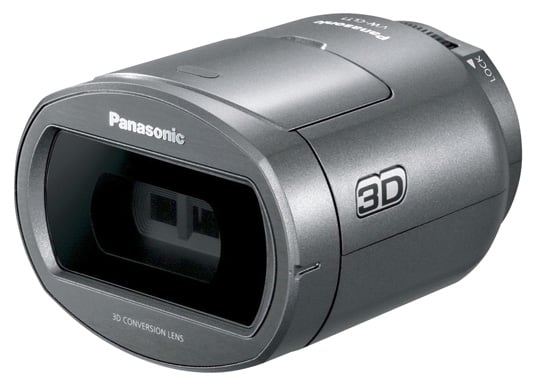 The VW-CLT1 3D lens is an optional extra
Out and about, the SD900 handles well. It fits snugly into the hand and is nicely balanced. The battery runs for upwards of an hour on full charge with near constant use.
Of course, the fact that this camcorder can shoot in 3D is a major attraction. The optional converter lens locks onto the barrel of the HDC-SD900, and once attached must be aligned using a simple cross hair system. Convergence takes little more than a minute to achieve, although you will have to do this every time you attach it. The zoom is disabled when the lens is attached.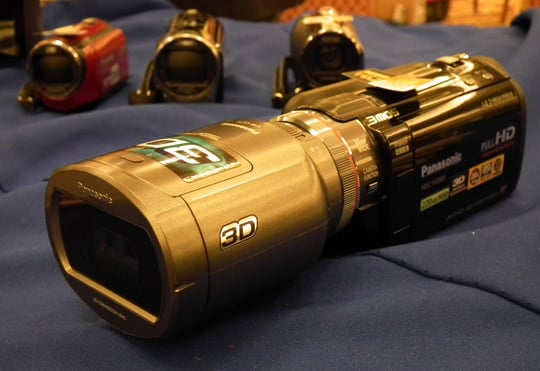 Fitted with the 3D conversion lens
The camera shoots in a side-by-side, half resolution, 3D mode. While there is clearly a hit to be taken in terms of clarity, the sense of depth you can achieve is reasonable compensation. For the most convincing 3D effect, you need to frame your movies with a dominant foreground object, close to the lens. This is because the limited interaxial distance between the two lenses on the converter makes it difficult for the camcorder to create a convincing sense of depth from mid-distance.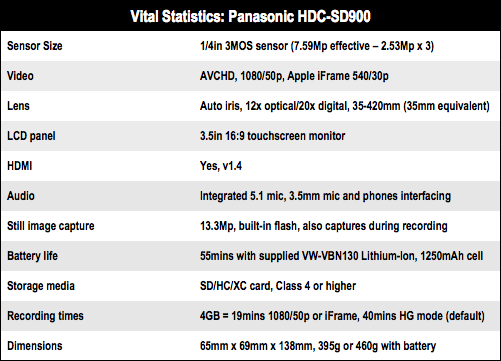 Sample Video
Can't see the video? Download Flash Player from Adobe.com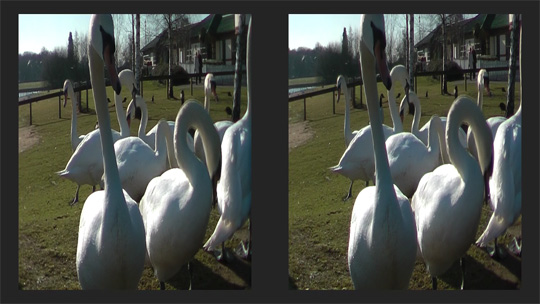 Still from unprocessed stereoscopic video playback
Sample 3D movie file
Download a zipped, stereoscopic MP4 file here. The video can be viewed by choosing side by side picture mode on equipment that supports 3D content. To maximise playback compatibility, this clip has been transcoded from its original MTS format. This process may introduce some coherence artefacts when displayed on 3D-capable equipment.
Sample Stills
Parallax view
Any plans you might have to pip James Cameron to the post for an Avatar sequel might have to be abandoned at this point. Still, the 3D effect is undoubtedly fun. The SD card with 3D footage can be played back and viewed on any 3D Panasonic TV, alternatively you can route via the HDMI output to any other 3D display device.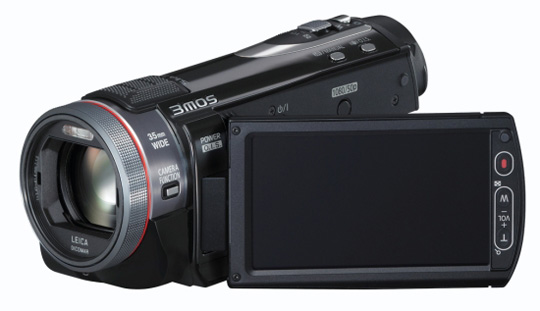 Great performer with SD storage recording that'll keep you shooting if you've cards aplenty
You can edit the side-by-side footage in a regular video editing package. I used Pinnacle Studio. The software sees the squished double images as a regular HD frame. Of course you'll need to be able to force your display into a side-by-side mode when playing back any edits; there will be no control codes in your footage. It's worth noting that the SD900 cannot take 3D digital stills.
Verdict
Overall, the HDC-SD900 is great value for money. I would rate its 2D picture quality as outstanding for the price and the feature spread ticks all the right boxes. As a hobbyist shooter it's well above average, and for prosumers (needing 1080/50p) it could be a handy acquisition tool. The ability to upgrade to 3D is a novel final incentive, should you need one – although you may well be disappointed at some of the creative limitations that will accompany any journeys into the third dimension. ®
More Camcorder Reviews...

Cisco
Flip Mino HD 8GB
GoPro
HD Hero
Veho
Muvi Atom
Creative
Vado
Sony Bloggie
MHS-PM5K