Original URL: https://www.theregister.co.uk/2011/03/11/intel_ssi_micro_server/
Intel and server buddies forge micro boxes
Tiny Xeon blade-rack hybrids
Posted in The Channel, 11th March 2011 05:00 GMT
The Server System Infrastructure forum, which has been trying to establish blade and rack server standards for years, is moving into a new category called micro servers. And Intel is blazing the trail for the tiny form factor, together along partners Dell, Tyan, and Quanta Computer, which make motherboards and systems.
Last week, at the "Day in the Clouds" event that Intel hosted at its Beaverton, Oregon labs and fabs, Jason Waxman talked about a lot of things cloudy, and as he did, he passed around a prototype machine he called a micro server.
As it turns out, the prototype machine that Waxman passed around for all of us to examine is one of a number of machines that will be coming out to support the SSI standard for this new form factor. Waxman didn't want to say much about the new machine, but Kevin Huiskes, director of cloud computing initiatives at Intel, spoke to El Reg about these small footprint servers which borrow ideas from both rack-style and blade form factors.
"Micro servers fit under a pretty broad umbrella," explained Huiskes. "We define it as any server with a large number of nodes, usually with a single socket or multiple low-power processors and shared infrastructure."
The target market for these boxes is the low-end of the dedicated hosting market, where having a physically and electrically distinct machine is sometimes still important to customers. Or it might be for relatively simple Web applications where the workload is light and the I/O requirements are not too intense.
"There's a spectrum of workloads where this type of server works, and others where they will not," says Huiskes. For instance, you could use these baby servers to do basic sorting on big data using an open source program like Hadoop, says Huiskes, but if you want to group data together and then do another sort, they don't have enough processor or I/O oomph.
Here's the basic architecture of a micro server machine, taken from the SSI specification, release 1.0.0: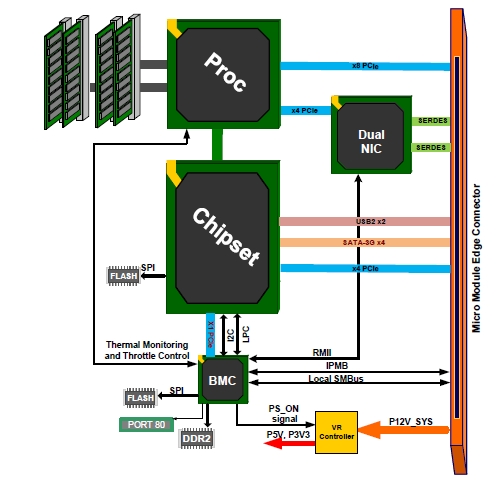 The SSI Micro Server architecture spec
The specification is, as all SSI standards are, very detailed in terms of the size of components and how they interconnect. Maintaining compatibility is, of course, the whole point of SSI specs. (Even if most of the major server vendors ignore such specs most of the time because they want account control for the boxes they sell.) The micro server includes a single processor socket, a chipset to go with it, a baseboard management controller (BMC), local flash memory for the BIOS and BMC firmware, memory, voltage regulators, and an edge module interconnect where the micro server hooks into the chassis to link out to I/O and to draw power. The current spec has four SATA ports, and the baseboard and backplane connectors have to all draw from the same 12-volt power rails. This means that a chassis supporting one kind of micro server should be able to support another one.
Two options
There are two different variants of the micro server module. One that is designed for a machine with front access in the chassis, where the servers will slide in, and another where the server modules will be pushed into the chassis from the top, like a PCI-Express card is today in most servers. Here's the conceptual front access micro server from the SSI spec: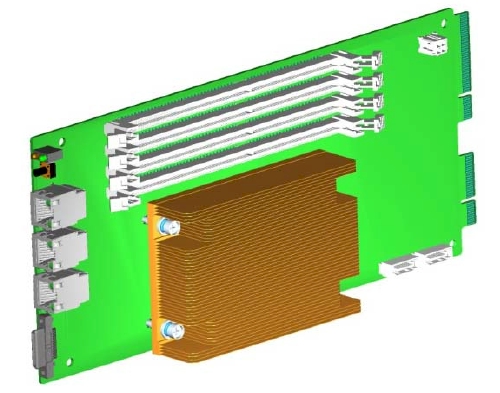 And here is the top access version: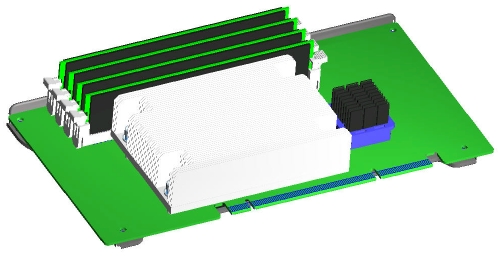 Notice how the spec doesn't say anything about what processors, chipsets, memory, or network interconnect is to be used? That's because the SSI's micro server spec is processor neutral, and there is every reason to believe that Dell, Tyan, Quanta, and others will adapt the basic design to support multiple processors. Dell like both Opterons and Xeons, particularly in the Data Center Solutions bespoke server lineup; Tyan has always been happy to support both Xeons and Opterons in its boards and systems.
Quanta also is playing around with Tilera's many-cored chips (these are probably derived from the MIPS designs, but thus far Tilera has never confirmed that). That said, Intel is very interested in small servers, just in case this market takes off like tablets did - despite the naysayers who said there was no market in it.
Here's the prototype micro server that Waxman was passing around last week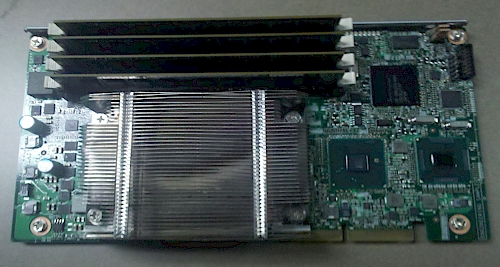 Waxman did not identify what the processor was underneath the heat sink, but he did say it was a four-core chip and that it was designed with an unnamed ODM partner as a reference product, not as something Intel will sell directly. This board had four DDR3 memory sticks, using Samsung Electronics' low-volt "green" memory modules, and it looked like the interconnect running along the bottom of the module was a modified PCI-Express 2.0 x16 slot. This is the same interconnect technique that SeaMicro uses in its SM10000 series of Atom-based micro servers, which cram 512 cores into a 10U chassis. The difference is that the SeaMicro board has two PCI-Express 2.0 x16 connections, and this Intel prototype only has one. This Intel machine is obviously for a top access micro server chassis.
Here's a micro server module from Tyan, which El Reg has spotted in the wild and which is for a front access micro server chassis: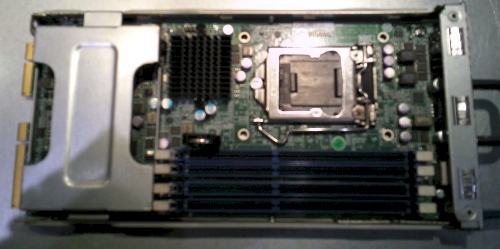 And here is what that Tyan prototype micro server 4U chassis looks like: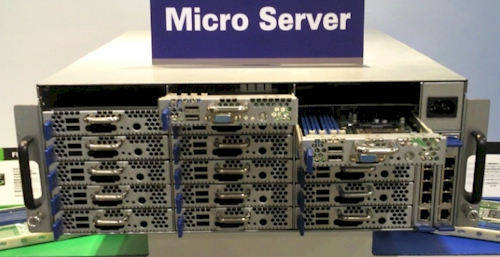 The Tyan chassis will support up to 18 single-processor micro servers in that 4U chassis, along with shared Gigabit or 10 Gigabit Ethernet switches and power supplies for all those nodes. The "micro blades," as Tyan is calling them, will support the future single-socket "Sandy Bridge" Xeon E3 processors or AMD's Phenom II, Athlon II, and Sempron processors in the AM3 socket. The Tyan micro servers will sport 32 GB of ECC memory, space for two 2.5-inch SATA disks, and two network ports. The chassis has a management module that sits in with the switches and consolidates all of the BMC operations.
As it turns out, the Dell DCS "Viking" server announced last September is a modified version of a front-access micro server that adheres to the SSI spec, but which adds a fat server tray to the end of the drawer so customers can use inexpensive 3.5-inch disks.
The most interesting product coming out of Intel for micro servers will no doubt be the single-socket variant of the Sandy Bridge Xeon processors, which are the kickers to the current Nehalem-derived Xeon 3400 series. The power-sipping E3 chip will have two cores running at around 2.2 GHz and only burn 20 watts. But there could be other Atom-based designs, something like what SeaMicro has put together with the SM10000 but probably not as dense. Future micro servers based on ARM RISC processors and "Bulldozer" Opterons will also probably appear at some point, too. ®