Original URL: https://www.theregister.co.uk/2011/03/11/games_review_dragon_age_2/
Dragon Age II
Hit and myth
Posted in Personal Tech, 11th March 2011 13:00 GMT
Review Dragon Age 2, sequel to 2009's Dragon Age: Origins, plunges us once more into the realm of swords and sorcery – even adapting its history based on your Origins' saved game (if you have one). However, in terms of style and gameplay, there is perhaps more here that fans of Mass Effect will find familiar than series veterans.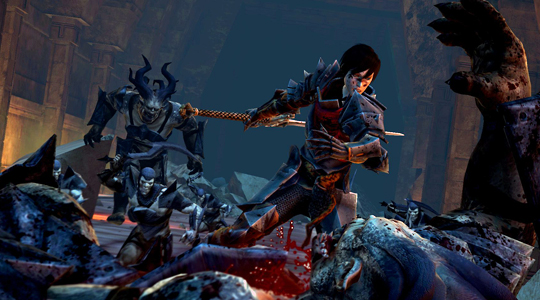 Keep away, you horny beast
Take Hawke for example, DA2's fêted champion who, as with ME's Commander Shepard, can be customised by way of gender and skills; but remains recognisably human – unlike the more open-ended, multi-specied character creation of Origins. ME's dialogue wheel makes an appearance too…
You can also choose from rogue, warrior and mage when customising Hawke. For those of you who missed RPG's Class 101, rogues are generally nippy, able to pick locks, identify traps and move stealthily; mages can cast all manner of spells from the arcane to the regenerative; while warriors are the human tanks of the battlefield, casting hostiles aside as if they were mere rag dolls.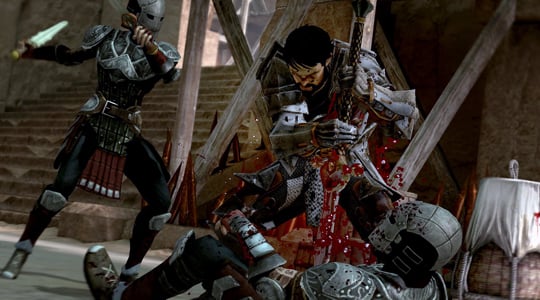 Sword in the bone
For review purposes I went down the warrior route, although I did play the game's opening exchanges as all three characters. The sheer choice of attacks at a mage's discretion (well, once suitably levelled-up) makes them the tactician's choice, while the two remaining classes play reasonably similarly; if you like back-stabbing take the rogue. If you'd rather take the battle to your enemy, then tread the warrior's path.
The plot thickens
To briefly summarise the plot, what you'll be playing through is essentially a story retold by the rogue dwarf, Varric (a soon-to-be sidekick), who currently resides at the whims of 'seeker', Cassandra. For whatever nefarious purpose, it seems she's chasing information on the champion's rise to power. "Everything! Start at the beginning!" She hisses at Varric when he asks what she wants to know.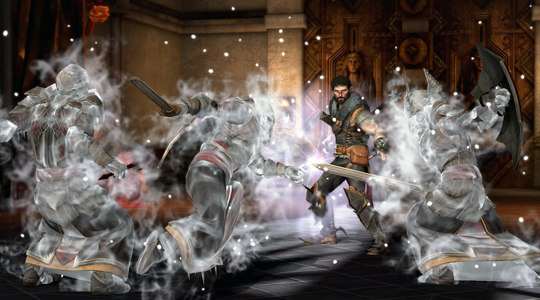 Play misty for me
Before you know it you're knee-deep in prologue, introduced by Varric's narration over some very nicely produced cut-scenes. We join Hawke and his family as they flee for their lives from pursuing darkspawn – tainted monstrosities – as they make for Kirkwall where they supposedly have a family home – ah, the best laid schemes of mice and men…
Even at these early stages you'll encounter characters and take decisions through the use of the dialogue wheel – a port straight from Mass Effect 2 – which affects the game's narrative. For instance, you'll quickly meet the warrior, Aveline, with her Templar Knight husband. Before long you're set upon by darkspawn, triggering a sequence of events which leads the death of two members of your group. How Hawke reacts to these deaths shapes how friendly his remaining companions are to him; a relationship under constant flux as Hawke's every action and reaction correlates directly to their perception.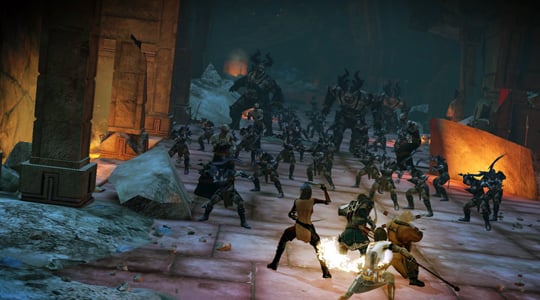 Here comes the hotstepper...
One criticism of the dialogue wheel though is that BioWare has gone with the option of including three stock responses to most conversations: benevolent, blunt and wise-cracking. Now, injecting a little humour is all well and good, but to include such amounts of sarcasm rather depletes Hawke's standing as the heroic type, and it doesn't help that some of the jokes are on the tiring side and that's without going into some of his 'romantic' encounters – good grief.
Intelligent surroundings
Yet, aside from moral dilemmas and taking tough decisions, how does the game actually play? Well, after Mass Effect 2's leaps and bounds forward for the action RPG genre, DA2 does a good job without particularly advancing the system. On a console it's a cinch to quickly chain together your abilities thanks to some handily tailorable shortcuts, while the number of simultaneously on-screen enemies does impress.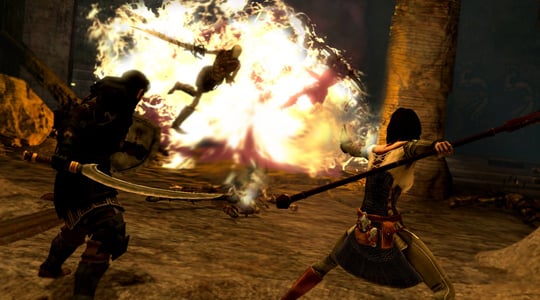 Bonfire knight
Visuals on the whole do suffer slightly, however, falling short of the benchmark set by ME2, with environments seeming much more barren than those in the sci-fi epic. It's a different engine, of course, but comparisons are inevitable and DA2 feels a little bland in contrast to the neon environs of Shepard et al. Loading times can be an issue too, each visit to Kirkwall's various districts prompting yet another delay.
Character abilities – your special moves, if you like – take a while to charge, as does the required stamina. So, in-between times, hammering away at the attack button is the order of the day. Not the most subtle form of attack for sure, but something unavoidable in a title which depends on close-quarters combat; an issue which gun-and-cover-based affairs – such as the aforementioned ME2 – don't particularly face.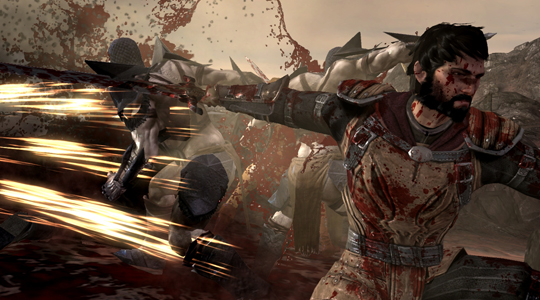 Don't look back in anger
Progress further into the game's mid to latter stages and combat, weapons and enemy AI all ratchet up a notch, creating some truly spectacular encounters in which manually controlling and adjusting your AI companions is crucial. The shoulder buttons allowing the player to quickly zip through friendly ranks, commanding them to heal, cast or attack whomever and whatever is required.
Stayin' alive
Keeping your companions alive is key in battles, if they fall they remain unconscious until the battle's end (at which point they'll miraculously wake up). Their behaviour can be preordained however, thanks to the comprehensive character tactics panel in which attitude in battle (passive, aggressive, ranged, etc.) can be selected – something to keep you tacticians busy for quite a while.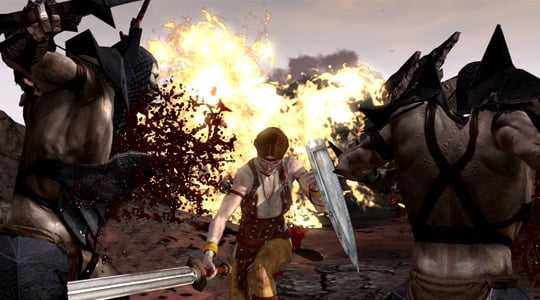 You have a point
Levelling up when you've hit upon the requisite experience points is a similarly deep thought process, particularly when it comes to assigning abilities to your most cherished characters. A new level generally yields three attributes points and a single ability point. Attributes (constitution, strength, dexterity, etc.) directly affect your character's stats, also governing usable armour and weapons – there's nothing like finally getting your hands on that next sword of sharpness.
The ability points allow you to unlock a new move, spell or state from a huge number of options. For example, the warrior class has nine ability groups to pick from, each with a minimum of eleven sub-abilities. Choosing skills which complement the rest of your posse is significant; a balance of attacking and healing options of paramount importance. And will you specialise on one ability or diversify? A question likely to rage on forums the world over.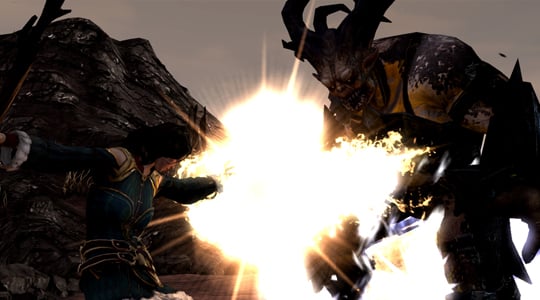 Got a light?
Verdict
Dragon Age 2 does exactly what you'd expect it to, albeit without particularly furthering the genre. It's a fantastically detailed RPG with literally hundreds of quests, side-quests, non-story quests and so on to choose from, but there's an underlying feeling that you've seen it all before. Don't get me wrong, RPG fans will lap this up and it is a great game, it's just a shame that some clichéd scripting, over-reliance on button mashing during combat and a general lack of sparkle detract from the whole. ®
More Games Reviews

Fight Night
Champion
Killzone 3
Bulletstorm
Mindjack
Dead
Space 2