Original URL: https://www.theregister.co.uk/2011/03/10/super_micro_8way_xeon/
Super Micro uncloaks dense Westmere-EX server
64 cores, 4 GPUs, and 2TB memory in a 5U racker
Posted in The Channel, 10th March 2011 18:13 GMT
Super Micro, the motherboard and whitebox server maker that is soon going to break through $1bn in sales, wants a bigger piece of the high-end server action. That's why the company has bent some metal into a dense eight-way server design based on Intel's forthcoming Westmere-EX Xeon processors.
Intel has not said when it will begin shipping the 10-core Westmere-EX processors, presumably to be called the Xeon 7600s, but the word on the street is that these chips will be launched by the end of March. At the IEEE's International Solid-State Circuits Conference in San Francisco two weeks ago, Intel's techies outed some of the feeds and speeds of the Westmere-EX chips, which can be used in machine with two, four, or eight processor sockets.
The Westmere-EX chips are socket-compatible with the current eight-core Nehalem-EX Xeon 7500 processors. They're implemented in a 32 nanometer wafer-baking process, and incorporate a new ring interconnect for the L3 caches on chip and the cores that make use of the cache, just like future Sandy Bridge Xeon EN and EP chips for one- and two-socket boxes will have and the future "Poulson" Itanium processors will employ.
The Sandy Bridge Xeons, presumably to be given the moniker Xeon 5700s, are expected later this summer, maybe in the third quarter. The scuttlebutt has the Poulson Itaniums coming maybe early next year, if Intel can keep to the two-year cadence it promised Itanium system builders – which basically means HP at this point.
The Westmere-EX machines represent the only new chip that server makers can use before the late summer or early autumn to do some hardware engineering to boost capacity, compactness, and energy efficiency. Super Micro is first out of the chute with the SuperServer 5086B-TRF and its underlying components, which its whitebox customers can build if they want to do some of their own work.
The SuperServer 5086B-TRF is currently shipping, says Don Clegg, vice president of marketing and worldwide business development, who gave El Reg some details on the forthcoming machine. This SuperServer will formally debut on the same day that Intel launches the Westmere-EX chips.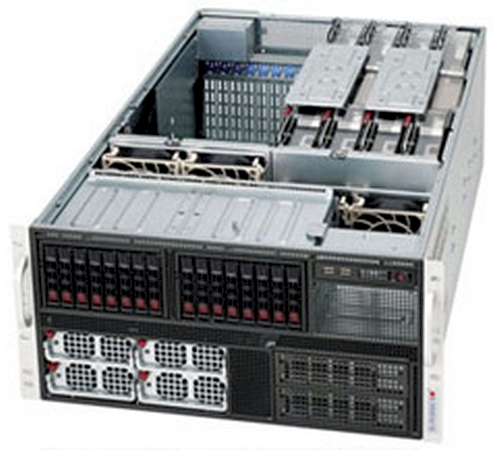 The SuperServer 5086B-TRF: 64 cores, 4 GPUs, 2TB memory
The SuperServer 5086B-TRF is based on a custom motherboard created by Super Micro that allows the company to put Xeon 7500 sockets and main memory on cards that plug vertically into the base system board, much as you would plug in a PCI-Express card. The processor cards use a slightly different interconnect, which marries the QuickPath Interconnect (QPI) for linking CPUs to each other and to the Scalable Memory Interconnect (SMI) that is used to link external memory boards to the processor boards in most Xeon 7500 server designs.
The base system board in the machine is the X8OBN-F, which has two Boxboro Intel 7500 chipsets, plus one PLX PCI-Express bridge, one Intel 82576 dual-port Gigabit Ethernet controller, and six 3GB/sec SATA-2 ports for peripherals. The machine can be equipped with different PCI-Express ports, depending on what you want to put into the PLX bridge. In one configuration, the machine has 10 x8 PCI-Express 2.0 slots, and in another, you can have four x16 slots and two x8 slots. The latter is particularly useful for HPC customers who want fat node servers with integrated GPUs. Each of the four processor boards in the SuperServer 5086B-TRF can be allocated with its own GPU coprocessor – either Nvidia Tesla or AMD FireStream cards, pick your poison.
The system board is called the X8OBN-CPU, and sports two Xeon 7500 sockets in its center and sixteen DDR3 memory slots on opposing sides of the processor card. These cards support DDR3 memory running at 800MHz, 978MHz, and 1.07GHz, and have two QPI ports at the top of the card, which can run at 4.8GT/sec, 5.86GT/sec, or 6.4GT/sec, depending upon the speed of the Xeon 7500 processors.
The X8OBN-BR1 is a bridge board that makes the QPI links between the two, three, or four system boards in the box. In theory, says Clegg, you can run it as a three-board machine, with six Xeon 7500 processors, but Super Micro doesn't expect many such configurations because of the way the QPI links work between boards.
All told, the SuperServer 5086B-TRF has 64 memory slots, and with currently shipping 16GB memory sticks, that's 1TB of total maximum main memory in a single system image with eight processors and 64 total cores. Clegg says that Super Micro will be soon supporting 32GB DDR3 memory sticks – hard to believe they're here already, isn't it? – and with those fat sticks, this box will have up to 2TB of main memory.
The SuperServer 5086B-TRF is based on a 5U rack-mounted chassis and has room for two dozen 2.5-inch SATA drives in the front. (You'll need to eat some slots and get a disk controller, since the main board only has six SATA ports.) The machine comes with redundant 2,800-watt power supplies to feed all those circuits.
Clegg says that Super Micro has already shipped dozens of these boxes ahead of general availability, and that they are absolutely compatible with current Nehalem-EX Xeon 7500 processors. But he adds that most companies that Super Micro is talking with want to wait for the Westmere-EX processors. Super Micro will sell the box as a chassis and board combination to its resellers, or go all the way and configure memory, disks, and other peripherals into the box for them.
Depending on the configuration, Super Micro expects the price to be somewhere in the range of $30,000 to $40,000 for a heavily configured machine, which Clegg says is something on the order of half the price of a comparable RISC or Itanium machine. ®