Original URL: https://www.theregister.co.uk/2011/03/10/group_test_pay_tv_sky_bt_virgin/
BT vs Sky vs Virgin
Top pay-telly providers go head to head
Posted in Personal Tech, 10th March 2011 13:00 GMT
Group Test When the final old-style analogue broadcasts cease in 2012 the default way of receiving TV will be Freeview. For years there have been alternatives for those willing to pay more, and you can end up with as many channels as Lady Gaga has costumes. Like those outfits, you might think: is it necessary to have so many?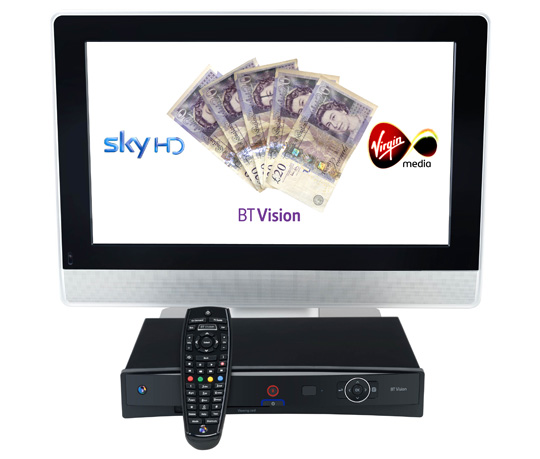 That choice has now expanded into catch-up services from the main broadcasters and various video on demand (VoD) options, meaning that you can select from a big pool of programmes without having to pre-record them. Given these options, what else can you expect to get from Sky, Virgin Media and BT Vision, the big three pay-TV providers? This feature kicks off by highlighting the differences in the deals and the equipment provided. Later, there's a comparative review of all three to see how they perform to keep you in the picture.
Reach For The Sky
Sky's satellite service is nationwide, as long as there are no obstacles blocking line of sight to the dish. Flat dwellers can sometimes arrange communal instals. Planning permission is not needed for mini-dishes, while good installers can suggest discreet dish designs or less obvious places to put them.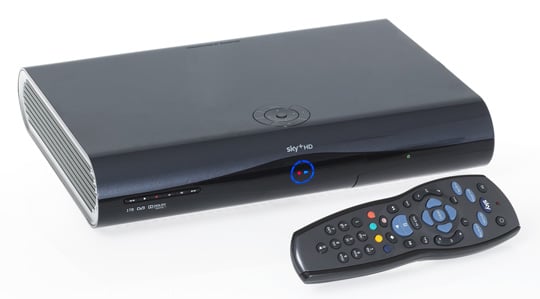 As with all providers, prices can change and there are often special offers. As of March 2011, subscriptions start from £19.50 a month, rising to £52 for all packages, excluding the optional £10.25 monthly HD fee. As more channels go HD, I can imagine this being waived for some or all subscribers, like the initial Sky+ service charge that was phased out in 2007.
Main packages are themed into Variety, Knowledge, Style and Culture, News and Events, Children's and Music, plus premium movies and sports. In total there are more than 500 TV and around 80 radio channels. A capped broadband and phone package is included free.
About 240 of the TV channels are available for no charge, including HD from the BBC, ITV and Channel 4. These are generally what Freesat viewers also get. The number of Sky's HD channels now tops 50, and there's a dedicated 3D channel.
The current Sky+HD box has 250GB for recording and is free to new or upgrading customers on certain subscription levels. A model with a 1TB hard drive costs £249, though if you're technically confident, DIY upgrades to previous Sky+ drives are possible. A non-recording high-def satellite receiver is planned that can be put into second rooms and networked to Sky+HD as a slave unit.
Sky's choice of selected programmes or films are optionally 'pushed' onto a reserved part of the Sky+ disk under the Anytime setting, while the new video-on-demand download service Anytime+ runs on Sky+HD boxes from broadband. This is a bonus feature for Sky broadband users on the £7.50 per month unlimited tariff and carries a reasonable selection of old and recent Sky TV, so you can revisit classic episodes of the The Sopranos, 24 and suchlike. Around 600 films are available to movie subscribers.
The Sky Player online VoD and live channel streaming are available for PCs, Macs and the Xbox 360 (for Gold Live subscribers). Sky has Mobile TV apps plus a version on the Fetch TV box and, soon, Humax's TV Portal.
Sky Anywhere, due later in 2011, is a cloud based approach for accessing content across devices inside or outside homes, combining Sky Player with Mobile TV.
Going Underground
Virgin Media's fibre optic cable TV is available to about half the population, being concentrated on bigger towns and cities. Virgin Media is also testing fibre over telegraph poles for less populous regions.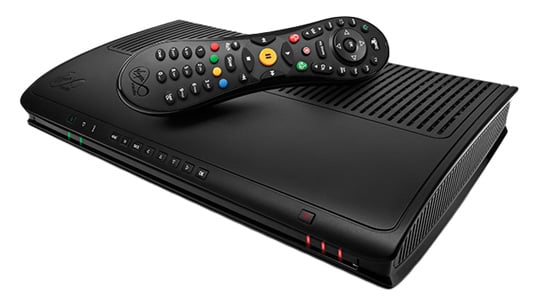 Standard monthly prices are £6.50 for the M+ package (65 channels), £12.50 for L (100 channels) and £24.50 for XL (160 channels). There are six HD channels in the M+ and L packages (from the BBC, ITV, Channel 4, Channel 5 and FilmFour) and 17 in XL. The full line-up is here. Some catch-up and on-demand content is HD.
Premium Sky Sports and Movies channels range from an extra £14.50 a month to £29.50 for a bundle, plus another £7 for their HD versions. FilmFlex has 500 new and classic movies on demand ranging from 99p to £4.99. TV Choice is free to XL subscribers and includes various series collected in 'boxed sets'. There's no 3D channel but movies such as Step Up and Joe Dante's The Hole were on-demand as of March 2011. Subscriptions cost more if you don't take a Virgin phone line but there are often introductory offers too.
There are three types of box: the V-box is HD/3D ready and it can be used without a pay-TV subscription. There's an optional £49.95 one-off charge to 'activate' HD. It cannot record but accesses catch-up and on-demand (free or pay-per-view). The V+HD box is the entry-level digital video recorder (DVR), offering 160GB (80 hours of SD telly). The £49.95 HD activation charge is mandatory and there's a £5 monthly service charge unless you take XL. The TiVo-powered DVR is a new premium option, costing £199 upfront, excluding installation, and £3 extra on top of the required XL subscription – but look out for future promotions.
The TiVo has a 1TB hard drive and 'time travelling' programme guide to scour upcoming schedules or delve into last week for catch-up broadcasts. It has extensive searches by title, keyword, genre, actors or directors. Personalised searches are stored in wishlists, for example, to always record anything directed by Danny Boyle or starring Jeff Bridges. It also learns what you like and suggests other things. TiVo has its own 10Mbps internal modem and a separate subnet to avoid congesting your broadband speed.
Virgin has an on-line Media Player – less comprehensive than Sky's – and a version for mobiles.
Telly Phone
BT Vision uses a 160GB twin-tuner Freeview DVR whose broadband connection provides extra on-demand programmes. The line-up includes BBC, ITV and Channel 4 catch-up services, kids' shows, films, ESPN, music videos and premium add-on channels Sky Sports 1 and 2 (£12.30 per month for one or £17.40 for both).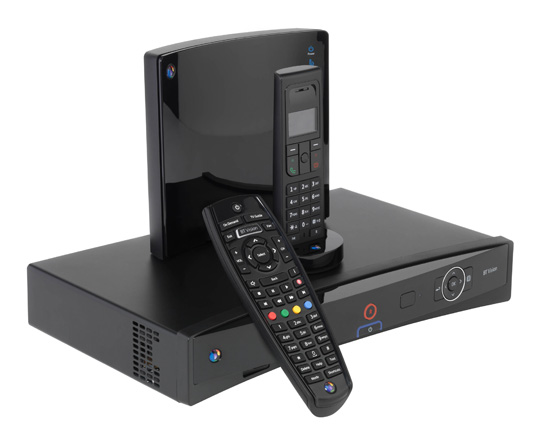 The Gold TV service costs £12.50 per month with a free box. This gives unlimited access to all except Sky Sports and pay-per-view movies, which cost extra. Alternatively you can buy the box for £60 and subscribe to one 'pack' at £7 a month, or pay £90 without a TV subscription. A £30 set-up fee applies to all options.
BT Vision is available to anyone who can get at least 2Mbps via BT Total Broadband (being a BT product, they are tied together). ESPN and Sky Sports are delivered over Freeview, so to receive those and normal Freeview, you'll need reliable coverage. There are some downloadable HD TV shows and films on demand, including a smattering of 3D.
BT Vision usage doesn't count towards data allowances. Unlike Virgin, there's no separate subnet for the service, though BT and its routers prioritise Vision traffic. With the rollout of BT's Infinity fibre optic network, there are plans to stream about 20 additional pay-TV channels through multicasting.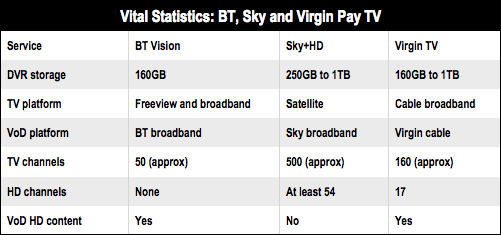 Coming Soon
BT is one of several companies behind YouView, a UK platform for Internet television using yet-to-be released Freeview HD boxes and potentially other hardware like TVs. Its unified programme guide is closer to TiVo and the service should work through any Internet provider. It will be a home for catch-up services from the BBC, ITV, C4, C5 and any organisation that wants to supply free or paid-for content. The next generation of BT Vision DVR, due later in 2011, is expected to be YouView ready.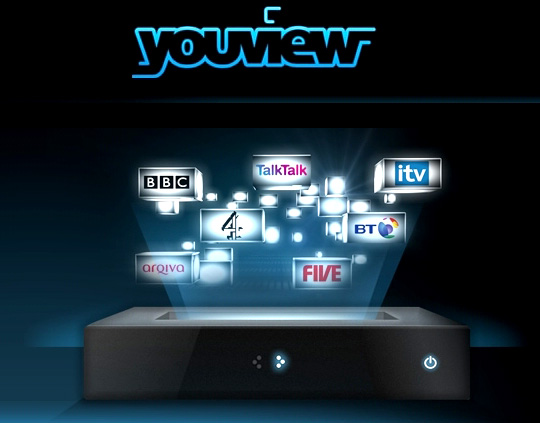 However, the likes of Sky and Virgin claim YouView will distort the market. YouView has also reportedly suffered technical and organisational issues, delaying its launch.
TalkTalk is another YouView backer and is not making its on-line TV service – formerly Tiscali TV and HomeChoice – available to new subscribers [PDF here], pending YouView's arrival. It remains to be seen if YouView will emulate Freeview's success or merely become an also-ran like Top Up TV.
Digital TV receivers with online media access include 3View and Fetch TV as well as Freeview and Freesat specialist Humax, which is making YouView boxes but also has a fledgling TV Portal.
Official web-based film and TV playback sites include Blinkbox and SeeSaw, while increasing amounts of hardware – TVs, Blu-ray players, consoles and media players – have apps for catch-up TV or on-demand entertainment. So if you can't get something from one device, another might do it.
It's estimated about a third of the UK acquires video on demand from filesharing, newsgroups, streaming or cyberlockers. While illicit in most cases, the industry has its work cut out promoting authorised alternatives like iTunes – especially given the pricing – and time lags on US imports, although this is improving.
Review: BT Vision
BT Vision boasts a 14-day EPG and its on-screen menus are clear and simple. It has flexible ways to find what's new or popular and to search for content by name, genre and keywords, though it's not as intelligent and customisable as TiVo.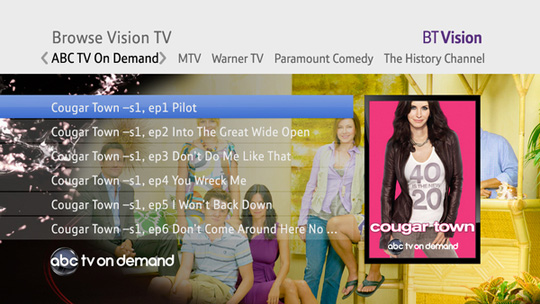 Still work in progress, with a new BT Vision box promising more content
The on-demand playback is pretty much immediate, while HD has just a short delay, depending on broadband performance. By April the full, proper version of the BBC iPlayer will have appeared on all BT Vision boxes.
There is not a huge selection of channels at present, but the VoD offerings are wide ranging at about 3,500 programmes, including series such as 30 Rock and Ugly Betty bundled into boxed sets.
BT claims that the basic Freeview channels plus Sky Sports accounts for three quarters of what people normally watch – and its Infinity based packages will expand this. Parents will be glad that the kids' VoD content has no adverts, while shorter programmes can sometimes be bundled into convenient continuous blocks.
The picture quality is inevitably more compressed than, for example, Virgin's on-demand programmes and films. Even an "HD" version of Toy Story 3 showed some blocky break-up.
BT Vision is a cost effective alternative to Sky's pay-TV if you are not in a Virgin Media area. However, you may be better off waiting for the next-gen Vision box as it will add personalisation features and receive content beyond the existing BT ecosystem, including Freeview HD and other on-demand material.
Reg Rating 70%
Initial Price £30 or £120
Monthly subscriptions From £7
More Info BT Vision
Review: Sky+HD with Anytime+
Sky+ is an easy to grasp, user friendly recorder that can also be set remotely using mobiles or on-line. The new Anytime+ on-demand system is integrated effectively into the existing menus. It has a wide and expanding range of programmes from Sky's library to download for no extra charge (except the newest films).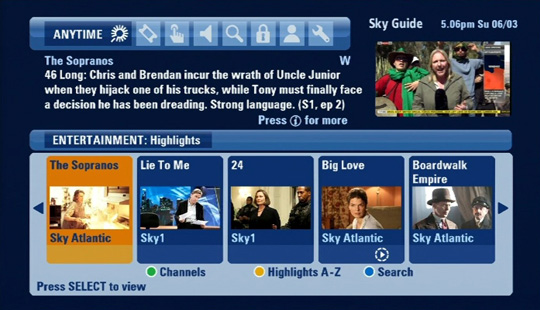 The Anytime+ VoD service requires Sky broadband which won't suit all potential subscribers
The on-demand viewing isn't quite instant but playback can be started after about a minute. Currently the VoD is only standard definition, looking slightly more compressed than SD broadcasts but cleaner than BT Vision's streaming versions. There are Box Office movies via satellite in HD but they are pay-per-view, not instantly on demand and don't include HD TV shows.
At the moment Anytime+ is only available to Sky customers who also take its broadband service (and not everyone does).
The EPG and recording management are less clever than TiVo, particularly for finding new episodes when a series moves channel or has been off-air for a while. Indeed, it was no exaggeration when Reg Hardware reader Wondermouse commented that Sky+ was "like a TiVo with a lobotomy". Sky's Never Miss is a web tool that tries to plug this gap.
Sky+ also has a reputation for niggling bugs. Software updates may cause new problems and existing glitches can go unsolved for ages. Quality and stability varies between Sky+ models – even within the HD range there are numerous iterations – and not all are Anytime+ compatible but the newest ones are clearly better.
Reg Rating 75%
Initial Price Free (subject to conditions)
Monthly subscriptions From £19.50
More Info Sky
Review: Virgin Media V+HD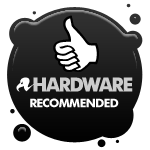 The first thing that strikes you is how good the Virgin Media TV picture quality is, whether it's live or catch-up TV. While the platform has fewer HD channels overall, there's a fair amount of free and pay-per-view HD on demand, including the main catch-up services that are missing from Sky.
Its on-demand playback is genuinely instant, while for off-air recording there are three tuners in all of the DVRs – two for recording and one reserved for live channel hopping, unlike Sky+, which is hobbled awkwardly when doing dual recordings.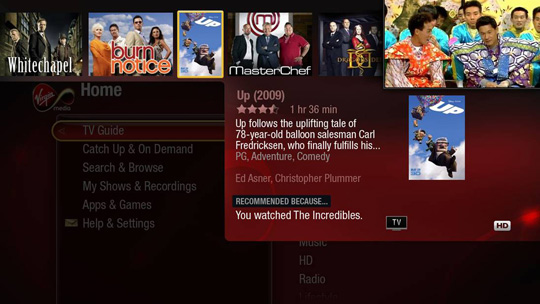 Great picture with TiVo hardware available for premium subscribers
The V+HD user interface is less slick than Sky+, though it makes it harder to inadvertently delete recordings. Setting series recordings on the V+HD is particularly inconsistent and the TV guide has multiple submenus. It smacks of a system that's been put together from disparate parts on the fly, rather than designed from the ground up.
This is something TiVo was brought in to resolve; however, it will be a premium priced option at the outset. Watch this space for Reg Hardware's forthcoming review of this TiVo unit.
At the time of writing there were some notable channel absences, such as Sky News in HD and any version of Sky Atlantic, but the lack of key channels has improved in recent months with Sky One HD and Sky premium channels arriving in HD.
Reg Rating 80%
Initial Price £49.95
Monthly subscriptions From £6.50 (normal price, Virgin phone line required)
More Info Virgin Media
Verdict
What TV service you want to keep or upgrade to may depend on various things – whether you want a dish on your home, your opinion of Rupert Murdoch, your attitude to filesharing, whether you live in a cable area, if BT is the best remaining option, and so on.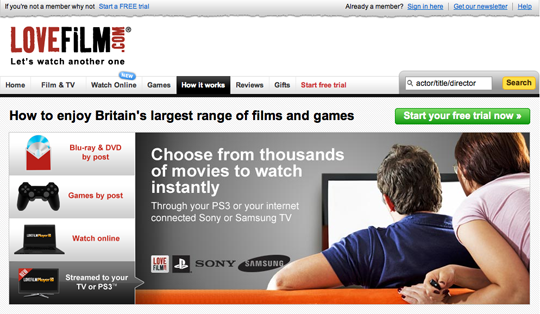 Lovefilm.com provides multiple options for its viewers
You could be perfectly happy using Freeview or Freesat but you might bemoan the lack of Sky Sports. Movie fans are well served with alternatives including simple Blockbuster rentals, LoveFilm (by post or from the internet) and downloading from the increasingly dominant iTunes Store for film and TV. Even so, pay-per-view through your telly is certainly very handy, if you don't want to keep the film.
All services are undergoing changes. Virgin has its promising partnership with TiVo to bolster its already strong VoD line-up, BT Vision is about to revamp due to both fibre optic connections (in some areas) and YouView to offer a number of extras beyond Freeview without you needing to pay for dozens of channels you won't watch.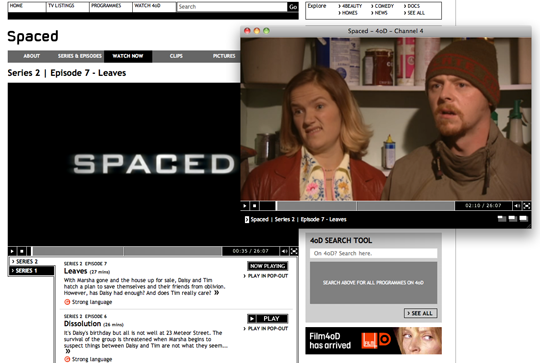 Akin to the BBC iPlayer, 4OD accesses Channel 4's programme archive, but sports fans will still want live TV
Sky, despite being a broadcasting behemoth, has been the slowest to get proper video on demand onto its network. Indeed, it lacks catch-up TV from the public service broadcasters that account for so much viewing, yet it has the most linear channels, including lots in HD.
Currently, there has yet to be one gadget or provider that delivers all the options as far as television goes. When choosing there will, of course, be financial or feature incentives if you take phone and broadband from the same company. As this appraisal highlights, there are plenty of deals as well as new services on the horizon and performance factors to consider. Also, bear in mind if you need realtime telly for those time critical sporting events, or just plenty of films for the kids. Given the range of non-realtime broadcast options available, pay TV packages need closer scrutiny these days, as using other sources to mix and match may well allow you the freedom to focus on a deal that suits your viewing habits best. ®