Original URL: http://www.theregister.co.uk/2011/03/10/games_review_fight_night_champion/
Fight Night Champion
Smack my mitts up
Posted in Personal Tech, 10th March 2011 10:30 GMT
Review Team sport titles get repackaged each year with marginal improvements, justified through noticeable kit and squad differences. However, as fast-paced as boxing may be, the sport itself moves very slowly. So even though Fight Night Champion arrives almost two years since the series' last release, apart from David Haye's climb to the top, little has changed in the boxing world.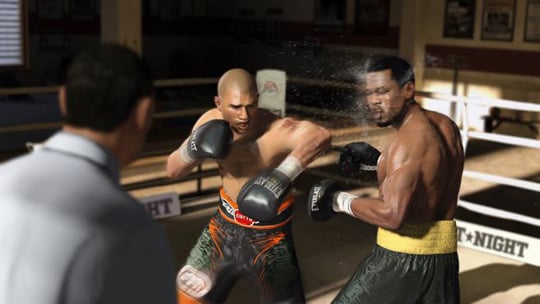 Pow, right in the kisser
Of course, visuals have evolved and games get prettier by the minute, but going in with graphical renovation alone would be doing an Audley – EA would still make a lot of money, but any pre-release effort would go unnoticed and the game would get widely slated. So, in order to spice things up, we're introduced to a storyline, otherwise known as Champion Mode.
If you think a narrative in a boxing game can only mean one thing – complete cheese – then you've punched the nail on the head. FNC is full of platitude and oozes cheese at every corner, but cheese is great in certain situations and this boxing yarn packs a perfect punch.
Written by Will Rokos, the man behind the film Monster's Ball, you'd perhaps expect more, but while the tale may be one cliché after another, it's hard to imagine an alternative. Each cut scene had me laughing my head off as I held it in my hands, flummoxed over the level of corniness the plot stoops to. It's quite a refreshing break from the aggressive focus one has to adopt in each fight. There's a fine line between utter bollocks and cheesy eminence and FNC's storyline is definitely the latter.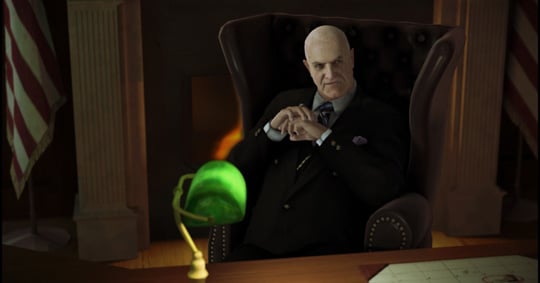 Ladders, talk to me
Champion Mode focuses around the rise, fall and rise again of protagonist Andre Bishop. With his trusted instructor beside him – an archetype of the geriatric Mickey Goldmill-style trainer – Bishop is on his way to superstardom, unbeatable and loosely following in the footsteps of his father. Cue the bad-guy – a Terry Tibbs lookalike playing the part of crooked fight promoter, who in a failed bid to sign Bishop to his services, frames the young fighter, cutting his career short with a lengthy time behind bars.
Stallone would be proud
"Nobody could help me, I had to help myself." says Bishop during one of many textbook script moments. I don't want to ruin anything, as it's worth playing the game just to laugh at how awful the story is. This is a brilliant kind of awful though and fans of the Rocky movies will be in their element. Fight Night now has the makings of a Hollywood boxer film and it's a knockout improvement.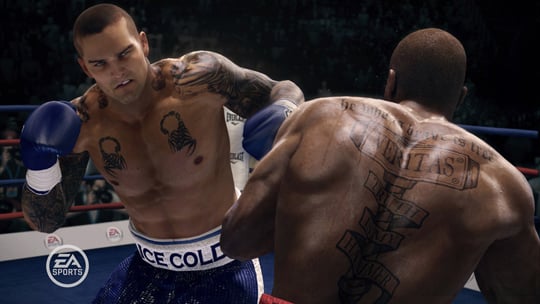 Giving it to him in the ring
The main problem with Champion Mode though is it's so linear and there's almost no opportunity for failure. Sometimes you have to knock someone out, or win with one hand, or strike only with body shots. If you fail to comply, it's straight back to a checkpoint. Boxing doesn't need to be so cut and dried and it detracts emotion from the character. Then again, I'm doubtful a less linear scenario would work, especially after the bore of Legacy Mode, which returns again with imperceptible refinement.
Legacy Mode is similar to that in Fight Night Round 4: take a character from Amateur to Pro, then enter a training camp full of frustrating mini games in order to gather points which are delegated onto your fighter's skill sets. It's certainly more personal, but lacks the enjoyability of the cliché storyline and doesn't match up to creating dream bouts with mega-stars of the boxing world.
That mode is still there, of course. Fans are able to see what might happen when the Hayemaker meets one of the Klitschko brothers, or opt to recreate classic bouts such as Sonny Liston and Muhammad Ali instead. The irony of fighting with ex-boxers on a Playstation 3 isn't lost on me, but this is no time for jokes, Mike Tyson is about to fly into Evander Holyfield, lugging it out all the way. It's nothing new, but this is what I play these games for. When my friends come over, they're gonna get a beating, and for those moments, Fight Night will never tire.
If you're on your own and fancy some furious fist thrashing, there's an on-line mode too. Here, you can create a gym and have others join, enter tournaments and fight people with better intelligence than the AI of the actual game, one hopes.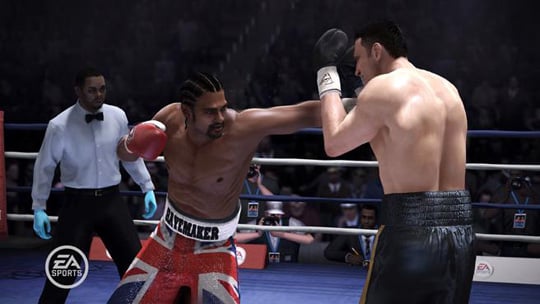 Haye that hurt!
Each famous boxer looks and moves like his real life counterpart, but when battling the AI, an element of personality is missing. Mike Tyson would never act like this in the ring. The dude would eat a guy, literally. Not here though and from what I can see, statistics aside, there is no personalised AI and therefore very little difference in how an opponent actually approaches the fight.
Visual knockout
Like previous Fight Night games, graphics are seriously jaw-dropping. In 1080p, the game blows my mind Charlie Sheen style. EA is definitely onto a winner there. The level of detail, as punches ripple skin in slow-motion and blood splatters following heavy blows, adds a huge splash of realism. Even individual members of the crowd appear to be doing their own thing.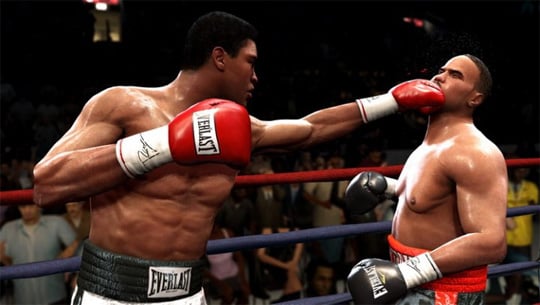 Float like a butterfly, sting like a bee
Gameplay has improved too and sees the introduction of Full Spectrum Punching. Basically, things have been simplified, making it easier for amateurs to grasp the game quicker. Various punches are achieved with simple flicks of the right analogue stick rather than complicated gestures. This is so much better, not just for your own finger stamina, but for the controller itself. Fight Night has always put a lot of strain on the control pad, which has taken much wear and tear in past releases.
Body movement can be somewhat slow though and while an opponent is in a stunned state (another new addition), it can be difficult to get in there quick enough to deliver the killer blow. Instant knockouts are now a possibility, which means you have to be extra careful every step of the way. Connect with one full-blown punch and your opponent will hit the floor, followed by a replay with bone-cracking sound effects that really bring home the achin'.
Stamina plays a big part in how well your boxer reacts too and wayward punchers and button bashers will soon find themselves out of breath and susceptible to an easier knockout.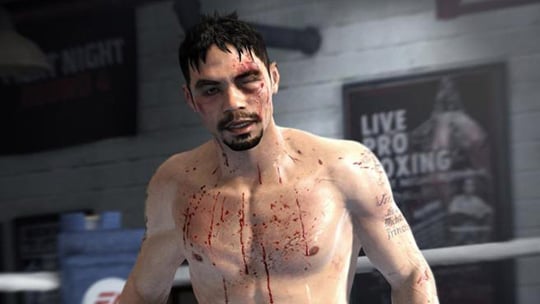 Call yourself a Manny?
Verdict
Fight Night Champion is a welcome return to a boxing series that has always dazzled since my first Xbox in the early noughties. While the addition of a story takes the edge off the game being so serious, hot-headed fans of the sport will still be impressed with what it has to offer. There are few games that can compete graphically with this, and if you're a traditionalist that veers away from UFC extremities, look no further.
Since completing Champion Mode, I'd say I'm only likely to play when friends come over with a cocky attitude. They'll never beat me though, I am THE Fight Night Champion. Thank you and goodnight. ®
More Games Reviews

Killzone 3
Bulletstorm
Mindjack
Dead
Space 2