Original URL: https://www.theregister.co.uk/2011/03/09/review_notebook_apple_macbook_pro_13in/
Apple MacBook Pro 13in
Shiny, silver Sandy Bridge system
Posted in Personal Tech, 9th March 2011 12:00 GMT
Review Love or loathe Apple, you can't deny it makes gorgeous-looking computers. Are there cheaper machines? Sure. Better spec'd? Maybe not, now that the new MacBook Pros are here, complete with Intel's very latest mobile processors and an interconnect tech no one else has yet.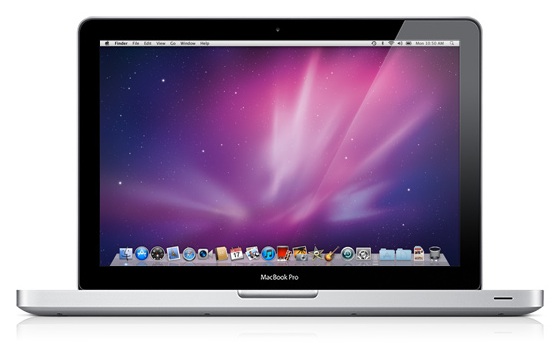 Apple's MacBook Pro 13in: metal-head
That's Intel's 10Gb/s Thunderbolt, of course, but it's effectively irrelevant until peripheral makers roll out equipment that can make use of it. Right now, it's so poorly supported, its presence on the 13in MBP - and the rest of the range, for that matter - will excite only to the most ardent of fanboys. Good future-proofing, yes, but not a reason to rush out and buy one.
Me, I'd rather have had USB 3.0 for now. At least I can go out right now and buy a SuperSpeed hard drive.
There's not much else I'd ask Apple for. An extra USB port, perhaps. Blu-ray maybe. The MBP has an 8x DVD burner, and Apple's notorious dismissal of the HD disc format means we're unlikely to see a BD-equipped MBP.
I'd certainly like a higher screen resolution. The 13in MBP's 1280 x 800 really ought to higher - 1440 x 900, at least - on a model commanding £999 and up. Top marks for not going totally widescreen - I'd rather have a 16:10 1280 x 800 than 16:9 1366 x 768.

Slim'n'silvery
The price may be high, but comparison with seemingly similar specced but cheaper PCs is dangerous. Few of them, for instance, include a full 802.11n Wi-Fi adaptor that works not only in the 2.4GHz band but also at 5GHz, a less interference-filled band. It also has a 3x3 antenna array - most other machines are limited to 1x1.
Case hardened
Since Thunderbolt connectivity is provided by the MBP's DisplayPort mini connector, the only difference between the 2011 model's port array and that of its predecessor is the tiny Thunderbolt logo. Otherwise the two machines look exactly the same.

Port array almost unchanged: now with Thunderbolt
And, yes, the 13in MBP still has a combined 3.5mm audio I/O jack, so you can't use headphones and a microphone at the same time, unless it's in the dongle on a pair of phone-oriented 'phones. Their controls will work too, though the Mac disconcertingly cuts the audio off if you sit listening to nothing for too long - presumably a power-conservation trick.
Just like the port array, the rest of the machine's casing remains unchanged. The changes here are internal: upping the processor from a two-core, two-thread 2.4GHz or 2.866GHz Core 2 Duo to the 2.3GHz Core i5-2410M or the 2.7GHz i7-2620M, skipping the generation of Intel mobile CPUs between them.
The i7, which I tested, has two cores, but the presence of HyperThreading makes it look like a quad-core CPU to Mac OS X - though it won't deliver full quad-core performance. The new i5 is the same two-core, four-thread architecture, but has 3MB of top-level cache to the i7's 4MB.
Both chips feature a Turbo mode clocking the frequency of a single core up to 2.9GHz (i5) or 3.4GHz (i7) if the chip can do so without over-heating. It can overclock both cores too, but the peak speed won't be as high.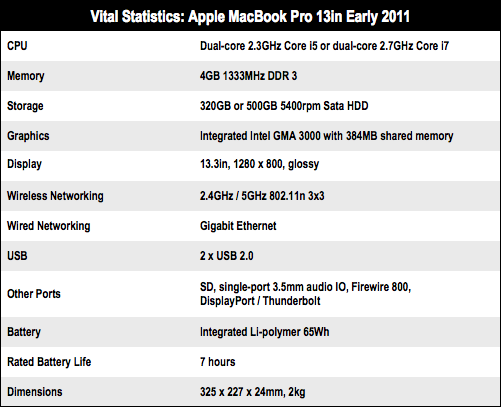 By the numbers
I ran both the ageing Xbench and Geekbench Mac OS X benchmark suites. Both clearly show the new processors' superiority over both the previous generation of Core i - in last year's 15in MBP - and the old Core 2 Duo, used in the current MacBook Air.
Geekbench 2 Results

Longer bars are better
Xbench's figures shouldn't be taken as an absolute measure - look instead at the relative values. So the 13in MBP's threading performance is close enough to that of the 15in MBP, but its memory performance leaps ahead thanks to the use of 1333MHz DDR 3 rather than the 1067MHz DDR 3 used in the previous generation of MacBook Pro.
There gain in disk performance is minimal. The Air's big score arises from its SSD.
Xbench 1.3 Results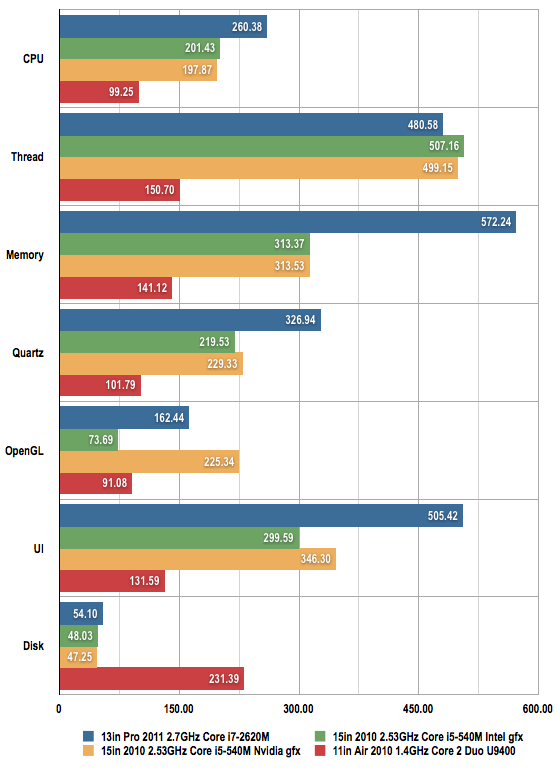 Longer bars are better
The previous 13in MBP used Nvidia's integrated graphics, but the Core i chips have their own GPU on board. The new 15in MBP also has a discrete graphics chip, now from AMD, but the 13in model is an Intel-only affair. The old Nvidia graphics, the GeForce 320M, is also used in the current MacBook Air, and you can see from the graphics benchmarks what a boost the new one delivers.
Another glorious day in the core
Intel's new on-chip graphics even thrash the discrete GPU in the old MacBook Pro - at least at running the Mac UI. The 15-incher still wins on OpenGL 3D rendering, but look how far ahead the 13in MBP's Intel graphics beat the previous-generation Intel integrated GPU at OpenGL.
Handbrake 0.9.5 HD Video Encoding Results

Time in Minutes
Shorter bars are better
For a real-world test, video encoding app Handbrake scaling a 720p HD video down using its iPhone 4 pre-set is a good place to start. I timed how long it took to encode the first ten per cent of the film.
Handbrake is CPU savvy: it will grab as many cores and threads as it can, filling each to the maximum. This immediately kicked up the MBP's cooling fan to maximum revs - and it's none too quiet. The same test run on my previous-generation 15in MBP also maxed out the four available threads, but the fans continued to spin almost silently - but it's not as quick.
PCMark Vantage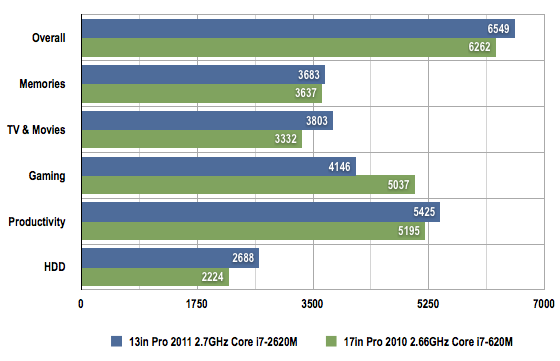 Longer bars are better
For comparison with a broader array of machines, I used Apple's Bootcamp utility to install Windows on the 13in MBP and run PCMark Vantage. Looping the benchmark program doubles up as Reg Hardware's battery life test.
Mid-range master
Incidentally, Bootcamp users may be annoyed to learn that the new model mandates Windows 7 - so if you have on old XP or Vista installer you've been using on a previous machine, you'll need to cough up to Microsoft.

Same stylish 'unibody' design as before
With the new Intel CPU, the 13in MBP hold its own against even quad-core notebooks based on the previous generation of Core i processor - be they Macs or Windows 7 machines such as the Asus NX90. Only graphics let it down. Intel may have improved its GPU technology, but here at least the GMA series still can't beat a discrete GPU.
And that's my only real criticism with the new 13in MacBook Pro - given that suffix, it warrants better graphical performance than it delivers. Many buyers will consider this as a cheaper or a more portable - or both - alternative to the 15in MacBook Pro. OK, you might not expect a quad-core CPU, but you should get Pro-level graphics.
Apple claims a seven-hour battery life - slightly lower than the previous model, though it says it has a new, more accurate measuring scheme. Reg Hardware relies on the worse-case scenario of thrashing the CPU, GPU and hard drive buy running PC Mark Vantage continuously until the test machine dies. The 13in MBP ran for 116 minutes - slightly better than the old 17in MacBook Pro, which delivered comparable computing performance but had a much larger battery.
This is a harsh test, and based on a more realistic usage model, I'd expect real-world usage to run to six hours or so at least.
Verdict
Just as eye-catching as ever, the 13in entry in Apple's updated MacBook Pro line delivers a welcome performance boost across the board with no increase in price. But it's high time Apple gave it a proper pro-level graphics chip. ®
Many thanks to the Square Group for the loan of the review unit
More Mac Reviews

Mac Mini
Server
MacBook
Air 13in
MacBook
Air 11in
MacBook Pro
17in BTO
iMac
21.5in