Original URL: https://www.theregister.co.uk/2011/03/09/review_gadget_q2_internet_radio/
Q2 motion-controlled internet radio
It's only rock and roll...
Posted in Personal Tech, 9th March 2011 07:00 GMT
Review The Q2 is the simplest Internet radio you're likely to find. It's good looking too, with its tidy cube shape, rubberised casing and five colour options: white, black, lime and a couple of flowery pink and blue versions.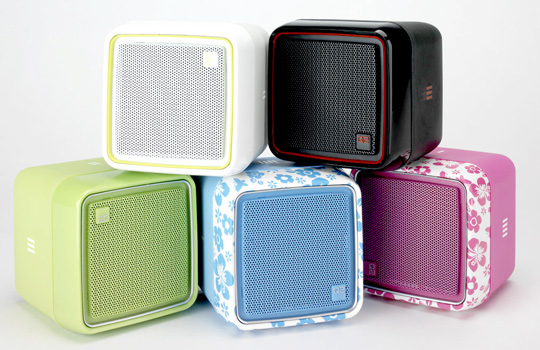 Hip to be square: Q2's Internet radio
The last two colour choices presumably cater for the fashion conscious, though they could be mistaken for trendy baby monitors. Thankfully, the white model is understated, with just a thin yellow trim around the front.
Equipped with Wi-Fi and measuring just 10cm per side, the Q2 is more portable than typical 'next gen' radios. Developed by Cambridge Consultants for the Armour Home group, it aims to demystify Internet radio by removing the display and conventional controls.
Taking its cue from smartphone apps, it's motion sensitive instead. You switch between four presets by turning it onto a different side (each of the outside edges is numbered). Tilt it upwards to raise the volume or down to lower it.
Placing the Q2 onto its front mutes it and, after a few minutes, puts it into battery-saving standby. There's a full on/off toggle switch at the back, where you'll also find the mini USB port and a headphone/stereo output jack.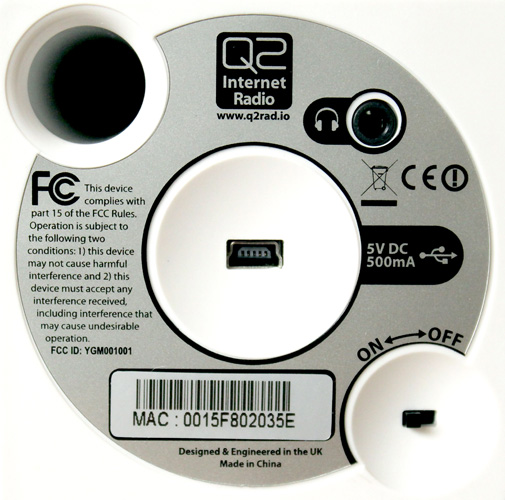 The mini USB port enables charging and station configuration
Although there's no user interface, two LEDs beneath the speaker grille flash for a short time to alert you when its connecting to a network or if the battery is low. The Q2 is recharged through its supplied USB-mains adaptor or when connected to a computer.
The USB-computer link is how you set-up or change the four choices of stations (or podcasts) out of the tens of thousands available from around the globe. Despite the mass of stations on tap, the makers claim that "in practice nearly everyone sticks to their favourite two or three." And in that lies the key to Q2's simplicity.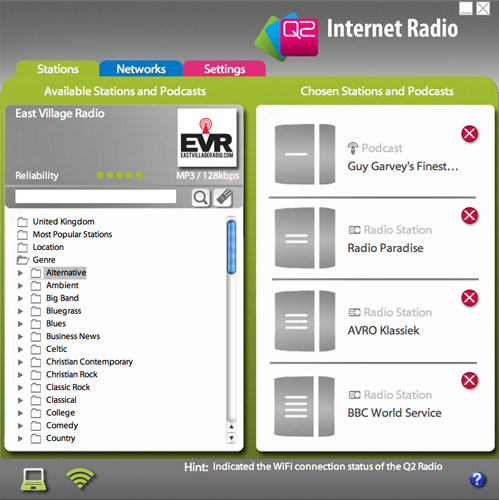 Stations are configured from software on a Mac or PC - no Linux support, as yet
Its accompanying software, which runs on Windows or Mac computers, enables you to browse by categories such as country of origin and genre, or text search. A feature it lacks so far is to bookmark interesting stations or podcasts so you can easily rotate your presets from a favourites list, rather than a huge index of everything.
The only time I really missed a display was for stations that run a 'now playing' tracklisting, though if you have a smartphone handy you could use Soundhound or Shazam.
The computer app is also where you specify what wireless network to connect to, plus any security password. After this the Q2 will store the WLAN settings.
There's nothing stopping you from switching to other networks but you'd need a computer to set-up the radio if you've not used it there before – the radio itself remembers logins for up to five networks. So even if you take the Q2 to a hotspot, you probably won't be able to use the radio without a computer handy, though a netbook would do it.
Given that almost every analogue or digital station also streams a MWA or MP3 version over the net, a radio like this is a good alternative to DAB, as long as you're in range of a network. The radio worked all around my house and to the end of the garden but reception of course depends on the router, its position and any signal interference.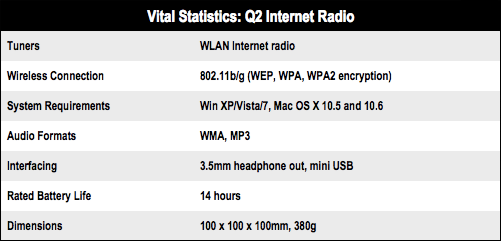 Roll over Beethoven
The Q2 takes about 15 seconds for sound to arrive after switching on, or from deep sleep, while the delay between switching stations is between 3-8 seconds. I managed a respectable 13 hours of use on one battery charge.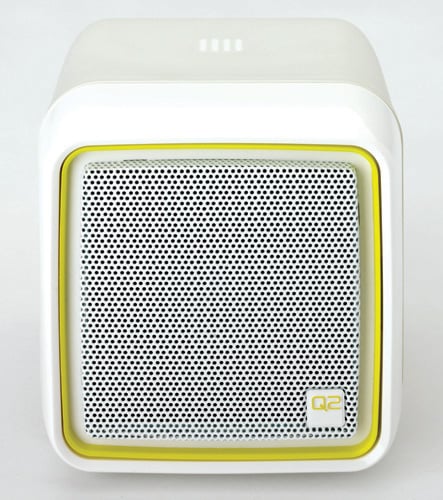 Looks neat, sounds fine, a tad pricey though
Though it only has a mono speaker, the audio quality is impressive for the size. It's quite resonant and largely free from distortion, even at high volume, but not very bassy. Even so, anyone coming into the room would be surprised to find that something so small was delivering such an output.
The best audio quality stations such as Linn and AVRO Klassiek stream 320kbps. 192kbps is more common but the Q2 does a pretty good job even with ones that are only around 48kbps.
It won't handle personalised 'radio' such as Last.fm or, apparently, the on-demand 'listen again' content from broadcasters such as the BBC – just podcast versions or live stations. Also, you can't pause podcasts; if you flip the Q2 in and out of standby it skips back to the start. However, if any of your selected podcasts are regularly updated, they can be picked up by the radio automatically without you having to reconnect to a PC.
Verdict
The Q2 is a piece of cake to operate and just as appealing. Though rather expensive at £90, its convenience, flexibility and unmatched user friendliness mean that it has the potential to broaden the internet radio niche out to a larger crowd. ®
More Wireless Music Player Reviews...

Pure
Oasis Flow
Nokia
Home Music HD-1
Teac
R-4iDNT
Logitech
Squeezebox Touch