Original URL: https://www.theregister.co.uk/2011/03/09/emc_spec_cifs_benchmark/
EMC blows benchmark away - again
NFS before, CIFS now
Posted in The Channel, 9th March 2011 10:17 GMT
EMC has blown another file-serving benchmark away with a result more than four times faster than the previous best.
A pretty much all-flash VG8 (VNX gateway)/VNX 5700 array scored 661,951 operations per second on the SPECsfs2008 CIFS benchmark. The overall response time was 2.1msecs.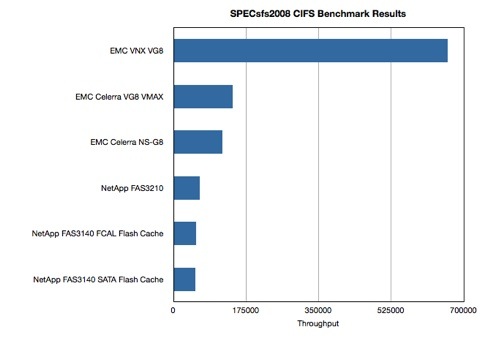 SECsfs2008 CIFS benchmark results
The tested system had 560 x 200GB flash drives and 21 x 300GB, 15,000rpm SAS disk drives for a total of 101.2TB and eight file systems. The total exported capacity was 77.455TB. The VNX5700 had five X-blades, one of which was a stand-by blade.
The previous best result was also held by EMC, with a Celerra VG8 Server Failover Cluster using 2 Data Movers (1 standby) and a Symmetrix VMAX array. This set-up achieved 142,979 ops/sec and a 1.92msec overall response time.
The best non-EMC result was achieved by a NetApp FAS3210 with 64,292 ops/sec and a 1.50 response time.
EMC trounced its competitors on the SPECsfs2008 NFS benchmark recently. Once more an almost all-flash system has shown the door to disk-based competitors on a SPEC benchmark. ®