Original URL: https://www.theregister.co.uk/2011/03/07/windows_7_migration_tools/
Prepping the great Windows 7 migration
Decisions are easy, jobs are hard
Posted in Data Centre, 7th March 2011 14:39 GMT
Windows 7 Deciding to move to Windows 7 is the easy bit. The crunch comes in planning and executing the migration. Should it be a big bang or incremental? How much new hardware and software is needed? What can go wrong?
The truth is that a lot can go wrong, but only if you plan carelessly. Microsoft has produced a bewildering array of tools to assist migration, but to be fair they do address the likely difficulties as far as is possible. Much depends on the health of your current IT infrastructure. Applying Windows 7 is not a quick fix for a broken network.
There is a trade-off in any Windows 7 migration between time spent in planning and preparation, and time spent performing the actual deployment. A zero-touch automated deployment should work like magic for users, but only after intensive preparation. The larger the organisation, the more this kind of investment pays off.
If you do things the Microsoft way, you will have PCs managed by System Center Configuration Manager 2007, which includes operating system deployment, though very small organisations can do their own thing with the Windows Easy Transfer Wizard.
You can also use Microsoft's free tools to generate system images that are deployed using Windows Deployment Services, part of Server 2008, or even manually using removable storage. That said, the zero-touch deployment option, which is smoothest for users, does require System Center.
Those not familiar with Microsoft's deployment tools can get started with the Microsoft Deployment Toolkit, which includes documentation and download links for other tools you will need, including the Windows Automated Installation Kit (AIK).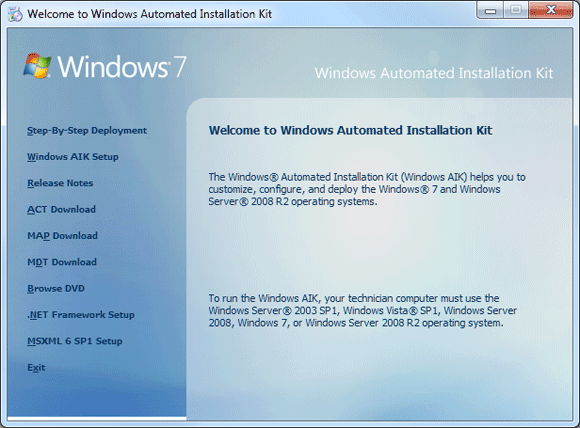 The Windows Automated Installation Kit has links to other downloads for assisting Windows 7 migration.
The main migration challenges are hardware compatibility, application compatibility, and migrating user settings and data.
On the hardware side, Windows 7 is the first version of Windows that actually runs better on the same hardware than its predecessor, Windows Vista, though there may still be driver issues. Microsoft specifies 1GB RAM and a 1.4Ghz processor for PCs that are targets for Windows 7 automated deployment. Some XP systems may not reach the mark, and Windows 7 runs better with 2GB or more of RAM so you may want to set your own higher requirements.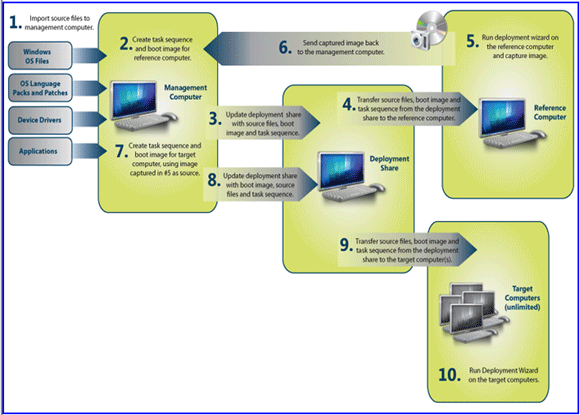 10 steps to automated windows 7 deployment using the Automated Installation Kit.
The tool you need here is the Windows 7 Upgrade advisor, for individual PCs, or the Microsoft Assessment and Planning (MAP) Toolkit, for assessing a network. MAP will generate Windows 7 readiness reports for every machine on the network, using the Windows remote administration API. Unfortunately MAP may fail on some clients due to firewall, network or system problems, and its hardware database is incomplete so it will not always know if drivers are available.
You can easily upgrade hardware, but application compatibility can be more problematic. User Account Control in Windows Vista and Windows 7 locks down the operating system to some extent, breaking some applications as a result.
There are a host of solutions, including running applications on a virtual instance of Windows XP via XP Mode for individuals, or via Microsoft's Desktop Optimization Pack (MDOP) for enterprises. MDOP has two kinds of virtualization, one of which is an Enterprise equivalent to XP Mode called MED-V, and the other an application virtualization tool called App-V. A third possibility is to run an XP application remotely using Citrix or Microsoft's Terminal Services.
This means that there will be a solution to application compatibility issues, but you still have the burden of identifying and implementing that solution. Microsoft's Application Compatibility Toolkit (ACT) is designed to address this. It will audit and log application usage on client PCs over a period, and lets you generate an assessment report that will flag relevant issues.
Figuring out how to retain user documents and settings is another key issue. There is no in-place upgrade from Windows XP to Windows 7, and there is no in-place upgrade from 32-bit to 64-bit Windows. Many administrators dislike in-place upgrades anyway, because there is more that could go wrong.
This means most Windows 7 deployments will be new installations, not upgrades, potentially wiping user data. Microsoft's User State Migration Tool (USMT) is the enterprise equivalent to the Windows Easy Transfer wizard used by individuals, and retains or migrates data and settings. USMT is now part of the Windows AIK and generally works well provided it is configured correctly.
Big Bang, or incremental upgrade?
Big Bang upgrades are a nice idea, but like any delicate task, Windows 7 migration is best done in stages and with a plan B in case of failure, such as backing up all client computers before deployment. Typically you may find that a proportion of existing PCs can be migrated easily, a proportion is more difficult, and a proportion is really tiresome. Doing the easy ones first makes sense. Another strategy is to proceed by office or by department.
Microsoft quotes the examples of Pella, a US manufacturer with 8,600 employees and 4,000 PCs. Pella did pilot projects with the Windows 7 beta in February 2009, and started its full rollout in November 2009 when Windows 7 was released. By June 2010 the company had migrated 1,200 computers, and it aims to install on all 4,000 by the end of 2011. It is worth taking time to get it right.