Original URL: http://www.theregister.co.uk/2011/03/07/review_netbook_toshiba_nb500/
Toshiba NB500 budget netbook
A true Small, Cheap Computer at last?
Posted in Personal Tech, 7th March 2011 12:00 GMT
Review Few netbooks have been truly cheap - well, few of the decent ones, anyway - but now we're at the third generation of Intel's Atom processor family, an opportunity has arisen for netbook makers to offer less pricey models based on older chippery.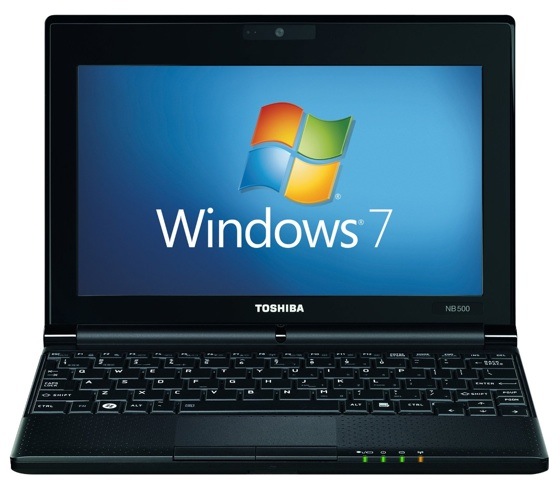 Toshiba's NB500: cheap but not awfully cheerful?
Toshiba's netbook range is topped by models - the NB520 and NB550 - sporting the latest Intel and AMD CPUs, respectively, but that hasn't stopped it punting a lesser line member, the NB500, based on an Atom of yesteryear.
Today, that means a 1.66GHz Atom N455. Released almost a year ago, the 45nm N455 is a two-core, four-thread part with a graphics core, the GMA 3150, built into the CPU module. It supports 800MHz DDR 2 memory, of which Toshiba has included a gigabyte in the NB500.
It's really not enough, not with all the utilities Toshiba pre-installs. Run more than an app or two, and Windows 7 Starter's Task Manager will show the amount of free physical memory plunging to zero. Not that you'll need to check, the feel of the system - windows that take seconds to show their own contents rather than that of windows underneath them - tells you this is a machine struggling to cope.
If this were my netbook, I would ruthlessly purge as many startup services and bundled apps as possible. And upgrade the Ram, though 2GB is your limit.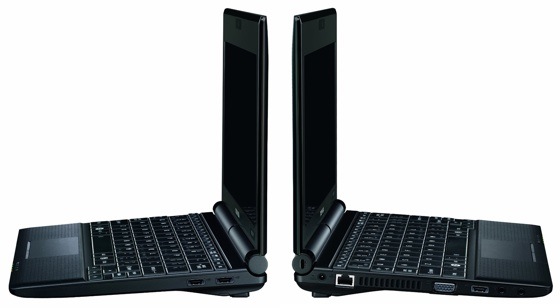 Standard netbook ports
To make matters worse, the NB500's fan, at least on the review sample, cuts in frequently and makes its presence felt, even in a fairly busy office. It's not exactly hairdryer loud, but you'll be well aware of its intrusive hum.
Fireless wireless
The NB500's other specs are decent, if blandly netbook standard: nothing stands out, but Toshiba hasn't left out anything either. You'll find much the same features as you do on more expensive netbooks.
That said, I was particularly unimpressed with the NB500's 2.4GHz 802.11n Wi-Fi adaptor, which Windows states delivers a speed of just 72Mb/s, barely faster than 802.11g's 54Mb/s. 802.11n is capable of a much higher throughput, even allowing for Windows reporting the maximum possible speed rather than real-world throughput. The NB500 doesn't feel as quick as other 802.11n kit I've used, nor as able to cope with areas where a router's wireless signal is week.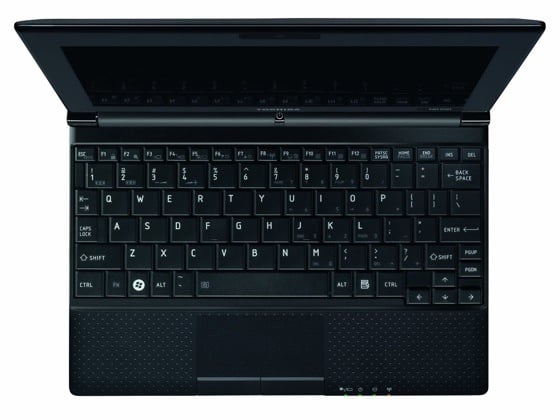 Clacky keyboard
I've seen this on other consumer-centric Toshiba notebooks of late, and it's disappointing, particularly when a laptop's raison d'etre is internet connectivity. It's a result of the number of antennae the NB500's half-size card has available: one transmit and one receive, rather than two (144Mb/s) or four (288Mb/s). A cost-cutting measure, presumably.
Wireless card, memory and hard drive are all easily accesible from a big hatch on the base of the netbook, but replacing the Realtek RTL8188CE card won't help - there are still only two antenna cables.
The NB500's keyboard is not more a premium product than the Wi-Fi adaptor. The big, flat keys aren't unpleasant to type on, but they are a tad on the clacky side. Worse, though, the character and symbol decals all have wide borders that catch the light to give them splodgy, poorly printed look when you glance down at them. The colours don't help any. Come on, Toshiba, dark grey on black for function keys? You can barely see what they are.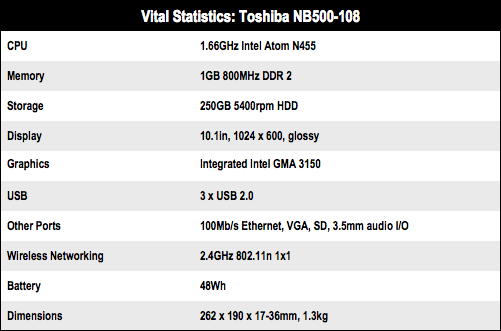 Benchmark Results
PCMark 05
CPU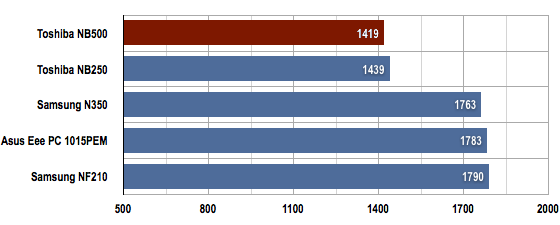 Memory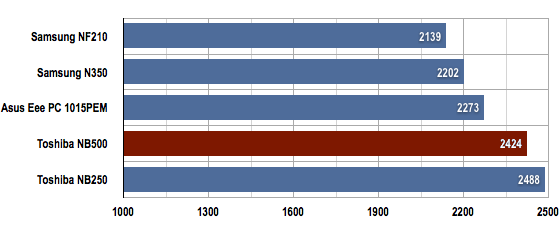 HDD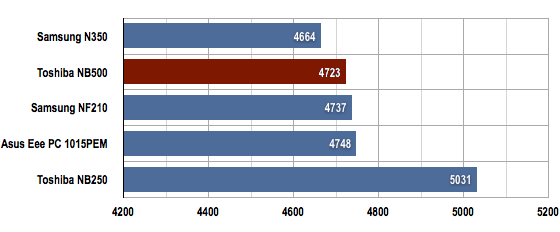 Longer bars are better
Video Playback Battery Life Results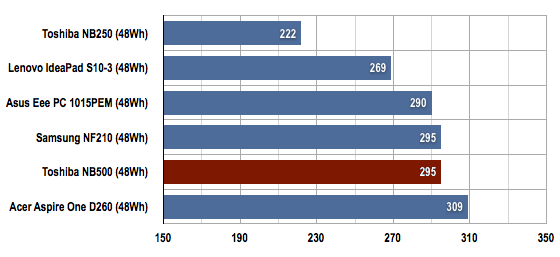 Time in Minutes
Longer bars are better
The Toshiba NB500's PCMark 05 scores fail to impress - even by the standards of the old NB250, let alone models based on the 1.5GHz Atom N550 chip. A decent Memory score doesn't show the impact of having too little Ram.
Dimpled design
The screen, thankfully, is nice and bright, and very legible, though it seems smaller than it is, thanks to a large, gloss-black bezel.
And a low cost doesn't mean - here, at least - a duff-looking machine. The NB500 follows the pattern set by the NB200, though the latter's big round corners here see their diameter of curvature much reduced. The lid curves at the sides, not at the front, and both it and the wrist rest are lifted with a matrix of dimples.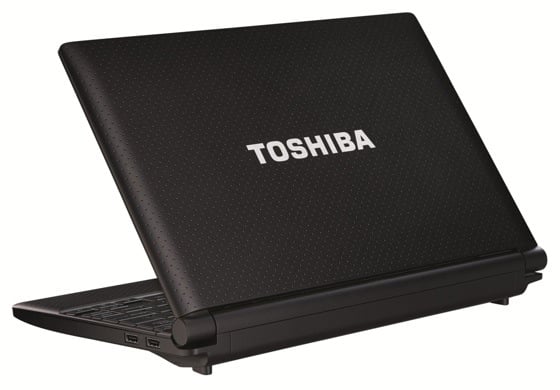 Dimples dominate
While much of the NB500 is just an inch thick, the big battery at the back dominates, as it does on so many netbook. On the review sample it was a 48Wh job, and it yielded just under five hours' runtime in Reg Hardware's continuous standard-definition video playback test. Good, but nothing out of the ordinary.
Toshiba has priced the N500-108 at £249, though you can also get the NB500-107 with a half-capacity, 24Wh battery, for £229. That's pretty much par for the course, for this a netbook with this spec, so Toshiba's cost cuts don't save you much.
Verdict
Yes, the NB500 comes at a bargain basement price, for a netbook, but its a cheap-feeling machine that's desperately in need of more memory and a better wireless card. You can add an extra gig of Ram easily and cheaply, but tough luck if you want faster Wi-Fi. ®
More Netbook Reviews

Samsung
N350
Asus
Eee PC
1015PEM
Samsung
NF210
Toshiba
AC100
Asus
Eee PC
1215N