Original URL: https://www.theregister.co.uk/2011/03/07/intel_vpro_2nd_gen_core/
Intel's vPro biz chips cross Sandy Bridge
Desktops and laptops now, workstations soon
Posted in Personal Tech, 7th March 2011 17:09 GMT
Updated The vPro line of Core chips for business-class desktop PCs launched today, and Intel is working on extending vPro to upcoming laptops and workstations, too.
The vPro iterations of Intel's Core family of processors have extra goodies that businesses will pay a premium for, such as enhanced security features. Intel also hopes that PC makers will adopt vPro versions of its chips to create a common platform on which selected software can be certified to run more easily, such as last year's introduction of the bare-metal XenClient hypervisor created by Citrix Systems, which is only available on vPro machines that have Intel's VT-x virtualization electronics baked in.
The new chips, technically known as the 2nd Generation Intel Core vPro processor family, are variants of the "Sandy Bridge" Core processors that Intel debuted at the Consumer Electronics Show in Las Vegas in early January to kick the new year off.
These Sandy Bridge laptop and desktop chips, which among other things include integrated Intel HD graphics as well as Advanced Vector Extensions (AVX) number-crunching and TurboBoost 2.0 clock scaling, are the ones that were affected by a SATA port bug in the "Cougar Point" chipset, which Intel has subsequently redesigned and re-shipped. The secret sauce that makes a vPro Core chip different from a regular Core chip is woven into both the processor and chipset and activated - for a premium of course - by Intel.
The Intel announcement doesn't actually talk about what vPro 2nd Gen Core chips were announced today, but El Reg has sussed it out. Take a look at this monster vPro desktop processor table on the Intel site. In this table, the first Core i7 desktop processor, the i7-2600, is one of the vPro Sandy Bridge chips. So are the first three in the Core i5 desktop processor family, the i5-2500, i5-2400S, and the i5-2400. So that is four new vPro-capable chips for desktops.
The bottom of the Intel announcement compares the performance of an i5-2520M to an old Core 2 Duo T2750 chip, but the vPro table has not been updated to show that the i5-2520M is vPro enabled or to show any other mobile chips in the Sandy Bridge family being vPro, either. After this story went to press, Intel UK got back to us and helpfully provided this link, which shows the feeds and speeds of the 2nd Generation Core chips, showing which ones support vPro and which ones don't.
With the new vPro Core chips and related chipsets, Intel is cooking in a few more technologies that were not available in prior vPro setups. This includes the Anti-Theft Technology 3.0 "poison pill" and GPS capability, which enforces data encryption software authentication when a PC comes back from a nap and isn't where an end user expects it to be.
With AT 2.0, which was in prior vPro chips, system admins could send a poison pill over an Internet-connected notebook or desktop if it was stolen; once the thief logs onto the Internet, the machine is disabled. With AT 3.0, now that kill command can be sent as an SMS message over an encrypted 3G cell phone network.
Once a machine is retrieved, it can be reanimated with a similar SMS message. The GPS feature allows for admins to see where a missing PC is based on signals from the cell network. (This is not satellite-based GPS.)
The AT 3.0 feature that is part of the new vPro chips can also force a machine that has been stolen to require an encryption login rather than the normal user name and password. The chips also have a little something called Identity Protection Technology, which aims to cut down on phishing attacks on corporate end users who pay the vPro premium.
With the IPT features, the vPro box generates a six-digit numerical password that is used in conjunction with passwords to harden two-factor authentication to access the machine. (You can find out more about IPT here.) All Sandy Bridge Core chips, vPro or not, have the IPT feature.
With the new AES encryption instructions added with the Sandy Bridge Core chips (and first delivered with the "Westmere-EP" Xeon 5600s a year ago), encryption and decryption of data can run as much as four times faster as it did on prior Core chips (which had to do the AES math the hard way without dedicated instructions).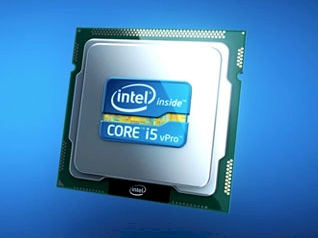 Like the label says: Intel's Core i5 vPro chip
The i7 version of the new vPro chip now has a remote controlled keyboard-video- and mouse (KVM) capability baked into the chip, which can be activated by system administrators working remotely before the OS boots. This means PC makers don't have to put a special KVM chip onto their machines to get this capability. (vPro-capable Core i5 chips already had this function.)
That KVM now can have a 1900 x 1200 resolution, too, which means system admins can properly see system BIOS and operating system screens, not always possible in low-resolution safe-mode booting situations. This higher res is available in all four 2nd Gen Core vPro processors.
All four of the new vPro chips also sport a faster Direct Memory Interface (DMI), which links the I/O southbridge in the chipset to the Sandy Bridge Core chips. (The Sandy Bridge chips do not have a separate northbridge in the chipset, which used to be a standalone chip for linking a CPU to main memory and graphics.)
The DMI 2.0 interface runs at 5 GT/sec, compared to 2.5 GT/sec on the prior vPro chips in the Core i7 and i5 families. All three chips are implemented in a 32 nanometer process by Intel and plug into the LGA1155 sockets.
You can read a whitepaper describing the 2nd Gen vPro chips here (pdf).
It may not have been clear from the announcement which desktop and mobile Sandy Bridge processors have vPro, Intel did say that it would be extending the vPro capabilities out from desktops and laptops to entry-level workstations.
Specifically, Intel said that the future Xeon E3-1200 family of chips, which are based on the Sandy Bridge designs and which will have some chips with embedded HD graphics and others that don't have it, will have at least some models that have the vPro extra goodies on them.
Workstations based on this "soon-to-be-released" Xeon E3-1200 family, which plugs into single-socket servers and replaces the older Xeon 3000 series of chips. These chips were expected sometime around the first quarter of this year. ®