Original URL: https://www.theregister.co.uk/2011/03/05/review_3d_led_tv_samsung_ue55d8000/
Samsung UE55D8000 55in net-connected LED TV
3D telly with downloadable apps
Posted in Personal Tech, 5th March 2011 09:00 GMT
Review Samsung's D8000 is as stylish as it is advanced. Barely contained by the tiny 5mm brushed-metal bezel, its images appear suspended in space. Only the brand's familiar X-wing pedestal, with illuminated logo bulging from the bottom of the screen, keep them tethered to terra firma.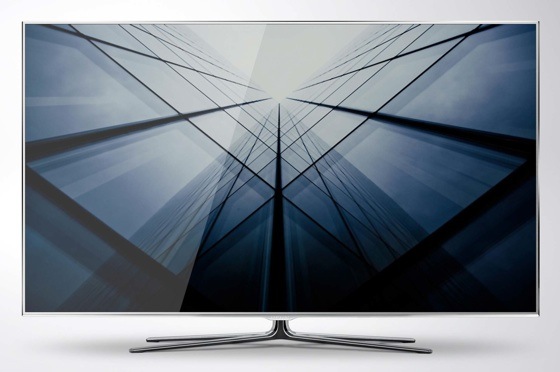 Samsung's 55in D8000: more picture that telly
The set is 3D compatible, of course, but more usefully it features Samsung's new Smart Hub internet TV and app portal. You can get online using either the telly's on-board Wi-Fi or its Ethernet port.
This flagship screen is an exercise in economy. All the connections are confined to the back panel - there are no side-mounted ports at all. Choose from four HDMI inputs, a VGA input with 3.5mm mini-jack audio, or an adaptor for either Scart or component-video.
There are also three USB inputs and the aforementioned Ethernet port, plus a digital audio optical output.
Squished inside are two tuners: one for Freeview HD and the other Freesat HD.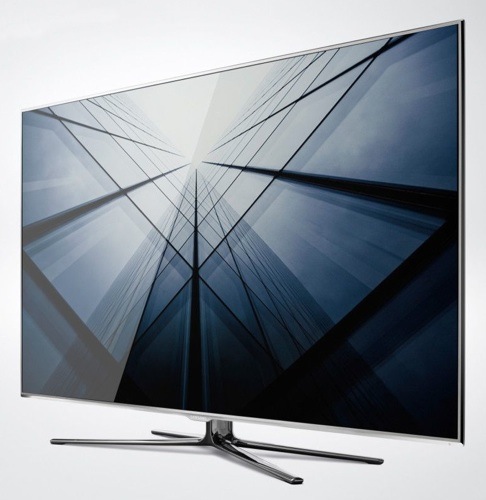 Even this skinny, it still puts out a beefy sound
The most obvious question from a cursory glance at the D8000 is where are the speakers hiding? The answer is on the back, firing downwards. Each rated at 15W, they make a reasonably enthusiastic noise, despite the lack of a sub-woofer.
Don't worry, be app-y
The D8000 is the first of Samsung's Smart Hub internet connected TVs to arrive in the UK. The brand has moved up from its Internet@TV platform for a more ambitious and app-centric service. The top half of the Smart Hub screen divides into a Live TV window, a New Apps showcase and an online video search area. The bottom half is a 'desktop' for your apps and telly functions.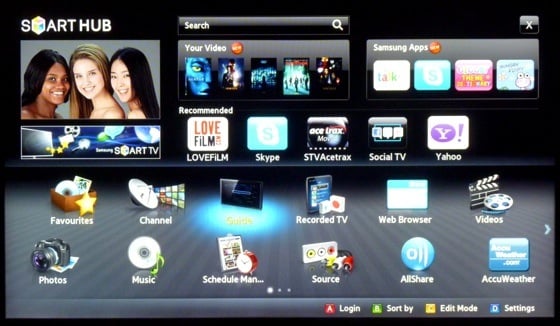 SmartHub: icon frenzy
Content apps include Facebook, Twitter, YouTube - with an HD option - and video streaming service LoveFilm. You can also do video calls over Skype if you plug in a webcam.
In addition to the apps, the Smart Hub also offers an open web browser. Helpfully, it has Flash support so you can sneak a look at Redtube when no one is looking, ahem. Moving around a browser with a remote control is a little clunky, but it's a nice feature to have.
Incidentally, browsing the Smart Hub had unforeseen consequences during my time with the telly. A conflict in IR codes meant that some Smart Hub commands actually caused my IR controllable curtains to randomly open and close.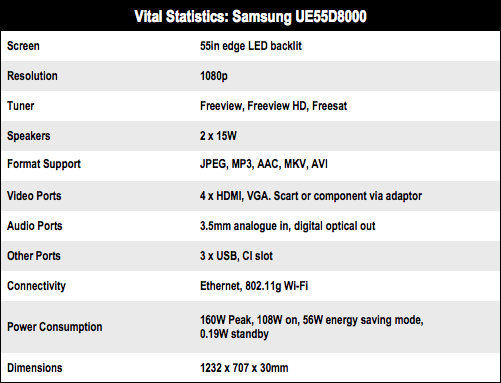 Streaming media
The D8000 is DNLA compliant but support is a little wobbly, with no across-the-network compatibility for MKV wrapped content, or SRT subtitles. The latest iteration of the Twonky DLNA server now offers specific support for Samsung TVs to address this, but my Nas box wasn't so up to date.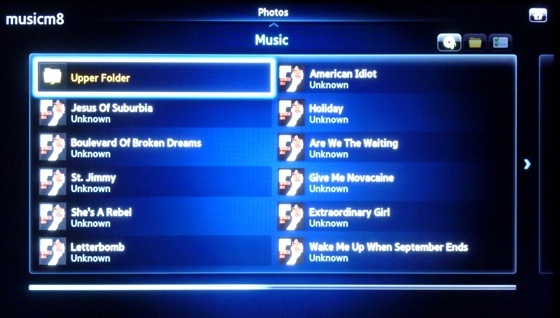 The DLNA media browser shows album art...
Similarly, while the TV could see my music server, and even showed album art thumbnails when I browsed, it failed to display that same artwork when a track was played, instead giving me a generic graphic. I suspect a metadata fail somewhere.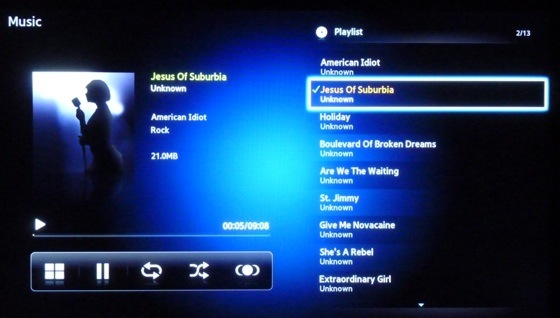 ...but it's missing from the playback screen
The telly is more accommodating with content stored on a disk attached to one of its USB ports. Presented on a Flash drive, my MKV collection became available, along with SRT subtitle files on AVIs. However, the lack of a easy-access, front- or side-facing USB slot will slow down your fun.
Despite the shallowness of the set - it's just 29.7mm - I was pleasantly surprised at just how even the edge LED backlight appears to be.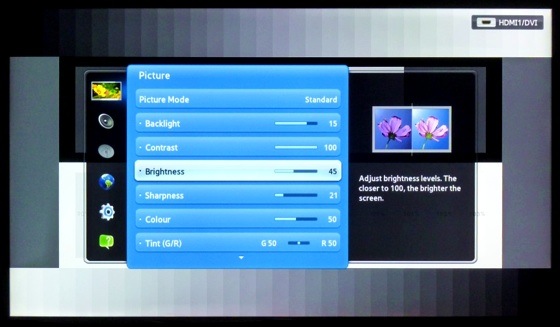 The settings menu
Motion resolution is outstanding - clear to 1080 lines - although there are caveats. To retain detail you will need to engage one of this Samsung's Motion Plus motion interpolation modes: Clear, Standard or Smooth. However, all but the Clear option create smudgy/ringing artefacts around moving objects, as the processor aggressively tries to predict where things are going as it generates the extra frames each second.
Image quality
For the best results use the DIY Custom setting. Reduce Judder Reduction to zero and turn Blur Reduction up high. If you turn Motion Plus off entirely, the smudge-ring artefact disappears, but moving resolution drops to around 650 lines. There's also some slight judder on pans.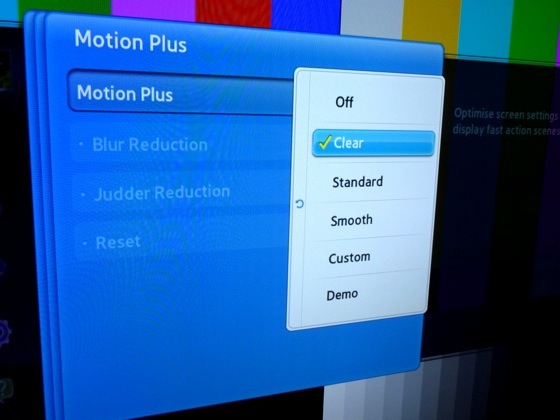 The Custom settings are your friends
Colour fidelity is excellent. Reds and greens ping from the screen, and black levels are Sanctum deep. Off-angle viewing is good too, with only minor contrast and colour loss.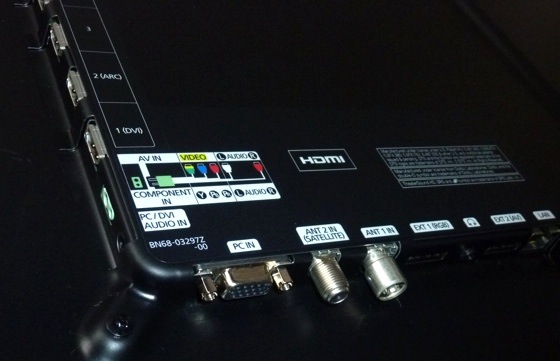 All the many ports are round the back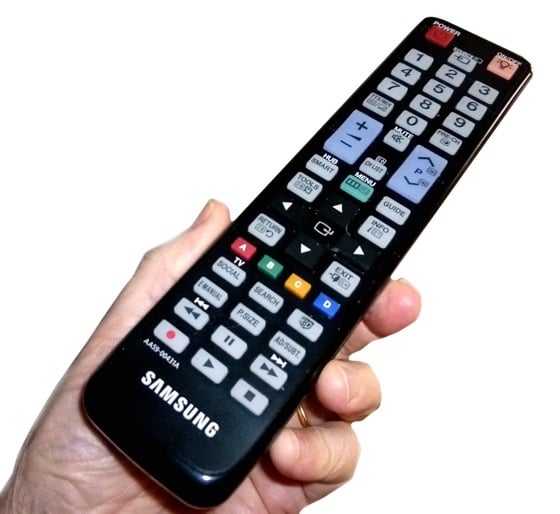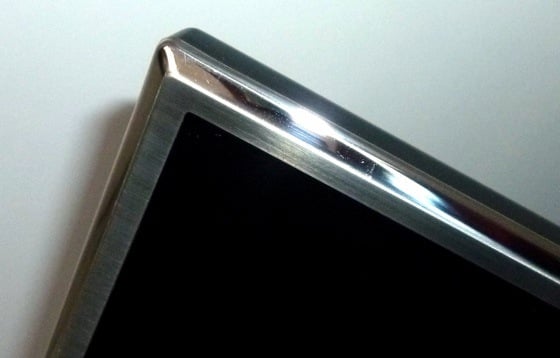 The brushed-metal bezel is incredibly narrow
3D performance
Unlike Panasonic's 3D plasmas, there's no big hit on brightness when you don 3D glasses. Images are bright and retain much of their colour vibrancy. The super-thin bezel also helps the 3D effect. But as I've seen on previous Samsungs, there is an issue with crosstalk double-imaging, although clear improvements have been made.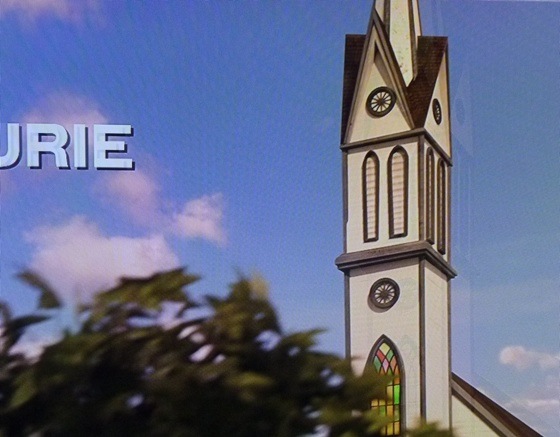 There is some crosstalk, but less than we've seen on past Samsung sets
The TV offers a depth perception control, which can minimise either negative or parallax double imaging, but you can't dial both out. It's more effective to turn down the backlight, contrast and sharpness - which actually creates an image that resembles a 3D plasma.
The set also offers 2D-to-3D conversion. This is an unpredictable business, at its most fun used when gaming. The TV ships with a single pair of SSG-3100 Active Shutter glasses, which sync to the screen using Bluetooth.
Verdict
The D8000 is a superior LED TV aimed at those with an eye for stylish, upmarket tech. Its design is delicious, and its 2D HD performance is just as tasty – although I was conflicted about just how much Motion Plus picture processing I could tolerate. The set's 3D performance is also brighter, more colourful and more 'outy' than the rest, which helps mitigate against the 3D crosstalk. Perhaps the screen's biggest plus is the Smart Hub portal, which has me genuinely excited about the future of internet connected TVs. ®
More TV Reviews

Philips 21:9
Cinema
Sharp
Aquos
LC-32LE210E
Philips
Ambilight
46PFL9705H
Samsung
C9000
Panasonic
Pure Line
TX-L37D28