Original URL: https://www.theregister.co.uk/2011/03/04/review_android_idect_ihome_phone/
iDect iHome Android phone
The household handset meets the 21st century
Posted in Personal Tech, 4th March 2011 13:00 GMT
Review As well as smartphones and tablets Google's Android operating system has started cropping up in media players, ski goggles, car stereos and even headphones, so it's perhaps not too surprising that it's now turned up in the humble landline home phone.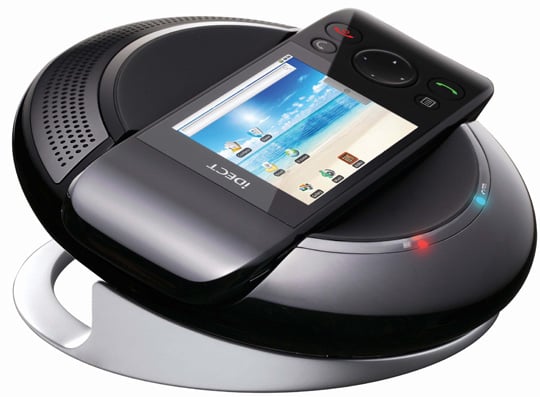 Powered by Android, built by Binatone: the iDect iHome Phone
Rather more futuristic and stylish than your average dog and bone, the iDect (by Binatone) iHome Phone consists of a rather smart circular base complete with built-in speakerphone and digital answering machine. The all-important touchscreen handset sits atop of all this to recharge. The handset is a solid and pleasantly proportioned lump with physical back, menu and call keys plus a four-way navpad, all arranged below the 2.8in LCD panel or to the right of with the screen when in landscape position.
Nice though the handset is, you only get the one and I couldn't find a way of buying any more. Other DECT (Digital Enhanced Cordless Telecommunications) compatible handsets will of course work, but that's not the point, for £100 two handsets should be included.
Compared to the often labyrinthine menu systems of some home phones the iHome is blindingly easy to set up and use. It's certainly the first cordless phone I've come across that doesn't require you to keep the user guide for future reference.
From making calls to hooking up to your home Wi-Fi network or browsing the web, the iHome operates in exactly the same way as any other Android handset. Alas, the absence of the Google stamp of approval means you can't sign in to access your account contacts – a significant drawback in a telephone.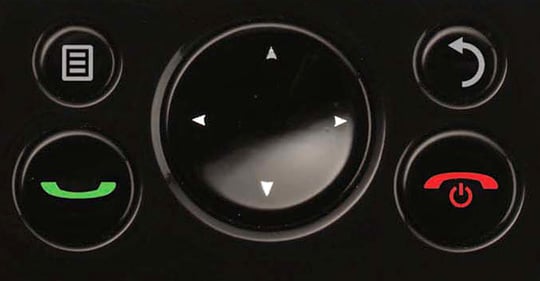 Simple controls and navigation
What you do get though are all the other basic Android niceties such as a web browser, e-mail client, music player, Internet radio app, e-book and RSS readers and a selection of widgets. I'm not sure most people need all these things on their home phone handset, but like condoms and snow chains, I suppose it's better to have them and not need them than the other way around.
Without a USB connection, installing new apps onto the iHome is a trial-and-error process of finding APKs and then loading them onto a MicroSD card. Yet with only 50MB of storage available after system requirements, you won't be installing many. To make managing applications and files a little easier, both task and file manager apps come pre-installed.

Web browsing, but no Skype
A 2.8in 320 x 240 screen may sound a bit low-rent when compared to even a budget smartphone but that is to miss the point – it's still a massive improvement on the 1.5 to 2in mono LCD displays that many digital home phones reply upon. Being a resistive panel there is little danger of you mistaking the iHome's touchscreen interface for that of an HTC or Samsung Android handset, a situation exacerbated by the underlying UI being neither particularly fast nor fluid.
That said finger presses on even the rather small standard Android keyboard registered accurately nine times out of ten and the phone dialler works a treat. If you do have problems with the fiddly stuff you can always whip out the small plastic stylus.
iDect has burdened the iHome with the now seriously outdated v1.6 of Android which, of course, means no Skype and though Fring loaded and launched, call quality was abysmally fragmented, presumably in part down to the unlabelled but doubtless limp-as-wet-lettuce CPU. A phone with Wi-Fi but no common-or-garden VoIP facility strikes me as a missed opportunity.
Running Android also has a practical drawback; the start-up time when the handset is turned off. Most DECT phones come alive nearly instantly, but the iHome takes a leisurely two minutes, so you really need to leave it switched on if you don't want to miss incoming calls.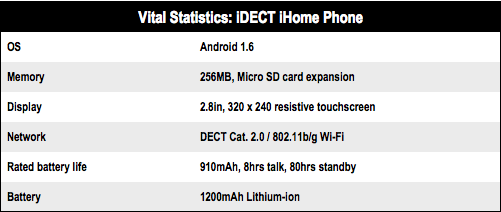 As for call quality, I found nothing to complain about once I stopped holding the handset with the screen to my face like my mobile. Doh! Both incoming and outgoing calls where as clear as a bell and the ringer had plenty of volume on tap for the slightly Mutt and Jeff.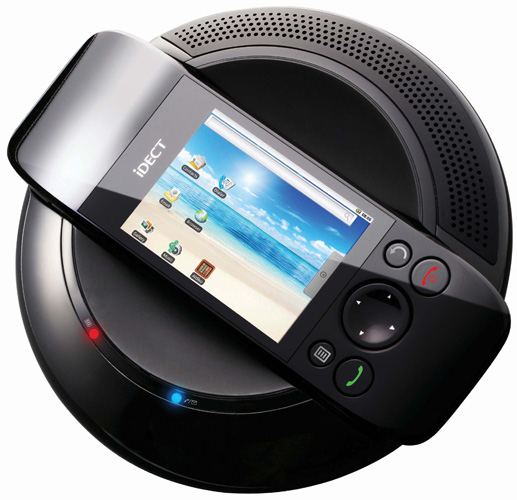 Versatile, but you only get the one handset
iDect reckons a full charge of the 910mAh battery is good for eight hours of talk time or 80 on standby, which seemed about right to me. However, leave the Wi-Fi radio on and you will halve those times.
Verdict
The absence of Google account sign-in, an aging version of Android and a less-than-pukka resistive screen and UI combine to take some of the shine off the iHome and at £99 with only one handset it's not the cheapest cordless phone package around. On the other hand it's very easy to use, looks good and does plenty of things your typical home phone is not capable of. ®
More Android Gear Reviews...

Binatone
HomeSurf 7
Archos
43
Ten... budget
Android smartphones
Samsung
Galaxy Tab