Original URL: https://www.theregister.co.uk/2011/03/03/ten_fantasy_replica_bladed_weapons/
Ten... fantasy swords you wish you owned
A slice of the action
Posted in Personal Tech, 3rd March 2011 14:08 GMT
Weapon round-up At Reg Hardware, with the honorable exception of videogames, we tend to talk up tools that generally assist in everyday life. Today, though, we're going to break tradition altogether and run through some weaponry. Well, bladed replicas to be precise.
If you've ever fancied yourself as a modern-day knight - Jedi or Dunedain - or a sword swinging superhero, but don't fancy a spot of home blacksmithery, then the obvious option is to get your weapon of choice off the internet - or a local forgery, of course.
We picked ten of the tastiest blades around, weapons whose origin can be found in books, films or videogames. They're all very deadly, ultra-cool and extremely tempting to buy. So enjoy as Reg Hardware goes Reg Hardcore and we bring you our favourite fantasy blades. Let us know if you think we're missing something, but remember, we're the ones with the weapons here, so don't be rude... or else.
Bloodrayne blades

When vampire killers go beyond the traditional shank of wood for a choice of weapon, tools for slaughtering the undead can be extremely memorable. There's many out there, from Blade's katana to Vampire Hunter D's crescent longsword, yet nothing quite compares to the arm-length blades found in the Bloodrayne series. Of course, there's Sex Machine's codpiece revolver in From Dusk till Dawn, but that's not exactly fitting here.
Rayne's blades become one with her arms, pummelling through blood suckers like windscreen wipers at a mosquito breeding ground. They strap just below the elbow and run down the outside of her arms. No weapon quite defines a character like Rayne's crutch-like blades so you can bet your bottom dollar there's some nifty replicas out there. There's no law against slaying vampires either, if you can find them - emos don't count, by the way.
The most popular choice out there appears to be a replica, which doesn't have the same flair as the blades found in the games, but they're still fairly formidable. 37in long and up to 4in thick, this thing is not to be taken for granted and is bound to cause more problems than the PC version of the game had, which says a lot really.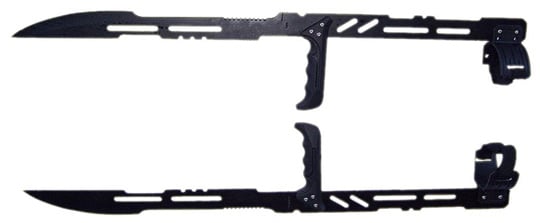 Chronicles of Riddick: Saber Claws

You may criticise the inclusion of a franchise that started life with Vin Diesel in the driving seat, but the bottom line is, Riddick is still a force to be reckoned with and his saber claws are too cool not to be here.
Dual-bladed weapons makes those who use them look extremely dangerous, from the double sleeved daggers in Assassin's Creed, to the menacing claws of that flange-faced race of alien, the Predator.
These smoothly curved saber claws are effectively twin sickles that feature 12.5in stainless steel blades accented with saw teeth on the back edge. Simple, but effective. They come in black or silver finishes and can be picked up pretty cheaply too.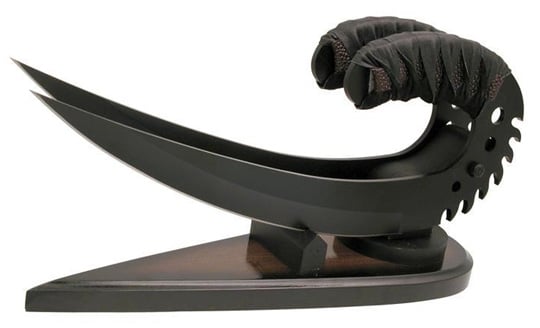 Excalibur

Whenever the term 'fantasy weapon' gets thrown in the ring, most folk think of the most legendary blade in British folklore, the sword of King Arthur.
Excalibur wasn't the weapon Arthur pulled from the stone, but was passed to him by the Lady of the Lake in acceptance of his royal delegation. It was alleged to have great powers, including a scabbard that protected the owner from death, and an indestructible blade.
This could be the only weapon here which is more than just fictional imagination too. King Arthur must have had an awesome sword, eh? If legend is to be believed though, it's probably lying dormant at the bottom of a lake somewhere. Not that such a sword would ever rust.
When a weapon is as mystical and unknown as Excalibur, it's difficult to know what it would look like, and many realists argue Excalibur wouldn't resemble the Knight's sword we all like to imagine.
Still, we're not realists, we want fantasy swords. So, looking around it seems the best on offer is one forged by Generation 2, a blade which closely resembles the prop from the 1981 film Excalibur.
Generation 2 didn't make many of these beasts and have since discontinued the model, making them all the more special. Reviews say swords don't get better than this though and if you hunt around, people do occasionally sell them.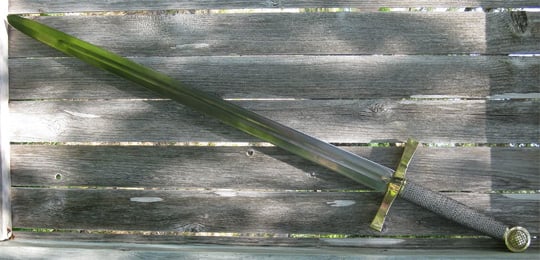 Final Fantasy blades

Wouldn't it be brilliant if we could get replicas of Final Fantasy weapons?
There were tons of memorable blades in the series, each with their own unique twists and curves.
Unfortunately, Square Enix has Scrooged us out of getting them and outlawed all replicas, making it illegal to knock them up. So even though you may find a few floating round the web, they're all dodgy jobs from Asia with blemished blades and badly glued leather straps, disappointed punters claim.
It's annoying because I really wanted a Gunblade sword. Square Enix, you've pooped on my parade. I guess you can always hire a sword maker or simply build your own instead.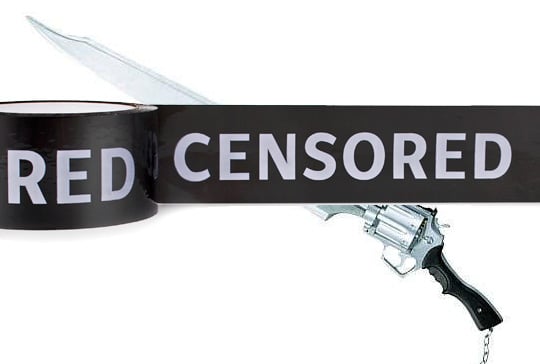 God of War: Blades of Chaos

Kratos, the protagonist from from the God of War series is a major contender for the meanest character of all time, yet he wouldn't be the same menacing figure without his Blades of Chaos would he? With one of these chunky short swords in each hand, Kratos managed to defy Olympus and merk anything that stood before him with no fear - well, he was a ghost of Sparta after all.
No matter which weapon you pick up along the various journeys, nothing quite compares to the satisfaction of shanking opponents with the Blades.
So you'll be pleased to know you can buy officially licensed Blades of Chaos for your own killing spree, should you wish to spend a lengthy time behind bars. Of course, we don't endorse such use, but if you wanted to go on a rampage through the houses of parliament with them, we wont stand in your way either.

Lord of the Rings: Narsil/Andúril

In a bid to put one in our roundup, we did consider Gimli's battle axe here, however as any serious LOTR fan knows, it would be wrong to exclude the Narsil. This sword has a long history, with its major highlight cutting the One Ring from the hand of Sauron. It later had its shards reformed for Aragorn and became Andúril.
I could write an entire essay on the blade's origins and journey, and Tolkien wouldn't have it any other way, but I'm going to have to cut it short. Boom, boom.
There are several replicas out there and you can find them on most websites. This one features a 40in blade of tempered stainless steel, a solid metal crossguard and 24-carat gold-plated fittings. Nice.
Unlike the real thing, it doesn't glow red in the sunlight and white in the moonlight, but it does look impressive nevertheless.

Soul Calibur blades

The Soul series was all about swords, so how could we leave it out? Unlike Square Enix with its Final Fantasy collection, Namco Bandai gave the OK for replicas, so they can be picked up quite easily over the net.
This is the Soul Calibur, the ultimate tool for battling evil. In the game, it reacts to those who are pure of heart and can change shape, heal wounds and fill a user with strength in battle. Of course, the same can't be said of the replicas, but they could still fill its user with a sense of confidence. While it will only create wounds and change the shape of those you decapitate, the Soul Calibur is not to be taken lightly.
Here's the image of a custom-made beauty, which was the finest one I could find online. Unfortunately, the dude has stopped taking orders for his handiwork, but does offer detailed descriptions of how to make your own fibreglass weapons.
If you'd prefer to take the easy route, there are replicas on sale all over, but none look as impressive as this.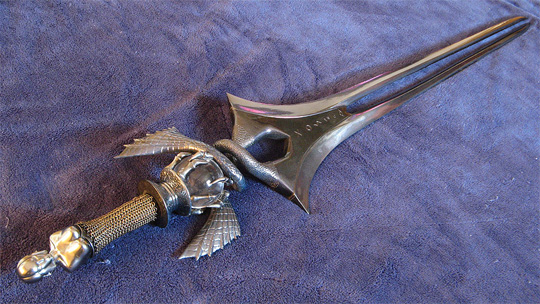 Star Trek Klingon Bat'leth

"Is that a Bat'leth in your pocket are are you just happy to see me?" Oh, it is a Bat'leth, and you don't look very happy.
Klingon weapons aren't just for the hardcore Trekkies out there, anyone would look bad-ass with one of these and you certainly don't want to mess with someone carrying it. Otherwise known as the sword of honour, the Bat'leth is considered the most popular weapon among Klingon warriors.
A regular bat'leth is 116cm long, welded from composite baakonite. As far as I'm aware that's a fictional compound, so you'll have to make do for stainless steel in this case. While the following is far from a traditional style Bat'leth, it still looks menacing enough.
If a large Cornish pasty-headed rogue pulls one out on you, here's a useful phrase to know: "nuqDaq 'oH puchpa''e'?" You will want to follow his subsequent directions to change out of your yellow fronted brown-backs.

Star Wars Lightsaber

While it's never going to be as remotely powerful or effective as the real thing, no fictional blades roundup would be complete if it wasn't included. Many of you grew up wanting one, many were lucky enough to get one - ah, Palitoy's Force Beam, I remember it well... Then, just as you were about to pass it down a generation, The Phantom Menace came along and your brat wouldn't settle for anything that wasn't double-ended. Thanks, George Lucas. Not only did you introduce Jar Jar Binks, but you forced us to actually spend money on a birthday present.
Anyway, scrap that, this isn't about the kids any more. I want a proper lightsaber and looking around, it seems the the Star Wars Force FX range is the best the net has to offer. These officially licensed rudeboys, are sturdy bits of kit that not only light up like the real thing, but make the exact same sounds you hear in the movies.
You can also get pretty much any one you want. There's the red Darth Vader one, the green Yoda one and yes, if you really want, a double-sided Darth Maul version. Shop around. Check out the hilarious video of the Force FX being used by the team at Think Geek.
They do look über cool, but they're never going to be the real thing. If they were, I'd have sliced you in half before you even begin to complain it isn't really a blade. So there.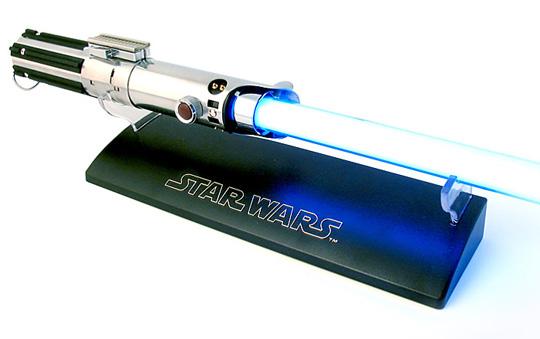 Price £170-£500
More info Amazon
Wolverine's Claw

Wolverine's claw of blades was around long before a certain Mr. Krueger started penetrating dreams and tearing teenagers to pieces. Before he became the comic world's most infamous antihero, Wolverine appeared in the Incredible Hulk comics as a superhuman agent of the Canadian government. He soon established himself as the most memorable figure in the X-men collection though, joining the 'all-new' roster of characters and featuring in every episode of the comic, and subsequent spin-offs to date.
Many years ago, the odd fan could be found sellotaping Stanley knives to their fingers in a bid to imitate him - you know, the odd fan. But now even they can pick up a replica pretty easily, and I don't mean a cheap Halloween gimmick either.
As all political rock fans will agree, there's nothing quite like some Rage and a fistful of steel. Now let me do the cuttin'.