Original URL: https://www.theregister.co.uk/2011/03/03/review_games_wii_mario_sports_mix/
Mario Sports Mix
Ball's up
Posted in Personal Tech, 3rd March 2011 12:00 GMT
Review It's not hard to see why Nintendo added the third word to Mario Sports Mix. A mix it is, not only of four individual sports, but two games too: Wii Sports and Mario Kart Wii. Unfortunately, the whole is less than the sum of its parts.
The North American-centric games on offer here are Basketball, Ice Hockey, Volleyball and Dodgeball, which is not a game I was forced to play at school and for some time thought was made up for a comedy film.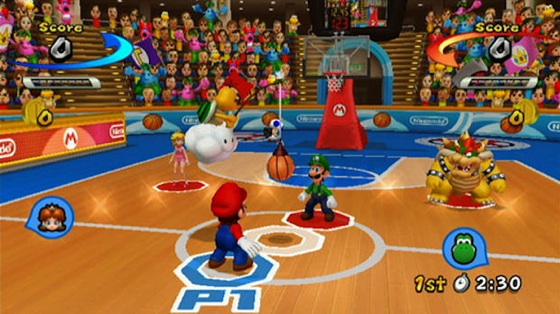 White men can't jump - but chubby plumbers seem to have no problem
It may as well have been, so little does this - or the other games here, for that matter - resemble their real-life counterparts. These are sports filtered through the fantasy-land brain of a Japanese games developer who probably never played any of them at school either, got laughed at when he did, and may still have a chip on his shoulder because the jocks always got the girls.
A more unlikely bunch of players you will not find, but Toad's wee legs and Bowser's massive girth seem neither to hinder nor favour them. Even a Mii, which you can select as your player right away, no need to unlock the option first, looks slightly un-sporty, like a band of blokes competing against each other in a school sports day dads race.
Peach and Daisy - both clad in skimpy shorts, natch - seem the only athletic ones here.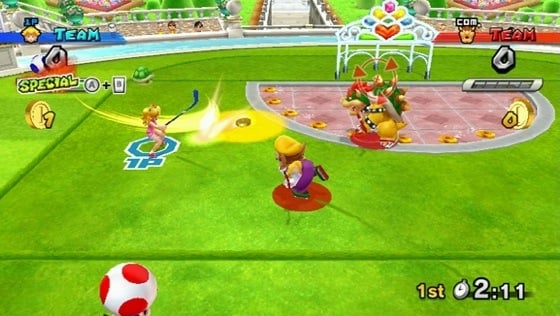 Puck off
Like that other essential Japanese nerd revenge fantasy genre, the beat-'em-up, winning here is not about the rules, tactics, speed or strength, as much as hammering the controls - and, this being the Wii, waving your arms around - before hitting the special move button combos at the right time to score. Trying to remember them all is hard enough, and matching the right move to the right circumstance is even more haphazard.
True Crit
Yet success is not far away, and I was able to win each game by a clear margin, though whether by luck or judgement I'm still not entirely able to say.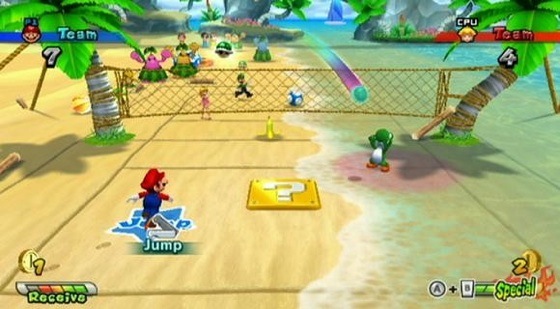 No Brazillians on this beach volleyball court
Winning consequently lacks savour, particularly when you play against Wii-controlled opponents. You can take on your chums too - in situ and on the internet - and undoubtedly all that waving and shaking makes far more sense after the consumption of several cans of supermarket lager, or Pocari Sweat, than it does in a state sobriety, where the seeming disconnect between what you're doing and how the game is going will limit its appeal.
Buyers will try it out... and go back to Mario Kart, which offers all Mario Sports Mix's cartoon fantasy but in a far more accessible way. Fewer controls, fewer special moves and no trick shots means you can get racing straight away. Screw up, and you will know why you have screwed up. Hint: driving like a dick.
More to the point, it doesn't outstay its welcome like Mario Sports Mix does. A Mario Kart race lasts three minutes. Sports Mix bouts last at least that long before you swap ends and play the second half. Like an American football game, it feels a lot longer than it actually is.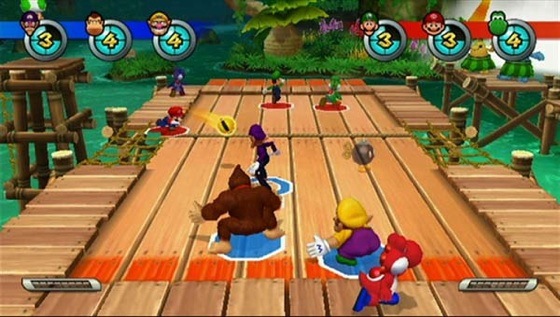 Get out of Dodge
Playing Tournament mode - think league - is more structured than one-off Exhibition matches, with more sense of progression, but it still drags at times. There are some quirky alternatives in the Party Games - Sports Mix's answer to Mario Kart's Battle games, and just as daft.
Junior league
But this is an old git writing, and arguably Sports Mix is really a game for kids. It's certainly too control heavy for the greybeards Nintendo also likes to target, and insufficiently violent or realistic for the 18-24 age range that forms the mass of the gaming audience. That leaves casual gamers like me, and nippers. I wasn't keen, but what about junior?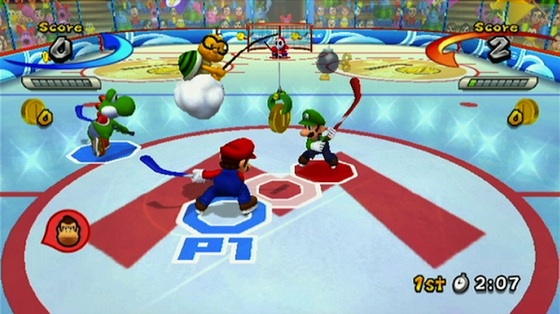 Jolly hockey sticks
Too easy, said my eight-year-old son, who found that once he'd got the controls sorted - ah, youthful ambidexterity, I remember it well - beating the opposition was generally straightforward. He played it solidly through a weekend and hasn't been back since. Mario Kart, Star Wars Lego, Donkey Kong Country Returns - these he comes back to time and again.
Verdict
Mario Kart Wii shows how good simple, lightweight minigame-style titles can be. Make it accessible, quick and fun, and the punters will love it. Nintendo and Square Enix have tried to come up with an equally successful follow-up, only to stumble onto the court, sneaker laces untied. There's some fun to be had here, particularly if you're a kid and there are more than one of you playing. But there's just not enough staying power to warrant a place in the Wii's premier league. ®
More Games Reviews

Little Big
Planet 2
Donkey Kong
Country Returns
Doctor Who:
Return to Earth
Tron
Evolution
Star Wars:
The Force
Unleashed II