Original URL: https://www.theregister.co.uk/2011/03/02/watchkeeper_new_delay/
Blighty's expensive Watchkeeper spy-drone in further delays
Extra bonuses: It's unarmed and needs Israeli support
Posted in Science, 2nd March 2011 13:29 GMT
The troubled, extremely expensive Watchkeeper project intended to supply unmanned surveillance aircraft to the Royal Artillery has hit further technical delays. The first robot spyplanes should have been delivered in February - eight months later than the original contract called for - but they will now arrive "toward year's end".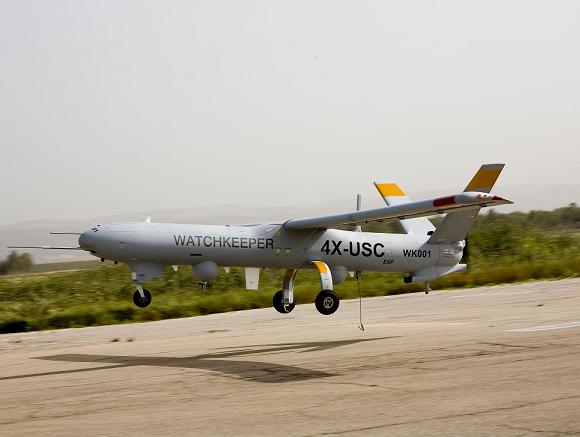 Gets off the ground by burning money
Aviation Week reports on the new slippage in Watchkeeper's delivery date, which was revealed by executives from contractor Thales during a discussion of the company's 2010 performance.
According to Av Week the Thales execs claimed that the new difficulties had previously been revealed "in a report issued by Britain's National Audit Office and have now been resolved".
However, the last NAO report to mention Watchkeeper, the 2010 Defence Major Projects Report issued last October, lists the Watchkeeper's in-service date as February 2011 - noting that this represents a further two-month day from the previous year's forecast (when the project began in 2005 it was planned that the first aircraft would be delivered last June).
According to the NAO, the Watchkeeper problems result from "technical difficulties". The audit office noted that almost every area of the project seemed to be in trouble, saying "the Watchkeeper unmanned aerial vehicle has the most lines of development assessed as 'At risk' (six, with only Doctrine and Organisation assessed as 'To be met')".
Watchkeeper is currently forecast to cost the Ministry of Defence £889m for 54 aircraft, putting each aircraft at £16.5m or approximately $27m at today's rates. It is based on the Israeli Hermes 450 unmanned aircraft which is already in service with the British Army in Afghanistan under a lease arrangement pending Watchkeeper's arrival. Engines and airframes will be assembled in new UK factories (in a part-Israeli-owned joint venture) using licenced Israeli technology and some European components.
Artillery can't afford armed drones - or don't want them?
The new Watchkeepers will be somewhat enhanced over ordinary Hermes 450s, as they will possess ground-sweeping, man- or vehicle-tracking I-Master surveillance radar as well as electro-optical cameras. The I-Master draws on radar expertise from Thales' UK operations as well as its French roots.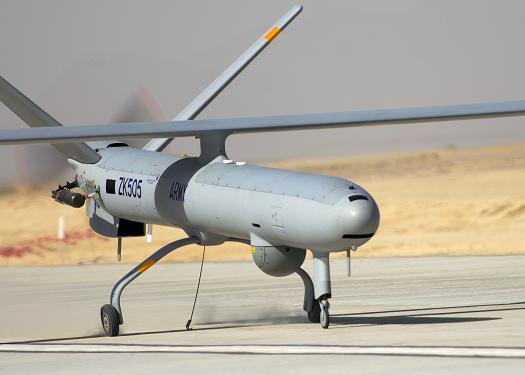 What's doing the job now. That extra bulge under the Watchkeeper is certainly taking a long time to stick on.
It seems quite clear that British Watchkeepers won't ever be armed, though Thales have exhibited mockup armed Watchkeepers at arms fairs. The UK craft, however, are intended for the Royal Artillery, which has two excellent reasons not to want them armed: firstly this would mean an almost certain turf grab from the RAF, and second an armed Watchkeeper would offer fewer opportunities for directing in strikes from mainstream artillery units. Furthermore it would cast doubt on the raison d'etre of the Royal Artillery's Fire Shadow prowler-bomb ("loitering munition") project.
For comparison purposes, the US Army intends to field a 132-strong fleet of its Sky Warrior roboplanes, modified and upgraded versions of the famous Predator which require no trained aeroplane pilot to operate them. These, like Watchkeeper, are equipped with radar and spyeye. They also carry Hellfire missiles (the same type used by British and US Apache attack copters), a favourite precision strike weapon widely used in recent and ongoing wars.
The Sky Warrior is being delivered now and its manufacturer says it has spare production capacity.
The US expects to pay no more than $7.5m per fully equipped Sky Warrior, as opposed to the UK's $27m, unarmed Watchkeepers.
Watchkeeper is supposed to be creating 2,000 jobs in the UK - for as long as the assembly lines run, anyway. It would be possible, alternatively, to buy 54 Sky Warriors which would be more powerful and cheaper to run (being part of a larger fleet, able to use many Predator parts). Then the 2,000 UK people could simply be hired at an average of £32,000pa to do nothing for five years, at least as long as the present UK workers will be kept in work by the Watchkeeper buy.
And we would still, in that scenario, have saved well over £300m toward the government's economy drive.
Meanwhile Watchkeeper is even further behind schedule, so our troops fighting overseas will wait even longer for their much-in-demand airborne spyeyes.
Comment
This project isn't about jobs or British industry or weapons for the armed forces. What it's mainly doing is pumping hundreds of millions of pounds into French and Israeli arms companies. ®