Original URL: http://www.theregister.co.uk/2011/03/02/ford_ceo_mulally_interview/
Ford CEO talks up e-car future
Alan Mulally speaks out on platforms, prices and power generation
Posted in Science, 2nd March 2011 11:26 GMT
Interview Ford's five-year e-car plan will see the motor maker's eco-friendly vehicles spring from its existing lines, not as new, bespoke designs, company CEO Alan Mulally has told Reg Hardware.
Speaking one-on-one to Reg Hardware just ahead of his CeBit keynote yesterday, Mulally revealed that the battery powered members of Ford's C1 global platform will share 80 per cent of their components with their petrol and diesel counterparts.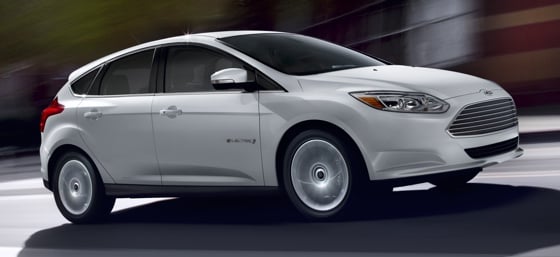 Ford's battery powered Focus: coming to Blighty early next year
A wholly battery-powered Ford Focus will hit European showrooms early in 2012 and will be joined the following year by hybrid and plug-in hybrid versions of the C-Max mini MPV.
Ford has been criticised for basing its e-cars on existing platforms rather than starting with a clean sheet of paper. Ground-up designs are considered by some pundits and manufacturers to be a better way of maximising the EV's environmental and performance credentials.
But Mulally said the start-from-scratch approach overlooks the economies of scale the company hopes to gain by using the C1 platform.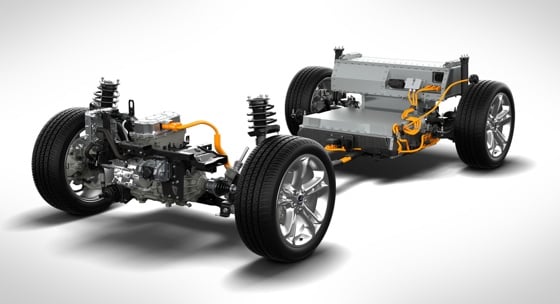 Power train: inside the e-Focus
Price is, after all, one of the key barriers e-cars have to overcome if they are to attract ordinary buyers. Government hand-outs will only go so far. Reducing the cost of design and production is essential if battery and hybrid models are to be placed within reach of mainstream consumers.
Price fighting
That said, Mulally wasn't forthcoming about what effect these economies of scale will have on forecourt prices, but the fact that the electric and hybrid models in the C1 range will roll off the same production line in Valencia, Spain - lower transport costs, for starters - surely can only be good news for the UK buyer.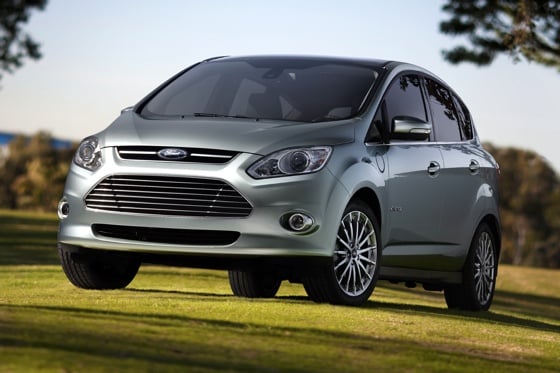 Tree hugger: the battery C-Max will be out in 2013...
There's another important angle to the platform approach: looks. E-car concepts have long provoked sniggers among car fans for their impractical or just plain daft styling. Nissan's e-car, the Leaf, will be a tough sell when lined up along side mainstream car designs. Building e-cars from the very models buyers are already eyeing - making battery or hybrid just another power-train choice, rather than a statement - will surely win over more conservative drivers.
By the end of the year, C1 will underpin ten models, including Focus, C-Max and Kuga, in 120 markets around the world, and Ford expects to produce over 2m units a year. Many car makers talk of "global platforms" but C1 is arguably the first that truly warrants the description.
A 'many eggs out of one basket' approach is also mandated by the state of current battery technology, Mulally said. Like the Leaf, the battery Focus will go for around 90 miles with a full overnight charge from a 240V domestic socket - fine as a second car in a two-car family, but frankly not much use to the rest us.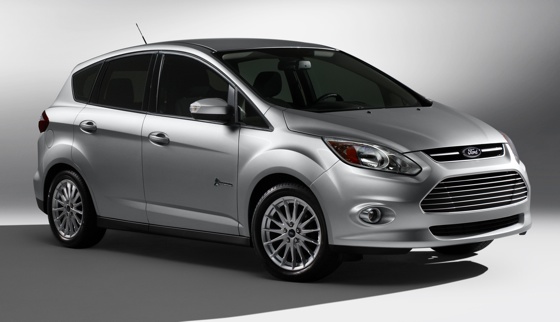 ...along with a hybrid model
Until such time as the battery technology improves - and Mulally believes battery evolution will accelerate rapidly in the next few years - it makes sense to develop a hybrid portfolio to satisfy e-car customers who just want one vehicle that can do anything.
Infrastructure not infra dig
With that in mind, 600 miles to the south of Hanover, Ford pulled the dust-sheets of the C-Max Energi and Hybrid models – the Energi is the plug-in version – at the 2011 Geneva Motor Show.
Sadly, technical details were thin on the ground. Ford would only say that the Energi will travel 500 miles on a full charge and full tank but not how that splits down between EV and ICE range and that both it and the Hybrid will use Li-ion batteries and a 2.0-litre Atkinson Cycle - a scheme that trades power output to maximise the energy to be gained from the burned fuel - four-cylinder engine.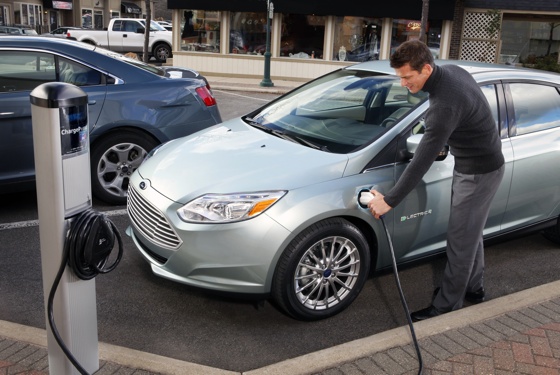 Ford wants to help develop charging infrastructure
When I asked Mulally if he saw lithium availability as being a potential limiting factor, his answer was a direct "no". Ford's research show existing Lithium deposits are sufficient to keep the e-cars rolling into the foreseeable future and beyond.
Mulally was also keen to stress that Ford is aware of the whole carbon cost of e-cars. The environmental drum can only be beaten so hard if the electricity used to power an e-car is coming from coal-fired power stations, for example. Running an electric car in Paris is a green option, doing the same in Detroit is less so.
Though power generation goes beyond the remit of a car company even the size of Ford, Mulally emphasised Ford's willingness to forge partnerships to develop charging infrastructure and smart-grid systems. ®