Original URL: https://www.theregister.co.uk/2011/02/25/games_review_killzone_3/
Killzone 3
Bangin'?
Posted in Personal Tech, 25th February 2011 13:00 GMT
Review Killzone 3's Infiltrators are a class apart. Camouflaging themselves, they mimic their opponents' identity to move unmolested through hostile territory. Then, when the pivotal moment presents itself, they break cover and wreak havoc on an unsuspecting enemy.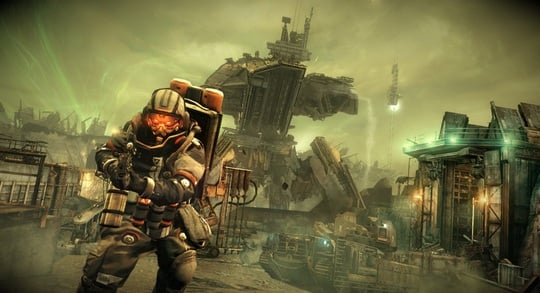 Smoke on the war ground, fire in his eyes
Infiltrators aren't just a novel addition in Killzone 3's multiplayer classes, they're the embodiment of Killzone itself – a series constantly in search of a convincing identity. Touted as the PS2's Halo killer, the original Killzone proved unworthy pretender, with mediocre gameplay and an awkward control system. Killzone 2 fared only marginally better, falling short of the self-cooked hyperbole of its infamous pre-rendered showing at E3 2005. Although the final game remained visually arresting, the oppressive monotony and palette of its single-player campaign was alleviated only by its distinctive online multiplayer.
Killzone 3 marks a further advancement, but one that settles any lingering doubts over the series' underlying identity as the epitome of beauty over brains. Drawing back Killzone 2's horizon to reveal the hinterlands of Helghan, your fight moves from the rubble of its nuked capital Pyrrhus to pristine industrial complexes, Arctic oil rigs and gloomy alien forests lit by deadly, fluorescent flora. Killzone 3 the most beautiful, immersive corridor shooter ever made: a blitzkrieg on the eyes and ears. But it's a corridor shooter nonetheless.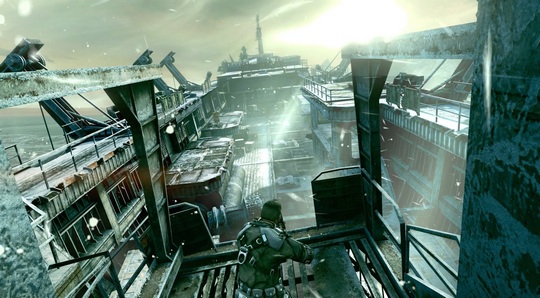 The boat that shocked
The palette may be lighter and more varied but the war remains as oppressive and incessant as ever. Your singular objective remains. Move forwards and kill. Hour after hour the backdrops change, but the foreground remains the same. No matter how wide the panorama or how stunning the view, the game funnels you through with strict linearity, fighting against a heavily scripted, critical mass of Helghast footsoldiers.
One way traffic
Presenting little opportunity to flank or be flanked, gunplay is purely one-dimensional. Suppress and advance is the only tactic demanded by an AI specialising in cover shooting - the odd bit of destructible cover further reducing gunplay to pure attrition. On-rail vehicle sections occasionally mix things up, but are little more than heavy-ordnance duck shoots. And the highly enjoyable jetpack and stealth sections are tragically short-lived.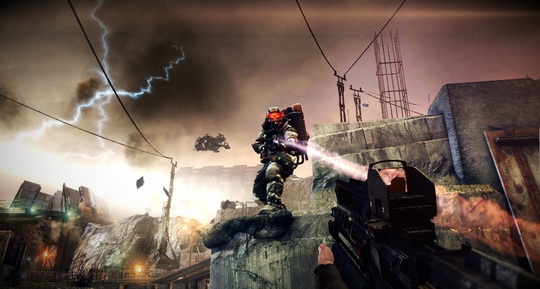 Raindrops keep falling on your death
The narrative proves equally one-dimensional, which, despite the sci-fi setting is distinctly 20th Century militaristic lore. It's no accident the Helghast high command wear short moustaches and grand military uniforms, so obvious are the nods to Nazism and Stalinism. With their dear leader Scolar Visari assassinated, the high command is riven with factional infighting and reduced to a last desperate act of total war. Cue the maverick free thinking humans of the ISA – voiced entirely by yipikaye Americans - to complete the annihilation of the totalitarian Helghast war machine – voiced entirely in Hollywood's go-to evil accent, British.
That Killzone 3's campaign still manages to captivate throughout its nine hours is testament to developer Guerrilla's single-minded approach. It's easy to forget how one-dimensional the narrative and gameplay are when that one dimension is bulging with relentless, heart-pounding, adrenaline pumping action. This is war on an epic scale.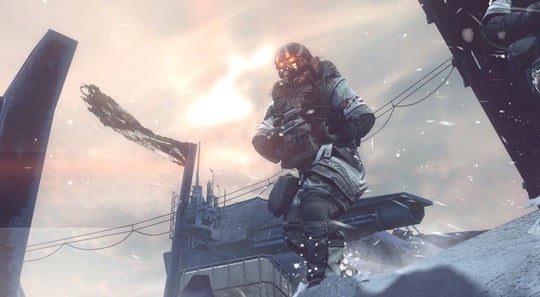 Snowhere to hide
The constant thump of ordnance and the piercing punctuation of Helghast propaganda; the weighty bullets cracking through Helghast flesh, tearing off ribbons of blood; the grandeur of explosions as your rockets take down a drop ship – the heavy scripting and limited AI might deter a second run through Killzone 3's linear paths, but its blockbuster cinematics make damn sure you finish it first time around.
Syndicate of death
Of course, no respectable FPS relies on its single-player campaign alone. And Killzone 3 offers an excellent, if derivative, 16-player multiplayer, complete with offline botzone to hone your skills. The nine maps are all recognisable areas from the campaign, although they range from very small to medium sized, with nothing to match the scale of Battlefield's maps. Killzone 2's Warzone returns with its random mix of objectives, and Guerrilla Warfare provides standard team deathmatch, but it's the new Operations mode that really stands out.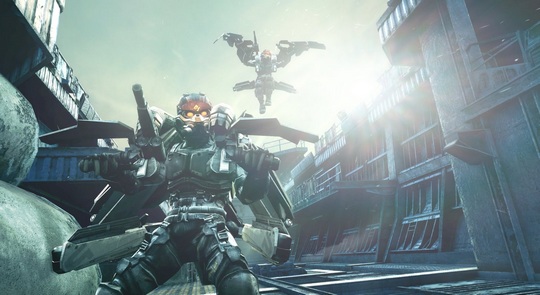 No flyZone
Playing like a campaign vignette, attackers and defenders compete to carry out or foil objectives, such as setting or preventing charges, on their way to achieving full victory. It's a mode seen in other FPSs, but Killzone 3's distinct class abilities and promotion of team work help distinguish Operations mode from the crowd. And its a mode that also distinguishes the best players from the crowd, with the top three on either side rewarded with a starring role in the end cutscene.
If there is one negative, it's that Operations mode is presently available on just three of the nine maps, raising doubts over the longevity of Killzone 3's multiplayer before the inevitable arrival of - yes, you guessed it - the DLC.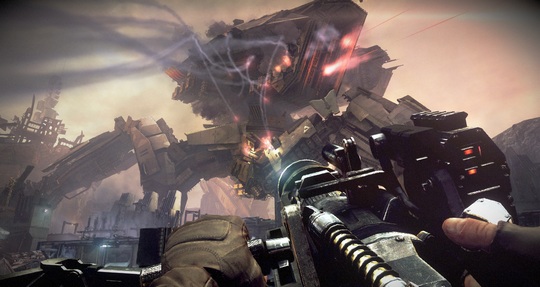 Trail blazing
Verdict
Killzone 3 is a triumph of spectacle over substance. Peer through the jaw-dropping smoke and mirrors and you'll discover a distinctly average shooter. But when cowering behind cover from the onslaught of an indomitable enemy, with bullets ripping through the air and rockets raining down on your position, my guess is you simply won't have time to care. ®
More Games Reviews

Mindjack
Bulletstorm
Dead
Space 2
Mass Effect 2
for PS3