Original URL: https://www.theregister.co.uk/2011/02/24/review_smartphone_samsung_wave_2/
Samsung Wave II Bada OS smartphone
HD handset video editing on a budget
Posted in Personal Tech, 24th February 2011 13:01 GMT
Review The original Samsung Wave came out last year to general approval as a cut-price smartphone running on the company's new Bada operating system – a curious development given Samsung's own endorsement of Android.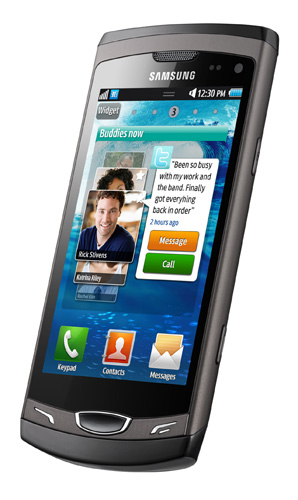 Testing the water: Samsung's Wave II
However, Bada was always intended to offer smartphone functionality for a lower cost. Samsung's Wave II features the same OS, but with a bigger and better screen plus an improved camera and video editing capabilities to boot.
The Wave family includes the smaller Wave 723 with its 3.2in screen, less memory and no HD video, and the even lowlier 523. At the crest of these Waves, this latest incarnation os noticeably bigger than its predecessor at 124 x 6 x 12mm and 135g (the original was 118 x 56 x 11mm and 118g) with a screen boosted from 3.3in to 3.7in. The menu button is also now bigger and easier to find.
On top of Samsung's Bada OS sits the company's TouchWiz 3.0 user interface, which features up to ten screens which you can populate with various widgets, Android style. Samsung's widgets have been steadily evolving, and among the various news and stocks updates, calendar and search options, there's now a Feeds and Updates widget, which shows a scrolling list of networking updates. There are also a couple of thousand apps available from the Samsung Apps store, including ebook readers.
Social networking is fairly well integrated throughout, with the Social Hub, which pulls together your social networking updates along with emails and text messages. It tells you how many notifications you have for each app, which is handy, but you'll need to open each separately to view them. You can also sync your Facebook and Twitter contacts and calendar easily and link your favourites to a 'Buddies now' widget.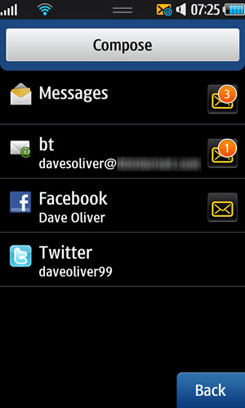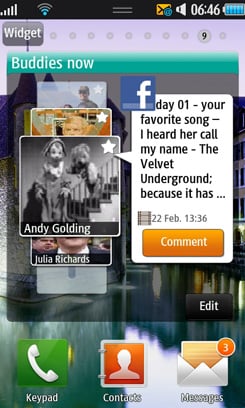 Social Hub and Buddies Now
The virtual keyboard is spacious and easy to use with handy keys for @ and .com up front. The Quicktype feature remains, that allows you to type without taking your finger off the keyboard, and works okay once you get used to it. The browser does a good job of rendering pages and it's intuitive to use, though like Nokia's Symbian handsets the controls have taken a bit of a slap with the ugly stick – not quite as hard though.
Choice cuts
The 5Mp camera offers pretty good quality pics, certainly a step up from comparable cameras by the likes of HTC, and it can now record video in 720p HD. This it does very well and there's an onboard movie editor that allows you to stitch different clips together. You can also trim them at each end and even split them so you can effectively cut from the middle too, as well as add captions and music. If you get really carried away making movies, there's MicroSD expansion for cards up to 32GB.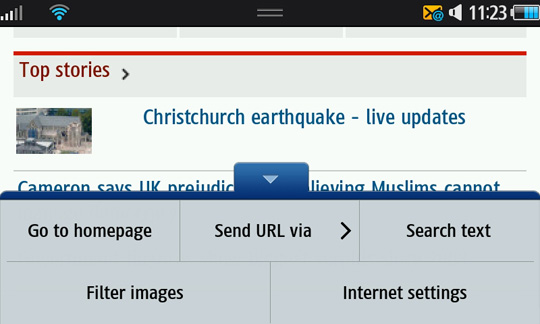 Web browser
In practise it's fun and fairly easy to use and you can get some OK effects, including slow motion, but there are limits to its capability. The start and stop points for trimming, setting caption length etc can only be adjusted by moving them with your fingers, rather than setting a precise time in seconds. This is fine until you need to synchronise something, like having one caption running after another – it's tricky to get them to line up exactly without overlapping.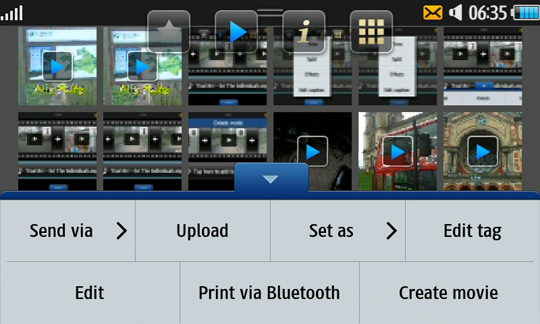 Options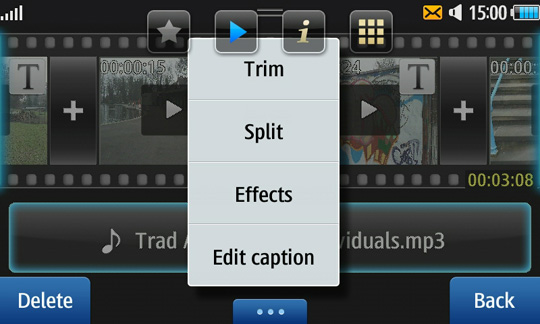 Transitions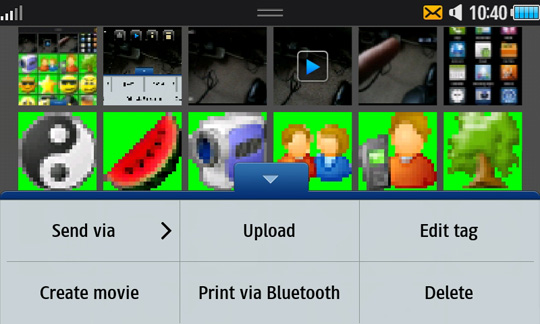 Video with emoticons
Also, the captioning only allows for 11 characters at a time. You can add others, but it's awkward to get them to line up with each other. Other effects are a bit basic – there are effects like solarise and blur but you can't do fades or dissolves between scenes. And while you can add music, you can only do one track per video, so if you stitch together different scenes and want different music for each, you'll need to edit the music separately before you add it.
Sample Video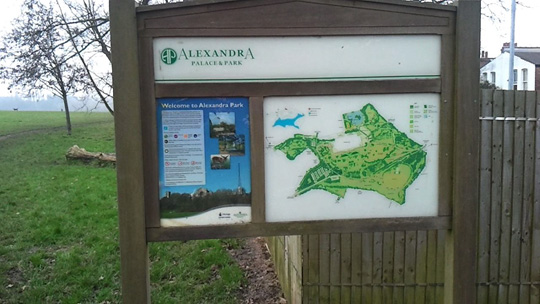 Still from video capture - no edit processing, data rate 12.14Mbps
Click for a full-resolution image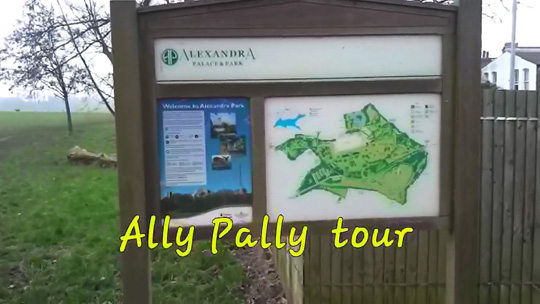 Still from video capture from edited movie for on-line sharing – data rate compressed to 3.17Mbs and it shows
Click for a full-resolution image
Sample Video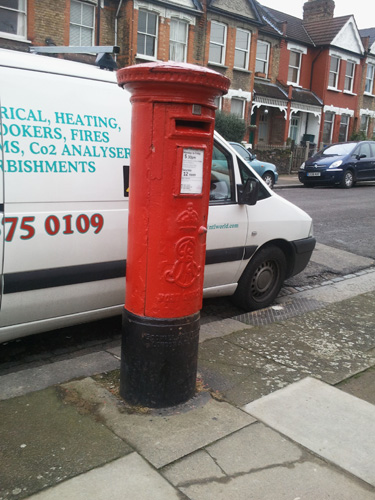 Click for a full-resolution image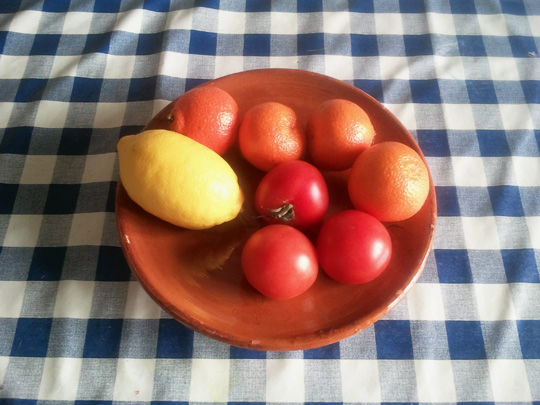 Click for a full-resolution image
Network integration
Of course, that's if you insist on doing all your editing on your phone. You can always transfer the 3GP 720 HD video clips to your computer and use a fully spec'd editor if you want the professional touch. But for quick videos on the go, the Samsung Wave II does a pretty good job overall. However, if performing in-camera edits for sharing, the video compression is rather unsubtle. Check out the noticeboard text and dog in the background of the still from video comparison samples and it should be extremely obvious.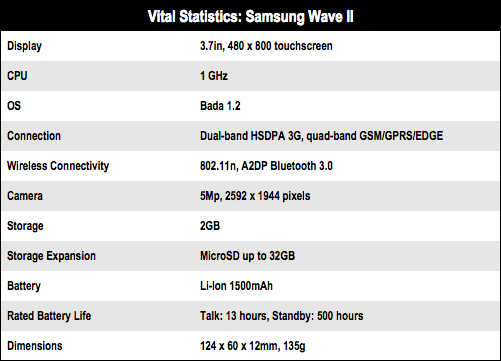 It has DLNA capability as well, so you can connect your phone to your wireless network and play back via a compatible TV. I tried with HTC's Media Link connected to an HD TV and it worked fine first time, though videos recorded on the Wave II didn't remain HD when stretched out across the 47in screen. Battery life held up fairly well too, delivering a little over a day of steady use.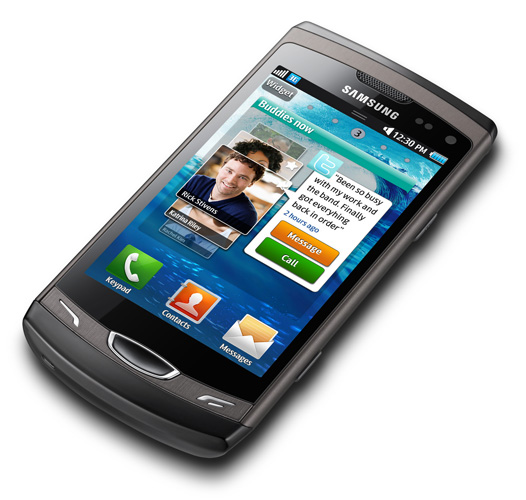 Social niceties for the cost conscious
Verdict
The Samsung Wave II updates the popular original with a bigger screen and improved video camera. If you have the original this is more of a tweak than an overhaul, though if the HD video means a lot to you it's worth considering. For the rest of us, it's a pretty good way to get some decent smartphone capability including social networking on a budget. ®
More Smartphone Reviews...

Nokia
C5-03
LG
Optimus One
Palm
Pixi Plus
Ten Essential…
Budget Android
Smartphones