Original URL: https://www.theregister.co.uk/2011/02/23/review_gadget_plextor_px_l611u/
Plextor PX-L611U portable DVD writer
Optical extras on the go
Posted in Personal Tech, 23rd February 2011 07:00 GMT
Review As Blu-Ray climbs to the top of the optical storage ladder, one might assume that manufacturers of optical drives would cease production of anything that doesn't feature this technology. However, Plextor has seen fit to launch the PX-L611U, a smart external DVD writer.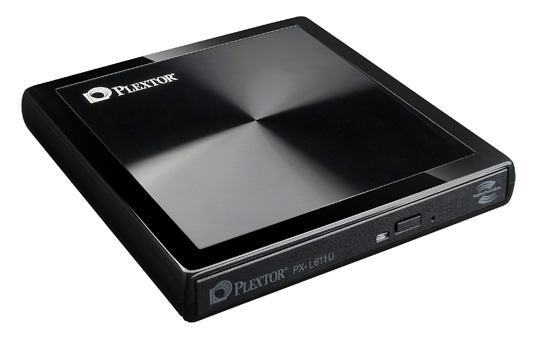 Etching ahead: Plextor's PX-L611U
While it's all too easy to shun this sort of device, this is not your ordinary bulky, "Oh, do I really have to carry this?" external drive. At 22mm tall and with a footprint of 137mm x 137mm, it's just about as small as an external optical drive can possibly be and still be properly protected.
Plextor's aim is clearly compact convenience for the netbook market. The PX-L611U weighs only 350g and is powered by a combination of the USB 2.0 bus and some kind of internal battery of unknown specification. Overall, a simple, but neat approach to optical portability.
As for the software, it's even simpler – Windows XP and 7 (let's assume Vista as well) and Mac OS X (10.6.6 tested) instantly recognise the drive and require no additional drivers or software to function. Those wishing to use the included PlexUtilities or Nero 9 Essentials software will, however, have to use a Windows platform.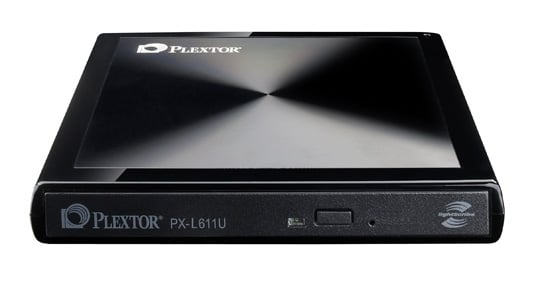 Neat and tidy with support for most disc types
As with most modern drives, Plextor has included support for nearly all DVD± disc formats with one exception; no DVD±RW DL support. This will be an inconvenience to some, but most needn't worry, you can still have your dual layer fix with DVD±R DL discs, but no rewrites for you, alas. If it's any compensation though, this drive also features LightScribe for those who aren't artistic enough with a permanent marker.
In a write speed test, the included Nero 9 Essentials was used to burn a 2.45GB ISO to 8x DVD+R media. It took 5mins 53s with verification at 5.5x lasting a further 6mins 01s. Nothing fantastic here, but it's in line with general expectations.

Although the PX-L611U retails for £49 and the market is flooded with other slimline USB DVD writers retailing in the region of £20 to £30, these drives do not have LightScribe support. For a better comparison, it should be noted that the HP DVD556S and DVD557S, both with LightScribe support, also retail for between £40 and £50.
Thus, it appears to be simply the one feature that commands the higher price of these products. As I personally have no need for LightScribe, I would have difficulty justifying the premium.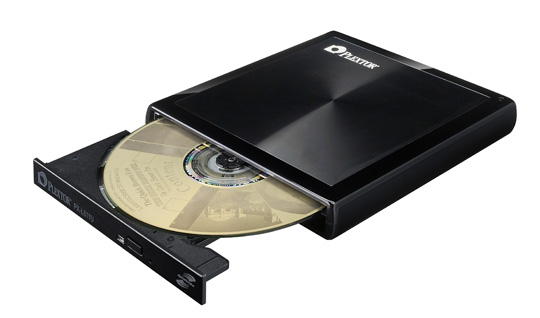 Cutting edge: LightScribe functionality sets it apart from cheaper drives
That's not to say I don't like Plextor's latest optical option, quite the opposite in fact. Its compact size and durable plastic and aluminium construction makes it smart, presentable and certain to last through many meetings and presentations.
Verdict
As a portable drive for the user who wishes to bring the LightScribe abilities of their desktop to their netbook or other portable, it's an excellent choice. However, if LightScribe isn't an issue for you, there are cheaper options that give a similar performance. ®
More optical gear reviews…

Six… budget
Blu-ray players
Samsung SH-B123
BD-Rom combo
Lite-on iHBS112
Blu-ray writer
PLDS iHES208
BD-Rom combo