Original URL: https://www.theregister.co.uk/2011/02/23/games_review_bulletstorm/
Bulletstorm
Is there a new Duke in town?
Posted in Personal Tech, 23rd February 2011 13:00 GMT
Review To say that Bulletstorm draws parallels with Duke Nukem 3D is to put it mildly. There's that same cocksure attitude, same over-the-top one liners, the same penchant for violence, even a similar range of physics-defying weaponry on offer.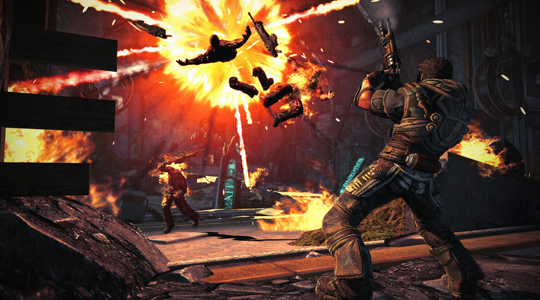 No joke, splitting your insides
In fact, if it wasn't for the fact that Duke Nukem Forever is just around the corner, I'm sure that gamers everywhere would be looking to Grayson Hunt, Bulletstorm's cigar smoking, whiskey drinking, masochist, as the Duke's spiritual successor.
You see Bulletstorm plays like every action game you've ever played, only turned up to eleven. Do you think those red barrels explode? Of course they do! Will those electricity pylons turn anyone I boot on to them into a human conflagration? Yes indeed.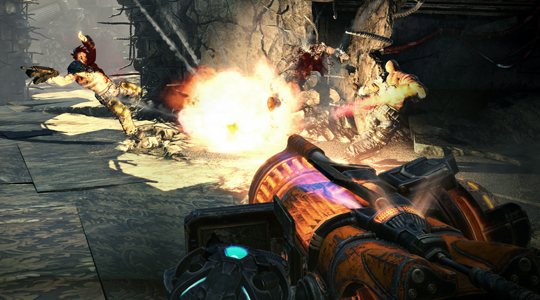 Nothing like an open fire
How will Grayson respond to the unsubtle threat of "I'll kill your dick"? Simple, with the witty riposte of "I'll kill your dick!" It's not the Bard's work by any means, but such absurdity makes its hard to suppress a chuckle. It's for these reasons and more that Bulletstorm demands attention.
Who goes there?
Not one to stand on ceremony the game's prologue, 'On the road to hell' doesn't over play its welcome, serving merely to introduce the game's protagonists: the aforementioned Hunt, the soon-to-be unlucky Ishi Sato and the rest of Dead Echo, Hunt's merry band of mercenaries.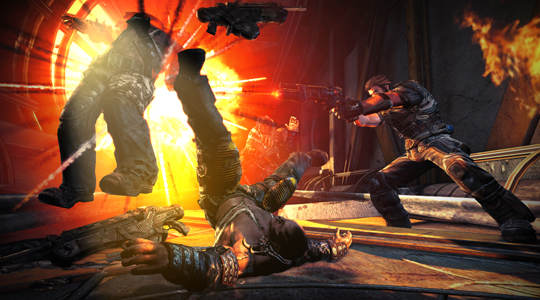 Blowback time
Then there's the game's villain, General Serrano, erstwhile commander of Dead Echo before Hunt, et al caught wind of a state-approved conspiracy of murder and went AWOL. In fact, it's a chance encounter with Serrano's flagship which provides the raison d'être for the game's events.
With his arrogance and hunger for revenge inflamed by drink, Hunt goes on the offensive in a nicely integrated, fully playable, attack on Serrano's ship. Finally resorting to a spot of kamikaze flying, Hunt's ship is soon hurtling uncontrollably towards a nearby alien planet – followed not far behind by the flagship.
Regaining consciousness in a world of scrap metal and dead crewmen, a suitably chastened Hunt grabs his mortally wounded helmsman, Ishi, and takes him to sickbay. Of course, never is progress so easy, as it turns out a powercell is required in order to get the ship's surgical devices on-line. Here's where any pretence of set-up ends and a breakneck speed, all-guns blazing shooter begins.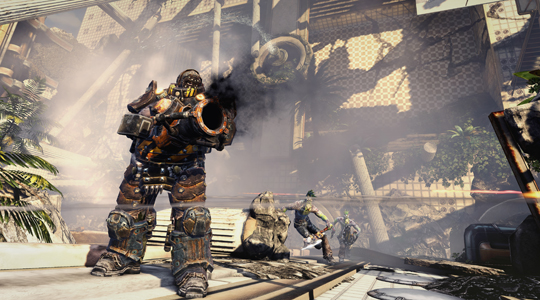 Metal gear squalid
Upon exiting the ship the first thing you'll notice is the gorgeous scenery on show, a heavenly vista of crystal-clear skies and thick vegetation. Bulletstorm's outdoor environments shine with a mixture of iridescent colour and sun-soaked lens flare which has, until now, been the sole domain of the racing genre.
Mon armour
Before your eyes have had time to adjust and take in all that beauty however, you find yourself fending off the types of crazies which wouldn't look out of place in a Mad Max movie. Luckily, Hunt has more than enough firepower to take the fight to them.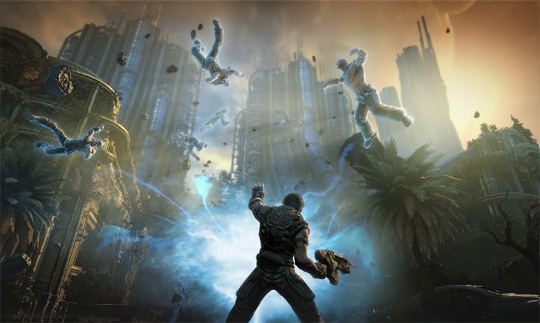 Blow 'em off with one lick
Weapons vary from the standard – fully automatic rifles – to the messy – the flail gun which wraps enemies in a cluster of explosives before detonating – to the downright cool, for instance the sniper-rifle, which fires fully guideable bullets – just watch your target run. That Hunt can only carry three weapons at a time is the only limit.
Hunt's armoury doesn't stop at guns either, sporting an energy whip, a heavy duty boot (you know, for kicking) and a slide attack, which rapidly closes the distance to would be dead guys, Hunt's repertoire of attacks trumps that of most shooters. Should I shoot this cannibalistic hominid in the head or grab him with my energy whip… or maybe kick him into that crevasse?
Needless to say, after considering my options the answer became clear: pull him out of cover with my whip, shoot him a few times in the head at point blank range, before kicking him into the conveniently situated chasm. All in the interests of balance, of course.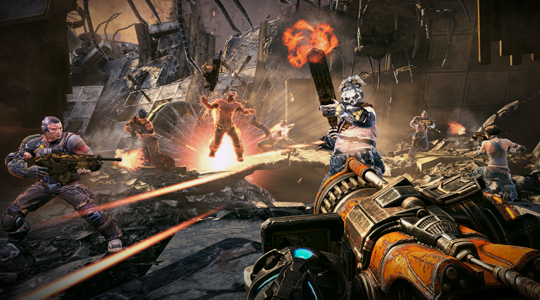 Some kind of voodoo
Such physics-defying hijinks are made possible thanks to a Matrix style slowing of time which occurs whenever Hunt boots or whips an unlucky foe; theoretically giving you the time required to pull off all kinds of madcap attacks, or skillshots, as they're known in Bulletstorm. The more outrageous the kill the more points rewarded, and points mean prizes in the shape of weapon enhancements.
Whip it good
With each weapon contributing its own unique skillshots, attempting to claim all becomes something of an addiction – particularly the tougher to pull-off ones. Try grabbing a foe with the whip, shooting his mate and finishing off your first victim before he hits the ground. Not easy. Skillshots come into their own during multiplayer gaming too, with players able to team up to complete a whole different roster of skillshots than those you'll find in the single-player campaign.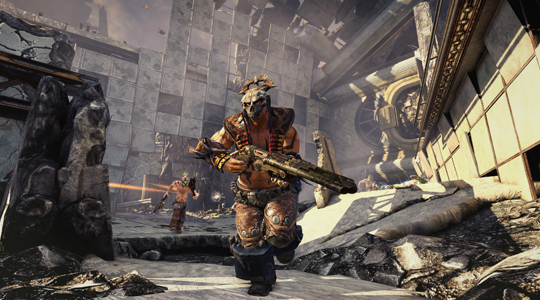 Gonna send you back to mother in a cardboard box...
Bulletstorm's variation in its approach to combat is something of a double-edged sword, however. While you have untold ways of going about your murderous business, for me it became pretty obvious what worked and what didn't, leading to my eschewing a few of the guns on offer altogether. Still, it means you can always mix it up on the next play through Dead Space-style.
Without ruining too many surprises the variety of enemies on show is impressive with later foes proving much more intelligent, able to avoid your whip attacks, for example. You'll get assistance of the gargantuan kind in one memorable chapter too (again without spoiling anything), though your AI comrades, a cybernetic Ishi and others, contribute little more than taking up a position and blasting away mindlessly.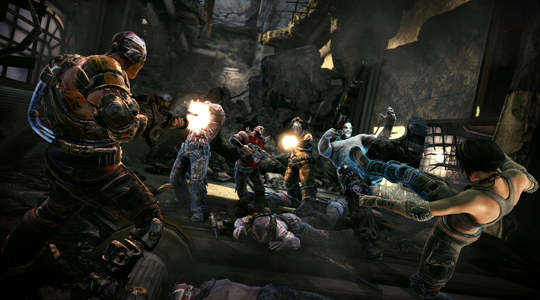 Meet the sidekick
A quick mention of multiplayer too, though a lack of servers at the time of writing means there was no way to test it on-line. On a local network, however, it proved entertaining stuff. Anarchy mode is particularly enjoyable, a riff on Halo: Reach's Firefight mode where waves of enemies must be defeated, the difference being that you must hit a certain skillshot score in order to progress through the waves. Echos mode, meanwhile, opens up sections of the solo-player campaign to multiplayer freestyling to great effect.
Verdict
Bulletstorm is gaming's equivalent of The Expendables, only a lot more fun. And it's refreshing to see the FPS genre stripped back to its fundamentals, namely, a huge emphasis on the fun. Only a lack of a particularly engaging narrative negates what is otherwise an early contender for shooter of the year. ®
More Games Reviews

Mindjack
Dead
Space 2
Mass Effect 2
for PS3
Call of Duty:
Black Ops