Original URL: https://www.theregister.co.uk/2011/02/22/review_gadget_griffin_powerdock_dual/
Griffin PowerDock Dual
For iExhibitionists only
Posted in Personal Tech, 22nd February 2011 07:00 GMT
Review Griffin's latest iPad and iPhone accessory is recognition that, far from being hidden out of view in home offices and studies, owners of Apple gadgets like to show them off. You see, the Griffin PowerDock Dual has two Dock connectors, designed to charge an iPad and an iPhone or iPod simultaneously and the two objects of iEnvy perch there much like an ornamental display.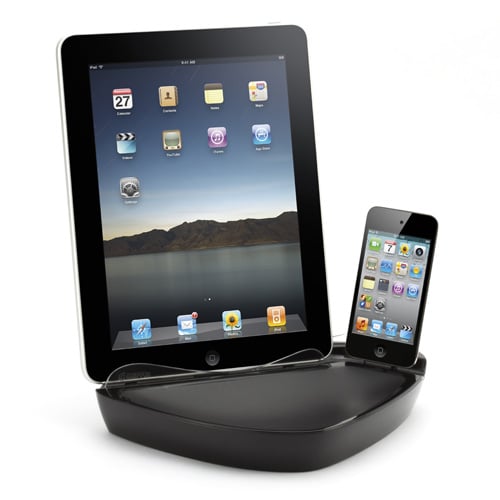 Two's company: Griffin's PowerDock Dual
There's no reason you couldn't charge, say, an iPhone and an iPod classic at the same time, though charging two iPads together will be a squeeze too far. The PowerDock Dual's wide base also serves a dual purpose. It keeps the whole thing stable and thus prevents your iPad crashing to the floor when you brush past it. Its concave surface is a handy storage dish – or valet as Griffin calls it – for car keys, spare change, and anything else you're likely to want to grab on your way out the door.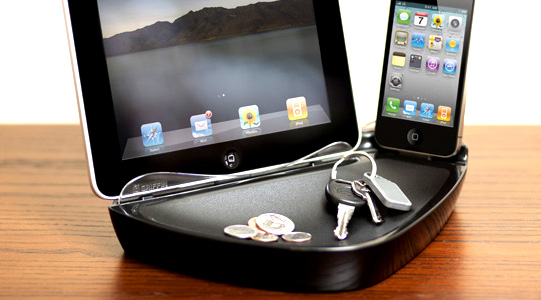 iBeg: iPhone, iPad and an iOS 4 habit to support
The dock connectors themselves provide 10W for the iPad, and 5W for the iPhone or iPod. Every iPhone and iPad model is supported, as well as iPod nanos going back to the fourth generation (the first of the tall slim curved ones) model, and the iPod classic.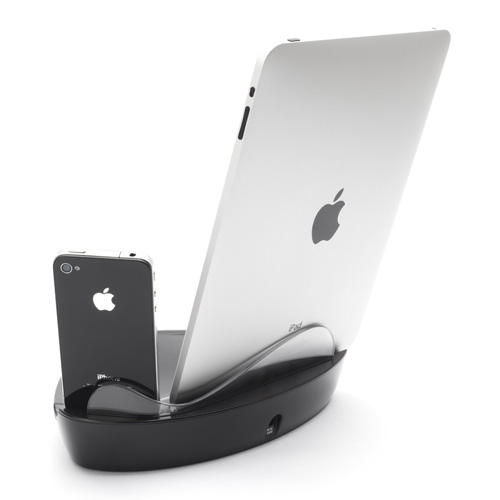 Surprisingly stable
The AC power supply comes with four slot-in international plug adaptors, just in case you want to tuck the PowerDock Dual into your suitcase and take it on holiday with you.
Vertical marketing
Griffin highlights the fact that when the iPad is slotted into its Dock, its speaker is unobstructed so 'you can listen while you watch' making the PowerDock Dual 'perfect for bedside entertainment.' Who could resist?

Well, I'd take issue with that first claim for one, fairly obvious, reason: when docked, the iPad is in portrait mode and while you can watch video in that mode, it's far from ideal as it squeezes the screen down to a little over two-thirds of its size. Moreover, if your favoured 'bedside entertainment' involves listening to music, you'd be better off investing in a speaker dock, rather than relying on the iPad's puny audio output.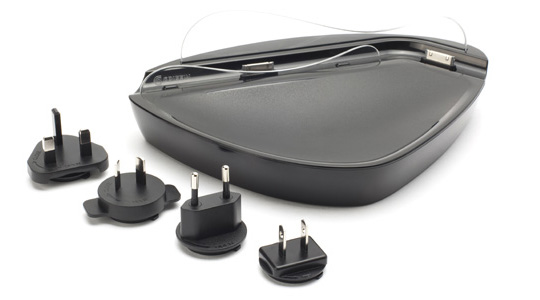 Yes, you can even travel with it, if you must
Perhaps the biggest concern over a dock like this one is the stability of the iPad. The dock connector itself is liable to damage if the iPad isn't supported at the rear. Despite initial concerns caused by the fact that the PowerDock Dual doesn't have a fixed back, once the clear plastic supports are fitted, the iPad is, due in part to the wide base, perfectly stable.
Verdict
Shop around and the PowerDock Dual can be found for a little over £30, yet it is hardly an impulse purchase. For around the same price you could buy, say an Idapt i4 desktop charger, which will not only charge Apple devices but various mobile phones, handheld games consoles and USB gadgets too. It won't, however, hold your keys or your spare change. ®
More Charging Gear Reviews...

iDapt
i4
Scosche
Solbat2
Etón
Soulra
Solar
Freeloader Pico