Original URL: http://www.theregister.co.uk/2011/02/21/review_pmp_cowon_d3_plenue/
Cowon D3 Plenue Android media player
Entertaining view
Posted in Personal Tech, 21st February 2011 13:00 GMT
Review Like it or loathe it the Apple iPod Touch continues to maintain its position as the default choice for punters after a touchscreen media player. The recent arrival of the Archos 43 came close to tipping it off its perch but the cost-saving resistive screen let it down and the least said about Samsung's Galaxy 50 Player the better.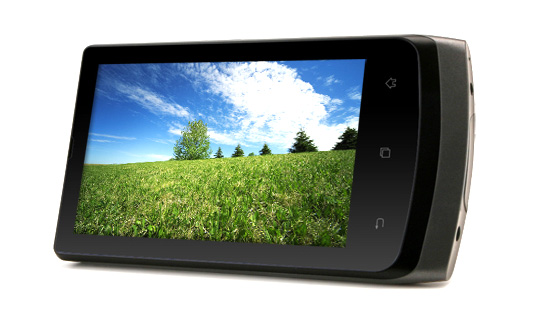 The right touch? Cowon D3 Plenue
Now Cowon has discovered Android, can it succeed where others have failed? Let's start with that part of the D3 you will spend most of your time looking at, the screen. The glossy 3.7in AMOLED panel has a resolution of 480 x 800, supports 16 million colours and it looks absolutely stunning and is easily a match for the best Samsung panels.
It's also capacitive but sadly this doesn't mean the UI flows as smoothly as it does on an iPod Touch. This is presumably down to either a lack of RAM – kill all running tasks and you are told there is a whopping 78MB free – or a rather gutless chip. Cowon isn't saying exactly what CPU it uses in the D3, though I've heard it's a 750MHz chip.
The UI is by no means unusable but the three capacitive buttons on the front of the device below the screen aren't particularly reactive, and the entire interface feels just a bit sluggish. Physically, the D3 is not a bad-looking gadget and it feels very well made. My only issue is the two-tone grey bevelled edge below the screen, which looks cheap and makes the D3 appear rather large for its screen size.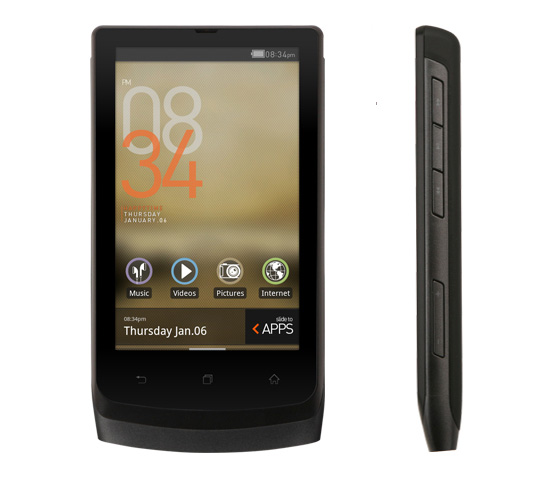 Features an HDMI output and SD card expansion
Around the edge of the device you will find volume and fast-forward, play and pause/rewind buttons, a lock key, MicroSD port, 3.5mm audio and 2.5mm power jacks and a bespoke port for USB and HDMI connection. The D3 can be bought fitted with 8, 16 or 32GB of built-in storage.
Walled garden
Although the D3 runs Android 2.1, Cowon has done a thorough job of locking it down and modifying it. This means you don't get any Google goodies nor the Android Market. Furthermore, the absence of a file manager or Cowon 'apps store' further hinders loading third-party APKs. Alas, I couldn't connect the D3 with the Android SDK, which is generally a sign of serious behind-the-scenes tinkering.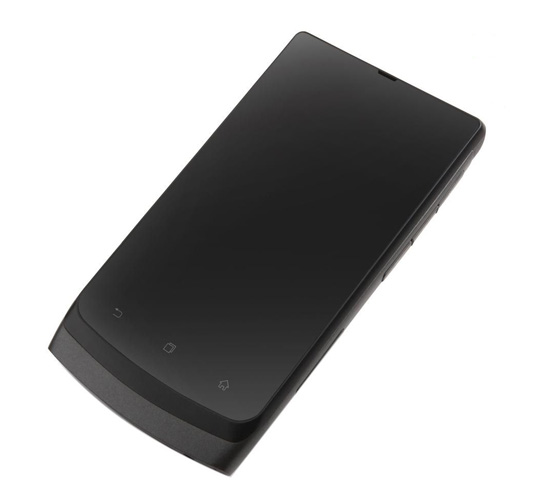 Further expanding existing functionality with additional apps appears unlikely
What Cowon does give you is Wi-Fi, Bluetooth, the standard Android web browser and e-mail client, an FM radio, calendar and a nice selection of widgets to populate the five home screen pages.
Yet the most impressive feature of the D3 is that it will play most standard video codecs and containers. These include MP4, AVI, MKV, QuickTime, VOB and TS up to and including 1080p. Audio file support is similarly comprehensive with AAC, Flac, WAV, Ogg Vorbis, WMA and MP3 all catered for. Most common subtitle and image file types are also supported, which makes the D3 one of the most versatile pocket media players on the market.
CPU and RAM issues may blunt the UI's performance but they don't have any effect on video playback with even 1080p MKV files running perfectly smoothly. In fact, video looks quite superb on the D3 with sound quality to match. The latter is bolstered by Cowon's, always impressive, JetEffect 3.0 and BBE+ sound modification suites, which work with both music and video files.
There are a few problems with the D3 as a general purpose media player though. To start with there are no playlist options of any sort and no DRM support so you can forget about watching BBC iPlayer downloads. Gapless albums aren't recognised as such either and on the navigation front, when you tap "Artist" in the music browser, all the tracks present themselves in one long list rather than subdivided by album. OK, there is a separate album view, but that's not the point.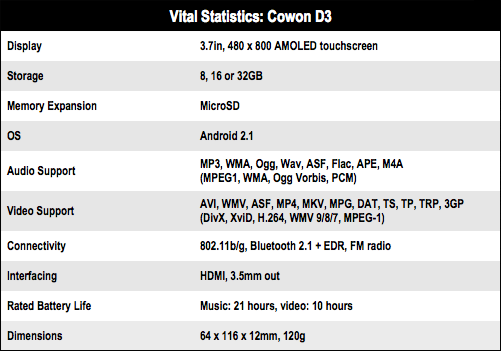 Firm commitment
Future firmware updates may fix these problems though. Three upgrades have turned up in the last two months, this review being carried out using the latest version 2.27. But as it stands, the way the D3 handles music files for navigation is an irritation.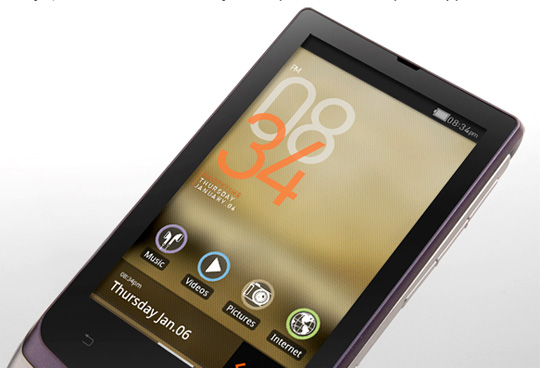 A great all-round player, but for a price
Battery life proved to be close to Cowon's claims of 10 hours for video and 21 for audio – cycling through a standard definition AVI file yielded a figure 9 hours 30 minutes and the same test with 192kbps MP3 files lasted just over 18 hours. You can recharge either with the rather bulky 240VAC mains adapter or USB. However, for the latter to work the screen has to be off and the device in standby.
Verdict
In terms of £-per-GB-of-storage, the Cowon D3 Plenue is a shade more expensive than the iPod Touch, but you get MicroSD card expansion, a bigger screen, broader file support and you don't have to use iTunes. On the down side, audio content navigation is rather primitive, the UI could be more fluid, there is no camera, no opportunity for adding apps or games and the Archos 43 is cheaper to the tune of £70 in 16GB form. Even so, as a hand-held video player the D3 is a cracker – it will play just about any common AV file type at any resolution and video files both look and sound fantastic. ®
Thanks to AdvancedMP3Players for the loan of the review sample.
More PMP Reviews...

Archos
43
Samsung
Galaxy Player 50
Sony Walkman
NWZ-A845
Apple iPod
Nano 6G