Original URL: https://www.theregister.co.uk/2011/02/19/review_satnav_mio_navman_v575_tv/
Mio Navman V575 TV satnav and Freeview tuner
Watch telly when you're driving – seriously
Posted in Science, 19th February 2011 08:00 GMT
Review Just because something can be done doesn't mean it should be – invading Iraq and putting Vanessa Feltz on TV are a couple of arguable examples that spring to mind. Fitting a TV to a satnav is possibly another.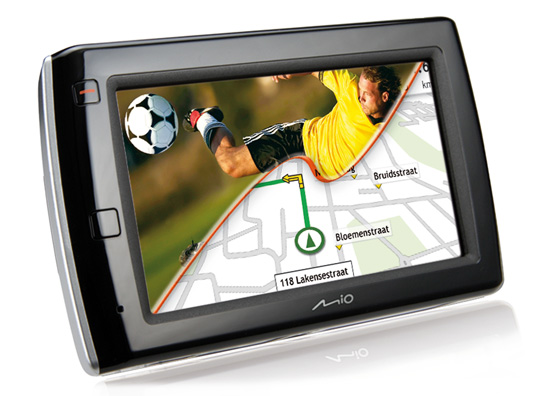 Mio's Navman V575 TV – licence fee not included
Given that a terrifyingly large number of drivers seem incapable of concentrating sufficiently on the road ahead with nothing more to distract them than a radio or mobile phone. Welcome to the brave new world heralded by Mio's V575 TV, a PND with built-in Freeview receiver.
Mio's pitch clearly is not that you should watch TV while driving, rather the idea is that the kids or the missus can use it when not required for navigation or the driver can watch it when not actually driving. Despite having a Freeview tuner stuffed inside it, the V575 still manages to be reasonably small and light. In fact, the only tell-tale that it works as a telly is the socket for a removable antenna on the right hand side.
The 4.7in 480 x 272 screen is reasonably crisp and colourful and gives little away in terms of acreage to the 5in screens of PNDs like the TomTom 1005 and Navigon 70. If screen size is an issue Mio also offers a 7in version with a resolution of 480 x 800 but at £220 it is significantly more expensive than the V575 on review that goes for £150.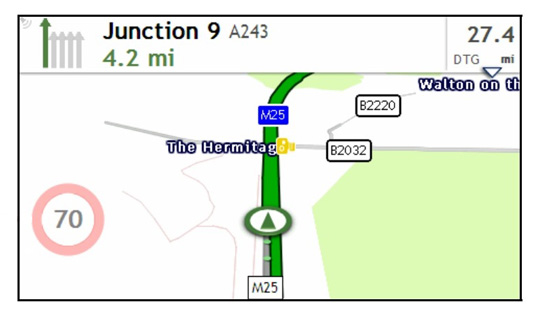 TruMaps simple layout works well on the road
The basic navigational features are much the same as those of the Mio Navman 470 I looked at last year, so you get TomTom's excellent IQ Routes journey planner, free TMC traffic data, excellent 3D lane and junction guidance and the LearnMe system that picks up on your route preferences and modifies its suggestions accordingly.
Outside broadcast
You also get full text-to-speech support for street names, seven digit post code search, 12 months free speed camera location updates, A-1-2-3-4 road number enunciation and Google's Send-To-GPS. What you don't get is Bluetooth or voice command.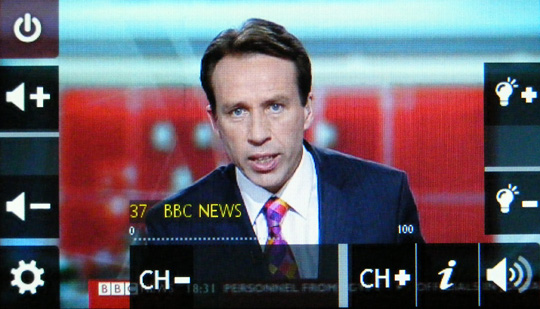 Making the news "...there's been traffic accident on the M60"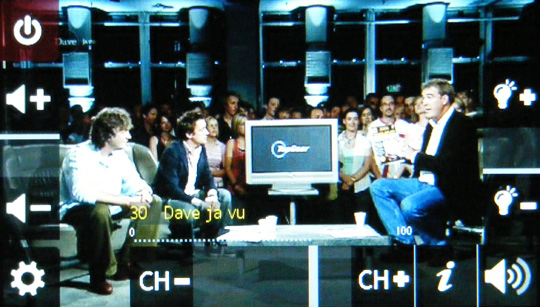 Drive time TV?

 In use routes are calculated quickly, GPS fix is near instantaneous, the menu structure is simple and on the road the system never leaves you in any doubt as to where you are or where you are supposed to be going. I've no complaints about the resistive touchscreen interface either or the clean, clutter-free TruMaps map design which is very easy on the eye.
If I had to pick holes it would be that the system doesn't present alternate route options, something I've grown use to with Google Navigation and CoPilot Live, you only get one installed voice which is a rather dower female affair and the keyboard is laid out ABCDEF not Qwerty.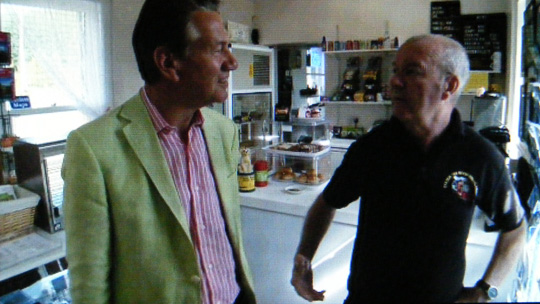 Travel programmes?
Telly reception in and around Manchester was pretty good after a quick scan pulled in 38 TV - but no radio - stations. The basic 7-day EPG is easy to navigate and the picture quality looks better than the screen resolution suggests. As well as a built-in telescopic aerial you get a 2m cable antenna with a sticky pad and two suction cups at the end giving you plenty of options in the quest for a good signal.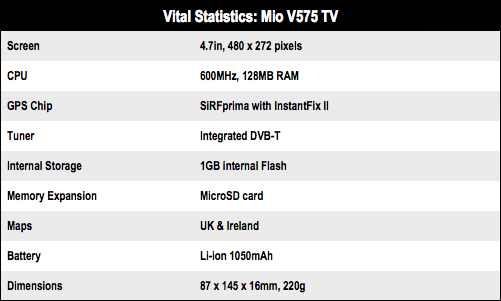 Driving transmission
In the interests of science, I scooted around the M60 while watching BBC News 24 one evening and had a watchable picture about 75 per cent of the time and a partly frozen screen or No Signal for the remainder. Still, this probably says more about local Freeview reception than the V575. If live TV isn't your thing, the V575 will also play WMV video and MP3 music files.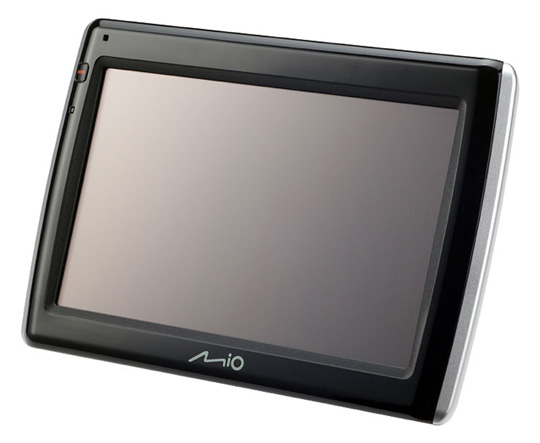 A good idea? All depends on your viewing habits
Of course, the big problem with the Freeview receiver is that the driver can watch it while on the move – there's no fail-safe to prevent you using it when the unit is mounted in the screen cradle or when in motion. There's just a warning screen telling you that watching telly while driving a car is daft and stating that any resultant catastrophes are not Mio's fault.
Another failing is the absence of a headphones jack, which rather limits how you can use the 575 as a handheld telly. The mono speaker does a good job but it will still annoy anyone within earshot who doesn't want to forcibly partake of whatever TV programme you are watching.
The V575's battery has a useful 1050mAh rating but it still struggles to give a full hour of TV away from a 12v or USB power source. With a nod towards indoor viewing, Mio bundles a mains charger.
Verdict
Lack of a headphones jack aside, elsewhere, the V575 is hard to fault. As a navigation device it does everything you could expect from a £150 PND and the Freeview integration is pretty decent too. My only concern is that Mio isn't just making one unit for me, it's making thousands of them for you lot, and I don't trust any of you not drive along the road while watching Top Gear re-runs on Dave. ®
More Satnav Reviews...

TomTom
Go Live 1005
Garmin
Nüvi 3790T
Navigon
70 Plus
Mio
Navman 470