Original URL: https://www.theregister.co.uk/2011/02/18/ten_over_ear_headphones/
Ten... over-ear headphones
Surround sound
Posted in Personal Tech, 18th February 2011 07:00 GMT
Product Round-up Personal music is an everyday part of most people's lives and at at the end of the chain, it's the gear we use to pump out the audio that impacts most obviously on the listening experience.
If you want to raise your game from the freebies given out with a PMP or just fancy a quality set of headphones for the home, then where to splash our cash is always an issue. In the same sense as eating organic, we usually have to spend more to get the most tasty choice.
With so many manufacturers out there to choose from, let alone headphone styles, this round-up concentrates on a selection of over-ear models that look like a sound investment. Rock on.
AKG Q701

As an advocate for AKG microphones for a number of years, perhaps it's a surprise I'd never tried a pair of the company's headphones. I couldn't have tried a nicer set either, as the Q701s were hugely impressive, however, for the price it would be worrying if they weren't.
Attached to elastic strings, the headband self-adjusts and with soft furry pads, it sits comfortably over the ears. The cable attaches on one side with AKG's latching mini-XLR, gold flash 3-pin connection, so a replacement isn't exactly off-the-shelf, although it does come with a spare cable (one is 3.5mm, the other 1/4in jack at the end).
While the Q701s are available in green as well as black versions, the white pair I tried, made me look like the bastard offspring of Princess Leah and a horny Stormtrooper. As you can imagine, they're somewhat on the large side of things, but do have a lot to pack in, including flat-wire coils and a patented two-layer diaphragm. Tech aside though, what's really important is the sound.
Developed with legendary producer Quincy Jones, I thought it only fitting to begin my test drive with Billie Jean, which absolutely blew my socks off. A few genres later and the 701s tick every box. The output is unbiased, maybe edging on the bassy side of things, but overall one of the more balanced sets I tested. These are predominantly for plumbing into hi-fi amplifiers and ideal for studio referencing. The environment they're used in is crucial - pointless with an MP3 player for example – as having a 62Ω impedance, the highest of those on test, the output is fairly low when driven from these devices.
The only question that remains is, are they worth the high price of £500? I'm not so sure I'd pay that myself, but if you bear in mind some of the proceeds go toward Jones' foundation for making music education an ongoing part of children's lives, it softens the blow, a little.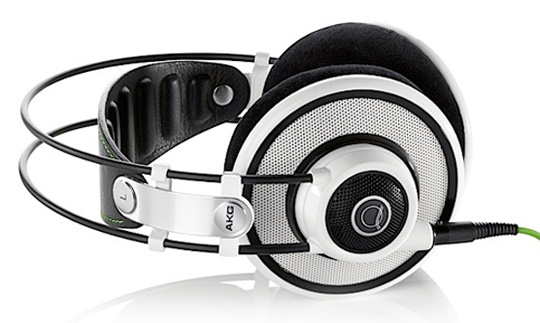 Reg Rating 85%
Price £500
More info AKG
Audio Technica ATH-AD700

As far as over-ear headphones go, the Audio Technica AD700s are unashamedly big. Some might call it a fashion statement, but I found I looked very Mickey Mouse with them on my head.
The self-adjusting clips are somewhat creaky, but help the AD700s rest comfortably over the cranial. They do sit a little loose over the ears though and the padding, which doesn't feel quite right, is made from a dusty felt-like material that gives the impression that it could easily rot with extended use. The fixed cable is a downside too, urgh.
Sonically though, the AD700s are sweet on the ears. The open-cup design creates a sense of space and can be worn for extended periods of time without discomfort. The midrange is unquestionably prominent and although the bass could benefit from more oomph, the warm, summery tones in general are blissful to listen to.
The AD700s are very affordable and can be picked up for under £100, if you hunt around. You can't escape the design though, which is an acquired taste and a strange fit too, which rather lets these cans down, as the appearances fail to match the elegance of their sound output.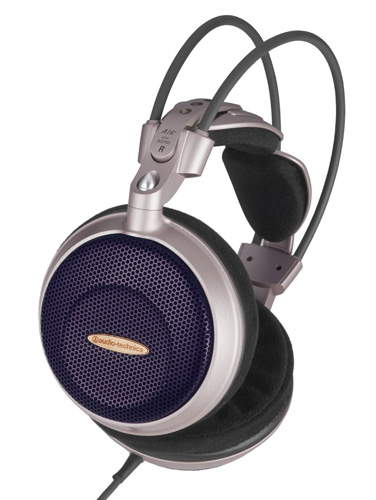 Beyerdynamic DT 880

Anyone who's stepped inside a recording studio will be familiar with Beyerdynamic's classic over-ear studio headphones, the DT 100s. Indeed, this German company has been producing headphones since 1937, so it must be doing something right.
The DT 880s are quite beautiful and are certainly one of the comfiest fits too. The soft velvet-like ear pads make the DT 880s a joy to wear and, while they are quite bulky, the design is admirable, as I didn't feel at all conscious of their size when taking to the streets.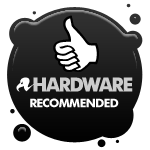 Open-backed designs do leak a lot of sound, but they're incredible to listen to and don't hurt the ears over long periods of time. Beyerdynamic chose the middle path here and the balance hits the spot delivering a spacial soundscape and containing the audio more than fully-open models.
Sound is neutral, clean and crisp with a distinct mid-range accompanied by powerful bass frequencies that rarely overwhelm. They improve my home recording setup, and I can tweak levels perfectly with these beauts.
My only disappointment was a fixed cable and a huge carrier case, although despite its size, the latter would definitely protect your investment. I can't fault them too much, although they are maybe a tad on the pricey side, but some things are worth paying for and the DT 880s ranked as one of my favourites in this roundup.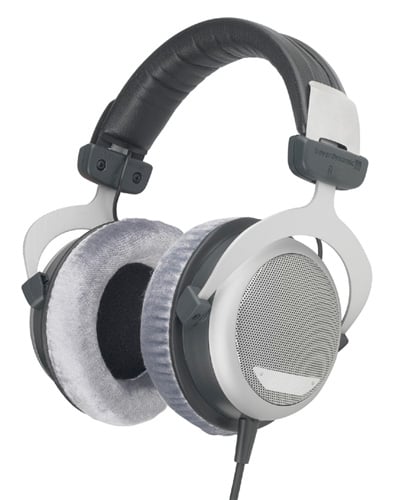 Bose AE2

Bose are known for sound systems that deliver an impressive output, and the company's ability to get a big sound out of little boxes has been applied to its headphone range. Without question, the Bose AE2s bring are the most compact option to feature in this round-up.
Black leather earpads combine with a matt-black finish to form a very executive look, perfect for the travelling businessman. It's easy to forget they're there as the body is super lightweight and they fit so snugly over the ears, isolating outside noise rather well in the process. Despite feeling quite flimsy, there's an opulent grace to the movement of the linkages and the cable detaches, so shouldn't accidentally break if caught in your office chair for instance.
Onto the sound then and the Bose AE2s have nice rounded bass notes and a warm mid-range, however top-end frequencies were a bit too crisp. Listening to big band tunes with lots of crashing percussion emphasised this. Koop, a stunning electronic jazz duet were awesome through them, though.
By and large, the AE2s were impressive and the company is so confident you'll like them, it offers a 30-day money back guarantee. Peachy.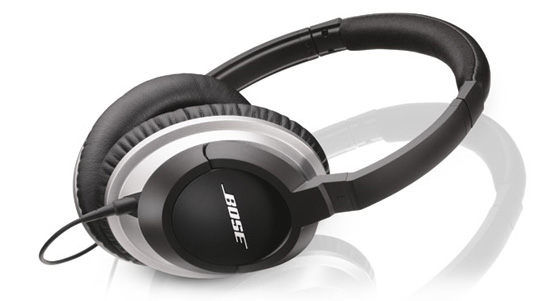 Reg Rating 80%
Price £120
More info Bose
Monster Beats Pro

These bad boys are all the rage at the moment, and are more than just a pair of headphones – they're also a fashion statement. Walking down the street with these has heads turning and eyebrows raised. Those with inferior pairs of Beats are the biggest perpetrators though and gave envious looks as I trotted past, smug as Chuck.
Available in two colours, black and white, the Beats Pros are made from a thick aluminium body, which means they're seriously heavy on the head. Durable, but hardly endurable for long periods of time. Developed with hiphop maestro Dr Dre, you can see where his huge WWE-style neck muscles come from. They're cozy for a while, but quite tight too and push on the ears a fair bit - although this does isolate a lot of background noise.
The Beats Pro have two separate sockets, so the rubber coated cable can connect to either cup. While it's possible to connect two inputs and have two sources layered (rather than one source in each ear), the real impressive thing is connecting a second set of headphones. No need for a double jack adaptor - two people can listen to the same source by daisy chaining the headphones. Schweet.
The sound is bass-heavy and it comes as no surprise that they make hiphop listening extremely enjoyable. There's great prominence with snare drums too, something I believe extremely vital in a good hiphop beat. Upbeat rap fusion newcomers Super Soul Soldiers sound particularly majestic and I haven't been able to put their new album down, especially through these beauties. Other music such as Drum 'n' Bass was equally awesome though, and the sound is really thumping, perfect for dance music.
They're overpriced, but so are Armani shirts and people buy the brand for a reason. My first impressions were: how am I gonna enjoy headphones this heavy? But after a few days using them, I didn't want to take them off. Dre, you are a Monster.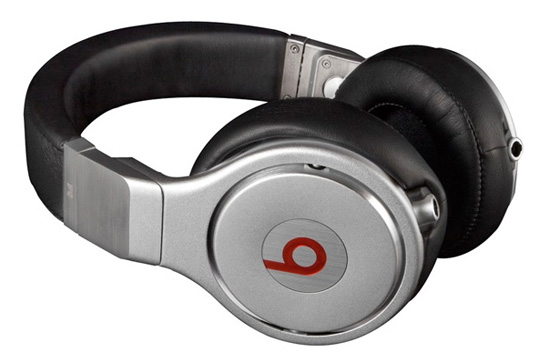 Reg Rating 85%
Price £330
More info Monster
Philips O'Neill The Stretch

Philips says these were tested on animals, apparently the company means surfers and snowboarders though - wild cats of the sport world. Made from TR55LX plastic makes them very stretchable and you can bend them in all sorts of positions without the worry they'll snap. Therefore, if you're replacing a set because you've broken several pairs in the past, look no further – these are seriously durable and quite inexpensive too.
The fibre weave cable is great for avoiding tangles, and although it doesn't plug directly into the cup – there's a short connecting cable dangling from here – it is detachable nevertheless. Aesthetically pleasing, they fit comfortably, fully enclosing the ears almost in a vacuum. This does isolate outside noise, but picks up a lot of sound when touched. Tapping the surface hurt my ears and rattling around my head with a metallic ping.
Sonically, these are very warm, but do lack high-end presence, which leaves the audio feeling muffled and lacking in clarity. For over-ear headphones, these won't stretch your budget, but compared to the others on test you soon realise you get what you pay for. If crisp sound quality is what you desire, then you're probably looking at a three figure sum.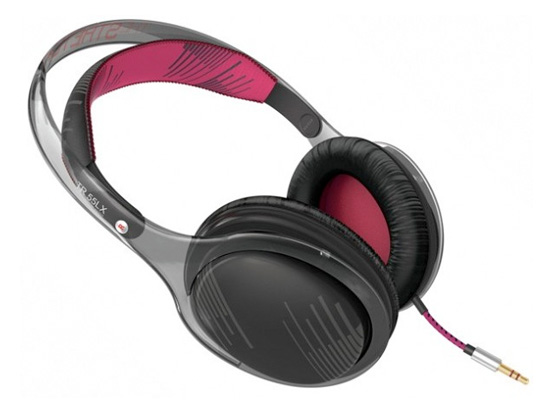 Reg Rating 70%
Price £60
More info Philips
Sennheiser HD598

My first impressions of the HD598s really blew my mind. Sennheiser are pretty reliable with its headphone range and these don't disappoint. They may look like the interior of a 1970s Mercedes - at least the cream coloured model I had did - but the performance is very much in this decade.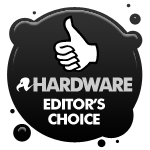 For the first time in years, music gave me an adrenaline buzz. The sound is rounded, possibly slightly bass orientated, but crystal clear and spacious. This may well be down to the Sennheiser's Internal Sound Reflector and the Eargonomic Acoustic Refinement (E.A.R.) design. Whatever it is, it does the trick and I didn't feel like I was wearing headphones, but instead listening to music through a high-end stereo.
The body is somewhat creaky, which I can see growing worse over time. Plus it sounds like there's a crackly material underneath the pads and if in a relaxed position, ear against the side of an armchair for example, one may have to put up with the sound of chomping snails, if you know what I mean. Not that that's noticeable with music blasting through.
Nevertheless, the HD598s were a top performer and definitely one of my favourites. Reasonably priced too, for what you get. I'm definitely considering the investment myself, as recording with these made everything sound better, instantly, without artificial stimulants. So there's a saving already.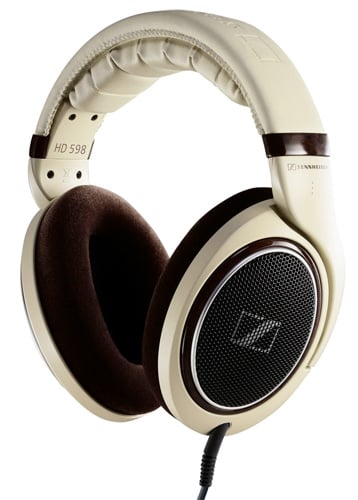 Shure SRH750DJ

Shure is famed for its live performance audio gear and the SRH750DJs are sturdy DJ cans, which serve their purpose well. The cable input features a twist and lock system which is ideal for live environments, as you don't want to pull the cord out by accident midway through a mix. The coiled rubber cable isn't going to tangle easily either.
The durable body is boosted by the flexibility of its linkages, however everything is extremely creaky which is slightly annoying without musical distraction. As with the Sennheisers, the sound of chomping snails returns, however in the club environment, both of these put-offs are irrelevant.
With its leather earpads, the SRH750s are extremely comfortable and isolate background noise efficiently. Their high impedance means they don't play particularly loud through an MP3 player, but do the job well through a mixing desk, and home studios are surely a target environment.
The 50mm drivers provide a fantastic bass response and a crisp top-end, sounding great with dance music and electronica. They come reasonably priced too, ultimately only let down by the creaky plastic body. They're pretty slick, but could do with a good oiling.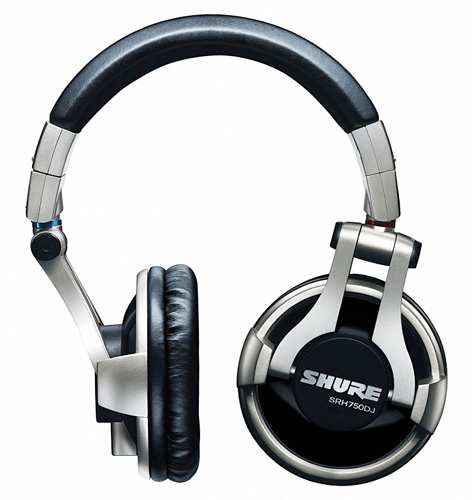 Reg Rating 80%
Price £140
More info Shure
Sony XB500

Sony's XB500s provide further evidence of why spending a bit extra on over-ear headphones pays in the end. It's not that they're rubbish, but they just don't come close to the higher-priced models tested here. Also, they lanyard style cabling – a wire from each earpiece – and these are fixed, unattractive and far from satisfying. One the plus side, the cables are flat so do avoid knots.
If bass is what you're after, then these do what they say on the tin. Described as "extra bass" the bass is quite pronounced and it would be daft to criticise them for this design quality. As nice as it is to be able to have a superb low-end response though, the XB500s labour the point too much, neglecting higher frequencies in the process. Sound is too unbalanced for my liking.
Despite that, the XB500s are very snug, with faux-leather pads acting as huge pillows on each ear. They offer effective noise isolation too and remain comfortable during long listening periods. For under £60, I'd feel rotten marking them down too much and having heard some of the dodgy-branded equivalents; they're not so bad for the price. However, they just lack refinement on the grand scale of things.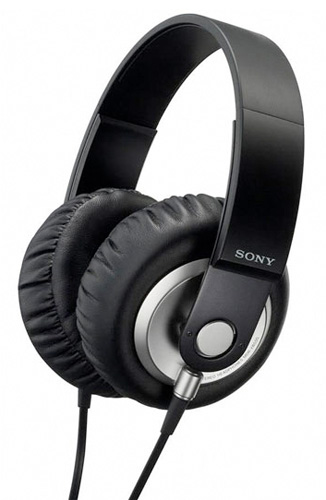 Reg Rating 60%
Price £59
More info Sony
V-Moda Crossfade LP

V-Moda is a new player in the headphone market and apparently, the company has been touring with various DJs and musicians in a bid to improve its take on acoustics and ergonomics. The Crossfade LPs are the company's first attempt at over-ear cans and the four years research that went into them are evident, to a degree.
The look is somewhat gothic, with metal plates on the sides and a hexagonal shape, which appears pretty cool at first glance. They come in a fancy case with everything neatly tucked inside and the inclusion of detachable fibre weave cables, among them one with a built-in mic and mobile phone control, which is a bonus.
The leather padding offers a pleasant fit, but I found they hurt my ears after about half an hour of listening. This wasn't due to the design itself, but more likely a result of the penetrating sound they deliver. The Crossfades are very noise isolating and don't leak huge amounts of sound either, but it's all a bit too bass-heavy. Even though there is also a crisp top-end, it doesn't quite balance things out enough, but at least it does reflect a decent frequency range.
These sound great with hiphop and dance music, but look like they should be ideal for heavy metal and punk. They're not bad, but leave a lot to be desired. Originally, I think the Crossfades were overpriced, but costs have dropped considerably and they can now be picked up for half the RRP, if you shop around. If you can find yourself a bargain and need noise isolation then they could be worth it. ®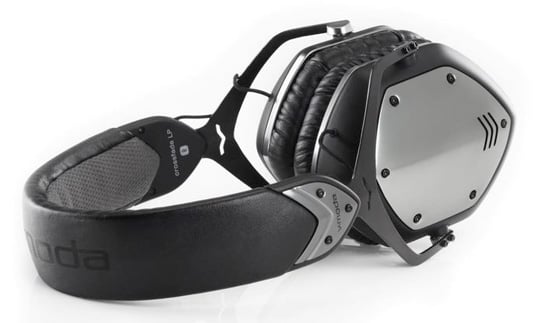 Reg Rating 75%
Price £230
More info V-Moda