Original URL: https://www.theregister.co.uk/2011/02/18/games_review_marvel_vs_capcom_3/
Marvel vs Capcom 3: Fate of Two Worlds
Comic moments
Posted in Personal Tech, 18th February 2011 13:00 GMT
Review The decision to resurrect the Marvel vs Capcom series is a logical choice for Capcom. After the success of Street Fighter IV and Super Street Fighter IV, it makes sense to capitalise on a general appetite for comic book movies by exhuming the ten-year-old crossover franchise.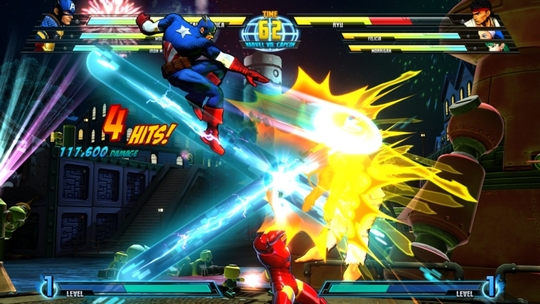 Americaa... thud, yeah!
But where Street Fighter IV hadokened 2D fighters back into mainstream gaming with a near perfect balance of accessibility and depth, MvC3's lack of features and widened gulf between casual and serious play – not to mention return to full price point after last year's budget SSFIV release – ultimately limits the appeal of Capcom's new challenger.
Of course, Marvel vs Capcom has always done things its own way. Although sharing Street Fighter's intricate system of combos, specials and hypers, MvC3's trademark three-versus-three combat makes for a fundamentally different experience.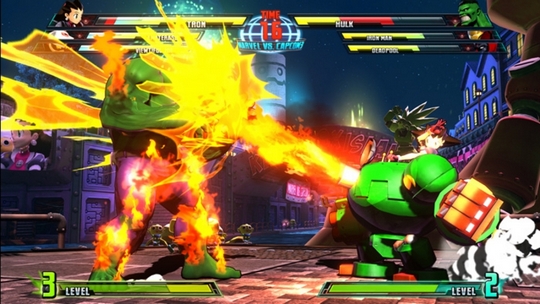 Blasted superheroes
Team mates can be temporarily summoned to perform assist moves or permanently tagged in to provide respite for your current fighter, allowing them to recharge a portion of their health while off-screen. Both features instantly become part of your arsenal, and are increasingly relevant in the game's higher difficulty settings and on-line matches, where assist combos and health-bar management are as important as regular combos, blocking and juggling.
Button bashers
In lesser hands, the additional layer of complexity would resign MvC3 to the traditional niche of 2D fighters: the preserve of the dexterously-blessed otaku. But Capcom – perhaps anticipating the wider appeal of the Marvel characters – has worked hard to repeat the intricate level of accessibility that made SFIV so successful.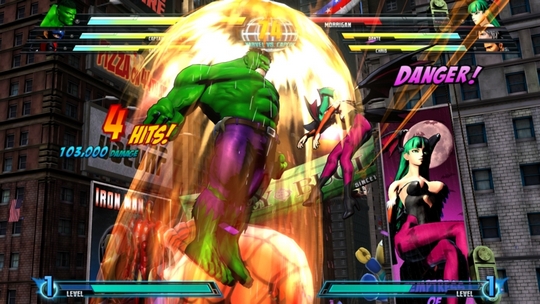 Supersize me
By mapping combos, specials and hypers onto single buttons, the Simple mode places some seriously damaging moves within the grasp of mere gaming mortals – although they come at the expense of a much reduced move-set. Even on Normal, with its more familiar low, medium and high strikes, those same moves can be pulled off with single arcs and strikes rather than SFIV's exacting double arcs.
For all its early accessibility, however, the traditional chasm between casual and serious play eventually emerges. Regular players might pull off a couple of the more flamboyant combo chains against the static dummies of the game's Mission mode, but only elite players would attempt them against on-line opponents armed with easily executable specials and hypers.
Most players will just accept the mayhem of specials and hypers and dismiss their screen-filling pyrotechnics as pure bombast, focusing instead on the less ostentatious, but far more important skills of blocking and tagging to swing the fight in their favour.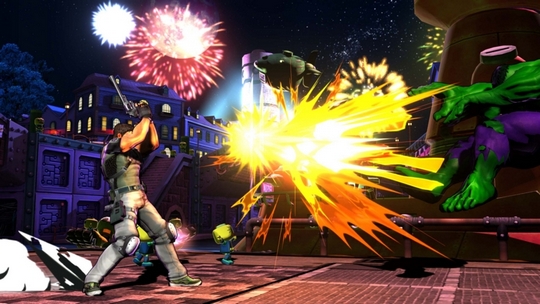 Fireworks with Flash content..?
That's not to say the pyrotechnics don't impress. MvC3 is the new poster boy of a genre famed for sensory overload. Rockets, lasers and fireballs flash across backdrops filled with flying Viking ships and alien armadas, while hyper combos hijack the screen with dizzying camera shifts and eye-bleeding neons.
Power in numbers
The game's 36 fighters are beautifully animated, and each has their own distinct character. While several will be unrecognisable to all but the most faithful aficionados, there's a great range of major and minor figures in both camps, and some of the less familiar ones, such as Marvel's M.O.D.O.K. and Okami's Ameterasu, prove just as interesting to fight with as Captain America or Ryu.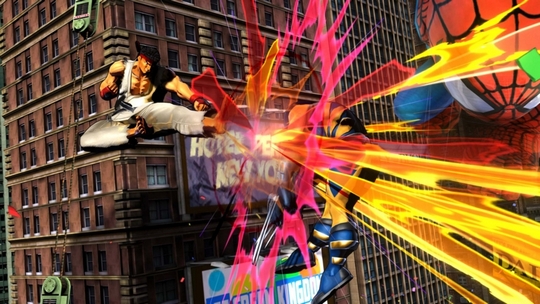 Thigh scraper
It's a shame, then, that the variety and balance displayed in the characters and fighting mechanics isn't replicated in the game modes, which are severely lacking. No matter which team you assemble, the regular Arcade mode is an identical, short six-fight competition, concluding with an ultimate, but completely disconnected, face off against Galactus – which, incidentally, is typically impossible Capcom boss fare on Hard or Very Hard. And Mission mode only extends the challenge for those completionists committed to pulling off every combination with every character. But it's the lack of time attack mode, survival mode or bonus games that will leave casual players feeling most short-changed by MvC3's single player offering..
MvC3's on-line offering also leaves a lot to be desired at present. There are currently only Ranked, Player and Lobby Matches – the last being a repeat of SSFIV's Endless Battle mode but, annoyingly, without any spectator mode whatsoever. Lag was also present in every match I played, but it was no worse than SSFIV, and the game remained playable throughout.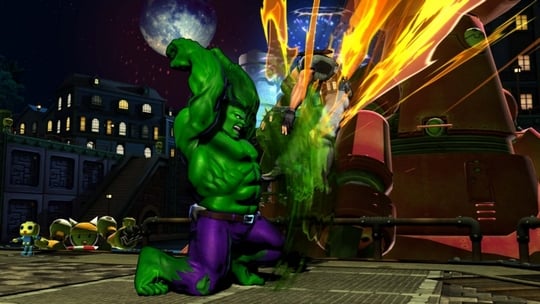 The not so jolly green giant
Verdict
Marvel vs Capcom 3 is a victim of Super Street Fighter IV's generosity. While there's no denying the sharp execution of its fighting mechanics, or the gaming spectacle of its 50+ hit hyper combos, there's no excusing the paucity of content on offer. The on-line teething problems might soon be fixed and new fighters and on-line modes added in the obligatory DLC. However, it will take a lot more than that to see Marvel vs Capcom 3 emerge from under the shadow of Capcom's flagship fighter. ®
More Games Reviews

Mindjack
Dead
Space 2
DC Universe
On-line
Mass Effect 2
for PS3